35th Anniversary of the Club of Public Transportation Lovers in Warsaw /
Klub Miłośników Komunikacji Miejskiej w Warszawie (KMKM)
Events locations and times vary, check website for details
Kmkm.waw.pl
This past weekend were the 35th anniversary celebrations of the Club of Public Transportation Lovers in Warsaw (KMKM). I didn't actually realize at first that the event was taking place, until I happened upon a number of people downtown packing into buses that looked more like a relics than something that should actually still be driving around in 21st century Warsaw. Plus, I had never seen these buses before so I had a feeling that something special was going on. Only after doing a bit of quick research online did I realize that these were in fact the 35th anniversary celebrations of KMKM in Warsaw.
The KMKM was founded in Warsaw in 1980 as a group of non-expert antique trolley-car and bus enthusiasts. At first, the club would write about their hobby in their regular column in the railway magazine Signals (Sygnały) but later they became active in the popularization and preservation of Varsovian [the adjectival form of Warsaw] trams and buses. The club has been successful in saving a number of antique buses and trams from being scrapped and organizes several events throughout the year (particular during the holidays) to showcase and popularize its collection of antique vehicles.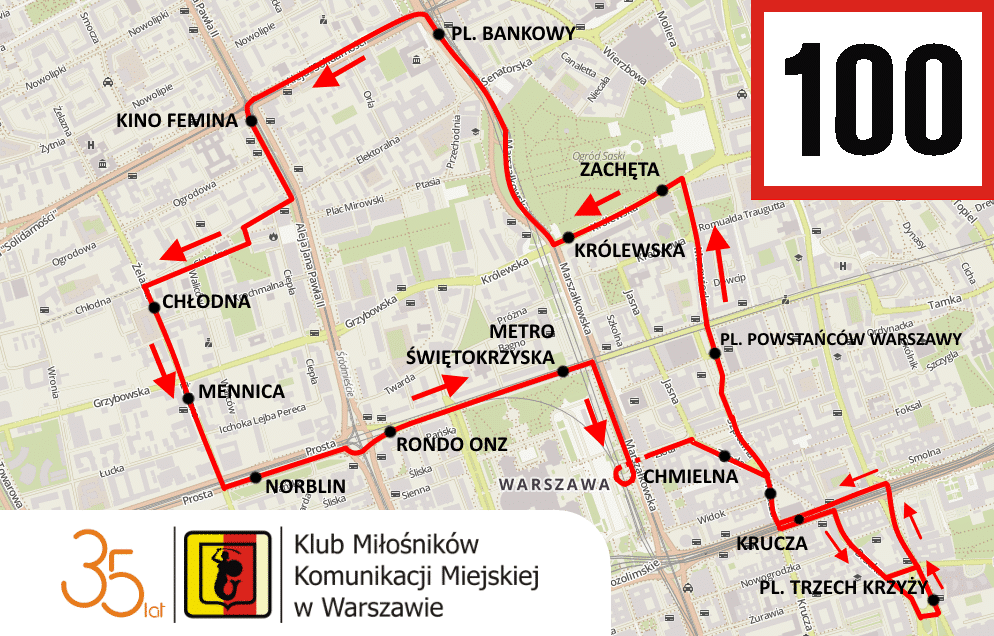 KMKM's antique buses have become a hallmark symbol of Warsaw's yearly "Long Night of the Museums" event, for example, when KMKM provides free transportation between certain museums with its large collection of vintage buses, one of the largest such collections in Europe. The club's main goal is the establishment of a museum of public transportation (based on similar examples in Prague or Budapest) where they can showcase their whole fleet.
This past weekend, I spontaneously hopped on a Jelcz Berliet PR100 bus (the model was produced first in 1973 but this one was from 1980). It was waiting at Plac Trzech Krzyży (Three Crosses Square) and serving the special 35th anniversary route number "100," which circled around the downtown city center and the edge of the city's historic old town. The bus was packed so I didn't stay on for long but due to the beautiful spring weather that day, we had a nice breeze blowing through the partially open windows. The bus ride was offered for free as part of the celebrations (which may been why it was so full) but that didn't really matter for me since I have a 90-day ZTM (the local public transit authority) student pass.
I got off the bus at Ogród Saski (the Saxon park) and walked a bit through the park, enjoying one of the first days of spring, the slightly warmer weather, and the tree blossoms, before heading to a café to study and catch up on work. Although the 1980 "Berliet" model bus (from the Polish military truck and automaker "Jelcz," founded in 1952 in West Poland on the site of a former German armaments factory) was the only one that I rode that day, I saw many other antique vehicles. I am now looking forward to Warsaw's "long night of the museums" (this year on May 16th) not only for the museums, but also for the chance to explore more vintage Polish buses and trams.
Public Transit in Warsaw
The public transportation system in Warsaw is heavily dependent on buses and trams. There are currently approximately 204 daytime bus routes (40 nighttime routes) and 27 tram routes. The motorized vehicles themselves vary greatly in terms of their environmental impact and modernity. The bus 222, for example, is by far the most comfortable and modern. As Warsaw's only grey-colored bus, it is highly recognizable. It is fully electric, emits zero polluting gases, and runs express north-south across Warsaw.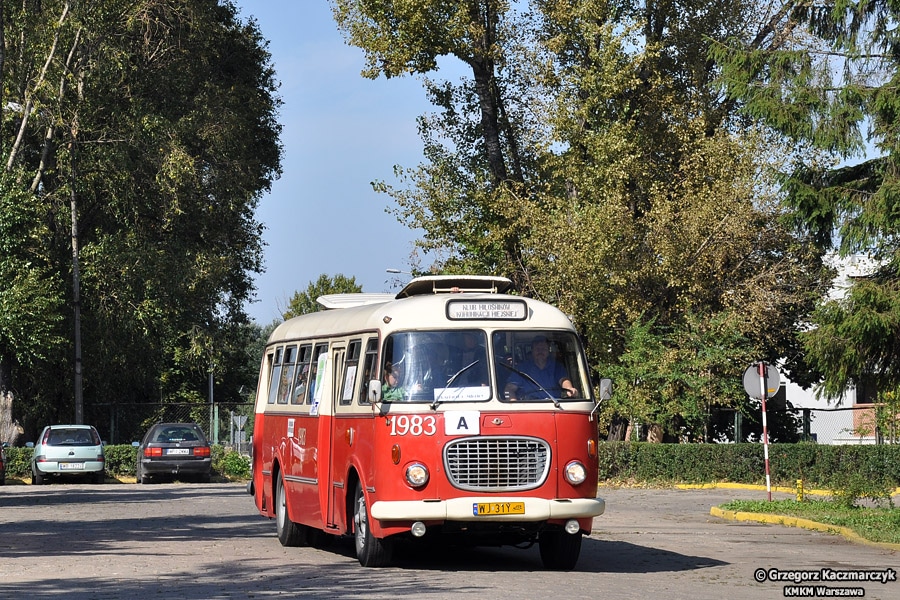 On the other hand, there are the buses that run further afield from the city center and are quite the opposite in terms of their environmental impact and comfort level. The bus number 108, for example, that I take most days to get to my room in Collegium Civitas' "dorm" varies greatly in terms of quality. It is always relatively small bus with about 20-25 seats at the most and provides a gas-guzzling, head-rattling ride (especially when stopped on idle). Particularly the stretch from Metro-Wilanowska to Figowa (the stop where I get off for the dorm) makes you feel sometimes like you'd rather just jump off and walk. The road on that stretch is unpaved and made from individual concrete bricks, of which at least half feel as though they are missing at certain points. That far out from the city center most side roads (off of Bartycka, the street the bus runs on) are actually either dirt or gravel, so it's not actually that surprising (or representative of the city center).
Warsaw's buses and trams are also augmented by a single metro line that opened in 1995 and runs north-south as well as a newly opened (in March 2015, after years of delays), much-shorter second metro line that runs east-west. The metro is really a pleasant experience and by far the fastest way to get around the city if your destination is somewhere along its route. Finally, Warsaw's public transit system is also supported by suburban light rail trains, operated by Szybka Kolej Miejska (Fast City Rail) or "SKM" for short. These trains only run east-west through the city center and to Warsaw-Chopin airport, so are not that useful on a daily basis unless you are a suburban commuter or live along one of the few stops on its east-west route through the city center. The SKM trains do, however, also service suburban neighborhoods north and south of Praga (Warsaw's neighborhood on the eastern bank of the Vistula River).