Moscow Beach, Serebryaniy Bor, Beach Number 3/
Серебряный Бор, пляж номер 3
Always open, but
Transport services only during daylight hours
Admission is free
I was skeptical, but sure enough, there is really a beach in Moscow! There are a few, actually, if you look around for them.
The area I went to is known as "Silver Wood," (Серебряный Бор). It is an island on the Moscow River, and has a large area of sandy beaches. The most popular beaches, 2 and 3, are spacious and clean. Music, volleyball, and light gymnastics are all enjoyed side by side with sunbathers, swimmers, and lifeguard towers. You'll see boats and jet skis, and all the usual beach party regulars. We even saw people using jet-shoes, which were like jet packs of water on their feet, and it was really entertaining.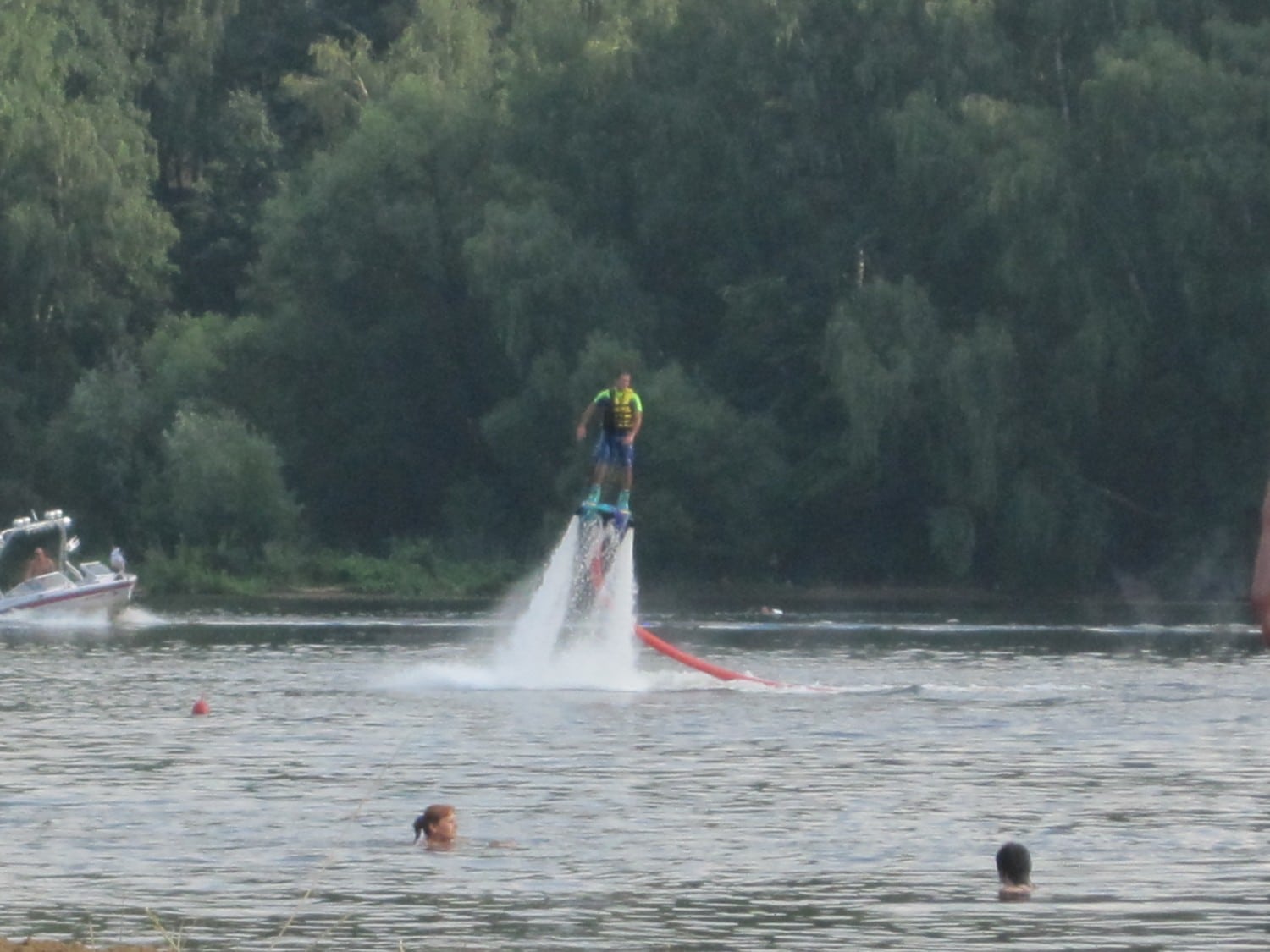 It's a little bit out of town, to the Northeast, but easily accessible, and well worth the hour or so it will take you to get there.
Like all public places, alcohol is technically illegal, but everywhere you may witness people responsibly sipping drinks and having picnic lunches. Besides the novelty of finding a beach in Moscow, it really is a great way to get away from the city and out of the extreme heat of summer.
The farthest area of the island is actually the most popular. Marshrutkas will drop you off directly at a parking lot between beaches 2 and 3, and you decide from there where to go. You'll see maps that show the trails going off into the woods, but from the drop-off point, you'll easily see the beach areas.
Beach 1 is a short distance from 2, closer to the city. It is a secluded area where there are bars and restaurants, and sun bathing in reclining chairs. But the beach access really isn't that great there, the beach is grass and not sand, and if it's a private party, you won't even get in.
As you get farther from the drop-off point, (and closer to the city), you may see wooden fences, which are a sure sign you've wandered into a clothing-optional part of the island.
If you want to explore the area, you'll see that it has the lush feel of rain forest, but with local trees and plants. There are picturesque bridges and walkways, and great views of the river.
Getting there:
At the metro station Polezhaevskaya (purple line) there will be marshrutkas that will be clearly labeled "СБ" or "Серебряный Бор." It's only a ten-minute ride from the station, and they'll take you right to the beach drop-off for 30 rubles. We tried to walk from Oktiburskaya Pole (closest on the map) but it's at least an hour walk, and the sidewalks are irregular, even on the busy streets. It's really best to take a marshrutka! When it starts getting dark, you'll see a line queuing at the pick up/ drop off spot, but don't worry, there are marshrutkas every 5 minutes.