"Official Art" – Government Sponsored Agencies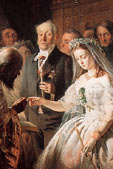 The Ministry of Culture and Mass Communication (MinCult) is a federal body responsible for the development of state policy and normative legal regulations in the sphere of culture, art, cinematography, archiving, mass media, mass communications, and "inter-ethnic relations." The Ministry may propose laws concerning these issues for consideration by Russia's state Duma.
– Foundation Legislation on Culture
– Biography of Minister of Culture Alexander Alexeyevich Avdeyev
Federal Agency for Culture and Cinematography is a subsection of the Ministry of Culture.
The agency's main function is to manage government funds in the following areas:
Conducting state historical and cultural examinations concerning objects of cultural heritage, estimating the cultural value of historical and cultural items (including weapons and ammunition) which have been detained or confiscated.

Preserving and restoring museum collections included in the Museum Fund of the Russian Federation. (There is a non-state part of this fund, with its own regulations.)

Storing original reels of national films;

Creating co-operative library systems, information networks, a central library catalogue, and modern security systems within state museums and libraries;

Maintaining a state register of objects of cultural heritage, the state vaults of priceless cultural artifacts (known as the "Depozitariem"), maintaining the State Catalogue of the Museum Fund, the State Catalogue of Film, and an electronic database of all art moved due to WWII and currently considered to be part of Russia's cultural heritage.

Investigating museums or organizations using state property or funds from the Museum Fund. The agency has authority over those collections, artifacts, and organizations.

Other Powers: May transfer personal or religious property deemed to be of cultural value to its own possession; certifies films made in Russia or brought into Russia; seeks restitution for cultural items lost or damaged in war; determines which cultural collections may be bought, sold, or exported; decides disputes between religious/historical claims on objects and monuments.
Russian Academy of Arts is another state institution which also encourages and supports the development of art and art theory within Russia.  For an interview (in English) with Zurab Tseretli, the Head of the Academy, on the academy's activities click here.  For more about members of the academy, click here.
The Official Portal of the Research and Computing Information General Service (RCIGS) is a bizarrely named service of MinCult.  It is being developed into a general history with lots of information about art, artists, etc.  Unfortunately, only part of it has been translated to English.
The Culture Channel is a bit like PBS in the States with lots of programs and documentaries about art, artists, theatre, history, and other cultural issues.  It's widely respected and government funded.
The Centre for Problems of Informatization in the Sphere of Culture (The PIC Centre) is a sort of think-tank subordinate to the Ministry of Culture.
National Galleries and Festivals
The Hermitage offers a huge interactive website with digitized art, online history, and more.
The Moscow Museum of Modern Art has a website all in Russian, but they have a good deal of their collection photographed and online.
Moscow Biennale is a festival sponsored by the Federal Agency for Culture and Cinematography.  It seeks to place Russian contemporary art at the forefront of world culture, as the Tchaikovsky Competition and Golden Mask have done for music and theatre.
National Center for Contemporary Art was founded by MinCult to "develop modern Russian art."  They help finance and organize exhibitions, information services, and research into art theory.
This section is set to expand! If you would like to assist this site in writing about the various ways that the Russian government sponsors and regulates art, please contact us!