The following are organizations that have been set up to assist or regulate art in Russia.
"Official Art" – Government Sponsored Agencies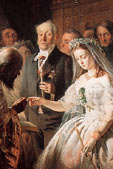 The Ministry of Culture and Mass Communication (MinCult) is a federal body responsible for the development of state policy and normative legal regulations in the sphere of culture, art, cinematography, archiving, mass media, mass communications, and "inter-ethnic relations." The Ministry may propose laws concerning these issues for consideration by Russia's state Duma.
– Foundation Legislation on Culture
– Biography of Minister of Culture Olga Borisovna Lyubimova
The agency's main function is to manage government funds in the following areas:
Conducting state historical and cultural examinations concerning objects of cultural heritage, estimating the cultural value of historical and cultural items (including weapons and ammunition) which have been detained or confiscated.

Preserving and restoring museum collections included in the Museum Fund of the Russian Federation. (There is a non-state part of this fund, with its own regulations.)

Storing original reels of national films;

Creating co-operative library systems, information networks, a central library catalogue, and modern security systems within state museums and libraries;

Maintaining a state register of objects of cultural heritage, the state vaults of priceless cultural artifacts (known as the "Depozitariem"), maintaining the State Catalogue of the Museum Fund, the State Catalogue of Film, and an electronic database of all art moved due to WWII and currently considered to be part of Russia's cultural heritage.

Investigating museums or organizations using state property or funds from the Museum Fund. The agency has authority over those collections, artifacts, and organizations.

Other Powers: May transfer personal or religious property deemed to be of cultural value to its own possession; certifies films made in Russia or brought into Russia; seeks restitution for cultural items lost or damaged in war; determines which cultural collections may be bought, sold, or exported; decides disputes between religious/historical claims on objects and monuments.
Russian Academy of Arts is another state institution which also encourages and supports the development of art and art theory within Russia. For interviews (in English) with Zurab Tsereteli, the Head of the Academy, on the academy's activities click here and here.  Some of the academy members are also featured here.
The Official Portal of the Research and Computing Information General Service (RCIGS) is a bizarrely named service of MinCult.  It is being developed into a general history with lots of information about art, artists, etc.  Unfortunately, only part of it has been translated to English.
The Culture Channel is a bit like PBS in the States with lots of programs and documentaries about art, artists, theatre, history, and other cultural issues.  It's widely respected and government funded.
The Centre for Problems of Informatization in the Sphere of Culture (The PIC Centre) is a sort of think-tank subordinate to the Ministry of Culture
Культура.рф is a major educational project, dedicated to the culture of Russia and backed by MinCult.
National Galleries and Festivals
The Hermitage offers a huge interactive website with digitized art, online history, and more.
The Moscow Museum of Modern Art has a website in Russian and English, with a good deal of their collection photographed and online.
Moscow Biennale is a festival sponsored by the Federal Agency for Culture and Cinematography. It seeks to place Russian contemporary art at the forefront of world culture, as the Tchaikovsky Competition and Golden Mask have done for music and theatre.
National Center for Contemporary Art was founded by MinCult to "develop modern Russian art." They help finance and organize exhibitions, information services, and research into art theory. In 2020, they became part of the Pushkin State Museum of Fine Arts, thus transforming their old website into an archive.
NGOs, Charities, and Other Organizations
The Russian-American Cultural Center in New York offers annual auctions and an online gallery with a range of Russian artists represented.
The Museum Association of Russia is an NGO serving the interests of curators and museums.
ProArt is an NGO promoting contemporary culture in St. Petersburg by sponsoring festivals and a variety of education programs.
NewNames is an NGO providing scholarships to talented young painters, poets, and musicians. For a blurb in English about the organization, go to the bottom of this page.
New Acropolis is an NGO operating which supports the growth and development of individual and group cultures.  They sponsor artists, classes, and festivals in painting and sculpture.
The Kolodzei Art Foundation is an NGO promoting the contemporary art of Russia and the FSU. They arrange exhibitions, cultural exchanges, and provide free art supplies for need artists and stipends for Russian students studying abroad.
The Institute of Modern Russian Culture (IMRC), in Los Angeles, is a non-profit organization dedicated to the preservation and promotion of Russian culture. To this end, it maintains a library and archive, conducts a membership program, and publishes an annual journal, Experiment, and a bi-annual newsletter.
Maria's Children provides art rehabilitation to orphans.  Lots of artwork shown on the site.
The Photographers Union works to advance the art of photography in Russia and abroad. News, online galleries, and more on their site.
Research Help for Art Majors 
The Emily Carr Institute Writing Center – a brief guide to MLA documentation for art majors.
Some of the largest collections and best respected sources for researching Slavic Art have catalogues online: New York Public Library; Library of Congress; University of Illinois.
Art News from Russia
The Contemporary Russian Art Newsletter was founded to monitor the development of post-perestroika art. It is still published regularly with wide and extensive coverage.
The Art Newsletter has a section devoted to Russian art and related news.
ArtGuide gives bilingual coverage of fashion, art, architecture, related events, and more for Moscow and St. Petersburg.
The Calvert Journal bills itself as a "Guide to Creative Russia."
Russian Art Gazette offers news and articles concerning "the world's art phenomenon, which can be found on the territory of Russia." It also has a sister site devoted to regional art news in Russia, but it's all in Russian. Both sites still function, but unfortunately they haven't been updated in a long while.
ArtRussia.ru is an online commercial gallery. They have lots of contemporary art pictured with artist bios and news from the art world in Russia.
ArtMargins.com gives information about the world art scene, with quite a bit of information devoted to Russia.
Online Galleries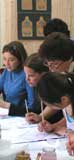 Rollins College offers an attractive, accessible resource for studying Russian art and artists from Icons to the 20th century.  Lost of high-quality images, histories of artists, and their movements and schools.
Auburn University offers this list of high-quality images of Russian art indexed by painter.
California State University offers a wide collection of images of Russian sculpture, painting, architecture and more.  Not all of the pictures are of the greatest quality, but the site is very large and quite easily navigable.
RussianArtGallery.org provides famous Russian paintings in large, high quality digital images. Go here first if you need something extremely high-quality.
The Karakalpak Museum of the Arts, located in Tashkent, offers online galleries of Russian and Uzbek avant-garde, folk art, and more.
ArtInfo brings perhaps the greatest quantity of modern art to the Internet – but bear in mind they do so as a business. It's all copyrighted.
For more online galleries with digital images and artist bios try: Olga's Gallery (Icons to Revolution); LeningradArtist.com (Soviet Realism); ArtRussia.ru (Modern); and RussianArtGallery.com (Realist, Impressionist, Soviet Realist)
Other Sites of Interest 
RUSSIA! was a major event at the Guggenheim museum in 2005-2006. The website for it still provides information about the event and on Russian art and art history.
MANAGEX displayed "living business managers" as art in a gallery and turn profession into art.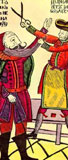 Lubok are popular Russian prints.  Rollins College has a large gallery of them, with the text available in English translation.
The Library of Congress's Prokudin-Gorskii Collection (which features color photographs of tsarist-era Russia – some of teh world's first color photographs) is extensive and searchable online.
The Constructivist Project opens a window into the 1920-1930s avant-garde heritage and is concerned with research, mapping, monitoring and popularization of the topic.
This section is set to expand! If you would like to assist this site in writing about the various ways that civil society and non-governmental organizations sponsor, develop, and utilize art, please contact us!