Russia is famous for miserably cold winters. This means that, in winter, Russians must stay at home being miserable, right? Not at all!
For Russians, winters are part of their national heritage and there is arguably no greater beauty and no better time to get out and be active than during a day of "мороз и солнце" (frost and sun) – when the temperature drops several degrees below zero and the sun comes out shining for a few hours.
Russia's parks run at full steam during the winter as Russians take advantage of the opportunities that frost and cold allow. Here are just ten of many activities now being arranged in Moscow's parks – some of which are larger than some small towns in America.
The following list of activities has gone viral on the Russian internet and has been published in several places. It has been translated and adapted by SRAS Translation Abroad Scholar Sophia Rehm.
1. Go Ice Skating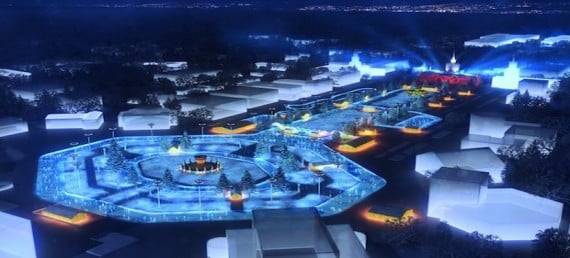 Ice skating may seem unoriginal, but the fact is that Moscow has been the winter capital of ice skating for the last five years, since the skating rink was built on Red Square and Gorky Park was renovated. At this time of year, you can find civilized skating rinks with changing rooms and hot tea in 30 Moscow recreation areas: from the obvious Gorky Park and Sokolniki Park to Sadovniki (Gardeners) Park and the  Lianozovsky Park affiliate on Rustaveli Street. Eighteen rinks promise synthetic ice, which means that unexpected warm weather won't get in the way of digging out last year's dusty skates. At Sokolniki Park, as usual, there will be two rinks: one with natural ice (called "Giant," with free entry), and one with synthetic (which is called "Ice," with entry from 250-350 rubles/$4.50-$6.30). Krasnaya Presnya Park promises skating lessons from Olympic ice dancer Ilia Averbukh.
2. Perfect Your Skiing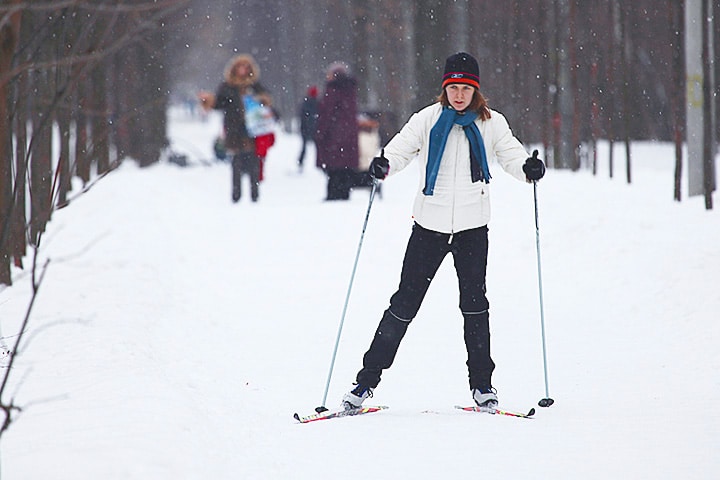 If your idea of winter sports is cross-country skiing in elementary school physical education classes, then it's high time you correct this misconception. First of all, Moscow's parks take great pains to make sure their skiing bears no resemblance to a boring obligation: there are a variety of tracks (the best in this regard is Sokolniki Park, with 15 tracks totaling 45 km/28 mi), warm changing rooms, and after skiing, a glass of hot mulled wine. Secondly, consider your health: it's logical, in a region where it snows for half the year, to switch from a treadmill to skiing during the winter. A total of 66 parks promise trails stretching over 120 km (75 mi). Opening dates depend on weather conditions.
3. Visit "Snowmobile Village"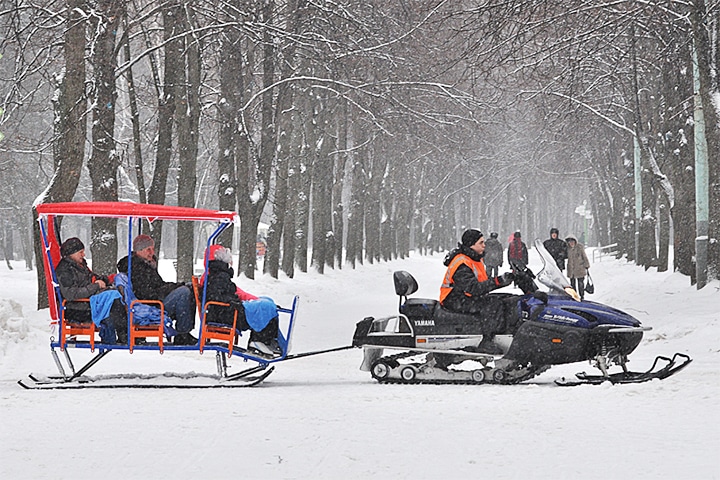 Snowmobile Village, known in Russian as "Снегоход-вилле," is a large winter recreation center that will be open in Sokolniki Park for the second season in a row. In addition to the obvious attractions of skiing and snowmobiles, you can ride on a "snow banana" (like the banana boats Russians are most familiar with from trips to Turkey's coastal resorts, only here you fall into snowdrifts rather than the Mediterranean Sea; tickets are from 250 to 550 rubles/$4.50-$10). Also available are a winter bike (a hybrid between a bike and a snowmobile), a motor snowboard, or a sled-bike (with boards beneath each wheel, and no pedals).
4. Have a Snowball Fight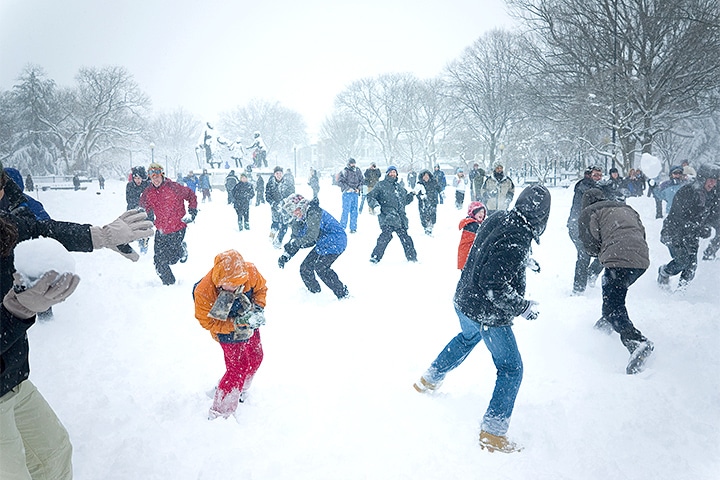 Krasnaya Presnya Park has a designated area for snowball fights. They organize two teams, each of which must defend its own fort. If that isn't enough and you're looking for more childish fun, then go snow-tubing in the hills. There will be new tubing sites on Poklonnaya Hill (one of the highest points in Moscow), and in Severnoye Tushino and Kuzminki Parks. Previous sites will reopen in Muzeon Park (also called "Fallen Monument Park," or "Statue Graveyard" where there will be two tubing sites), Babushkinsky Park, and the Park of the 850th Anniversary of Moscow. The highest and longest slope, which you may ascend via a "conveyer-lift," will again be open in Sokolniki Park.
5. Get on a Snowboard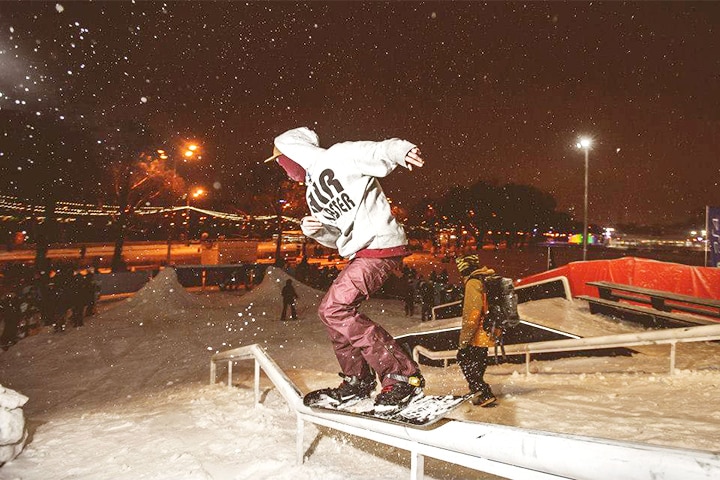 This winter, fans of snowboarding need not leave the city limits: Moscow's Severnoye Tushino Park is opening a special arena with reversible and circular snowboard winches. Obstacles will be constructed along the track for extreme snowboarding. Residents of Moscow's Central Administrative District can enjoy their boards in Gorky Park, where there will be an area for snowboarders of all levels. Instructors will be available at each slope to teach first-timers.
6. Wander in a Musical Forest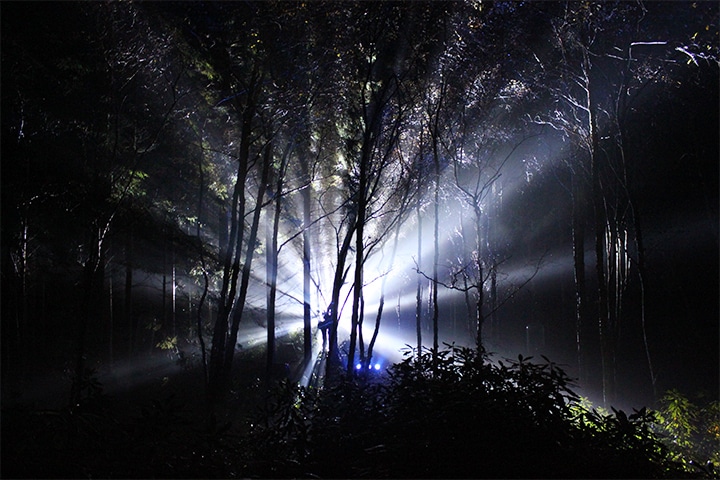 This winter, Lianozovsky Park will have an interactive musical installation that imitates a forest. Touching an element of the installation produces a sound, allowing participants to fill the forest with their own music. There is no use in trying to explain it, so take the first opportunity you have to go to Lianozovsky Park and try it for yourself.
7. Ride a Troika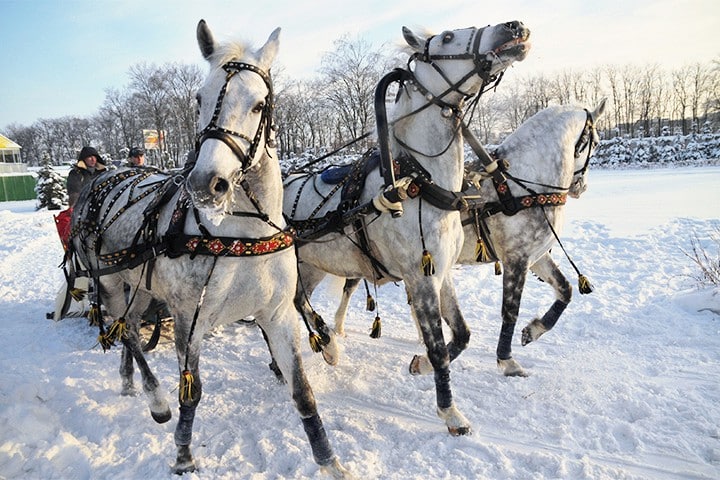 To experience the power of the Russian spirit and gain some patriotic fervor during these trying times, go for a ride on a real Russian troika (a traditional sleigh or carriage pulled by three horses). These will be available in Izmailovsky Park.
8. Tumble Head Over Heels in a Zorb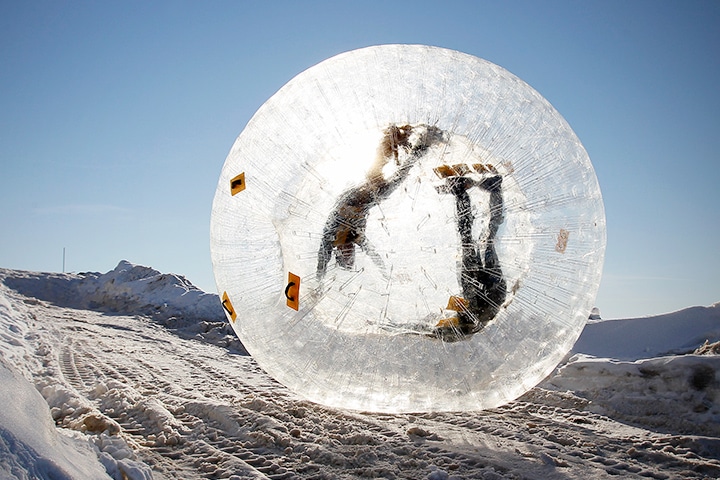 For some reason, Moscow's parks have gotten carried away with zorbs over the last few years. Zorbs are large inflatable balls, in which thrill-seekers are launched down a mountain. It's a sport for a select group of followers, but Muscovites seem to like it. In Fili Park a zorbing course will be open all winter, along the main avenue, opposite the summer movie theater.
9. Visit New Year's Markets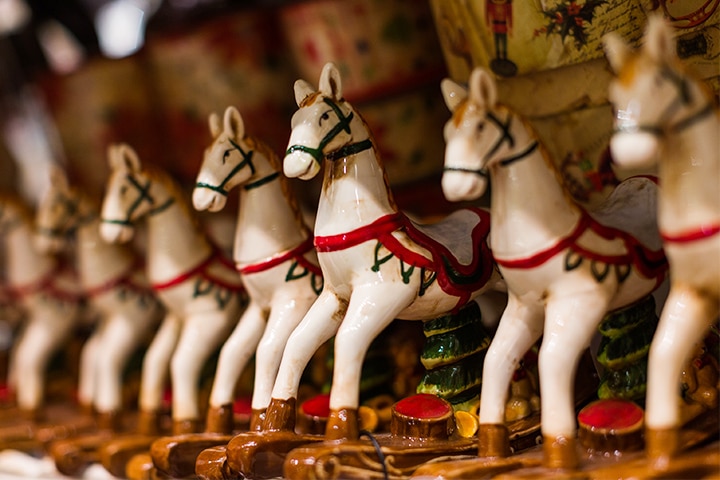 In December, Moscow will be flooded with brightly-lit, outdoor markets. There will be a traditional market in Gorky Park; an old European-style market in Kuzminki Park will sell handmade gifts; the annual Seasons Festival will be held in the Hermitage Gardens; and at the ice rink on Poklonnaya Hill there will be an antique market, a retro photo studio, and the winter grounds there have been entirely styled after those of the early 20th century.
10. Celebrate New Year's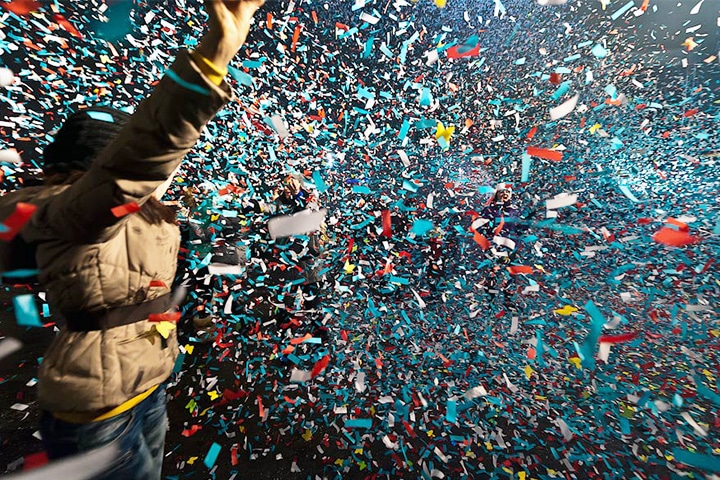 Celebrating New Year's in a park is an excellent option for those equally fed up with presidential speeches and loud parties. Each park will have its own holiday program. Muzeon Park is planning a musical program (artists not yet announced); Krasnaya Presnya Park will have more modern characters in place of Grandfather Frost and Snegurochka; and Gorky Park is planning an enormous disco-style celebration.