Russia was a completely extreme experience for me, and one that I will never forget. Every day our group visited numerous works of priceless art from the smallest Scythian pendant, to the largest bell ever created in Moscow.
My first impression of St. Petersburg was a sort of confusion. I had spent a few summers in France already, and I wasn't expecting to see so much "French" looking architecture in Russia. It took me a while to adjust to the Western looking buildings, and connect them to the very different culture I was experiencing. I went through a period of disliking St. Petersburg, and thinking it was not Russian enough. It was not until the few last weeks that I found a great admiration for the city and felt a truly Russian spirit in it. Peter the Great created a very strange esthetic by building such grand architecture on the banks of the Neva river. The effect is very vast, and very adventurous.
My favorite piece of architecture, and one that embodies this same vastness and adventure is the Peterhof palace.  Peterhof is like a Baroque dream. Remodeled by Rastrelly in the mid-1700's it spirals and dips and swerves up to the sky not only in its gorgeous construction, but by its fabulous fountains. The fountains are indeed Baroque. They are not Elizabethan Baroque, either: they are masculine, and mischievous, and they sum up Peter the Great's fascination with the fluid and powerful movement of the sea. The Palace almost struck me to be like a luxurious and adult theme park, a sort of festival of architectural and sculptural arts. It had the same great, lush Russian feel that the Neva streets seemed to have.
In contrast to Peterhof, Pavlovsk is constructed under the influence of a calm and controlled order. Catherine the Great fancied herself to be a supporter of the Enlightenment, and her interest in Romanesque architecture backed up her claim. The Pavlovsk Palace is a beautiful Neoclassical achievement. However, it was much more feminine than the Georgian Classical I was used to seeing in the United States. I learned that Neoclassicism became more masculine and severe after Catherine's influence, and was given the term of Alexandrian.
Pavlovsk was a place of order for me. I was able to gather thoughts very easily there, and I found it profoundly affected the rest of my stay in Russia. It was strange but I began to see the ornamentation on Baroque and Rococo, and even some Modern architecture to seem excessive. I played little games with myself while on bus rides, where I would imagine I could scrape off the excess, or even brush it off. I felt it revealed the beauty of the buildings more. Form became important. However, form was not the most important thing. I remember seeing a church in Novgorod with no outer décor. I felt the church was naked, and needed skin. To see the building's skeleton and muscles was not enough. I felt that Cameron captured a beautiful balance. It is as if he enjoyed the texture and form of the building, and the ornamentation acted as pure accents to the form.
I feel that in terms of my trip to Russia, the churches in Novgorod were the most amazing and surprising to me. I had never seen anything like them, and there was no doubt in my mind that they were purely Russian. One of the words that was used on our tours to describe the architecture we saw there was "severe." I suppose the churches were severe, but they were also celebrative. They did not come off as stoic to me.
Although I felt that the architecture in Novgorod was more typically Russian than the city of St. Petersburg, I came away with a more dynamic view of Russia altogether. My view of art has changed and shaped itself as well since my time there.  I have a deeper understanding of extravagance from studying Peter the Great. Also, I understand the importance of motive of style from the Russian Czars. I have learned how less can be more from looking at the purpose of décor in Alexandrian and Novgorod architecture. I feel I am more at ease with my passions. I am not afraid to feel and experience deeply. This will definitely free me up a bit in my work, as well as give me a lot more to work with.
Russia gave me permission to enjoy my emotions more. I feel that contemporary art, though it is supposed to be based on freedom, is often saturated in rules, or fashion, or politics. I find that much of the beauty and success of Russian art comes from a real passion and spirit and love for the art making, and the motive. The colors seemed brighter, the marks and décor seemed more exaggerated, and the people seemed more intense altogether. I feel Russia woke me up a bit, not only to what I was learning about Russia, but how I look at my country. I believe I have more responsibilities now. I feel responsible for materials, and for my message. Most of all, I feel a responsibility to feel what I do, and to mean it. I may have thought it would be ok to be a jaded artist in New York following the latest trends. However, now I know there can and should be more to creating than that. The jadedness and indifference to passion is a cultural handicap of a society based on rationalism and capitalism. I feel that America is an amazing place to live, but I benefited from being woken up a bit. I think it would do well for all Americans to get a dose of Russia. The experience of Russia has changed me. I am looking forward to seeing the visual evidence of this in my paintings.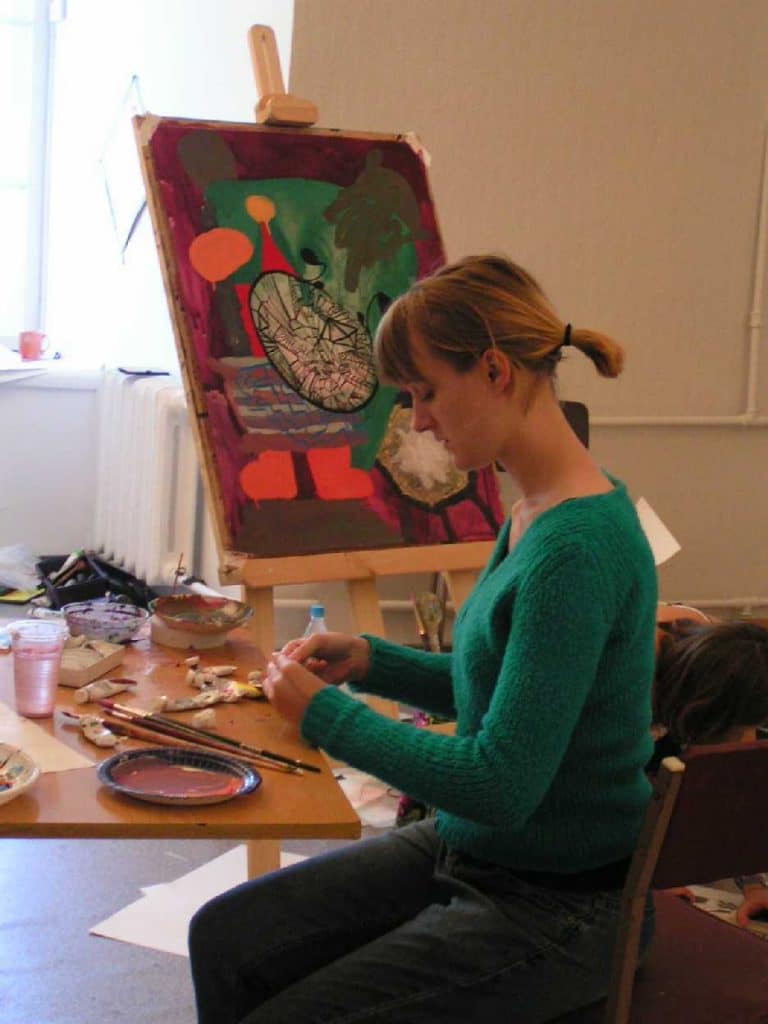 All photographs courtesy Melissa Tyson.