Vladivostok is not unique in being home to a large number of abandoned structures (заброшенные структуры) with deep and often unique historical roots. When the Soviet Union fell, many buildings and projects became unneeded or lost funding and were then sold or simply left to their own devices. The result was often ruinous for the artifacts involved. However several of these structures in and around Vladivostok remain accessible to the public. The Vladivostok Digger's Club (Владивостокский диггер-клуб) is a privately run and funded organization that conducts tours of these various historical attractions. Along with a group of Russian students studying at our university, we organized an excursion into a system of subterranean passageways of which many locals are utterly unaware.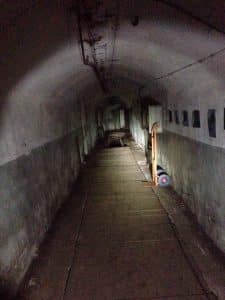 Meeting in the very heart of the city in winter attire despite the uncharacteristically warm evening in mid-March, it was hard to imagine that we were about to step into the year-round damp, cold air of an underground passageway once roamed by members of the NKVD (Народный комисарият внытренних дел), the precursor of the KGB and the current FSB. More than just a hideaway for the Soviet secret police, the primary function of this 1.5km system of tunnels constructed between 1939 and 1942 was to provide a safe haven in the event of an attack on the city. After all, as the world was gripped by the events at Pearl Harbor during this period, the Soviet Union's Far Eastern port paid especially close attention, recognizing its proximity to Japan and comparatively far inferior naval power. Indeed, this system of tunnels was even purported to be nuclear-ready and sported an escape tunnel (no longer accessible) with a below water exit hatch to allow evacuees of exceptional importance an escape route to the Pacific without ever having to break the water's surface!
While the tunnels are still comfortably accessible, after several decades of misuse and neglect, it is hard to imagine any living thing would choose to take shelter there. The air is cold, damp, and heavy. While the integrity of the craftsmanship, with the exception of the deepest laid tunnels with depths of more than 70 meters below ground level, seems to have stood the test of time, the grey cement interiors are anything but cheery. Any exposed metal has become heavily rusted in the damp environment and leaks and cracks cause enormous icicles in winter and tickling inflows of water in the spring. In short, as our guide warned us before our entrance, the interior is anything but glamorous.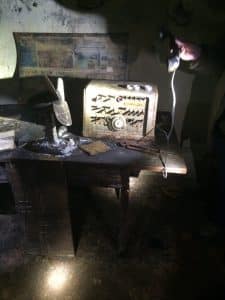 It was quite obvious in the three hours our guide walked us through the passageways that the history he told us was likely only a fraction of what he knew. Even for those not entirely taken by the history of the tunnels, there seemed to exist a universal intrigue simply in having the chance to be in such an unusual environment. This feeling for me peaked when, at the last stop on the tour, 72 meters below the earth's surface, everyone turned out the flashlight they had been provided and stood in total silence for two minutes. While some were obviously ready for the end of those two minutes, I would have preferred their prolongation. The sensation of utter nothingness with regard to light and sound was powerfully total.
While in my opinion, two hours would have been more than enough for the expedition, history buffs would probably feel robbed by the measly 3+ we spent inside. Though I must say, our guide did a good job of making the tour both entertaining and informative.
For further information on what the Digger's Club does and the events they host, click here. For more information about the history of Vlad's forts and abandoned structures, click here. Of course, for the most telling insights, get out there and check them out yourself!
Abandoned Underground Tunnels of Vladivostok
6pm Thursday and Fridays;
Meet early at Gorky Theater (Театр имени Горького)
Cost: Groups from 1 to 10 people pay a flat rate of 5000 rubles
Groups of 10+ pay 500 rubles per person
(note: due to current renovations groups are limited to 12 people)
Vladdig.org
About the Contributor:
Alexander Misbach graduated from the University of Virginia in August of 2014 with degrees in Environmental Science and Russian and East European Studies. He is currently spending an academic year in Vladivostok enrolled in SRAS's Russian as a Second Language program. Upon the year's completion he would like to study Polish in its native land, and/or travel until the money runs out.