Susanna Weygandt is an acting student at Bryn Mawr College who is studying currently at GITIS.
SRAS: Introduce yourself to us, what is your background and what are your future plans?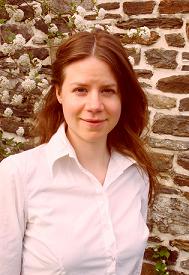 Susanna: I started taking Russian at Bryn Mawr College in fall of 2002. I studied one summer in Vladimir with another program after my first year of Russian. After another full year at college, I went to Yaroslavl' by myself last summer to work an internship at a theatre and do wine-consulting work at an office of a supermarket chain. In August 2005 I went to Moscow and also studied Russian for that fall semester and took a few theater classes at GITIS. I've been renting an apartment with a friend who is Russian. In Spring of 2006 I will study more at GITIS. I wanted to learn Russian so I could read Russian literature in the original. I also wanted to go abroad to Russia for a bit.
SRAS: How did you first hear about GITIS and why did you decide to go there?
Susanna: Bryn Mawr Russian department knows about MXAT and GITIS as being the main theater schools in Moscow. I wanted to study at MXAT, but I wasn't accepted. They wanted someone that would study 4 years there. I never had the intention to study longer than one year at a Russian theater academy.
You need to have extensive theater training before studying at a theater institute in Russia. Also, it is only possible if you already have a command of the Russian language and are prepared to work really hard and are prepared to get enlisted into the school all by himself. I contacted the administration there, was interviewed and tested and in the end, admitted. I looked for theater schools by myself and had interviews by myself and got accepted by myself with no help from any program. I was thrilled to get in to GITIS.
SRAS: This is true, even for non-degree study there are entrance examinations and auditions and, like most programs in the states, they will only take those students who are willing to assert themselves and approach the school administration themselves. In this, SRAS helps you to get your Russian up to par and points you in the right direction, but the rest is, of course, the artist's own responsibility. So what classes did you enroll for at GITIS? Can you describe the curriculum and course structure for us?
Susanna: I study biomechanics, fencing, movements for the stage and history of theater. I'm very interested in theater methods and physical movements. I had a lack of this type of training in the States. I feel Russians are very strict in these types of disciplines.
SRAS: How were the professors, any favorites?
Susanna: Szu is from South Korea and studied at GITIS 5-years now he teaches fencing. Half the class he taught an Eastern-style pole-fighting sequence. This one particular T/A, Vasilii Vasilievich, could talk to us and lead a class while balancing in a head-stand position on his ear. He was incredibly flexible and always active in the class of Movements of the Stage. Most teachers at GITIS are very strict. I wanted to take classes with Russians and work at their level in these types of movement-oriented theater classes. I wanted to be exposed to their morale and discipline of theater and commitment, sacrifice. Also, I have never trained formally at an American theater school. I never had any desire to.
SRAS: Wow, I'd like to see that ear-stand. So how students? Meet anyone interesting?
Susanna: I made a few Russian friends that I hung out with outside of class. One girl was from Irkutsk. She was petite but very strong and before coming to GITIS she worked at clubs in Moscow because she really digs rave music.
SRAS: How do you think your experience at GITIS has better prepared you for your future plans?
Susanna: I want to act in America and write plays and direct there and study Russian theater abroad in Russia. I'd like to, one day, found my own theater school and/or laboratory.
SRAS: What advice would you offer a student thinking about taking courses at GITIS?
Susanna: Learn Russian. Be very physically fit. Be comfortable with a class schedule that changes a lot. Make friends at GITIS that know when the schedule changes and what it will be. Don't miss any class. Work on movements outside of class for a few hours a day. Find a reliable, strong partner in movement classes. Concentrate all of your energy and attention on classes at GITIS, because it is a big commitment and there is little time to socialize and little to no energy left over after class to do anything else