Yevgeni Grishkovetz is a Russian born novelist, playwright, musician, and actor. He is best known for his theatrical work, particularly with the Theatre of Modern Song in Moscow, where many of works have been staged. His writing and performing are known for their insightful nature. He strives to show how experiences are often universal. Often he places ordinary or mundane scenes in a context that gives them transcendent meaning or, likewise, places extraordinary events in a mundane context in an effort to give his readers and audience a look into the human soul.
Grishkovetz was born on the 17 of February, 1967 in the small mining town of Kemerovo located in southwest Siberia, Russia. At the time of his birth, both of his parents, Yevgeny and Valery, were enrolled in university. At an early age his parents moved to Leningrad to finish their studies at Saint Petersburg State University of Economics. After both of his parents graduated from university, the Grishkovetz family moved back to Kemerovo. It was there that Grishkovetz graduated from Gymnasium No. 1 in 1984.
After graduation, Grishkovetz began to attend Kemerovo State University where he studied philology. His degree, however, was interrupted in 1987 when he was drafted into the army. For the next two years he served as a member of the Pacific Fleet on Russky Island, which is now part of Vladivostok in the Sea of Japan.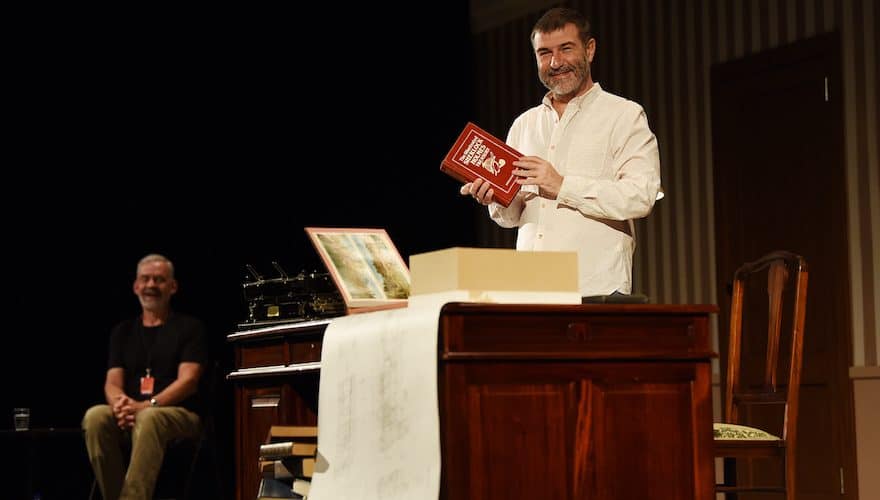 Once Grishkovetz returned to university in 1989, he began to perform in amateur concerts and theatre which become the foundation through which he built his career. In one year Grishkovetz completed his degree in philology studying German. He then decided to move to travel to Cologne in Germany for some months. In his time there he familiarized himself with the German language and European theatre, all of which contributed to his unique style that appeals to people far beyond Russia's borders. After his trip he attempted to immigrate to Germany but his application was rejected.
During this time Grishkovetz considered emigrating to the West but soon changed his mind. Instead, at the end of 1990 Grishkovetz returned to Russia to create the Lozha Theatre in Kemerovo which is still operational to this day. The theatre is known for its "experimental" performances because of its preference for European dramas rather than classical Russian theatre. The theatre itself is located behind the Polytechnic University.
In November of 1998, Grishkovetz premiered a one man show that he wrote, directed, and acted in entitled: How I Ate a Dog. The play premiered in the Central Academic Theatre of the Russian Army in Moscow with only seventeen people present. However, soon the show gained traction and gained him wide spread fame and recognition. The title itself refers to a Russian idiom which means to "cut one's teeth," and also used by Grishkovetz literally because he describes a time in the performance where he actually ate dog meat. The show depicts Grishkovetz's monotonous and meaningless military routine, while simultaneously looking to the past to analyze where his youth went.
Above: Full performance of Grishkovetz in How I Ate a Dog.
Grishkovetz's YouTube Channel features many full performances for free.
In an interview with Daria Aminova for Russia Beyond, he stated that he only had one goal which was "simply to offer the audience the chance to rejoice in the fact that we live a universal life – at least during childhood and our youth. No matter where we live, we have an identical take on life." This show shaped his unique style which is to universalize the sometimes harsh realities of human experience through stream of consciousness and long monologues.
In 2000 the show received critical recognition with the prestigious Golden Mask award from the Russian National Theater Award Show and Festival in the drama category.
In Grishkovetz then began to explore other artistic mediums and recorded his first album entitled Now with the band Bigudi. The predominant genre of the album is electronic. Interestingly, although Grishkovetz is interested in music, he was the first to admit that he is "definitely not a musician" to Daria Aminova for Russia Beyond. He further stated that: "I am a performer but not in a sense that I sing. However a decade of playing at hundreds of concerts givens you plenty of experience. I have a very good sense of rhythm and I know all the songs by heart – but this doesn't mean I can write music and think musically." His musical style is unique as he tends to combine electronic music with a spoken monologue. He followed up with a second album Wait, Live, Wait with the Georgian band, Mgzavrebi. This album quickly became one of the top ten best-selling albums on iTunes Russia.
"Zare" – by Gishkovetz, performing with the band Bigudi. The song was a hit on Russian radio.
In 2003 Grishkovetz again expanded his artistic pallet by taking a minor role in the film The Stroll, which follows a girl and her two male friends on a trip to St Petersburg. The film is combines moments of pure joy and sadness as St Petersburg comes to the forefront of the tale as a menacing secret becomes uncovered. The type of dual depiction of St Petersburg is common in Russian literature and can be found in the works of Pushkin, Gogol, Dostoyevsky, and Tolstoy. The film was recognized critically and showed at the 25th Moscow International Film Festival.
In 2004, Grishkovetz released his first novel, entitled The Shirt. It is a modern tale of a man from provincial Russia who moves to the big city of Moscow. The novel follows the everyday life of this man, who is constantly faced with issues with work, friends, family, and in his love life. Similar to his theatre, the novel is full of lengthy discussions of the meaning of life, sometimes presented with humor. As the novel progresses the reader begins to see major changes in the main character due to his relationship.
Grishkovetz's premiere novel was praised by critics for the way in which the text was imbued with vulnerability and sincerity. Although the main character is an average man, he is by no means a typical hero for a novel. He is an insignificant character in the scheme of the universe with problems common to almost anyone. The way he works through these issues, however, offers the reader hints of optimism and insight into the human experience. Shirt was included as a nominee for the Russian Booker Prize. Similar to critics, readers also enjoyed the book as it has sold close to 250,000 copies in Russia alone.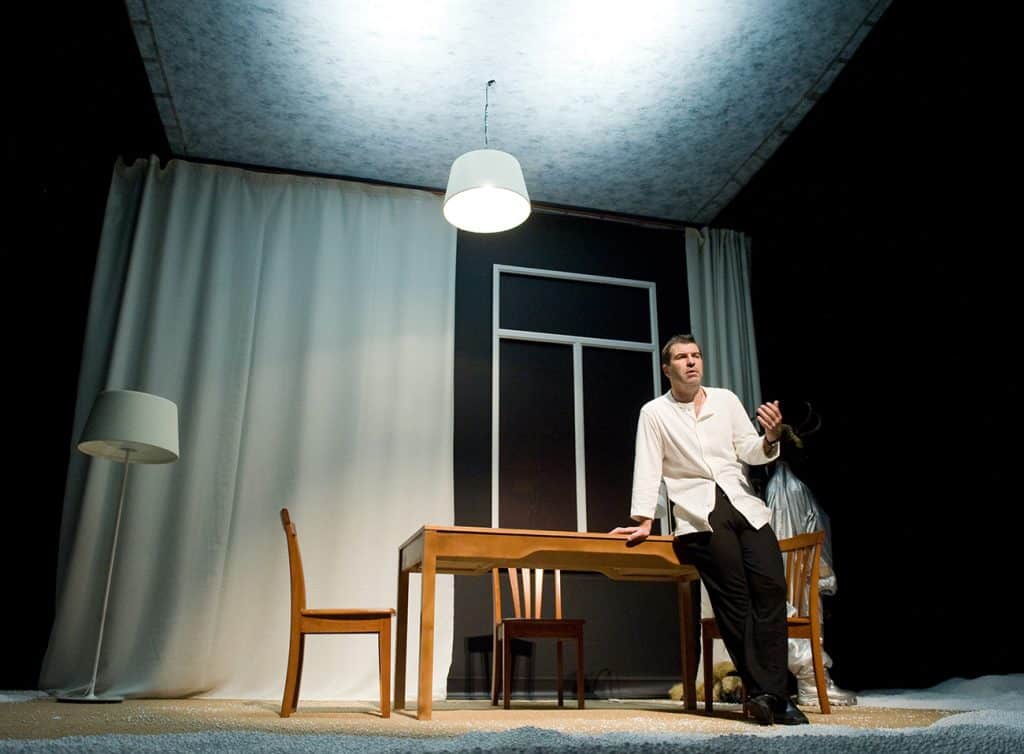 In 2005 Grishkovetz received his second supporting role in a film in Not By Bread Alone directed by Stanislav Govorukhin and based on the novel of the same name by Vladimir Dudintsev. The film follows a man named Lopatkin who is navigating himself through post-World War II Russia. Lopatkin is a poor physics teacher who becomes famous for inventing a double-layer pipe that can be used for the chemical industry. Although he wants to share his invention with other companies, he is constantly faced with corrupt bureaucrats who either reject his proposal or plagiarize it. The film received positive critical reception, winning The Big Golden Boat prize at the XIII Window to Europe Festival of Russian Cinema in Vyborg. It also won the Grand Prix Gold Leaf Fall prize at the XII Minsk International Film Festival.
In April of 2006 Grishkovetz released a collection of short stories entitled Strap. The collection consists of eight short stories that range in emotion. Some stories are funny and others are sad, but each story is both touching and relatable in their own ways. Each story follows a different set of characters who are all different from the previous story. These mundane portraits end up depicting the quest for meaning in everyday life.
Not By Bread Alone – the full film is available (legally!) on YouTube for free, courtesy of Alexander Rosenbaum, the film's star.
After the release of this collection literary critic, Yan Shankman, praised Grishkovetz newest short story collection. He compared his literature to the works of Chekov and Shukshin because he "continues to write modern stories about the ridiculous and tragic trivia of which our life consists. A domestic quarrel, a chronic lack of sleep, a broken jar of pickled cucumbers … any nonsense under the writer's gaze becomes almost epic, makes you stop on the fun and deeply think. These stories are the best therapy for a person who is tricked by the everyday race and forgets to look in the mirror. You look – and it seems that your life is not so senseless." Readers seemed to agree with Shankman's assessment of Griskovetz's literature, as Strap sold over 170,000 copies in Russia alone.
In 2006, Grishkovetz once again returned to film with a supporting role in the Russian miniseries entitled The First Circle based on the autobiographical novel of the same name by Alexander Solzhenitsyn. The novel is set during Stalin's mass arrests and purges and takes place in a prison-laboratory for secret research where Russia's most intelligent men are forced to work for the government. While the living conditions are much better than those of the Gulag camps, the scientists are confronted with the moral dilemma of cooperating with Stalin's inhumane system. Over 1 million Russians watched its television premier.
In April of 2009 Grishkovetz returned to the written word and released the novel Asphalt. It is about the experiences of a character named Misha, a middle-class businessman who makes road signs and markings. His life is normal until he receives news that his close friend, Yulia, has committed suicide. This sudden death sparks unknown feelings within him which allows him to evaluate his choices in life. The book was praised by critics for its in-depth look into Misha's emotions. Grishkovetz works hard to universalize Misha's feelings of grief after the loss of a good friend. Asphalt has sold slightly over 100,000 copies in Russia.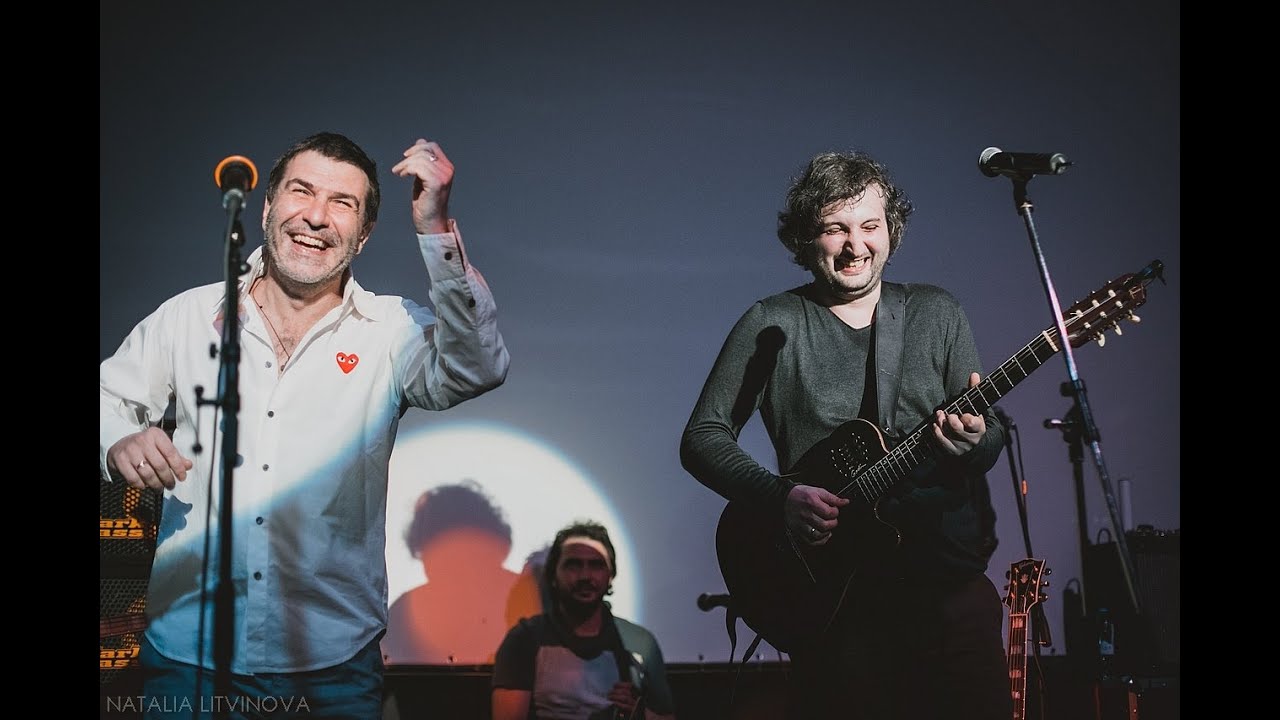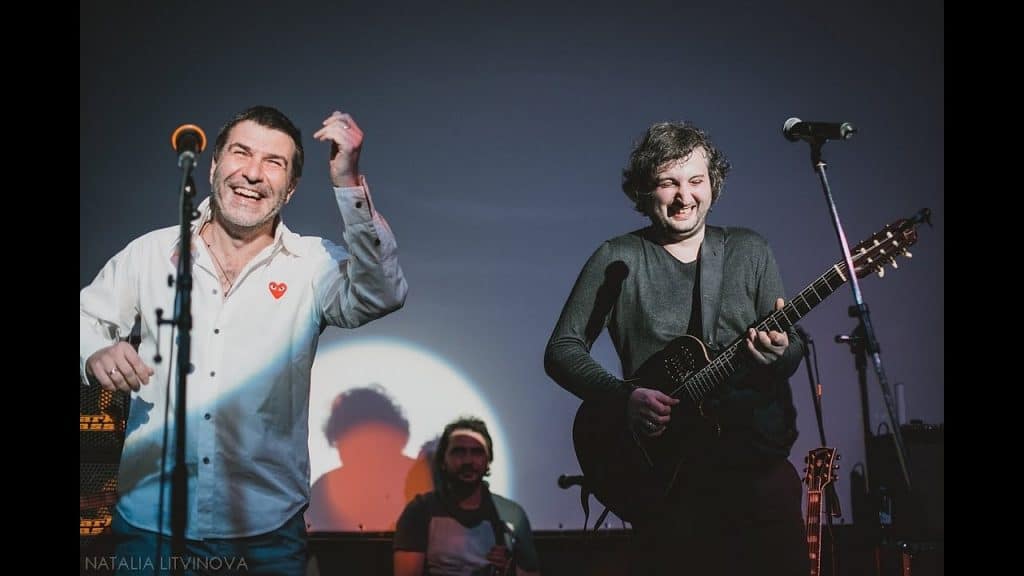 Later in 2009 Grishkovetz released another novel, Rivers. The novel was deemed by critics as both a piercing and warm depiction of Russia. The novel contains both childhood and adult recollections of Grishkovetz's homeland. Rivers was designed to elicit feelings of nostalgia in those who decided to live in Russia and also with those that decided to move away. Slightly under 100,000 copies were sold in Russia.
Grishkovetz's Rivers is availalble for free as an audiobook on YouTube, read by the author.
In the summer of 2012, Grishkovetz decided to take part in the Russian Arctic expedition to the Far Arctic on the ship called Professor Molchanov. The goal of the expedition was to calculate the number of polar bears in the area. Whilst taking part in the expedition, Grishkovetz took notes in a journal and published these in Almost Handwritten Life, released in 2013.
Critics praised his effort at non-fiction because it was both easy and challenging to read. Multiple critics pointed to the fact that it seemed that Grishkovetz was speaking about everything and yet also speaking of nothing in this collection of journal entries. In the collection, Grishkovetz fills each page with heavy handed nostalgia to show that it is the small moments that sometimes have the largest impact on the human mind. In Russia the book itself sold over 150,000 copies.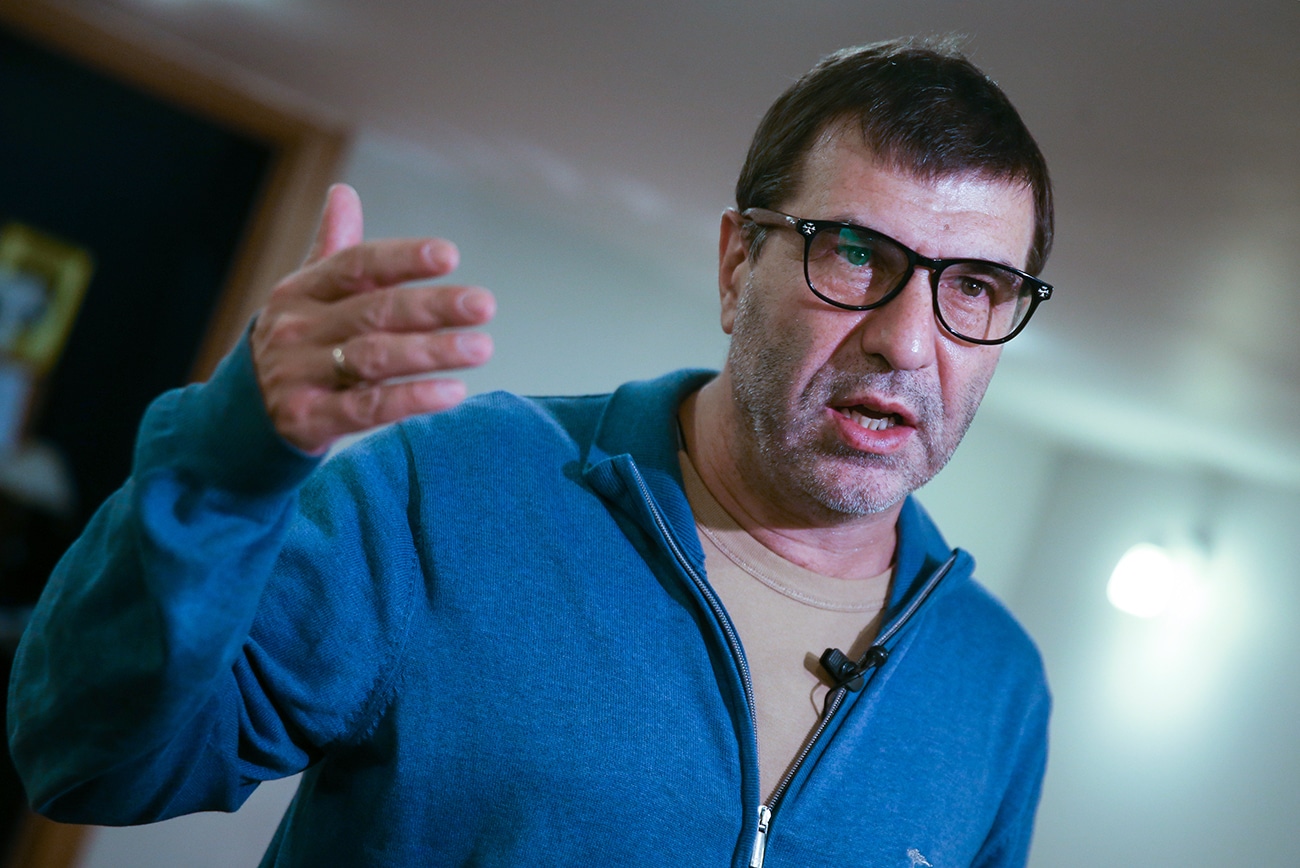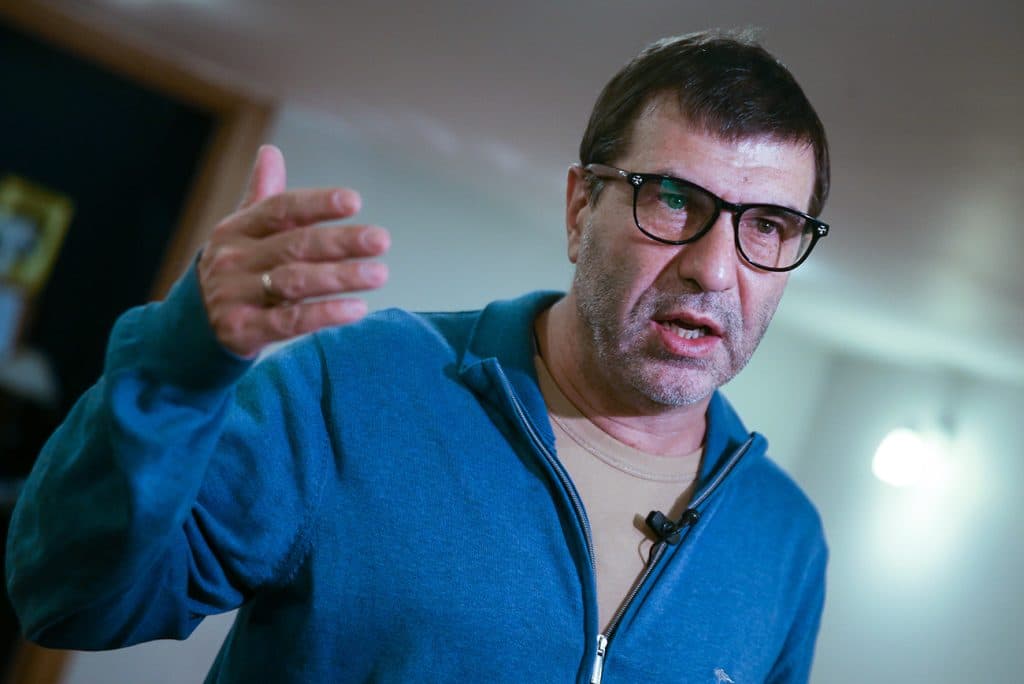 In 2017 Grishkovetz brought his one-man show How I Ate a Dog to North America. In an interview with Julia Bunyak for Forum Daily, Grishkovetz explained that this show was his fourth variant of the performance with slightly new material because each time he returned to the character he felt "at every age I found new meanings to him." In order to perform to predominantly English-speaking audiences in the United States and Canada, Grishkovetz hired an American student at the Moscow Art Theater School to translate. Grishkovetz then performed to play in English. Although this is a major change to the production, Grishkovetz did not think that it would not deter native Russian speakers from coming.
With seven plays and eight books to his name, numerous stage performances, two albums, and several supporting roles in film, it is safe to say that Grishkovetz is a multitalented man. Although Grishkovetz is a successful writer, it is his continued theater performances that are attributed to his widespread success and fame in Russia and North America. His performances are known to be full of life and speak to universal, everyday truths. In both his acting career and his writing he is known by many for putting to words mundane feelings that are sometimes not easily comprehended. To this day, Grishkovetz continues to write new, unique material that certainly cements a place for him in Russia's famous literary tradition.