There's a lot to be said about the highly political, oftentimes tenuous relationship between artists and art galleries throughout the Modern age.  It can be argued that this ambivalent relationship has its origins at the founding of the Royal Academy of Painting and Sculpture in Paris in 1648.  For centuries, an artist's reputation was vaulted to fame (or doomed to failure) based on their reception at the Académie's state sponsored salon.  Similarly, the economic necessity of finding a wealthy patron was a factor of primary importance to the pursuit of one's art, and a chief determinant in the perception of one's work as legitimate by established standards. This tension between art, economics, and exclusion eventually developed into a canonical debate about the interaction between artists and cultural institutions, resulting in many artists becoming increasingly preoccupied with creating works unleashed from the strict binds of the gallery system and traditional notions of legitimate art.  For example, artists like Christo and Jean Claude and Jean-Michel Basquiat create works that are inextricable from the environments they reside in, making art that literally transcends gallery walls.  Nevertheless, their works possess an enormous glut of worth aesthetically and philosophically (and indeed, monetarily) by very virtue of their liberation from the confines of the traditional artistic establishment. Bearing this complex history in mind, what do we make of Erarta, St. Petersburg's newest Contemporary art gallery that simultaneously serves as a contemporary art museum, live performance venue, and community center?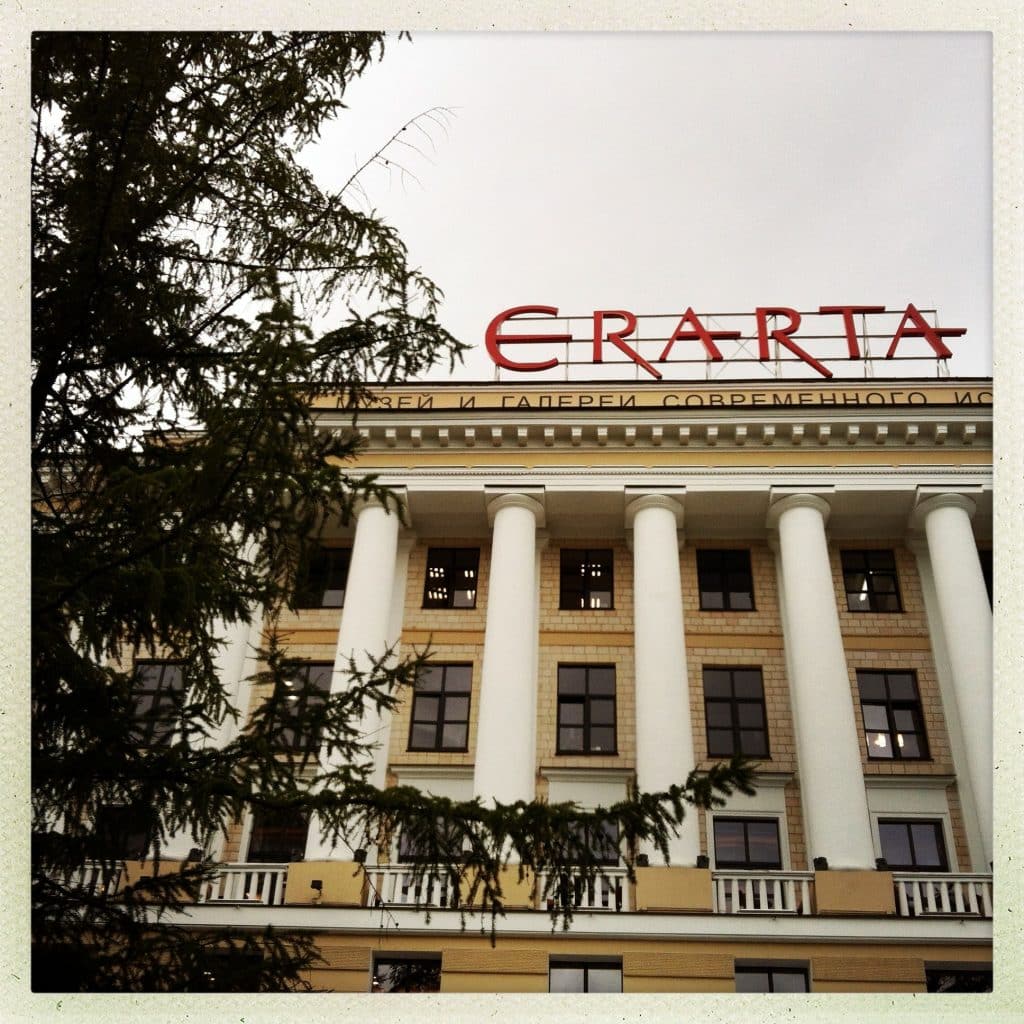 There's been quite a bit of discourse in recent years about the position occupied by galleries as cultural institutions, and what the burden of responsibility held by cultural stewards like galleries and museums entails.  The Bilbao Effect, the construction of the Getty Museum in Los Angeles, and the rise of New Urbanism all reflect different facets of an increasingly pervasive idea: the concept that the traditional modes of cultural stewardship are no longer adequate, and that museums must be actively engaged in community-building and other socially relevant endeavors in order to fully serve the communities they reside in.  According to this model, galleries and museums serve not only as stewards, but community liaisons; a far cry from the exclusionary practices of past institutions.  As such, Erarta's complex of mixed-use cultural spaces achieves this new goal rather splendidly, housing mixed-use spaces for exhibits of contemporary art and a wide range of lectures, meetings, and performances.
Erarta is made up of two sides: The gallery holdings on one side and the museum portion on the other. Spattered among the museum holdings of paintings, sculptures, and prints are installation pieces hidden behind vaulted doors, which can be accessed for an additional fee. Erarta primarily focuses on works by Russian artists, some of whom are also displayed in the famous State Russian Museum, also located in St. Petersburg.  The gallery side of the building features a plethora of up and coming Russian artists, with exhibits changing often. The schedule is available on Erarta's website and is updated frequently. The objects on the gallery side of Erarta are for sale, and represent a diverse body of work with paintings, prints, and sculptures ranging from figurative to abstract.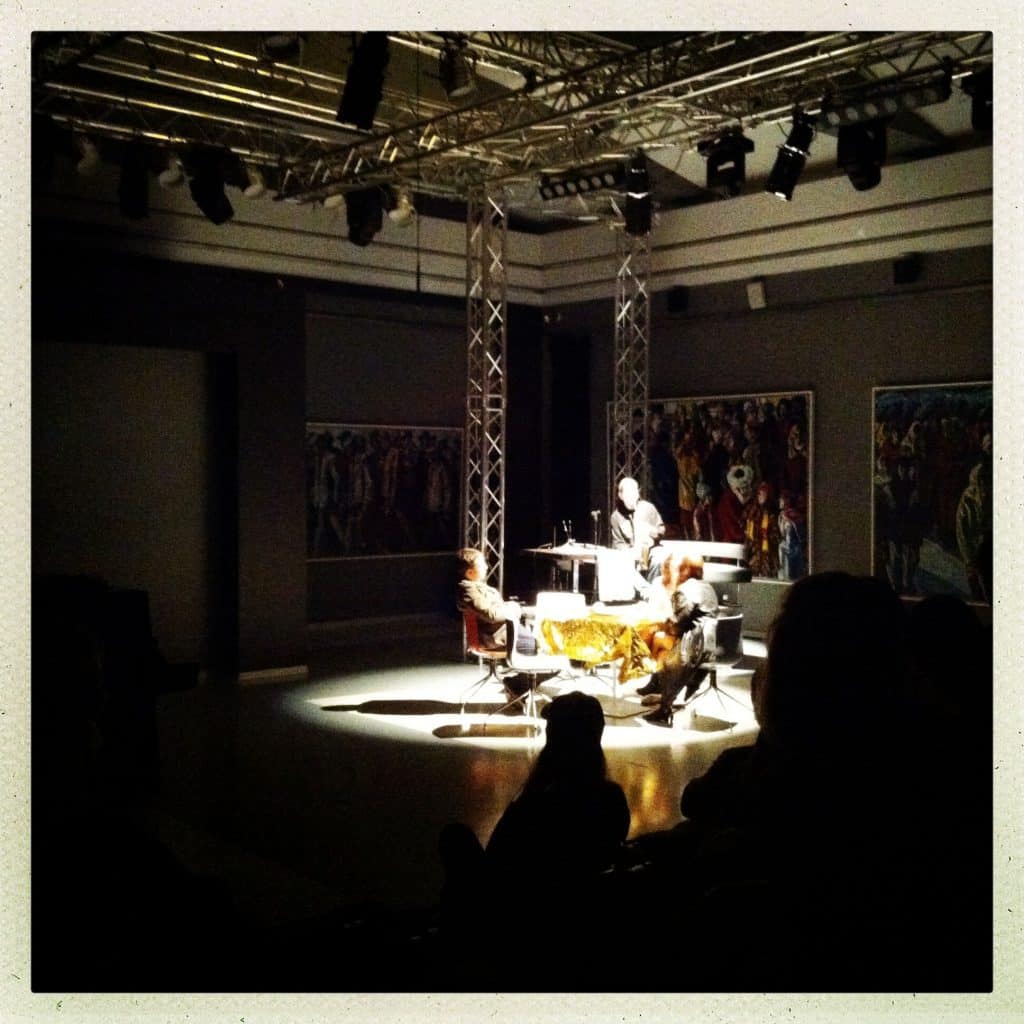 Erarta also serves as a community space of sorts, screening films, holding lectures, and providing a space for performances, happenings, and other avant-garde works.  A schedule of such events may also be found on the museum's website.   In "Представление" ("Performance")  performed at Erarta in July of 2012, the actors and artists behaved with alarming disorientation and erratic movement, shouting nonsensical dialogue and songs, while a musician accompanied their speech and movements with startling, dissonant musical notes.  While the piece was heavily reliant upon concept (and presupposed a substantial knowledge of Russian avant-garde culture), it was certainly an entertaining (albeit cryptic) experience, and further illustrates Erarta's openness to hosting members of the Saint Petersburg arts community to house their artistic endeavours beyond the traditional modes of painting and sculpture.
Through including such diverse specimens of Russian contemporary art, from academic painting to bold conceptual performances, Erarta successfully distances itself from traditional notions of the gallery space as being reserved for traditional, widely accepted forms of contemporary art. In this sense, Erarta's endeavor is a rather daring one, exemplifying an inclusive approach to answering the age-old question of "What is art?.  Erarta successfully constructs and houses a novel concept of cultural stewardship with its museum-turned-gallery-turned-community hub, serving not only paying customers, but providing a home for a wide community of artists, enthusiasts, and students from a broad range of interests.