Lecture by Alexei Nicholski
Translated by Elena Varshavskaya
As part of Art and Museums in Russia,
A program of The School of Russian and Asian Studies
As part of Art and Museums in Russia, a summer program I am attending from The School of Russian and Asian Studies, I recently attended a fascinating lecture on painting restoration methods at the Hermitage Museum's restoration laboratory.
The laboratory is housed in the same complex as the storage facilities located in Staraya Derevnja, on the north side of St. Petersburg. Though the stored artifacts are available to the public for viewing, the laboratory is not, which made a lecture on painting restoration from staff member Alexei Nicholski a thrilling opportunity. To our small group of students, Mr. Nicholski explained the methods and work behind the scenes at the world-renowned Hermitage.
Restorers are educated academically as visual artists, so although many of the resources they use for their work are technological or scientific, they also have a real understanding of and appreciation for the beauty of the pieces they help to preserve for the future. Onsite, the restorers have access to a photography lab, a chemistry lab, a vacuum table used to handle brittle, older canvases, and industrial microscopes. X-ray and infrared equipment, also used in restoration, are housed in the main Hermitage buildings in the center of the city.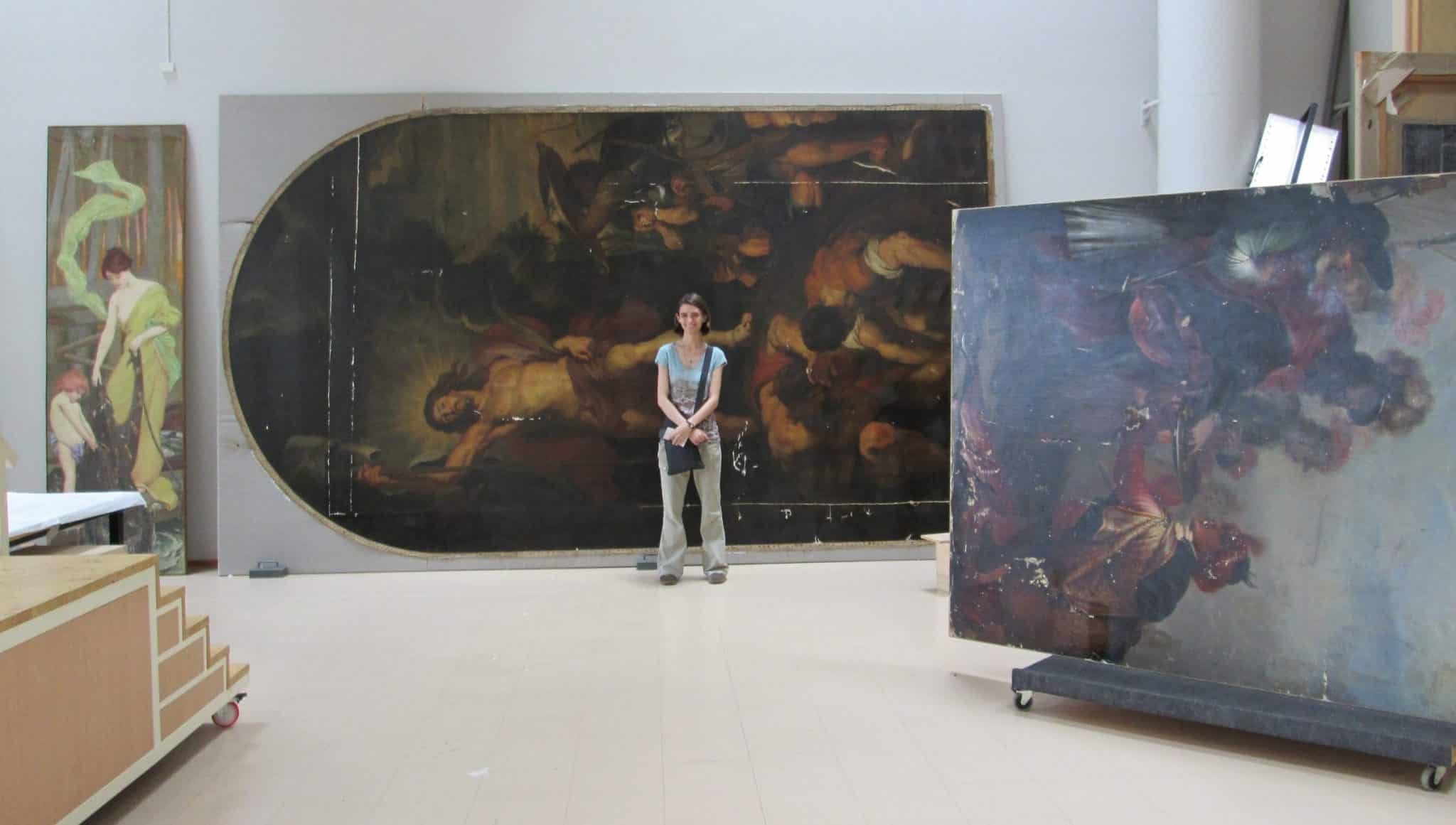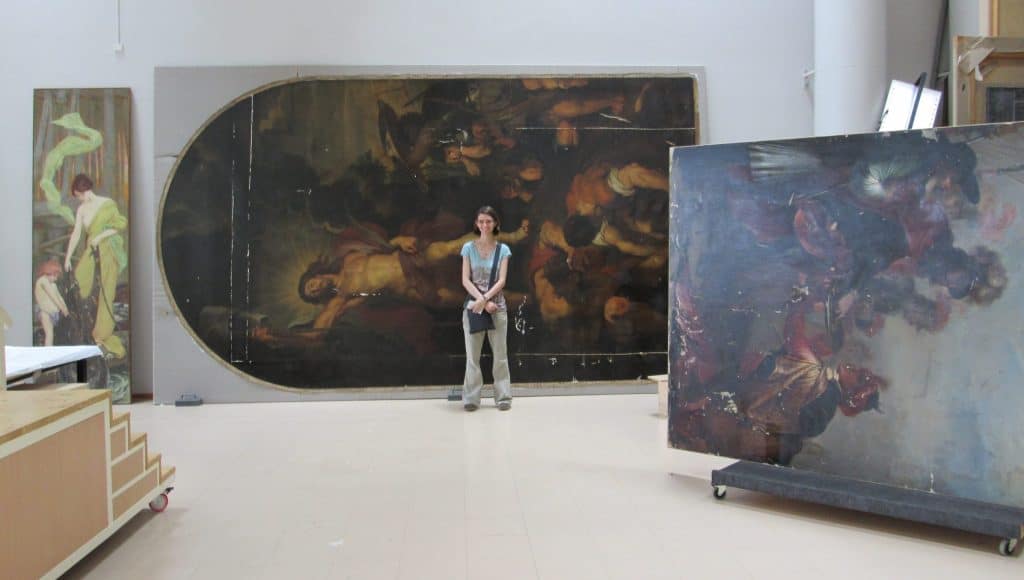 While awaiting restoration, paintings are kept preserved, rolled in huge metal tubes. Due to the emergency evacuation of the Hermitage collections during the siege of World War II, at one point there were four or five paintings per tube, and for years afterward the tubes changed hands so many times that no one even knew which paintings were inside which tubes. Now, all the paintings are accounted for, and each painting is preserved in its own separate tube until the staff is ready to work on it.
Microscopes are used to examine each painting and determine what changes were caused by prior restoration, and what errors have been made in prior attempts to correct damage to the painting. Every step of restoration is painstakingly documented, much like the chain of evidence a forensic specialist is accountable for when writing a report.
If the canvas itself is brittle, which is often the case with 17th century paintings–canvas of that time period had little or no elasticity–the vacuum table allows the staff to remove the painting from the weak canvas onto a new, stronger and more flexible one. This "doubling" technique is only possible with works up to a certain size, as anything larger simply won't fit onto the surface of the table for the transfer.
When restoring a painting, the Hermitage staff never begins with complex errors or anything in the center of painting–they always begin at the edges and with simple errors. Then, working in ten centimeter square sections, they work their way in, allowing the problems with the middle of the painting to gradually and easily melt away in the process.
Restorers use a special varnish-based (not oil-based) paint, with very thin pigment to make retouches undetectable. The first step, once the painting is on a fortified canvas, is to restore the transparency of the varnish. The preferred method, developed in the 19th century, uses a special coffer, which consists of a box lined with a layer of flannel soaked in mineral spirits. A restorer places the coffer over the canvas for two to three minutes per section of the painting. The paint softens and reacts, actually reverting to its original state. However, since this process interacts with the top layer of paint, it's very easy to completely ruin a painting if the work isn't done just right! Restorers can make some corrections by careful use of an iron to straighten or "erase" seams, but that also comes with the risk of the iron sticking to the paint if it isn't done correctly.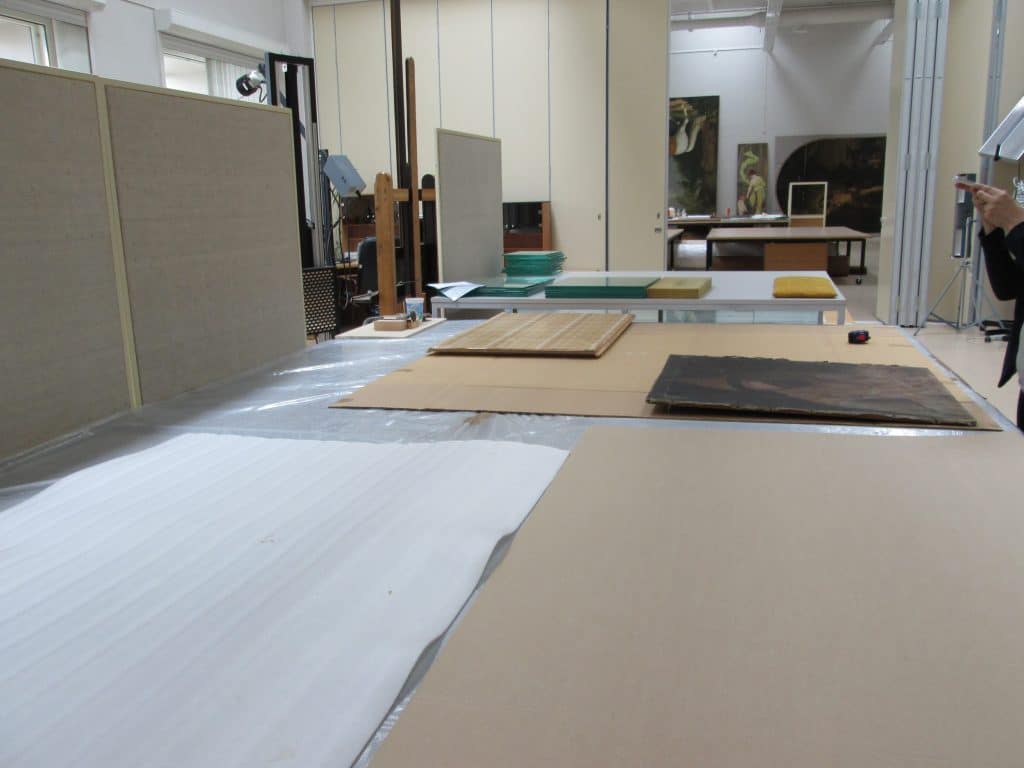 Restoration facilities are kept under thirty degrees Celsius at all times, and the ideal temperature is eighteen degrees (64.4F). The staff, however, prefers nineteen (66.2F), which is close enough to keep the paintings in excellent condition. This temperature prevents bubbling in the fresh varnish.
For adhesion, the Hermitage uses sturgeon glue (made from dried sturgeon bladders), which has a very strong bond. European and American museums prefer rabbit glue (made from rabbit skin) because of its softer bonding. To diminish the strength of the sturgeon glue, Russian restorers dilute it with water or honey (it is thus all-natural and technically edible, if not appetizing!) This allows for variable concentrations, which is one of the reasons it is preferred by Russian museums. A 3% solution of glue with water is used for smaller repairs, and a 12% solution is used for doubling works onto new canvas, particularly in the case of large paintings.
Although other museums in other countries use synthetic compounds for both adhesive and varnish, Russian restorers feel that the organic materials they have used for over the past 200 years have stood the test of time. They are hesitant to change to synthetics which have not yet proven to last for centuries.
In studying archaeological curation in America, I have come across a similar debate about the synthetic replacement of India ink–which is still clearly legible after over a hundred years–in labeling artifacts. We can't be certain that any synthetic can do the same until over a century has passed, and by then, obviously, it will be too late for us to do anything about it.
Synthetic varnish is especially out of favor in Russia. Compared to organic varnish, it's much more difficult to remove, and loses its transparency over time. However, with large-scale works, it is sometimes necessary to use synthetics in spite of these drawbacks, because the organic materials are heavier, adding more weight to an already unwieldy painting. Large works are difficult to transport as it is–a large painting has to be put back into a tube to be moved, then has to be re-stretched for display. Another difference in the treatment for large paintings, since the coffer is impractical on such a huge scale, is the use of a brush wash of isopropic alcohol to restore the softness of the paint. Mr. Nicholski, who is himself a painter, advises his artist friends, "Paint small paintings, or they won't get displayed!"
This fascinating and entertaining lecture, held in unique environs, I felt dovetailed with my previous education and curation interests very well. I'm sure that the knowledge I've gained and am gaining in St. Petersburg will be very useful in my future career.