Strolling around the second story of the Art Center space on Dumskaya, posters and calendars showcase nearly a century's worth of art. Many know of pin-ups, but not so much of the cultural significance of these camera-loving ladies.
What do you mean, a "pin-up"?  Exactly that, a pin-up.  These were models and actresses modeling in a variety of poses and stages of undress, usually as magazine pull-outs or calendars intended to be 'pinned-up' on walls.  From drawings, paintings, playing cards, fans, and comics, pin-up ladies saw their likenesses abound in mass media from the late 19th century to the World War II era and post-war times. While they remained popular afterward and to present-day, nothing can quite reach what the heyday of pin-ups contributed to popular culture between the 1910s-1940s.
The early girls: Gibson, Christy, and Petty
The "Gibson Girls" created by Charles Dana Gibson beginning in 1890 were inspired by his sister, his wife, and his wife's sisters.  Gibson published his delicate and humorous pen-and-ink sketches in magazines like Life, portraying the independent and iconic new American woman.  Howard Chandler Christy drew romanticized society women which became known as "Christy Girls" and painted the women for patriotic posters during World War I.  Another wartime artist was George Brown Petty IV, primarily painting rather disproportional pin-ups with longer legs and smaller heads for Esquire.  Because of "Petty's Girls," the pin-up ideal evolved from "unapproachable" Gibson Girls to the sensuous Petty standard.
There was a range of public reactions to this new sort of erotic art. Some thought it shameful to show the feminine figures, others applauded the ability for showcasing modern female sexuality, and even more praised the increasingly shortened hemlines and exposed skin.  Pin-up calendars and other prints were sent to the men stationed overseas during the war as a sort of morale booster, leading to the troopers painting their favorites as "nose-art" on planes.  After the war, popularity remained at a high, and some of our most memorable ladies mentioned were '50s pin-up darlings.  Pin-up photos and artists have not disappeared with the times, but without a doubt, the first half of the 20th century was paramount in bringing female sensuality to the forefront of our popular culture.  Seeing it in an exhibition in Russia, enjoyed by old and young, male and female, was proof that these pin-ups are timeless.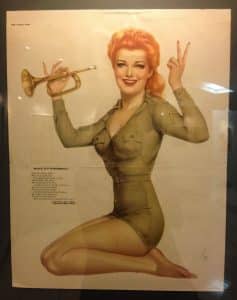 Famous pin-up girls
Betty Grable: yes, the one whose legs were insured for a million dollars… each.
Rita Hayworth: born of a professional dancer and a Zigfield Girl, Rita went on to be a poster pin-up.  Not to mention her image on the atom bomb at Bikini Atoll had a picture of her on it: the quintessential bombshell.
Jane Russell: leading sex symbols of the '40s and 50's, Jane graced many pin-up portraits
Betty Page: also called the "Queen of Pinups" with her black hair, bangs, and bright blue eyes
Ava Gardner: femme fatale, popular in the 50's
Veronica Lake: also known as the inspiration for Jessica Rabbit in Who Framed Roger Rabbit?
Notable pin-up artists
Enoch Bolles: early pin-up and pulp fiction illustrator
Alberto Vargas: iconic creator for WWII-era "Vargas Girls" mostly for Esquire magazine
Art Frahm: mostly Esquire and advertisements for major corporations, typically drew pin-ups in embarrassing public situations ("ladies in distress") where their underwear has fallen to their ankles
Gil Elvgren: popular artists whose "Elvgren Girls" were featured as nose art on military aircrafts during the second world war, and ended up doing many a calendar under Brown & Bigelow
Zoe Mozert: pulp fiction, pin-up calendar, and glamour magazine artist, also was a pin-up model herself
Joyce Ballantyne: most known for the Coppertone Girl, the little girl whose swimsuit bottom is being pulled off by her dog. She also contributed calendars for Brown & Bigelow
Olivia de Berardinis: popular in mid-1970s and 1980s, drawing popular icons in the pin-up style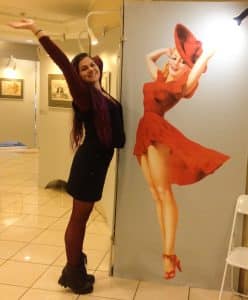 About the gallery
The Art Center opened in 2010 in the Perini exhibition space on Dumskaya (Думская) Street right off Nevsky and next to Gostiny Dvor.  They primarily host contemporary exhibits, and try to make the exhibits as accessible as can be to the general public.  Past exhibitions included Salvador Dali and Pablo Picasso.
Hours and address
Open everyday 10-23
ул. Думская, д. 4
closest metro: Невский проспект, Гостиный двор (blue/green)
Other links:
Art Center's website
A few of the famous pin-ups
The Week's 50 Years of US Pin-ups, mostly from the latter half of the 21st century
Art Center
Dumskaya Ulitsa, 4
Tickets from 150 rubles