The National Opera of Ukraine /
Національна опера України
Kyiv, 01034, Volodymyrska st., 50
Convenient entertainment, rich culture, low cost
Box-office hours:  Monday: – 11:00 – 19:00
All other days: from 11:00 – 19:30
Tickets starting from $2
www.opera.com.ua/en/

The National Opera Theater of Ukraine is a gem of Ukrainian and Russian culture that houses professional ballet and opera performances in the heart of Kiev, and it is a perfect low-cost form of entertainment and enrichment for students. Located just one block south of metro station Zaloti Vorota (Золоти ворота), and a few blocks away from the NovaMova International Language School, where SRAS classes are held, this opera house offers an elegant venue for audiences to enjoy live performances multiple times each week.
For a student who has been engrossed with Russian ballet and music from the time I was a young child and who has completed the standard Russian "Vagonova" ballet training syllabus under the tutelage of a Ukrainian ballet mistress in America, this theater seems to be a small piece of heaven on Earth. The theater presents about four different productions each week during the performance season, which runs from the beginning of September through mid-July, and the ticket prices are nearly too good to be true. Some balcony tickets are as low as 10грн (~$2) and you can get a seat with a fantastic view for as low as 50грн (~$6).
The classic repertoire is deeply rooted in the rich local traditions, with choreography, costumes, and sets that realize the visions of the great historical Soviet and Russian artists and composers: Tchaikovsky, Stravinsky, Glinka, Mussorgsky, Prokofiev, Petipa, Minkus, Diaghilev, and Nijinsky, just to name a few. The theater also presents contemporary works (e.g. "The Intersection" and "Caprices of Fate" by Myroslav Skoryk, "Zorba The Greek" by Mikis Theodorakis, and "The Forest Song" by Mykhailo Skorulsky), expanding its repertoire to include a wide range of styles and themes. The live orchestra is fantastic, and the dancers and singers are phenomenal. They all demonstrate solid technique, refined artistry, and vibrant style, characteristic of the Russian training tradition . My years of intense study as a classical Russian ballet dancer and music conservatory student help me thoroughly appreciate the dancers' beautifully arched feet, long body lines, and elegant technical execution, as well as the musicians' brilliant timbres, clean mechanics, and sensitive flexibility.
The resident opera and ballet company was created in 1867 and was initially housed in the City Theater building. In addition to staging popular grand operas such as Mikhail Glinka's "Ivan Susanin" and "Ruslan and Lyudmila," it premiered such productions as Tchaikovsky's "Eugene Onegin" (1889) and "The Queen of Spades" (1890). After a fire broke out and destroyed the theater in 1896, a new theater, with a new design was built, even bigger and more elaborate than before. The opera house now stands as a magnificent home to operas and ballets originating from all over the world.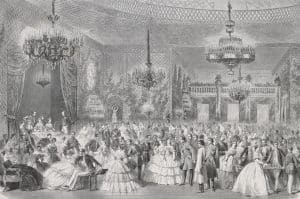 One of the things I love about the theater's location near the metro and NovaMova language school is that I get to hear the singers' voices streaming out windows of the opera house as they rehearse their parts, and I see ballet company dancers and students outside, walking and dancing along the streets and squares of Kiev, with their hair in high buns and their feet turned out, toes pointing sideways. I enjoy riding on the metro with them and their large tutu bags hanging from their shoulders. It's incredibly refreshing to see live artistic performance, grounded in tradition and appreciated for its cultural value, alive and accessible to people of all ages, backgrounds, and social classes here in Kiev. I cannot more strongly suggest that anyone visiting Kiev take the opportunity to enjoy the ballet or opera, or both, at least once.
Ordering tickets is fast and easy. The box office at the theater is open almost every day, and various ticket booths situated along the streets throughout downtown Kiev also sell tickets. I've found that the easiest way to reserve, buy, and retrieve tickets, however, is to select and book them online at the theater's website, and then pay for and pick them up at the theater. One precaution, though: If you're going to purchase the lowest-cost tickets, be sure not to reserve a seat that is situated behind one of the support pillars, which are demarcated by a black square on the seating chart. These pillars can partially obstruct the view of some ticket-holders.
Otherwise, sit back, relax, and enjoy the shows!