Ukraine in Miniature/Украина в Миниатуры Park in Kyiv
Brovarsky Avenue 9V, Hidropark/ Броварски 9В, Гидропарк
10:00 – 17:00 daily
10 hryvnias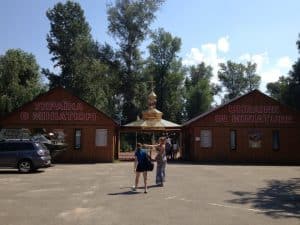 Kyiv boasts a rising skyline of new apartment complexes and an expanding metropolitan area of more than five million people, yet the city seems particularly interested with life in miniature. Not only is there the "Museum of Microminiatures" in the famous Киeво-Печерская лавра (Kiev Pecherska Lavra) church and cave complex, there is also a "Ukraine in Miniature" museum park located near the Hidropark (a waterpark). While not as well-known as the Lavra's micro-scale exhibits, the displays of the Ukraine in Miniature Park give visitors a birds-eye view of Ukraine's most notable buildings and architectural structures.
The Ukraine in Miniature Park, which opened in June of 2006, is situated on 1.8 hectares of land on Venetian Island, which is located in the Dnipro River. All of the buildings were constructed in 1:33 scale, so even the towering spires of Kyiv's tallest churches barely manage to reach above the waist. There are currently around 48 models, the majority of which are structures from Kyiv, but the park also features buildings from Lviv, Donetsk, Odessa, the Crimea, and other areas and cities of Ukraine. The differences in architectural styles between the various regions of Ukraine is very interesting to note, as the more eclectic Slavic and Italian styles of Kyiv contrast with the solidly Central European buildings of Lviv, which appear more Swiss or German.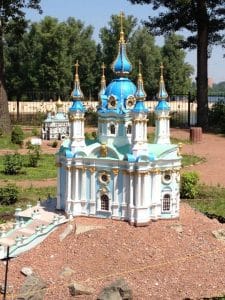 Another facet of Ukrainian architecture better understood in miniature is simply the sheer number of churches there are in Kyiv. While walking around the left bank of the capital city, it can quickly become easy to take for granted the sight of a golden dome; but the Ukraine in Miniature Park forces the visitor to stop and consider just how many of Kyiv's main architectural wonders are dedicated to worship. While the Ukraine in Miniature Park won't be able to help you navigate your way around Kyiv's many holy places—the park's Kyiv section isn't laid out according to the actual street plan—it will allow you to tower above even the rising spires of St. Andrew's Church (at the top of Андреевский спуск in Kyiv).
The Ukraine in Miniature Park has been slowly expanding, and there are plans to eventually bring the "minicity" of Kyiv to life, with cars speeding along the streets, boats cruising the Dnipro, and planes arriving and departing Borispol Airport. For now, however, visitors will have to use their imagination to animate the scenes in the park.
For groups and faculty-led tours, the Ukraine in Miniature Park is recommended as one of many attractions and activities available in the Hidropark area. The park is large enough to accommodate groups of visitors, and the admission fee is low. A trip here would provide a wonderful "miniature" introduction to the most impressive sights of Kyiv, and could serve as a great first stop on a trip around the Hidropark islands.
About the Contributor:
Alexander Wilson is a senior at Indiana University-Bloomington. He is studying History, Business Management, Investment Banking, and—of course—Russian. In order to improve his Russian language skills and learn more about business in Eastern Europe, Alex decided to travel to Ukraine. He spent most of the summer of 2013 in Kiev (Kyiv), where he took classes through The School of Russian and Asian Studies at NovaMova International Language School and interned at UniCredit Bank. After graduating in Spring 2014, Alex will start a career in investment banking and eventually wants to go into international business, hopefully in Ukraine and Russia.