With the arrival of pervasive digital photography, analogue camera production has dropped precipitously. While easily-editable high-resolution pictures can now be taken with your smart phone's digital sensors, high-quality analogue photography uses often bulky equipment to take photos that might be treasured or trash based on how their intricate chemical and mechanical processes play out. However, as analogue has become rarer, it has gained an impassioned following by those that value not only the greater skill needed to operate the vintage technology, but also the deeper personality of the art it creates.
Each developed image is a tangible reflection of the photographer's decisions on how to control numerous settings to bring out the desired light, color, and focus. Likewise, each analogue camera is unique in its design and construction, with its own strengths and weaknesses to balance. Devotees of analogue photography will often collect various cameras lovingly maintain them.
Within the former USSR, Kyiv is one of the greatest analog holdouts. Here, the very finest analog cameras in the Soviet Union were made in Kyiv's Arsenal Factory and branded with the city's name (in Russian): Киев (Kiev). These cameras, and photographers using them, can still be found throughout Kyiv at affordable prices.
Production of the Kiev Camera Line
The Arsenal Factory is one of the oldest factories in Kyiv, constructed first as a fortress and dating its very first output to 1764.  In later years, the factory would manufacture weapons first for Imperial Russia and, after a short pause during the revolution, the Red Army.  However, the factory did not only produce weapons.  Optical equipment and civilian technologies were produced there as well and, perhaps most interestingly, cameras.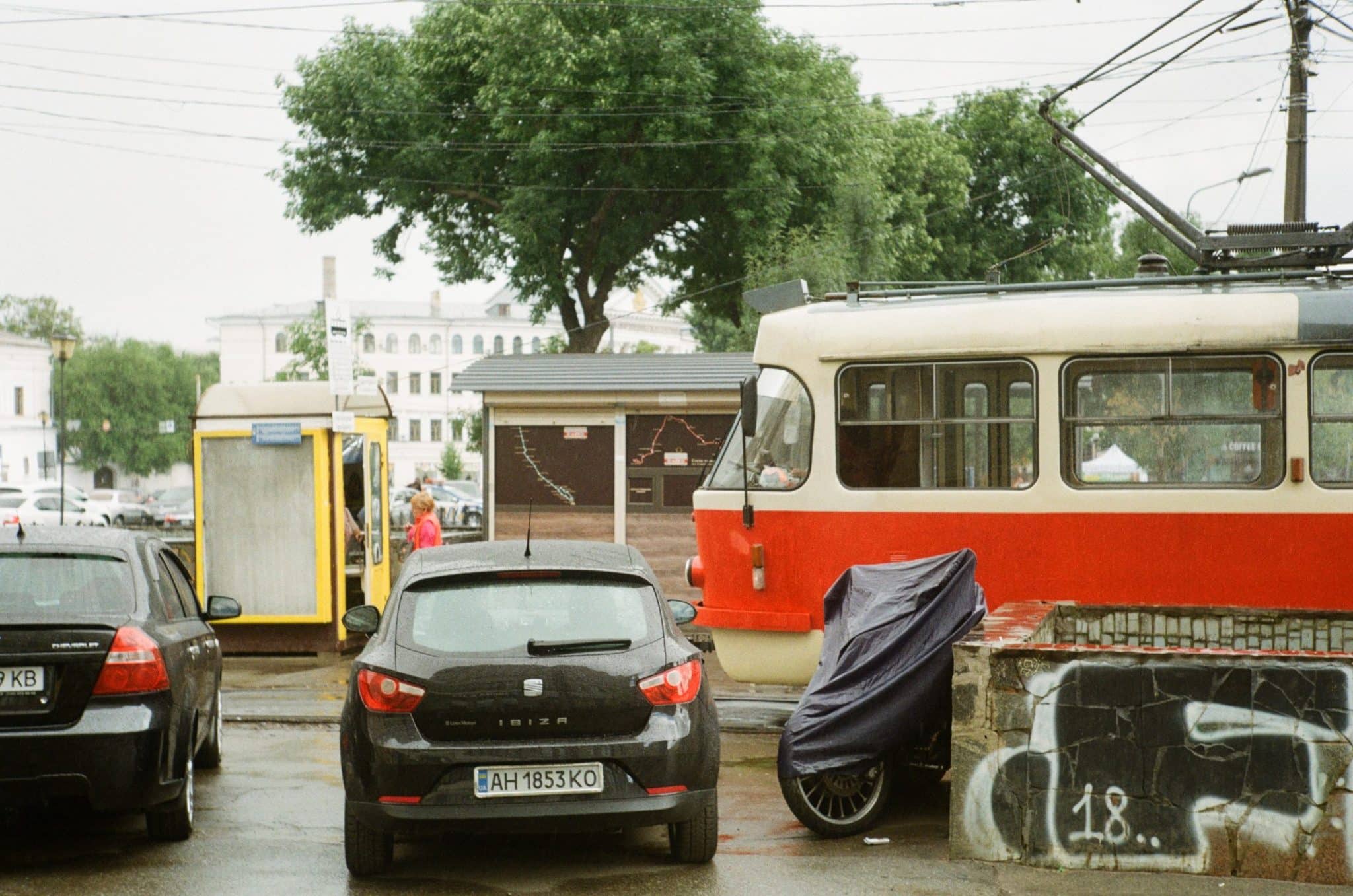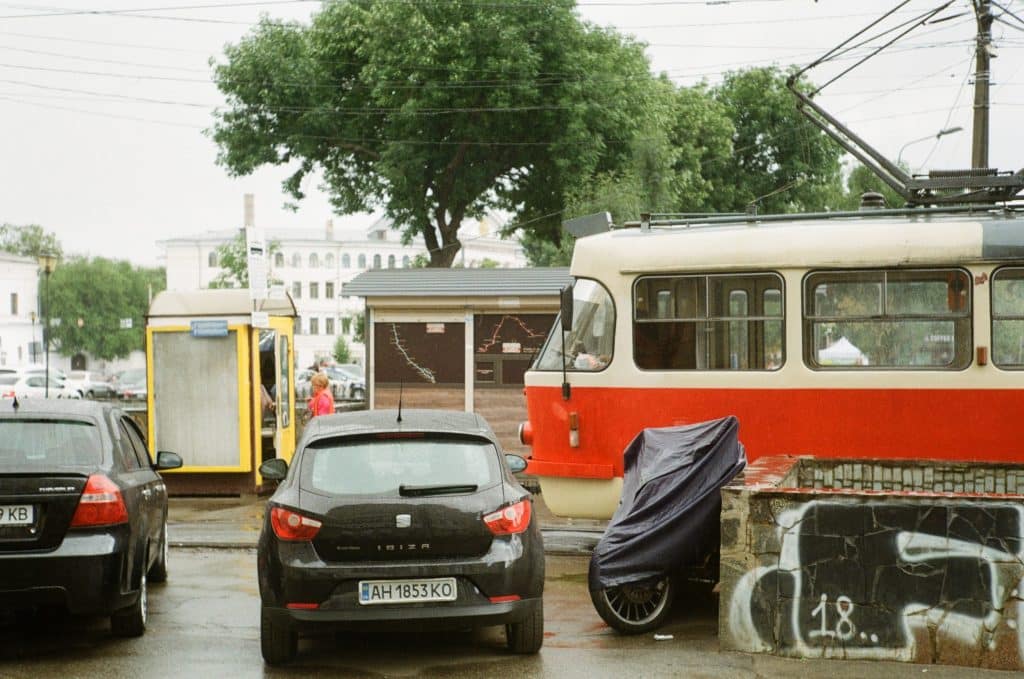 Like much in Kyiv, the factory's small camera operation traced its history back to shortly after World War II.  When the Red Army stormed Berlin, they brought back with them a massive collection of items of various utility value.  German prisoners, military technology, various and sundry valuables- and an entire Zeiss optical factory.  Zeiss had at the time been producing its line of Contax cameras, as well as equipment for the Wehrmacht.  The half-produced cameras, components, tooling equipment, and some personnel were hauled back to Ukraine, one of the more eclectic trophies of that campaign.  Authorities wasted little time in continuing the production of cameras, using German-made components and German Zeiss optical glass, some of the best in the world at the time.  No record exists of a "Kiev 1" line of cameras, but early examples of the Kiev 2 bear German inscriptions on the inside, concealed by Cyrillic inscriptions on the outside.  The lenses paired with these cameras were of highest possible quality, bearing too the Cyrillic inscriptions but at heart Zeiss designs.  When the German parts ran out, production continued, and quality did not decline significantly.  The Kiev 3 and later 4 were produced according to the same design, but they are not the only machines produced by the Arsenal factory.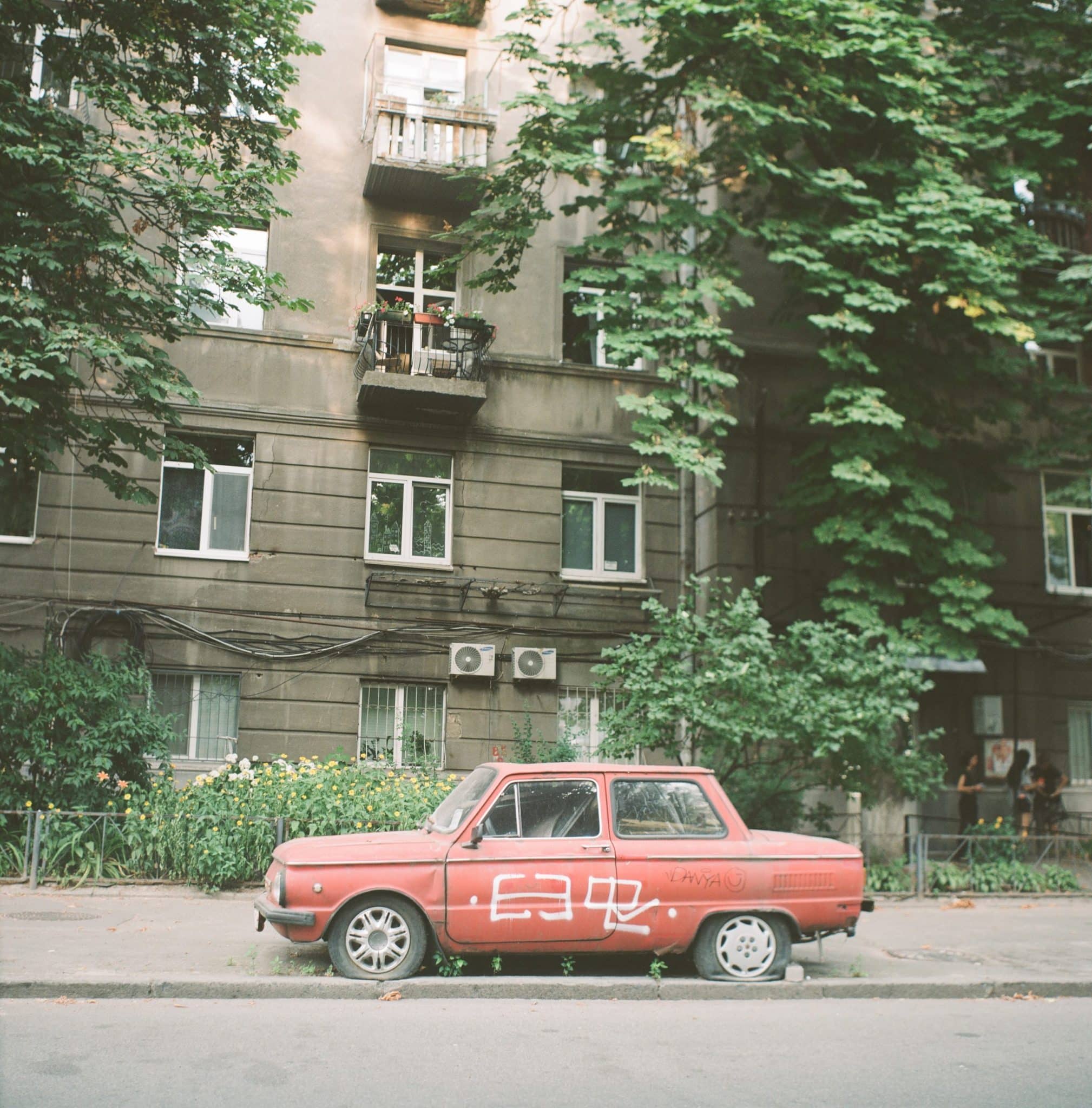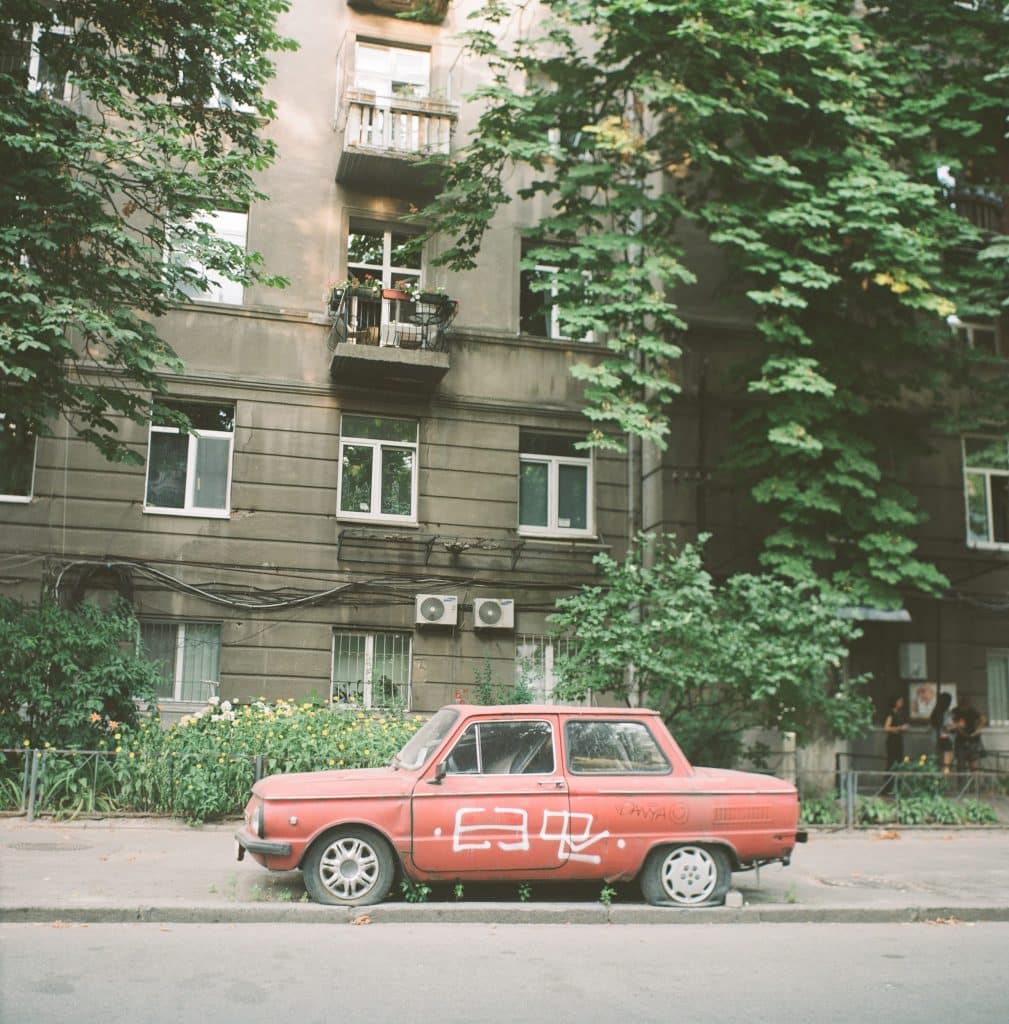 In 1971 the factory began production of the Kiev 6C, the factory's contribution to the prestigious professional medium format system camera market and one of the only such machines to be manufactured in the Soviet Union at that time.  Like the Kiev II, III, and IV, the 6C owes much to German design, in this case the East German Pentacon Six.  The Ukrainian engineers took the Pentacon's rather delicate interior and toughened it considerably- it is a testament to their work that most Kiev 6C's on the used market are working well, while many Pentacons are not.  These new internal components were incased in a sturdy, boxy frame made of solid metal and covered with leather.  Its common lens mount gave it compatibility with a wide range of foreign lenses, and in addition to this a full range of lenses were manufactured in Kyiv.  The camera is a true "system camera," a first for the Soviet Union.  Unlike previous Soviet machines, the Kiev 6C could swap lenses and viewfinders according to the needs of the photographer, allowing the same camera to be used for a wide variety of work with little effort.  A dial allowed the photographer to switch the camera between use for 120 film (12 exposures) or 220 film (24 exposures.). The later Kiev 60 modernized the design slightly and dropped the 220 option, but in all other regards it was left unchanged from 1971 to the mid-nineties, at which point the decline of Ukraine after the collapse of the Soviet Union forced the camera operation to shutter its doors, its expensive workhorses now luxury items far too expensive for locals and unwanted by much of the west.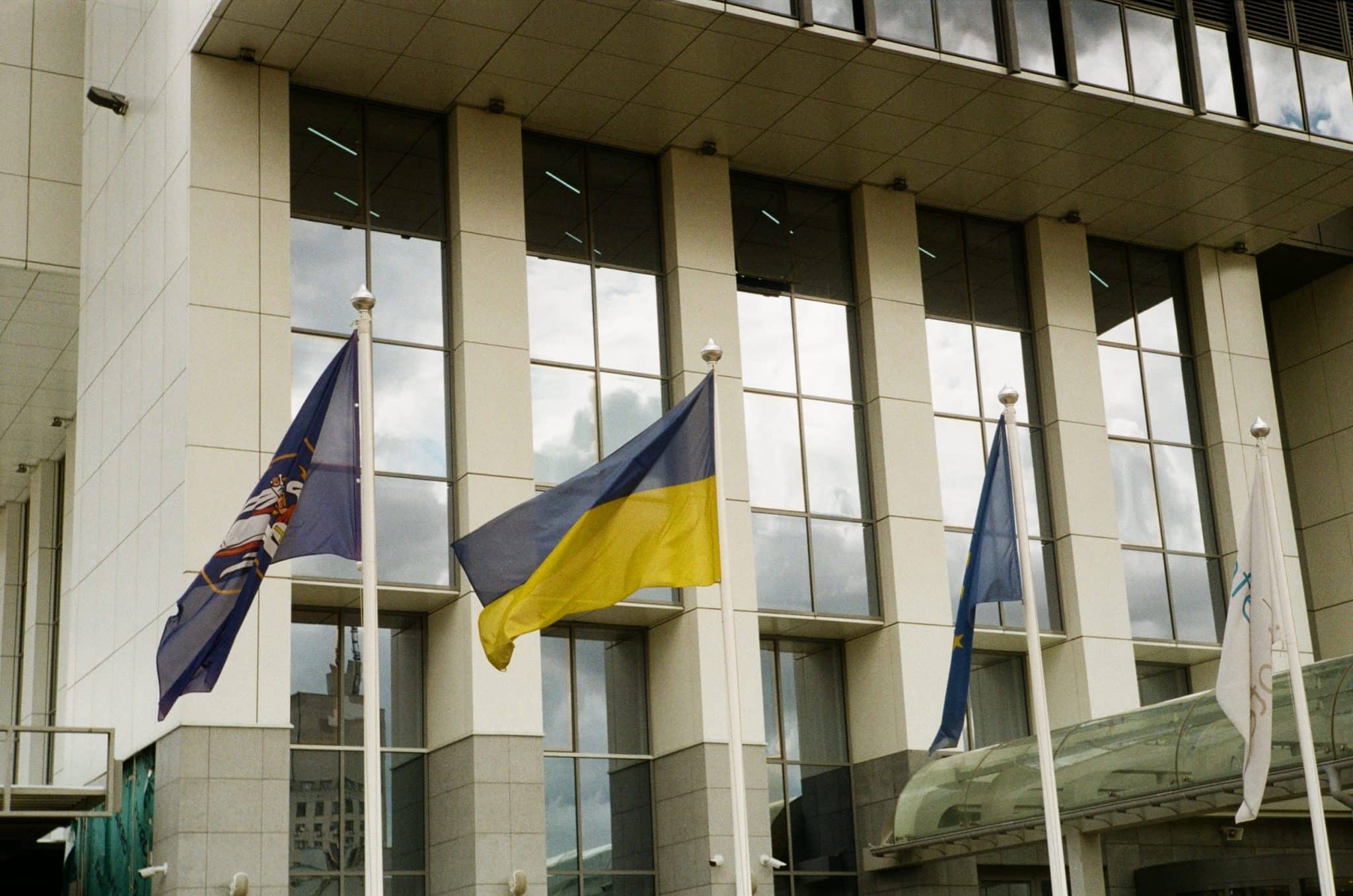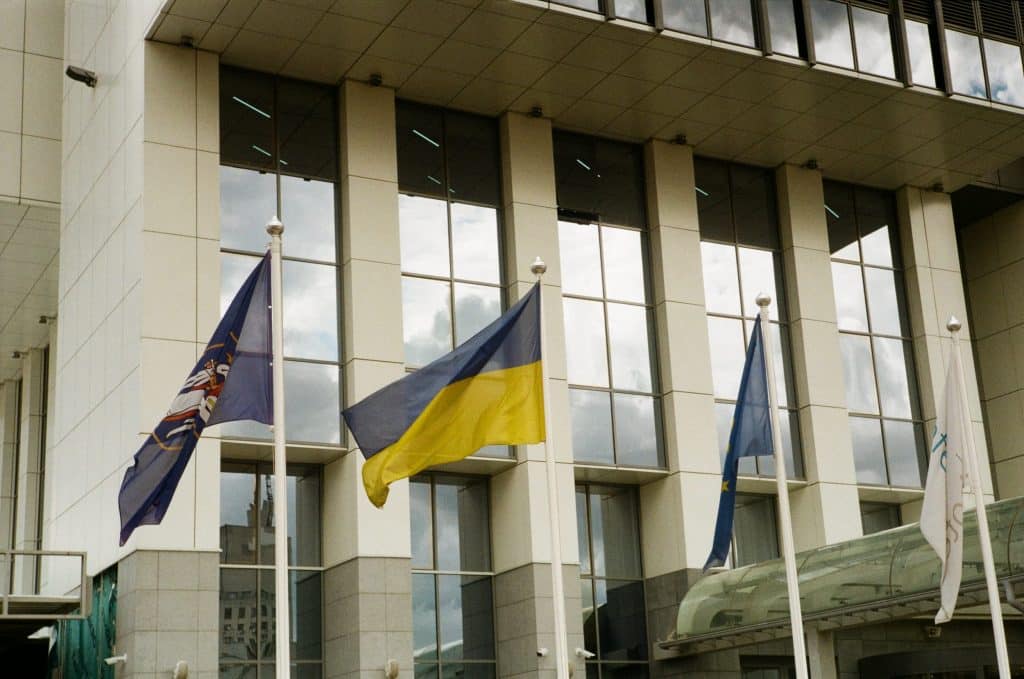 Other cameras were produced in the Arsenal factory- the Salyut series of medium format system cameras coexisted with the Kiev 6 series, but was doomed by the heights it aspired to.  An attempt to copy the Swedish Hasselblad cameras, world renowned for their quality, it cost the equivalent of six months' salary, and its astronomically high price kept it out of reach for most people.  In the end, it was discontinued while the 6C and 60 series continued to roll off the production lines.  The Kiev 10 and 15 introduced an incredibly creative brass fan-mechanism shutter, entirely unique to their design, and include the first automatic exposure system in a Soviet camera.  The Kiev 17, 18, and 19 share a lens mount copied from Japanese Nikon cameras, and were valued by professionals for this and for their high-quality construction.  The most common and highest quality products are the Contax-copy II, III, and IV rangefinders and the 6C and 60 medium format cameras, and they are available for comparatively low prices from local sellers, a testament to the proximity-of-manufacture.  It's entirely possible that many of the cameras on the shelves at camera stores never left the city in which they were manufactured.
Finding Vintage Cameras in Kyiv
Befitting its status as a center of camera manufacturing, Kyiv is dotted with innumerable camera shops, specializing in everything from modern professional cameras to restoration and refitting of the original Kiev and Salyut cameras.  It would be nearly impossible to tour every single one, but four companies in Kyiv provide a decent overview of analog culture.
Fotolavka, in the Lypky neighborhood near Ploscha L'va Tolstoho station, is a small shop catering to professional clientele who favor the analog process.  Racks of gear- tripods, straps, bags, reflectors, flashes, line the back wall.  A minifridge holds boxes of film, with representatives from Kodak, Fuji, and several smaller companies, present in everything from 35mm rolls to sheets of 4×5 film.  A glass case behind the counter holds a small selection of used cameras- Arsenal's products, Zorkis and Zenits from the KMZ plant in Russia, and more conventional Japanese and American machines as well.  Here as in most camera stores in Kyiv the staff will test each machine before purchase.  Film is also developed and scanned here, for any photographers who want to take advantage of the comparatively low prices in Ukraine compared to America.
Fotovramke, not far from the Golden Gates, might look well at home on the streets of New York or London.  This minimalist shop specializes in the few newly-produced film cameras produced by Fuji and the Lomographic Corporation, and sells a good selection of film as well.  Like Fotolavka, Fotovramke developes and scans 35mm and medium format film, and boasts a processing time of only 24 hours for most work. On top of that, the shop maintains a sitting room in the back in which free classes are held on various analog procedures- these are only held in Ukrainian, but might be an excellent opportunity to practice the language.
Fotomagazine Paparazzi, near the Teatralna stop, is positioned intimidatingly behind a locked door and up a flight of stairs.  This shop is extremely high end, catering to professional photographers who shoot with the latest model digital cameras.  They carry a wide selection of professional-grade digital gear, but also stock a selection of used film cameras.  Their website has a full catalog, but be warned- many of these are stocked in their other locations around Ukraine.  The staff will be more than happy to order a camera to the Kiev location, but be prepared to wait a few days for it to arrive.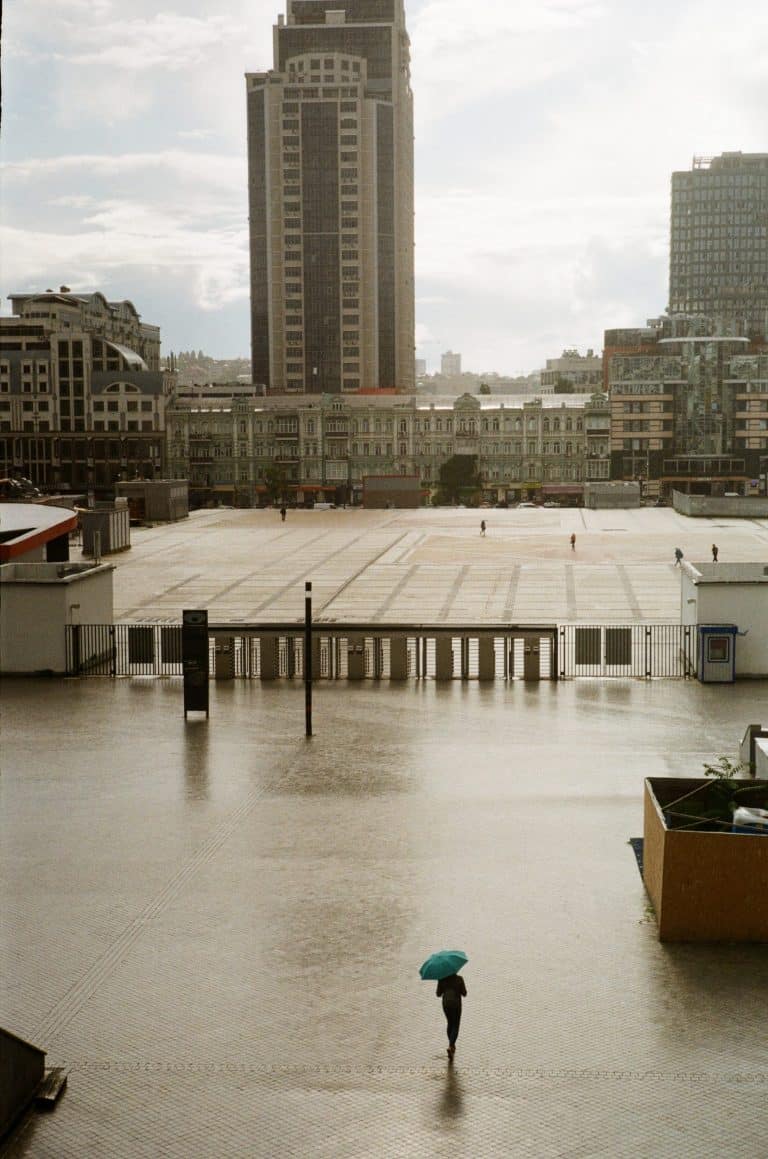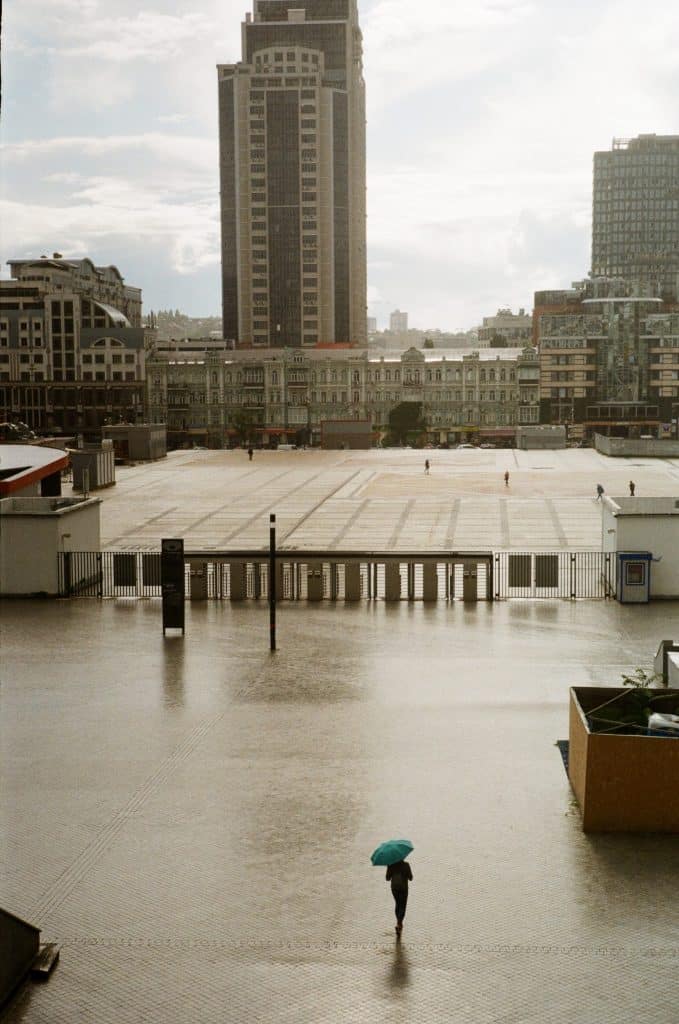 Arax, the fourth representative of Kiev's analog culture, is not a photography store at all.  Instead, the company breathes new life into the Arsenal factory's finest products.  Here 6C and 60 cameras are given a complete makeover, with new paint, leather covers, mirrors, and shutter curtains.  Internal components are cleaned and lubricated before being put back in place, and broken components are switched out for undamaged parts, leftovers from Arsenal's masses of unused pieces.  Salyut cameras, too, are retrofitted, their originally low quality control vastly improved upon to bring them almost to the point of competing with the Hasselblad cameras they had originally aspired to.  The Arax facility operates no physical storefront, but will ship cameras worldwide and is happy to communicate locally.  They employ many workers from the original Arsenal factory, whose expertise is vital to keeping the old machines working.  In addition to new cameras, Arax also retrofits the old machines, ensuring their functionality for decades to come.
Kyiv is an incredibly picturesque city, and it is fitting that a photography culture should be a component to it.  Any photographically-minded visitors should be aware of the deep history behind photography in Kyiv, and for those in search of a unique souvenir, one of the city's analog cameras is a practical and inexpensive option.