New SRAS students at the London School in Bishkek are introduced to the city and some of its major landmarks on a walking tour shortly after arrival. I took this tour on the afternoon of my first day here at the end of August. It was hot, the streets were busy, and little stands along the sidewalks offered free maksym (максым), a cold drink made from fermented grains, and other national beverages in honor of Independence Day. I recently re-walked the tour on this semester's edition. The major difference was that this time, we trod icy, snowy winter streets. Here is an overview of the SRAS Bishkek Walking Tour:
The London School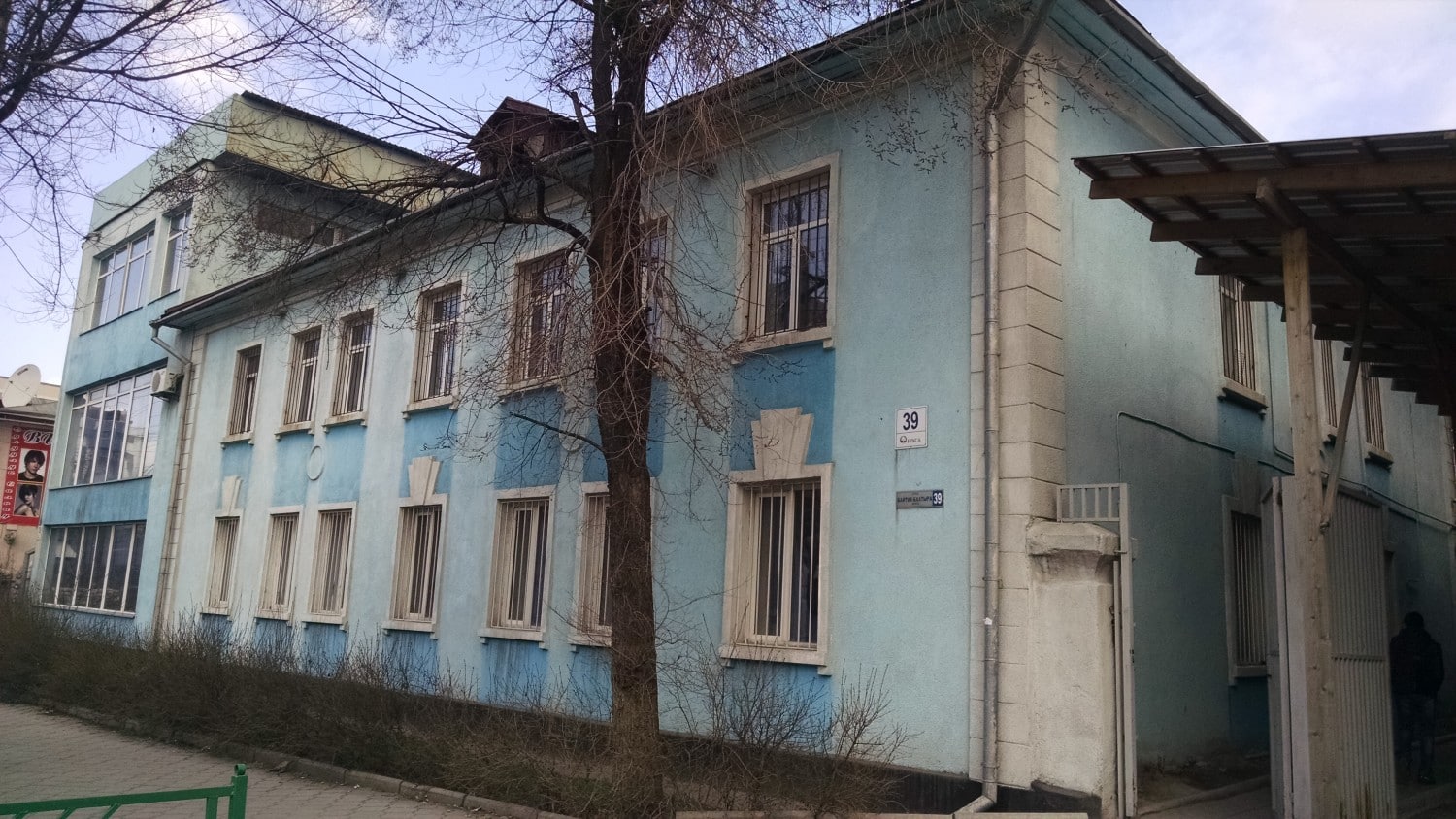 The tour begins at the London School in Bishkek, a bright blue stucco building at 39 Baitik Baatyr Street (better known by its former name, Sovetskaya Street). From there, we set off north along Sovetskaya.
Vefa Center
Address: 27/1 Gorky St. (at Sovetskaya St.)
Website: VefaCenter.kg
Free Wi-Fi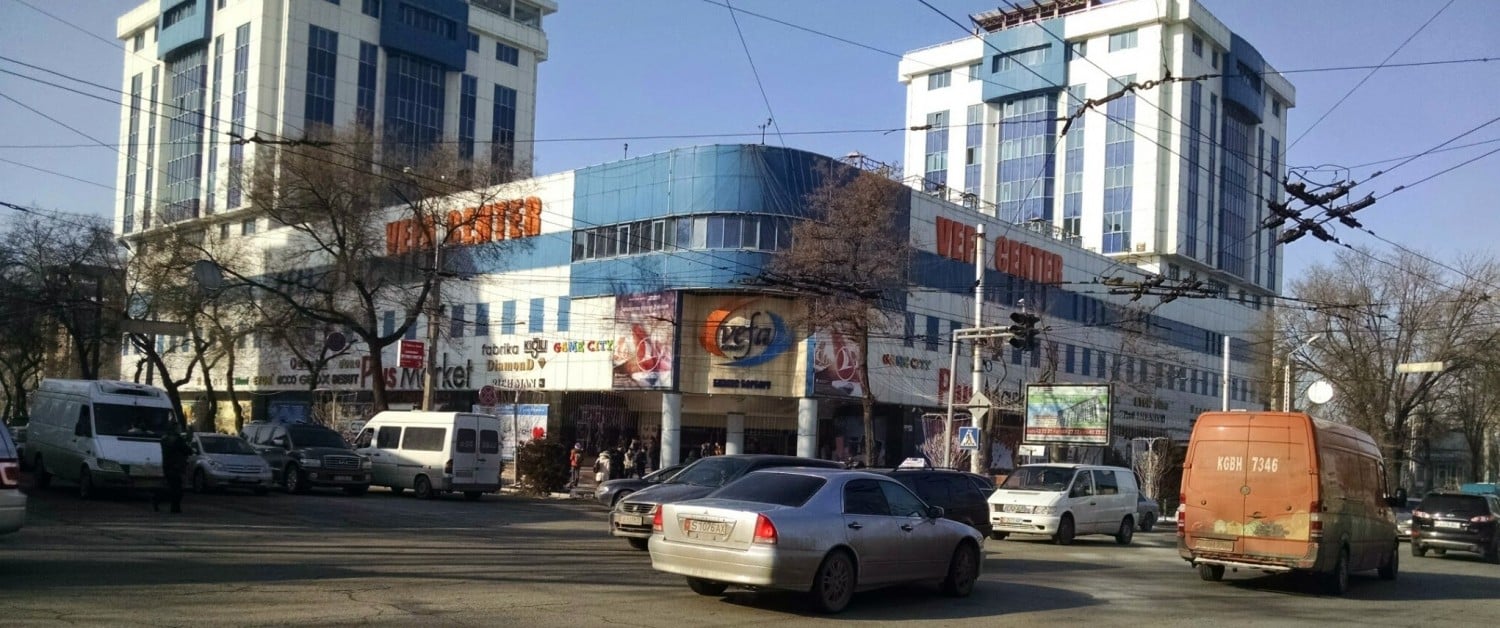 Vefa Center is a mall located just north and across Sovetskaya from the London School (the bus stop closest to the school is referred to as "Vefa Center"). I don't think I'm alone, as a London School student, in experiencing Vefa Center as Bishkek's central landmark during my first days here. The huge, white department store was the first building I could readily distinguish amid the mostly gray constructions along Sovetskaya, and it was the only reason I knew when to get off the trolleybus on my first day of classes.
Vefa Center is a three-story mall with a supermarket, cafes, a food court, a movie theater (showtimes here), a small arcade, and clothing and electronics stores, among other businesses. Plus Market, which occupies much of the first floor, sells everything from produce and snacks to kitchenware and toiletries. There is a currency exchange location on the first floor as well, and a "terminal" where money can be added to cellphones. I also recommend the delicious and cheap blini made to order at a stand just inside the indoor entrance to Plus Market.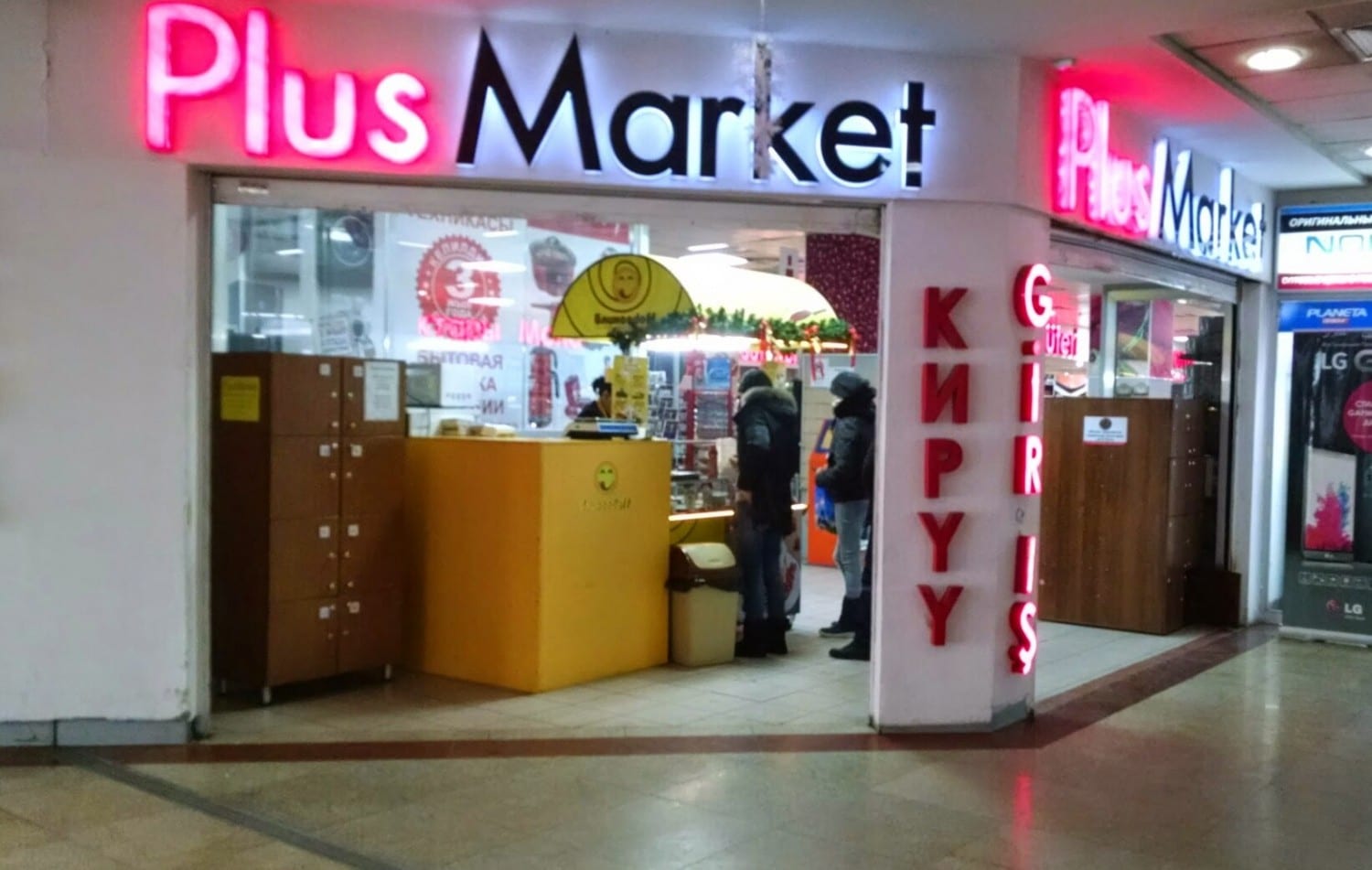 Sierra Coffee has a small location on the third floor balcony of Vefa Center. Coffee Time on the first floor is also a cozy place to sit, with good coffee.
Sovetskaya Street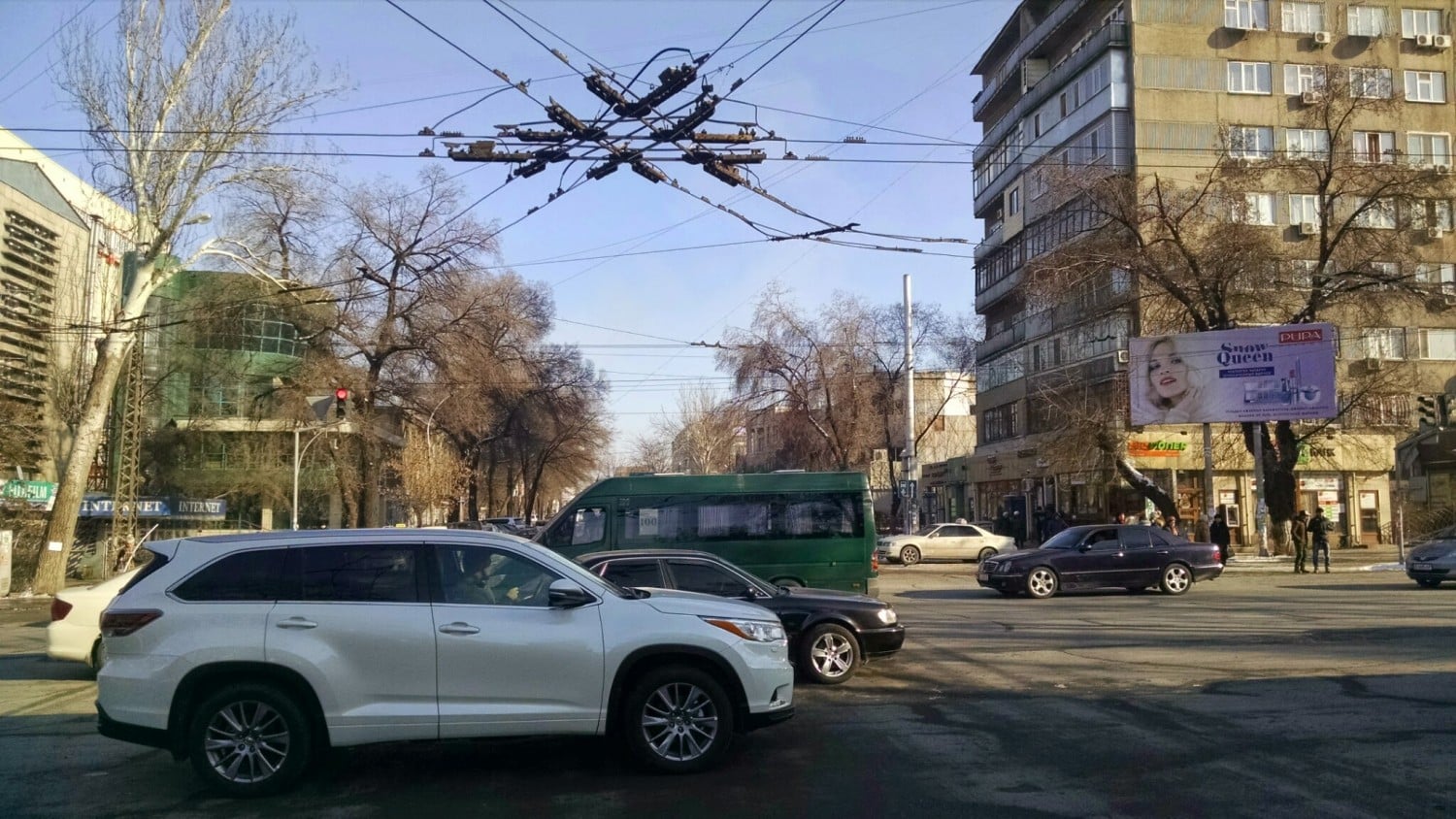 From Vefa Center, we continued to walk north along Sovetskaya. The sloping North-South thoroughfare is the longest street in Bishkek, at almost 14 miles long. It is lined with stores and cafes, and is busy at all hours of the day. We followed it downhill as far as Chuy Avenue.
Kyrgyztelekom Building and Clock Tower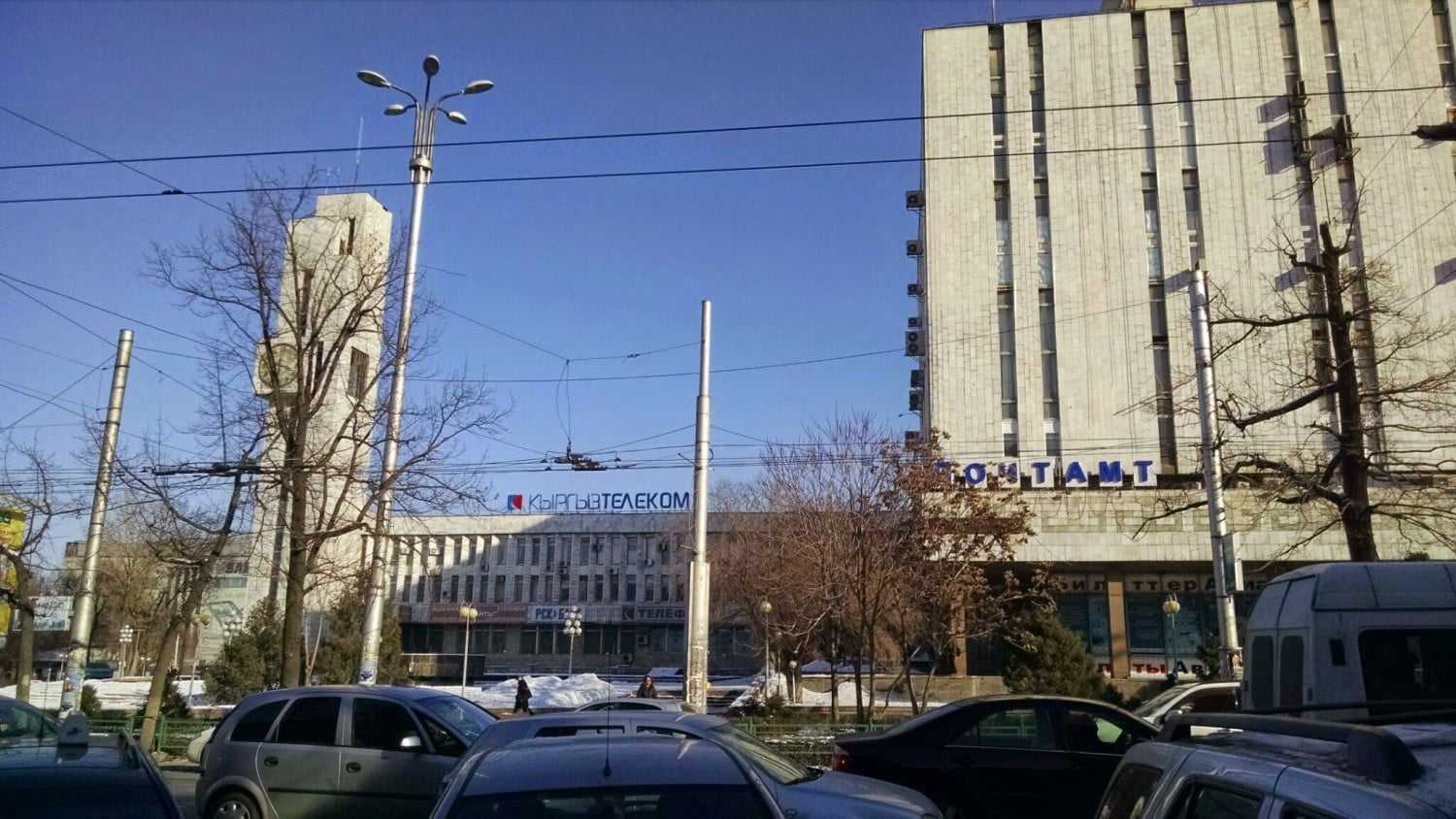 On the corner of Chuy and Sovetskaya is the marble-faced building of Kyrgyztelekom (a telecommunications company) and adjoining clock tower. The building was constructed between 1972 and 1980, and the clock tower, measuring about 131 feet tall, was a gift to Bishkek from Armenia, presented in 1984.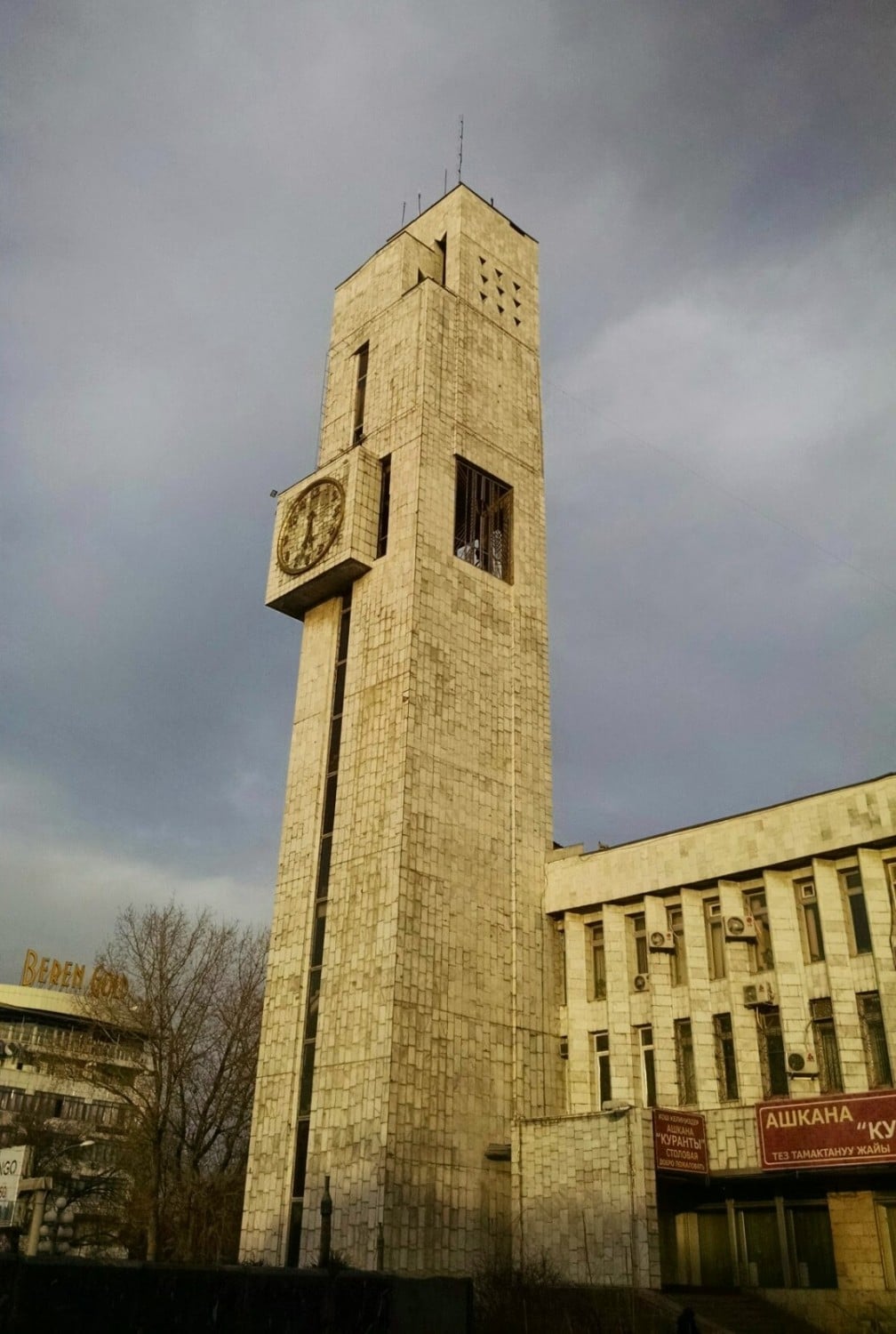 The clock is electromechanical. According to this article, the clock's chimes were originally a tape recording of Kremlin Clock's chimes. Just after the fall of the Soviet Union, the tape wore out and the plant in which it had been made in Ukraine was no longer functioning to replace it. It wasn't until thirteen years later, in 2013, that the clock began to chime again, using an audio file of the Kremlin chimes played on a computer.
Bishkek's main post office also adjoins the Kyrgyztelekom building. The small square in front of the building, featuring an elevated fountain (supposedly covering a defunct bomb shelter), is a frequent spot for local couples to meet for dates.
TsUM
Address: 155 Chuy Ave.
Website: TSUM.kg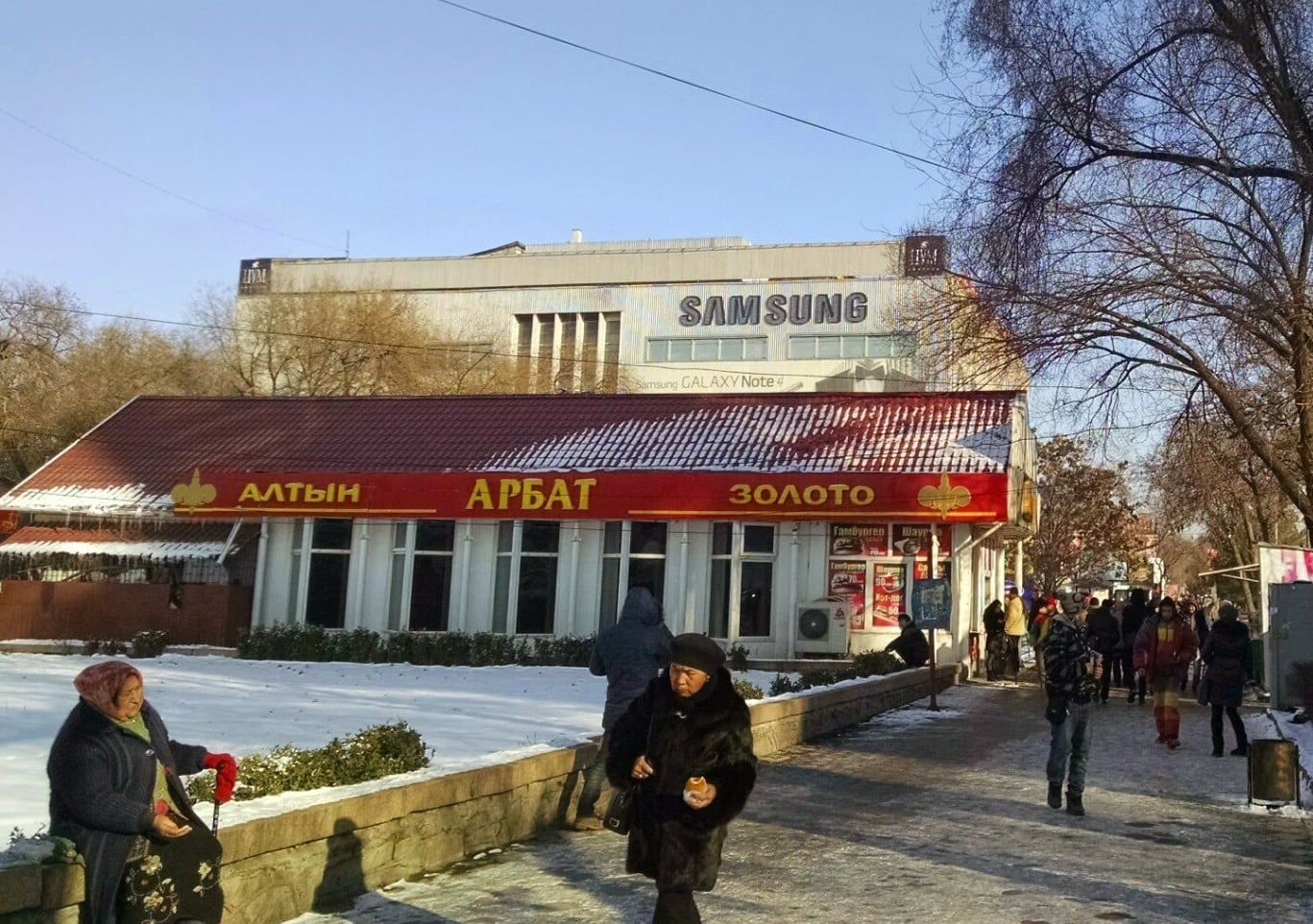 TsUM is another department store, on Chuy, just off of Sovetskaya to the east. Much larger than Vefa Center, TsUM has five floors packed with counters and cubicles, selling electronics, office supplies, household goods, clothes, instruments, souvenirs, jewelry, makeup, and just about everything else. TsUM was a standard name for department stores throughout the Soviet Union (it stands for Central Universal Department Store / Центральный Универсальный Магазин), with a primary, and still popular, example in Moscow. It first opened in Bishkek in 1956, and moved to its current location in 1974. When it opened, it was the only building in the country with escalators.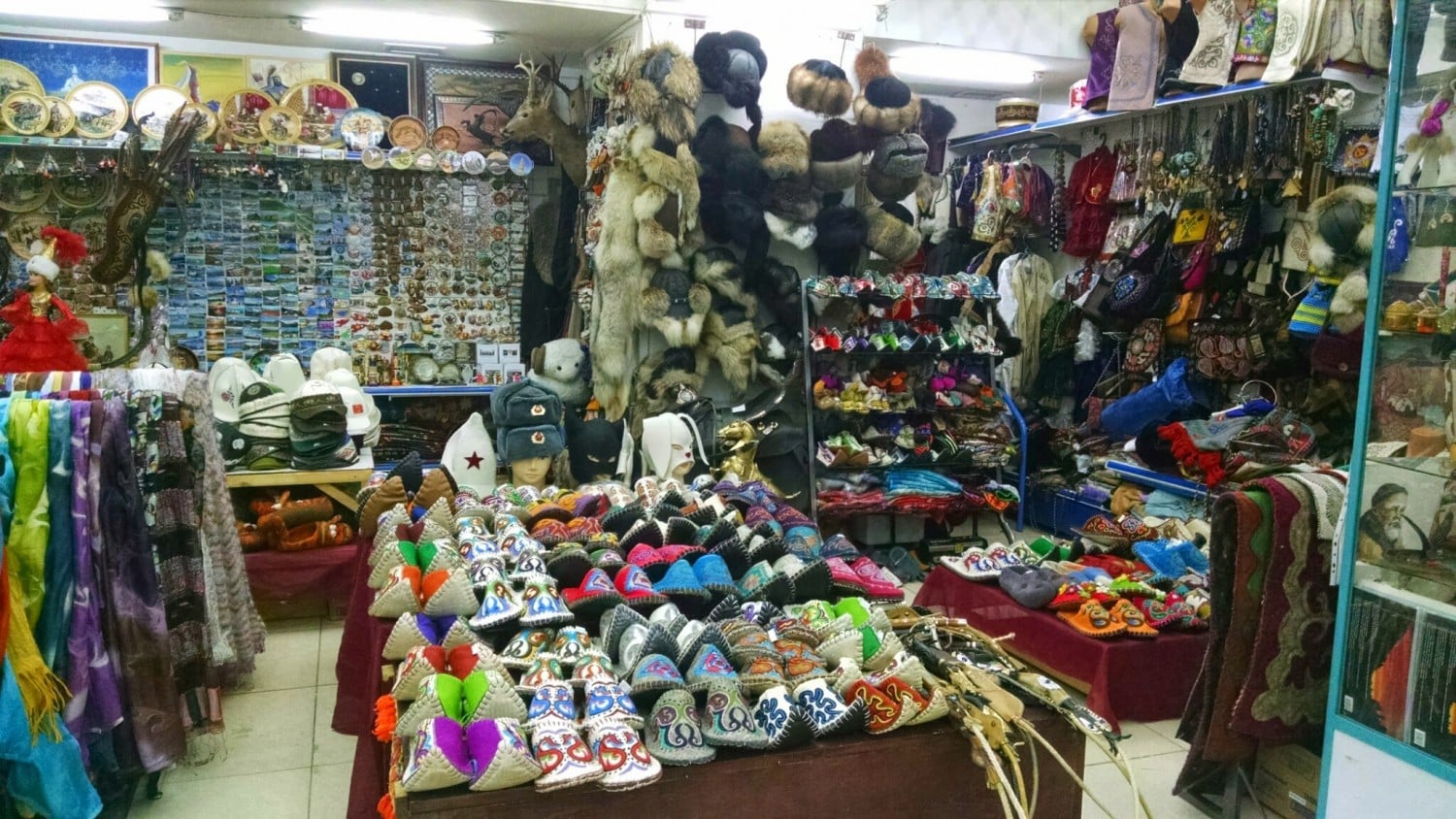 TsUM remains a major shopping and meeting spot. A small square beside department store has whimsical, curved benches wrapping around trees between concrete fountains.
State Academic Theater of Opera and Ballet
Address: 167 Yusup Abdrahmanov Street (Sovetskaya Street)
Website: OperaBallet.lg.kg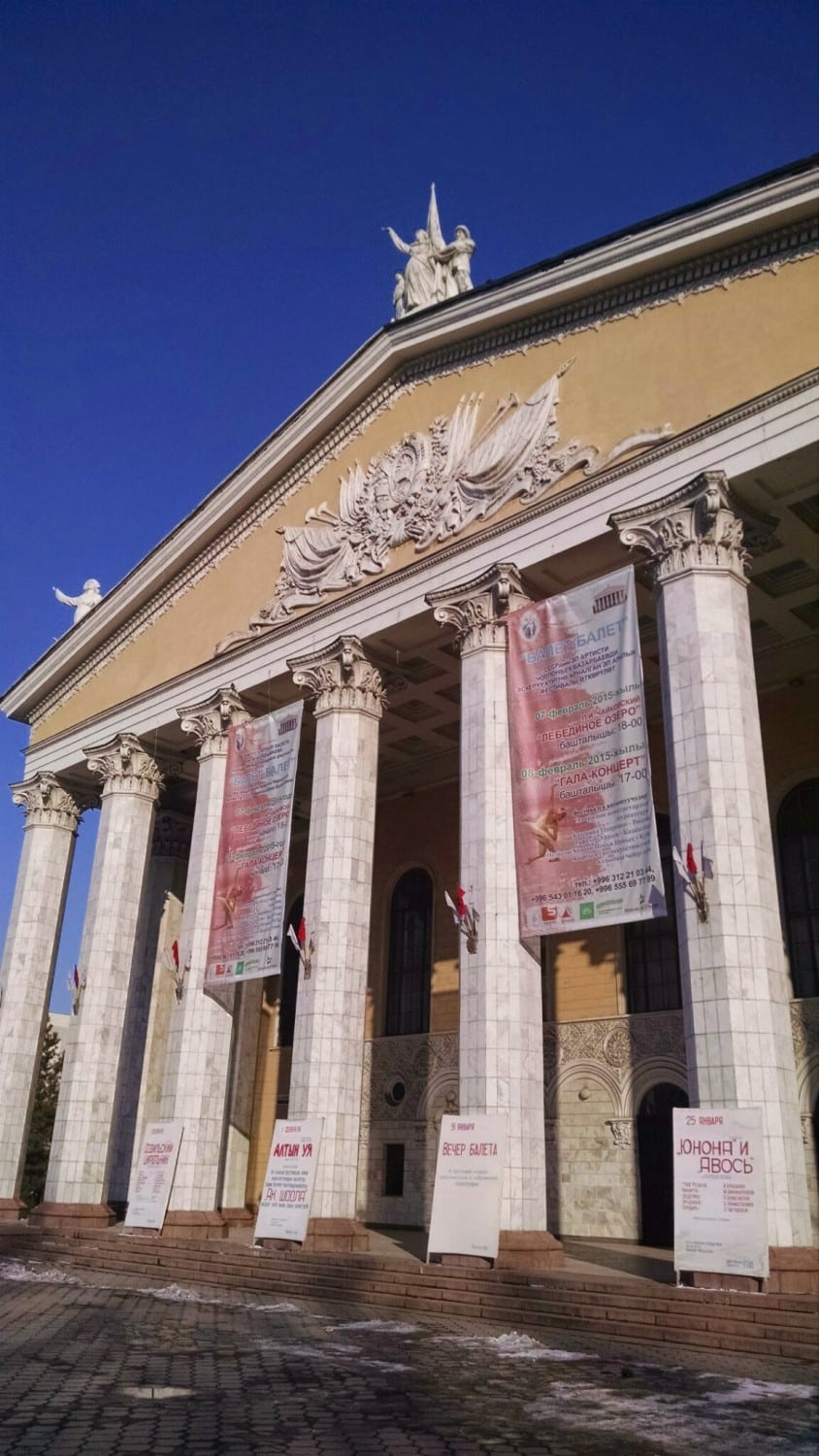 Back on Sovetskaya (here officially called Yusup Abdrahmanov Street) and slightly north of Chuy, we came to the Abdylas Maldybaev State Academic Theater of Opera and Ballet. The theater, named for a composer, actor, and singer who wrote the first Kyrgyz opera, was built in 1955. The neoclassical, pastel building resembles a smaller version of Moscow's Bolshoi Theater. Upcoming performances are advertised on banners outside the building, and can also be found on the Theater's website.
Performances are usually on the weekend, and begin in the late afternoon or early evening. Tickets generally cost around 300 som ($4.90), but can be as low as 100 ($1.63) or as high as 1300 ($21.25), depending on the performance.
State Museum of Fine Arts
Address: 196 Yusup Abdrahmanov Street (Sovetskaya Street)
Website: KNMII.kg
Hours: 10:00-16:00 daily
Price: Adult/Student 40/20 som ($0.65/$0.33)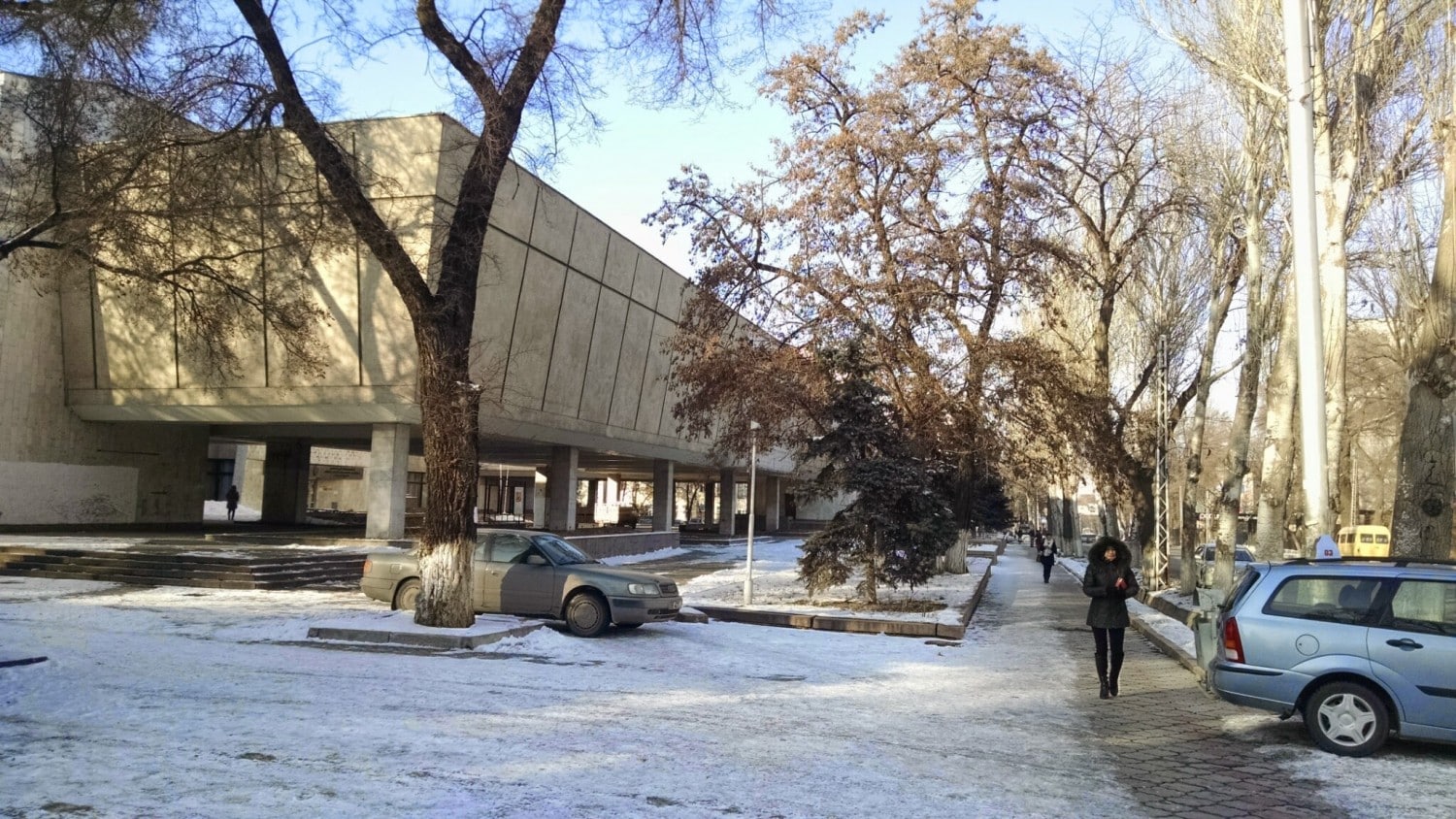 The Gapar Aitiev State Museum of Fine Arts, across Sovetskaya from the Opera and Ballet Theater, could not be housed in a more contrasting building. The sloping concrete construction, named for a 20th century Kyrgyz painter, was built in the Soviet modernist style in 1974, and is home to about 17,500 works of art. It contains a wide range of works, from traditional applied and decorative Kyrgyz art, to 18th and 19th century Russian pieces, to Soviet-era paintings.
State Russian Drama Theater
Address: 122 Tynystanov St.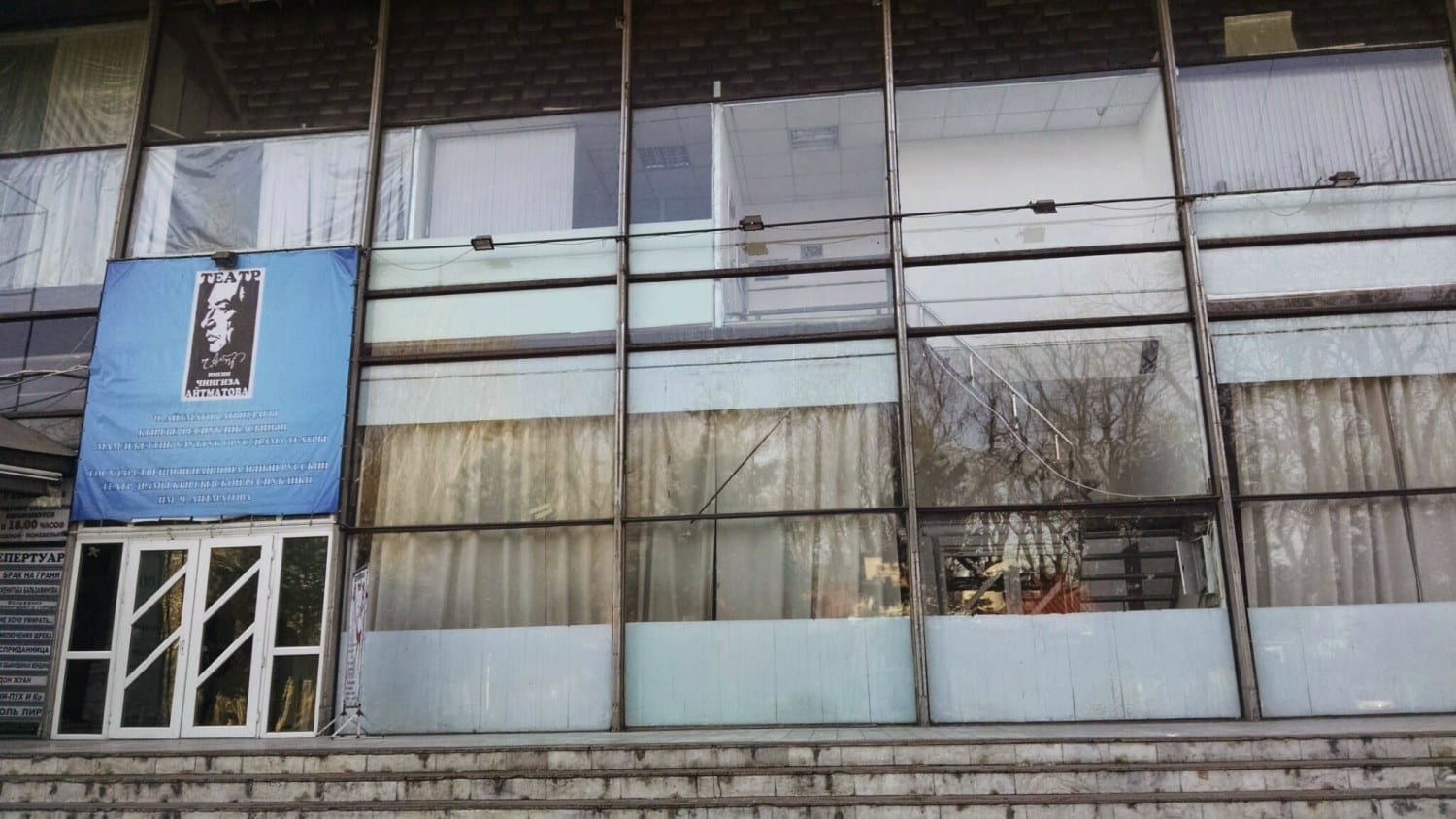 Just behind the Museum of Fine Arts, to the west, is the lovely Oak Park, which is home to a sculpture garden in addition to walking paths and benches among the trees. Read more about the park here.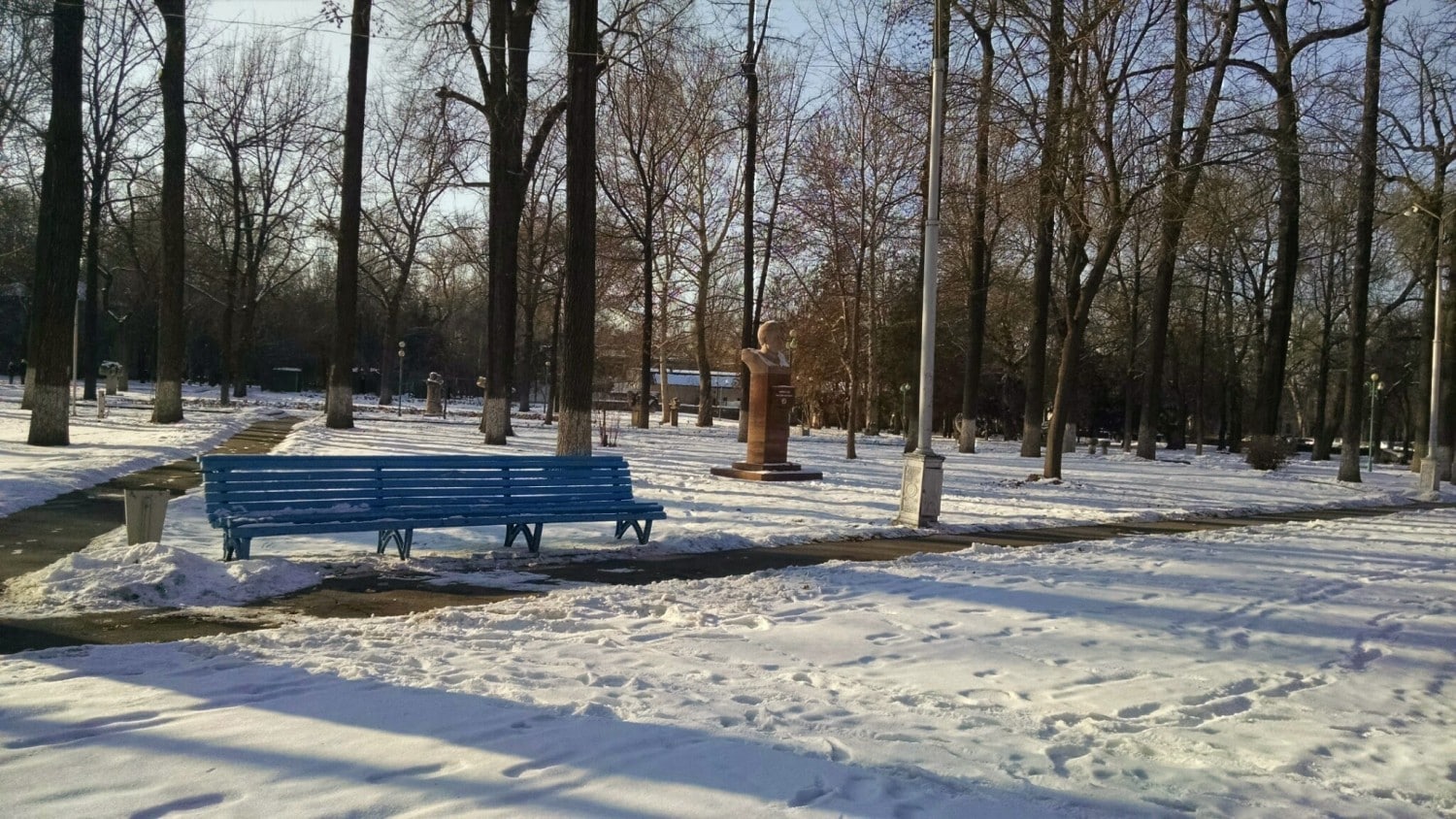 The Chinghiz Aitmatov State Russian Drama Theater, named for Kyrgyzstan's most famous writer, is located in Oak Park. It was built in 1982, and offers a range of performances in Russian. Information about upcoming performances can be found here. Performances usually start around 18:00, and tickets cost about 100 som ($1.63).
State History Museum
Address: Ala-Too Square
Price: 75 som ($1.22)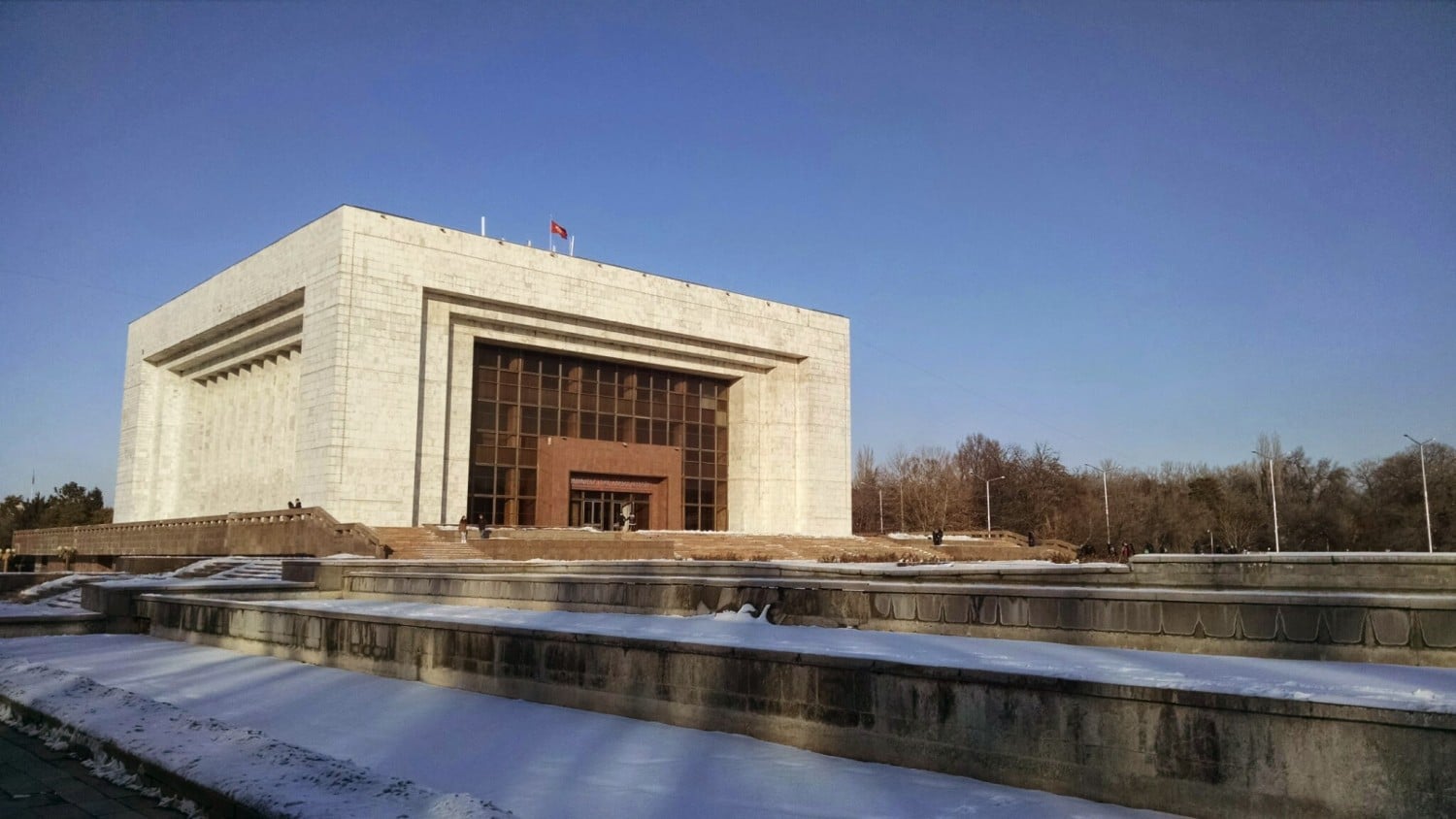 We crossed Oak Park and approached the State History Museum from behind. Another Soviet modernist building, the museum was formerly the Lenin Museum, opened in 1984. The front of the museum faces the main city square (Ala-Too), where a 17-ton, bronze statue of Lenin used to stand. In 2003, the statue was moved to the back of the museum, where it remains.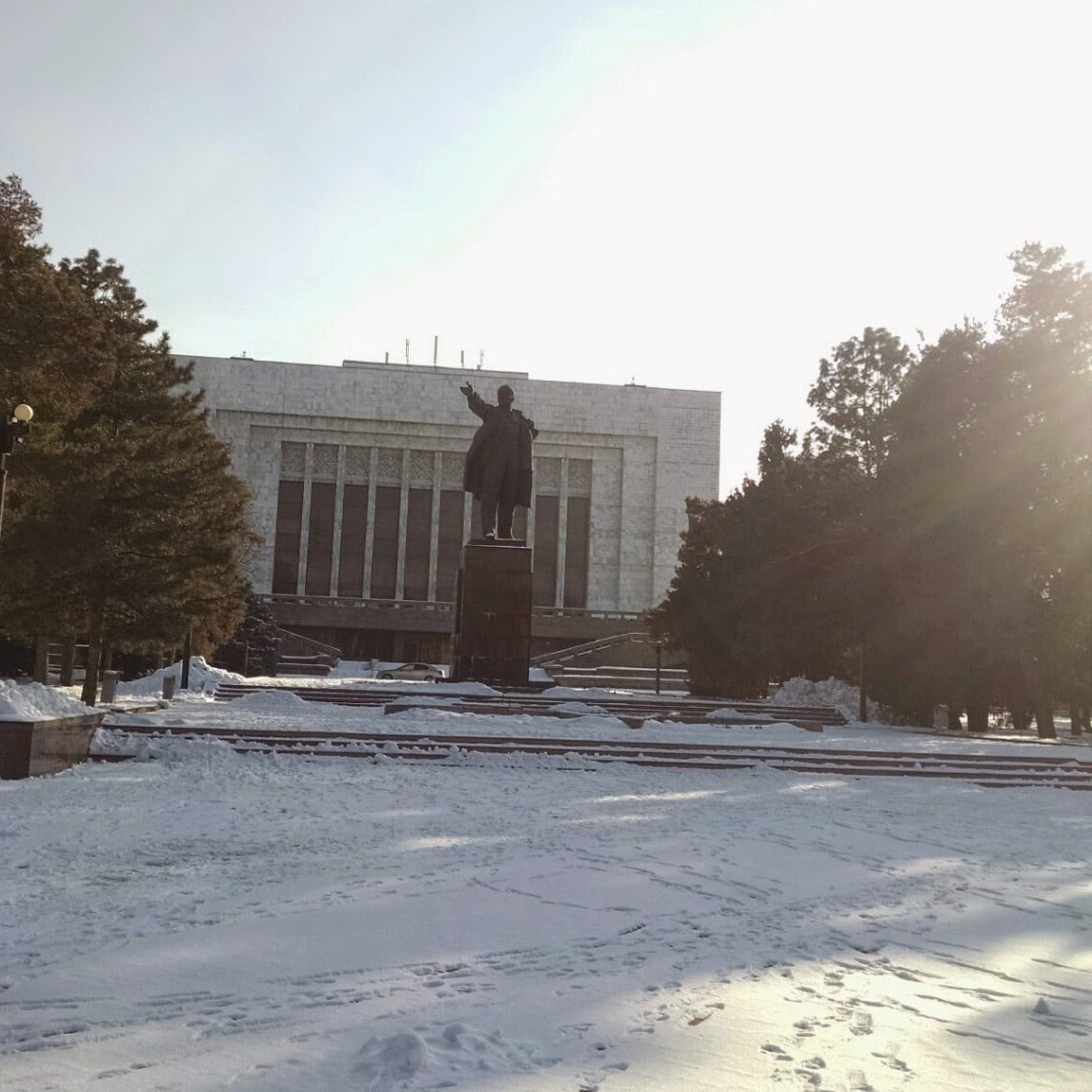 The History Museum is a fantastic place to learn about Kyrgyzstan's history, from pre-historic through Soviet times. The ceilings of the museum are also covered in dramatic Soviet-era murals, remnants of the museum's own history. Read more about the History Museum here.
Ala-Too Square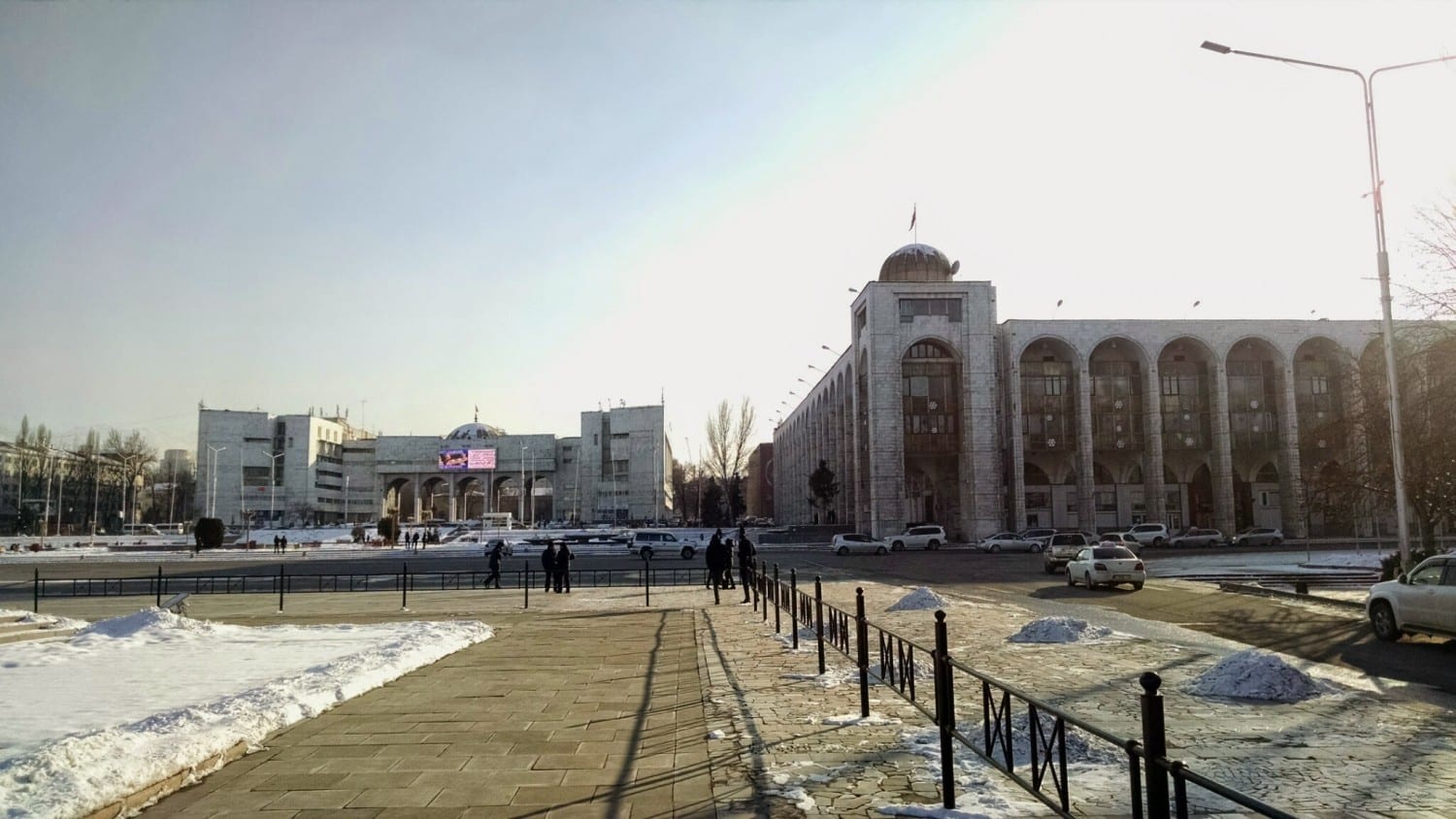 Ala-Too Square, Bishkek's central square, was built in 1984, in honor of the 60th anniversary of the Kyrgyz SSR. Ala-Too, translated as "Snowy Mountain" from Kyrgyz, was renovated in 2009, and a 45-meter flagpole and musical fountains were installed.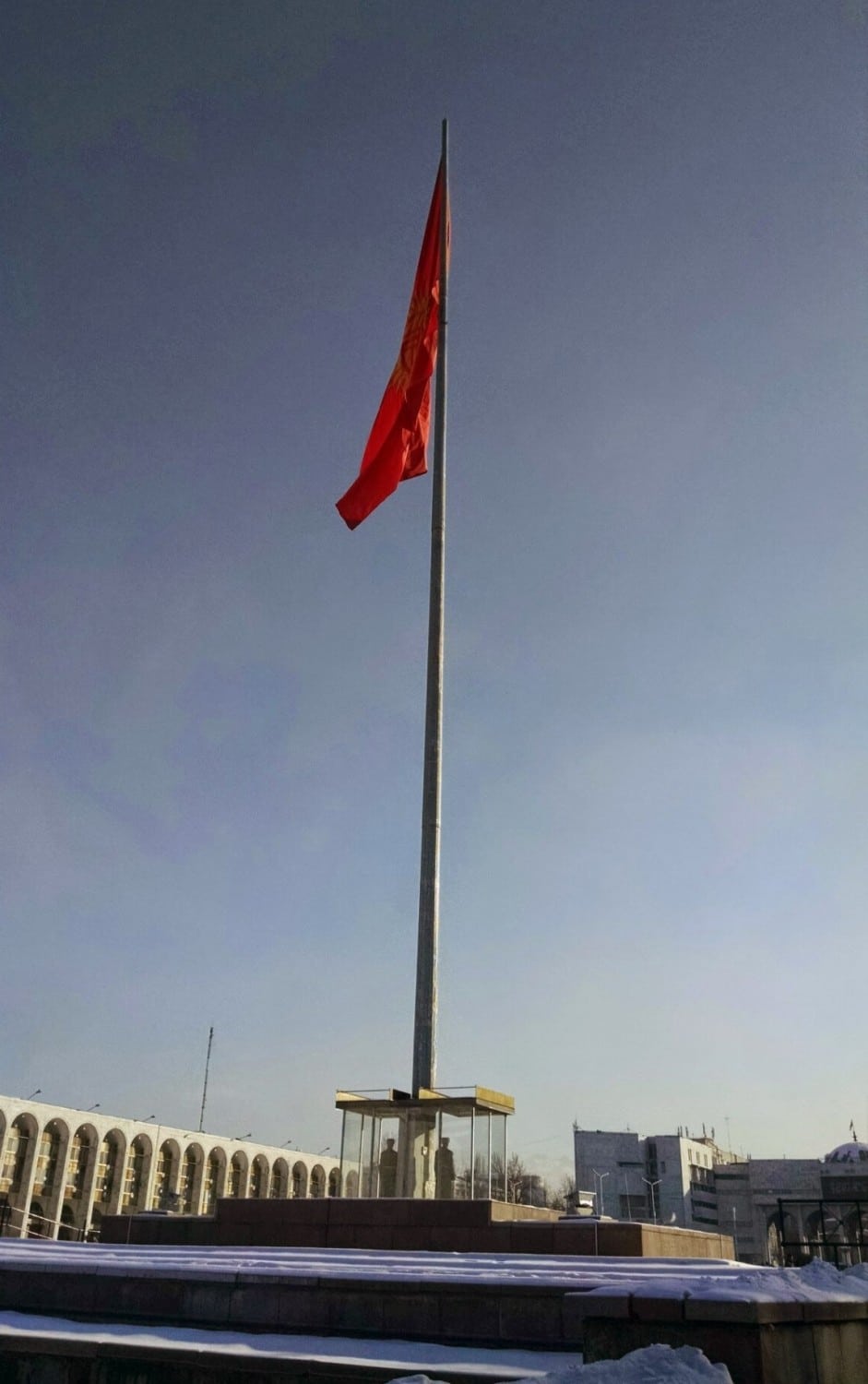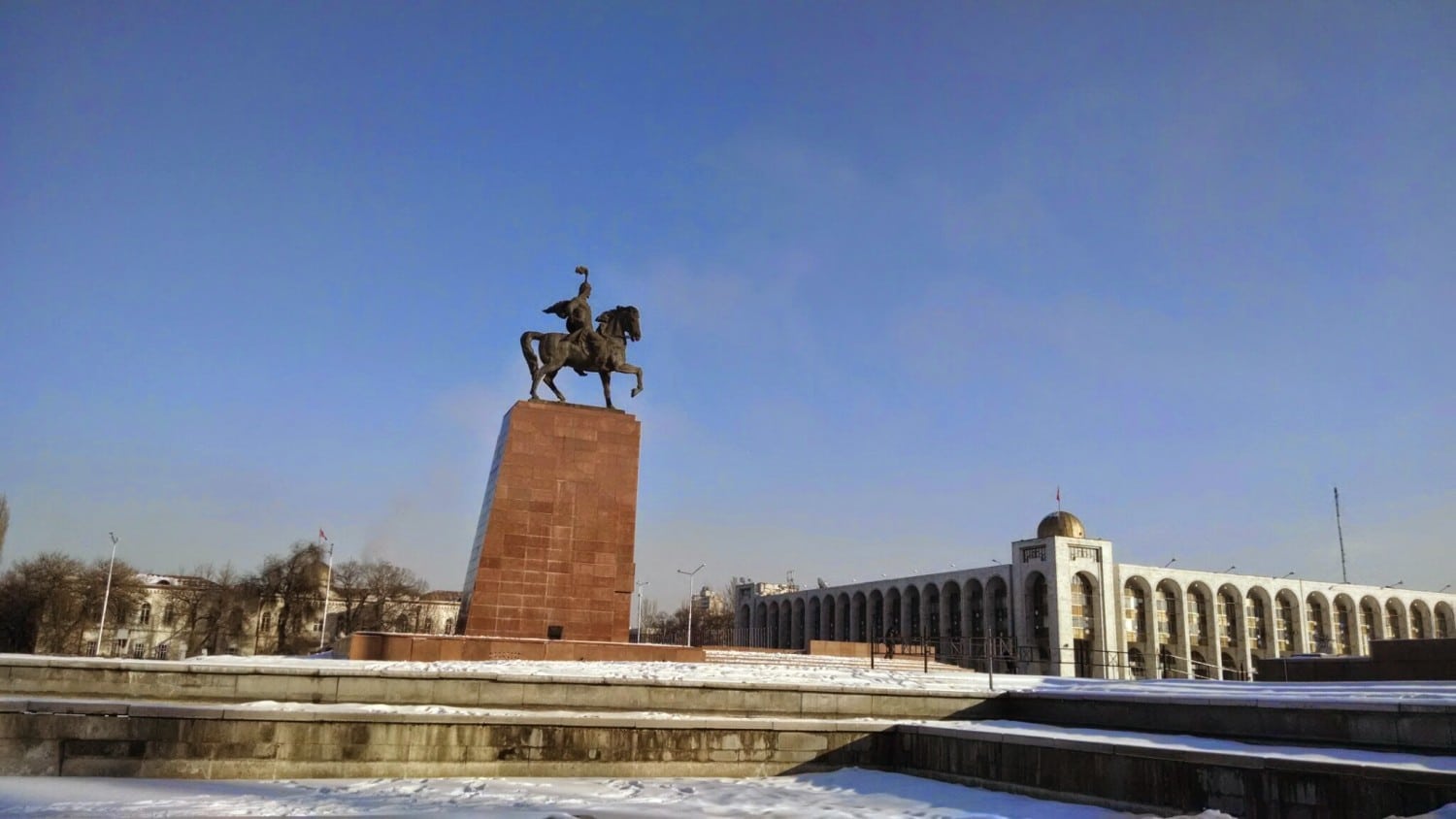 White House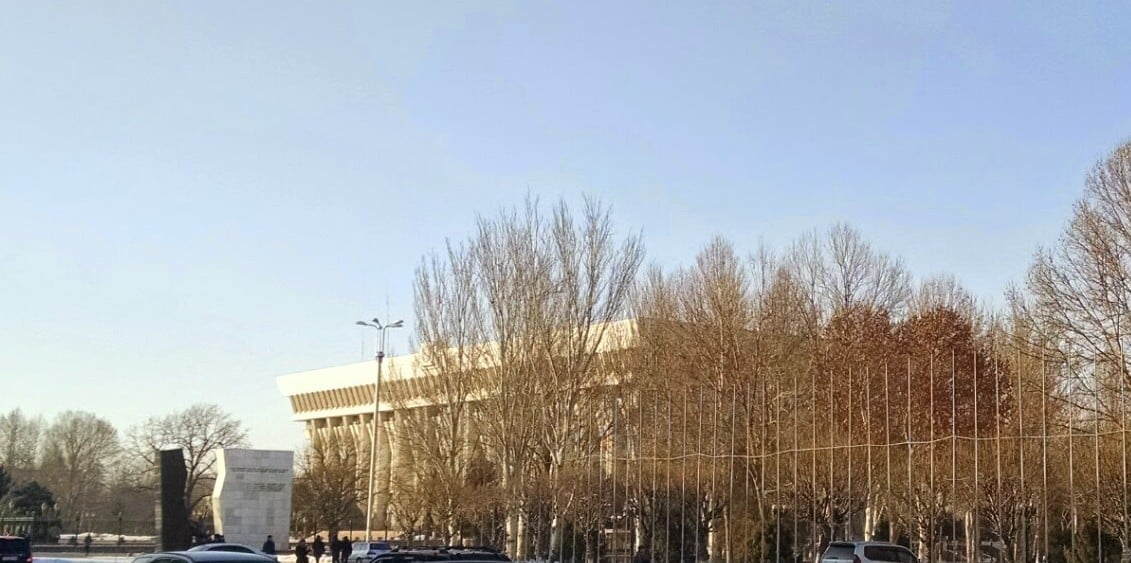 The White House, which houses the presidential offices, is on Chuy Avenue, just west of the square. The white, marble-faced building was constructed in 1985, and was modeled on the State Duma building in Moscow. The White House in Kyrgyzstan was built originally as the headquarters of the Communist Party's local Central Committee. Demonstrations during the country's 2005 and 2010 revolutions centered at the building's ornate gates.
Bonus: Peaks of the Kyrgyz Ala-Too Mountain Range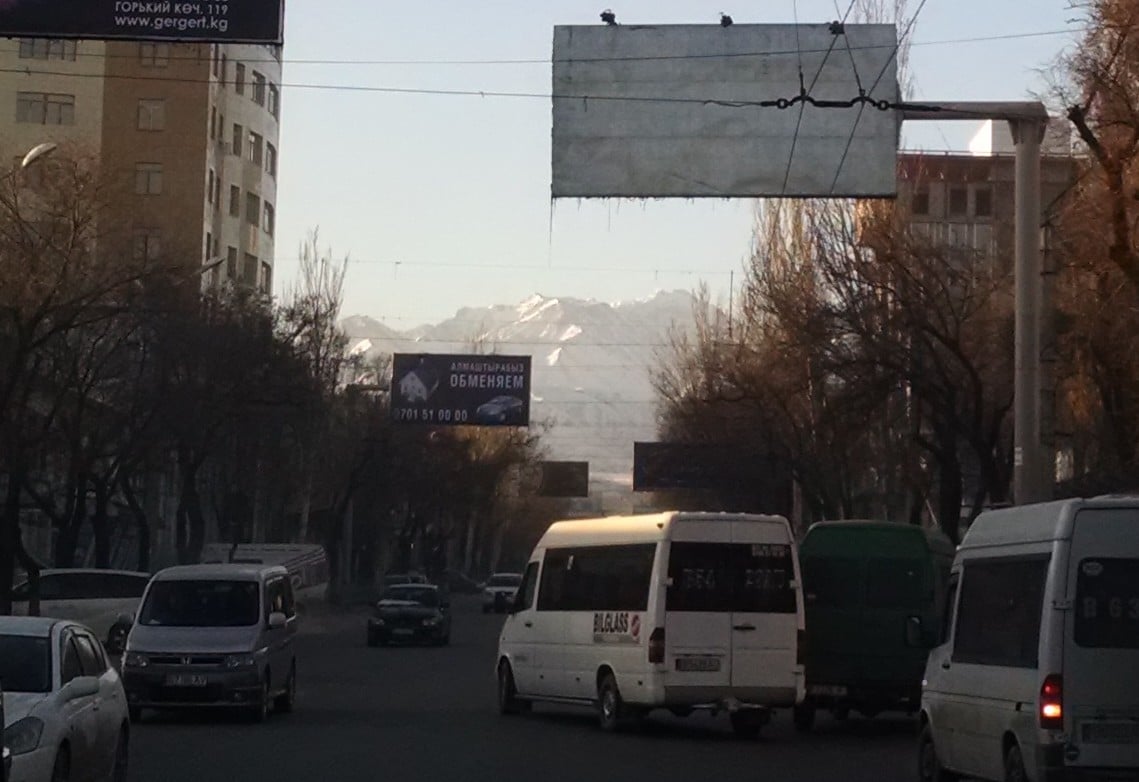 From the White House, we returned to the London School by marshrutka. After my first time on this tour, in August, my host brother picked me up at the school to show me the way home. We rode a trolleybus, taking it north on Sovetskaya, along the route I had just walked. At the back of the trolleybus, we found a place to stand against the large, southern-facing windows. And I got my best view in Bishkek yet: the sharp, enormous mountains, larger than any I'd ever seen, seeming to sprout up right at the end of the long road. I'm still amazed every (clear) morning, as I cross Sovetskaya to go to school, by the peaks towering over the city.
It took me some time to get a handle on Bishkek's geography beyond knowing that the mountains were to the south. But the introductory tour not only oriented me enough to make my way from the London School to Ala-Too Square on my own, it also made me excited to live in this city and explore its landmarks. I haven't been disappointed.