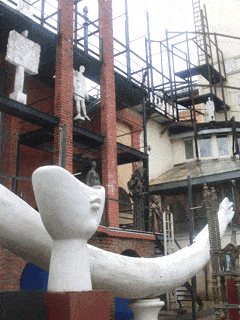 Once the workshop of one of Moscow's most famous modern sculptors, the Burganov Museum is one of the few Moscow museums dedicated to the work of a living artist. First and foremost a workshop, the museum is constantly changing and holds the works of Burganov, his wife, son, and friends.

Alexander Burganov is perhaps best known for two fairy-tale-like sculptures on Moscow's famous Old Arbat Street. One is an intricate fountain dedicated to Princess Tourandout, one of the Vakhtangov Theatre's most famous productions. The fountain is outside the theatre. Burganov also sculpted the romantic statue to Pushkin and his wife that sits outside an Arbat apartment they shared briefly. Another of his statues to Pushkin was recently unveiled in Washington DC.
Situated less than ten minutes from one of the most prolific art areas in Moscow, the museum attempts to re-imagine the traditional image of how art should be viewed by encouraging visitors to view it from different angles and perspectives. The main part of the museum is located outdoors and holds everything from a bust of Pushkin to a monstrous, tangled sculpture "Horses" to the "Big Angel" Arcade where visitors can climb to the top to see the yard from up high. Beside Burganov's workshop is the "Small Louvre," a small exhibit crowned by a glass pyramid ceiling where one can view "Horses" from below. By going past the "Big Angel" and through the "Golden Doors," visitors enter into the main enclosed part of the museum – "Pegasus' House." This old building, partly restored with only the bare brick walls standing, has mulch for floors and displays more of Burganov's works. Exiting out of Pegasus's House, visitors end their stay in the "Yard of Pegasus."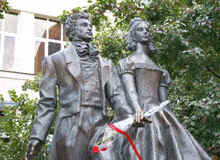 Some of Burganov's more unusual sculptures may alarm traditional art lovers, but they are interesting enough to keep even the art-impaired engaged. The museum's lay-out is so unique that calling it a museum is an injustice.
Details: Students are admitted for just twenty rubles (about sixty cents), and even foreigners can pay full price and still get in for only fifty rubles as of May, 2009. The museum also currently keeps logical and convenient hours (11am to 7pm, everyday) and has a fairly extensive website. The actual workshop is blocked off to visitors (artists still work there), but the rest of the grounds are open. Photography is permitted.
Directions: The museum is located at 15/9 Bolshoi Afanasevskiy Lane (Б. Афанасьевский пер., д.15, стр. 9). Exit metro Кропоткинская (Kropotkinskaya), using the exit heading away from the Church of Christ the Savior. Head behind the station so that you are going north on Гоголевская улица (Gogolovskaya Street). Walk approximately 100 meters and take a left onto Гагаринский пер (Gagarinskiy Lane). Go two streets down and take a right onto Большой Афанасьевский переулок (Bolshoi Afanasevkiy Lane). Walk 200 meters and the museum will be on your left.