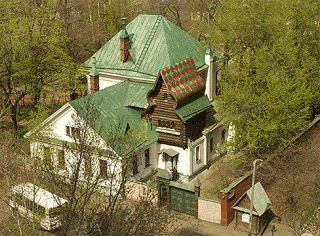 Situated between rows of high-rises and block apartment buildings stands a charming wooden house that was the home of one of Russia's most famous artists. Victor M. Vasnetsov (1848-1926) created genre, historical, and religious art. His house reflects this and most items are either inspired by or made by the artist. The small, green-and-white house is whimsical on both the interior and exterior. The rooms are scattered with bulky, beautifully carved furniture, most of which was designed by Vasnetsov.
While the house is worth the trip, the real draw to this museum is the studio. Secreted up a set of stairs at the entrance of the museum is a large room filled with massive paintings and unfinished works. While most of Vasnetsov's more famous works, such as "The Flying Carpet" and "Peter Riding A Grey Wolf," are on display in the Tretyakov Gallery (in fact, the house-museum is a subsidiary of the Tretyakov), this room holds lots more paintings that are just as impressive.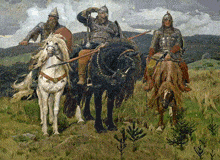 While there is no labeling in English and little in Russian, the architecture and furniture in this house is worth the minimal admission price. The studio is truly spectacular for such an unknown museum and is the true draw of the museum. Some of the rooms may be blocked off on occasion.
Details: As of May, 2008, student tickets (show your ID card) cost twenty-five rubles (about seventy-five cents) regular tickets cost fifty rubles. The museum is open from Wednesday to Sunday from 10am to 4pm and is additionally closed for a "sanitary day" on the last Thursday of each month. Photography is generally not allowed.
Directions: Click here for a Google Map. The museum is located at 129090, Moscow, 13, Vasnetsova Lane. Exit metro Проспект Мира (Prospect Mira) and head south. Take a right on Улица Дурова (Durova Street) and go 200 meters. Take a left at the third side road (which is unnamed, but there will be a coral colored building across the street). It's the last building on the unnamed side road, which adjoins with Vasnetsova Lane.