If you're feeling adventurous and are interested in visiting a less-traveled route through Moscow, I would suggest taking a trip to Krutitskoe Podvorye. This is a relatively small section of land which hosts a variety of buildings and the Cathedral of the Assumption of the Blessed Virgin on Krutitsy. This cathedral is believed to have been constructed in the 13th century, and has seen very little restoration since then. The storied walls of the cathedral are dilapidated and mossy, and the steeples stand only with the help of wooden supports and scaffolds.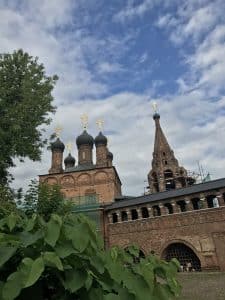 On the day that I visited this site, I saw a class full of art students taking advantage of the beauty of the cathedral and drawing pictures of it. The religious place is home to a number of stray cats and friendly church-goers who will welcome you with a smile.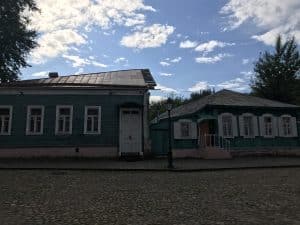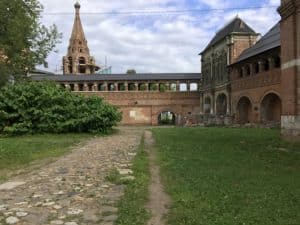 If you are a woman, I would highly suggest taking steps to respect the Russian Orthodox practice by bringing a head scarf with you to wear, even when you are wandering the grounds of the site. You should absolutely wear a scarf should you choose to enter the cathedral–a venture that I would highly suggest!
Out of respect for the working monastery, I did not take any indoor pictures to share in this article. However, I can promise you that the inside of this centuries-old church is breathtaking. The walls are gilded with icons of holy figures and the smell of burning candles in front of the ornate altar help paint the perfect picture of a common Russian Orthodox church. There is even a gift shop inside of the church where you can find literature, prayer candles, and religious medallions to wear.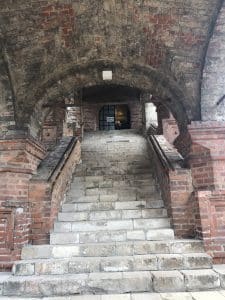 If you ever find yourself in the mood to visit a less-touristy part of Moscow, head on over to Krutitskoe Podvorye and enjoy the beautiful architecture and learn more about the history behind the sacred grounds.
Directions: Take the metro to Proletarskaya station. After leaving the metro, head straight down Krutitskiy Per., toward the Moscow River. Continue past the four-way intersection with Novospasskiy Pr-d. On your left, you will see Krutitskaya Ul. Head down the road, and at the very end, you will find Krutitskoe Podvorye.
Krutitskoe Podvorye
Religious History in Moscow
Free area of town to stroll in