After long and grueling Russian winters, many Muscovites enjoy spending the summer months outside, strolling the many parks and shady sanctuaries scattered across the city. Moscow is a very green city and offers over 100 parks, squares, and public spaces to escape the city heat and the urban hustle of a city with over 12 million residents. Each park in Moscow is unique and offers something different, from massive parks with museums and carnivals, to small quiet gardens straight out of history books.
This is my list of parks and shady sanctuaries that are a must-see when in Moscow this summer.
7. Gorky Park
Located in the heart of the city, this park is a must-visit for everyone. Plus, who doesn't want to feel the Wind of Change in Moscow's most famous park? Just a short jaunt from Oktyabrskaya metro station, Gorky Park is near all the crucial attractions of central Moscow. After major reconstruction in 2011, the park was gutted of old and abandoned attractions, carts, and pavilions and all-new playgrounds, flower beds, food trucks, modern restaurants, and paved walking paths, were laid out across the large 300 acre park. Gorky Park offers many places to relax, which include benches, oversized beanbag chairs, lounge chairs, and even a sandy beach – most have access to a city-provided WiFi system. There is an outdoor movie theatre and clubs that regularly meet to discuss debate topics, learn dance moves, practice yoga, and even tend a community garden. Bicycles, scooters, skateboards are available for rent and there are a number of restaurants and food carts to grab a snack. The park is open 24hours and, especially on summer weekends, activities will be going full force from dawn till well after nightfall. Oh, and one of Moscow's hippest art museums and community centers, Garage, is located inside. Saying that there is something for everyone in Gorky Park almost feels like an understatement…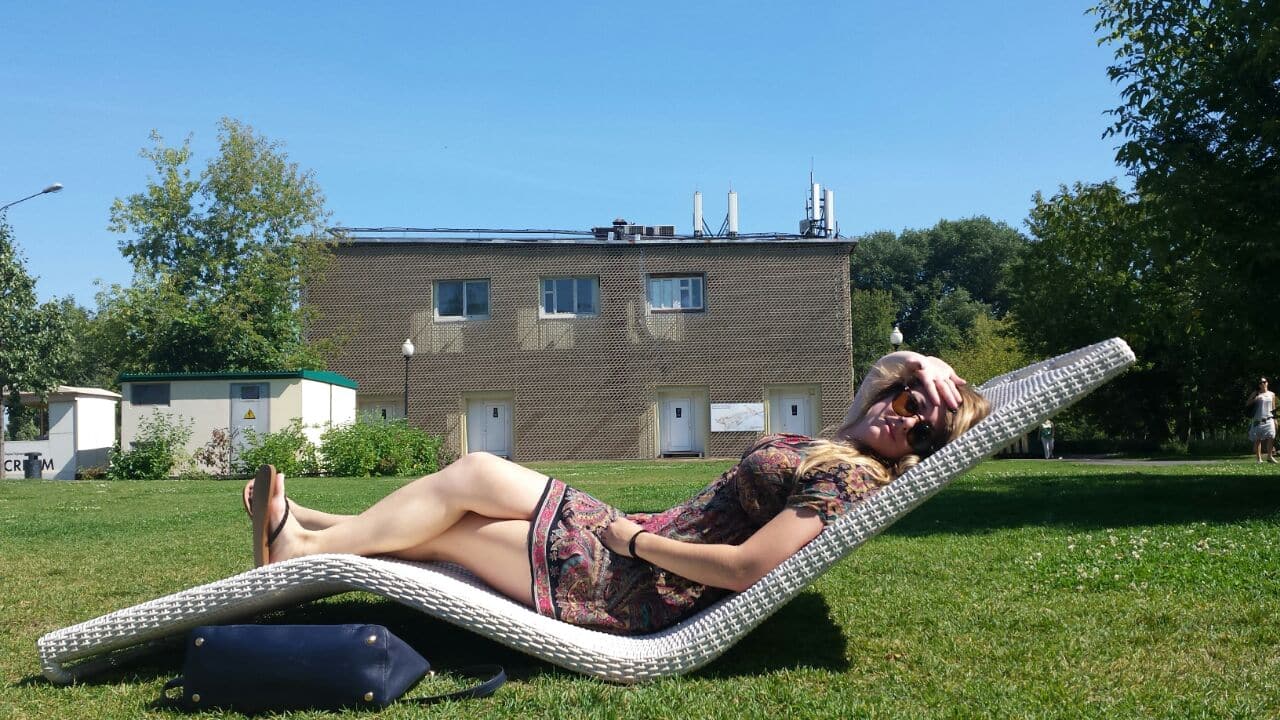 6. Patriarch's Ponds (and Surrounding Area)

Even though this park is small, Patriarch's Pond is short walk from Mayakovskaya metro station and is an absolute must for any Mikhail Bulgakov fan. This park is the setting for the opening scene of Bulgakov's masterpiece The Master and Margarita and includes monuments and statues to the writer and his novel. Just two blocks away is the Bulgakov Museum where the former residence of the famous author commemorates his life and work. If you are interested in going, see this article on our site. You'll be in good company – Daniel Radcliffe, the actor who played Harry Potter, made headlines when he took a personal pilgrimage to Moscow in 2012 to visit the Bulgakov Museum.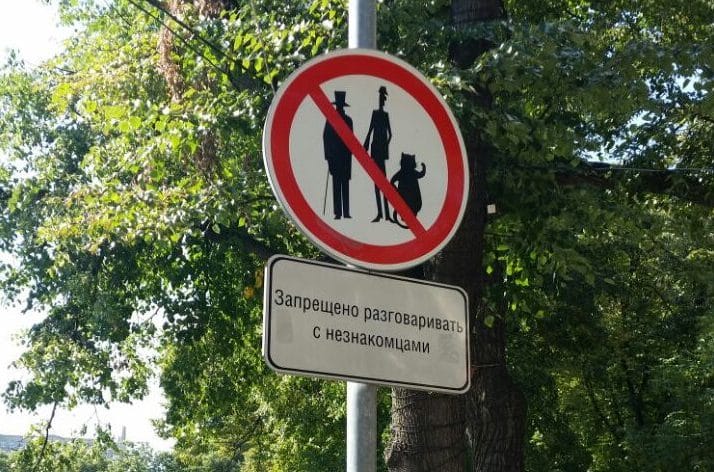 5. Novodevichy Convent and Cemetery
Another favorite peaceful retreat within Moscow is the Novodevichy Convent and Cemetery located in the southwestern edge of Moscow's city center. The convent was established in 1524 and is today a UNESCO World Heritage Site.
The Convent costs 300 rubles ($4.80) to enter, but the cemetery is free of charge, and is really the more interesting, if perhaps morbid attraction. This is the final resting place of many famous Russians including Bulgakov, Chekhov, Gogol, Mayakovsky, Khrushev, Yeltsin, Stanislavsky, Molotov, and Rimsky-Korsakov among many others. You will find the convent and cemetery from Sportivnaya metro station.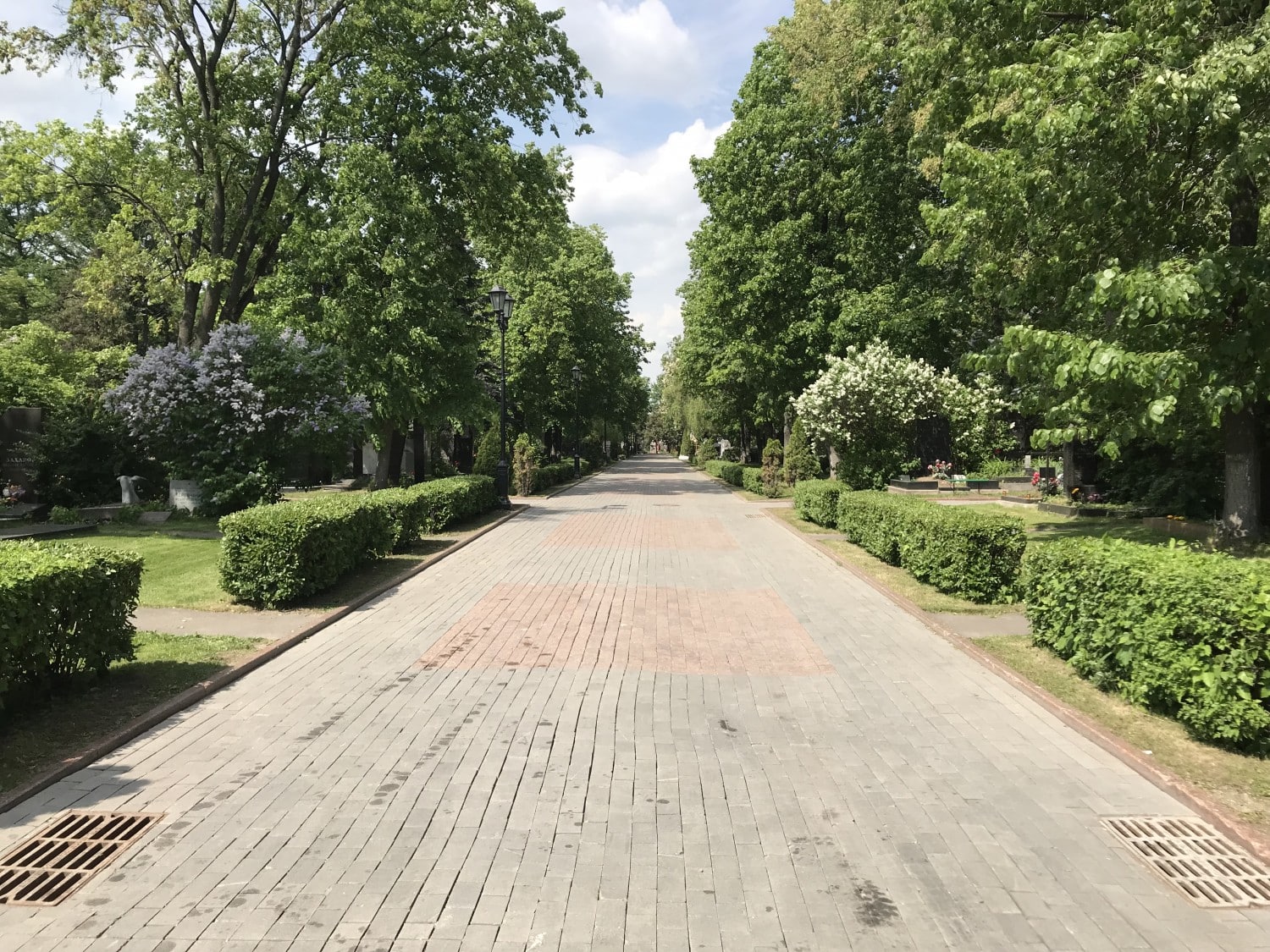 4. Sparrow Hills
Located just on the other side of the Moskva River bank from Novodevichy, Sparrow Hills is one of the highest points in Moscow and offers some of the best and most accessible photo-ready panoramas of the city. There are meandering nature trails that will take you down the hill to the banks of the river in about a 30-minute hike. Along these trails, you can find a small botanical garden run by botany students from Moscow State University. The university itself is a short walk away and, with its grandiose cake-like Stalinist architecture, surrounding wooded parks, and sculpture garden devoted to famous Russian scientists, should be part of any outing to Sparrow Hills as well. The park is a 20-30 minute walk from Universitet metro station, or from the Vorobyovy Gory (Sparrow Hills) metro station. You can also access it from Gorky Park (see below), which it has been officially joined to, in part, so that you can rent bikes and ride along the river between the two glorious parks.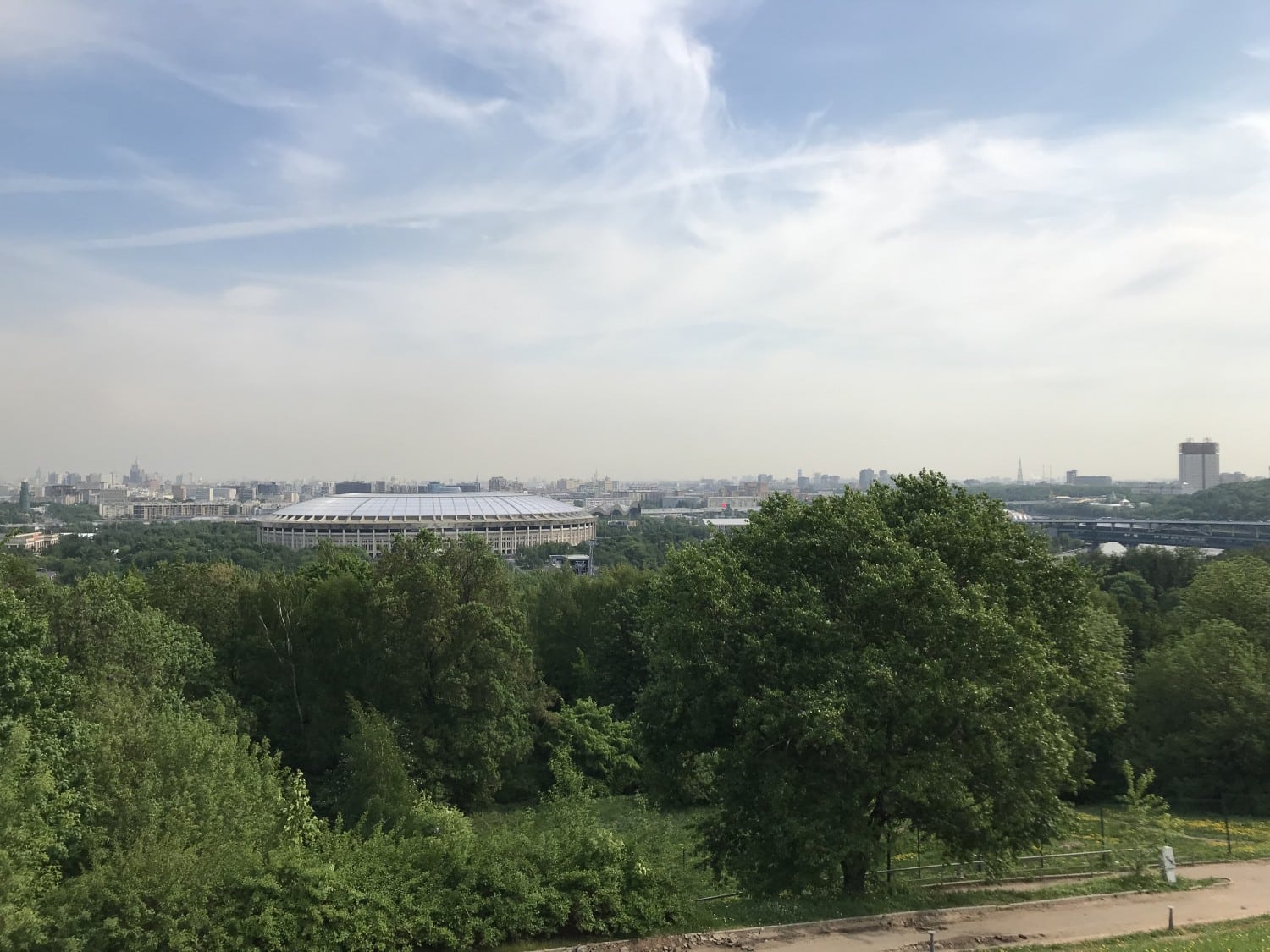 3. VDNKh
If Soviet history is more to your interests, then VDNKh (Exhibition of Achievements of National Economy) is the park for you. It is part exhibition show and part amusement park and is located in north Moscow. The park is larger than the Principality of Monaco and has over 400 buildings. Here, you can visit the Cosmonauts Alley and Museum, the iconic Worker and Kolkhoz Woman statue, the famous Friendship of Peoples Fountain at the entrance of the park, and various pavilions commemorating Belarus, Kyrgyzstan, Karelia, the Northern Caucuses, Uzbekistan, Ukraine, Turkmenistan, and Armenia. You can find out much more about what to do and see by checking out this article on our site. The park itself is free of charge, but prices range depending on activity, exhibition, and museum. In the winter the park is converted to the largest ice rink in Europe and Russia with an area of over 200,000 sq. ft.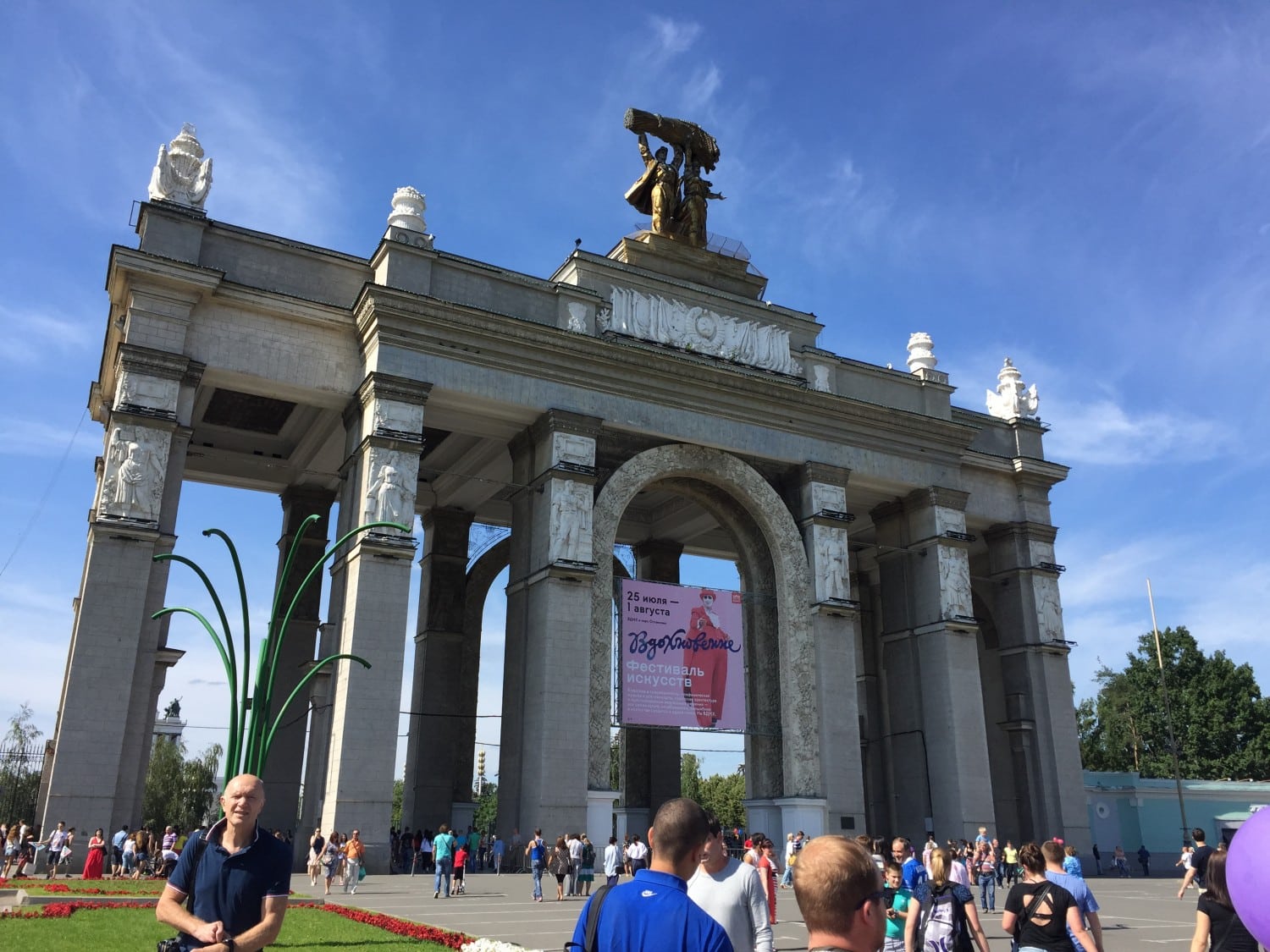 2. Izmailovo
Izmailovo and Izmailovsky Park are located in northeastern Moscow and easily accessible from Sokolinaya Gora metro station. Izmailovo is a market for local crafts and antiques located within an old kremlin, built when Izmailovo was still its own town. The market sells everything from Soviet kitsch, scarves, fur hats, and of course matryushka dolls. This is a great place to pick up some cheap souvenirs and practice haggling in Russian. Just outside the market are Izmailovo Manor (Estate) and Izmailovsky Park. The estate is a small island and the former country residence of the Romanov family under Tsar Alexei I. The island has many old churches and buildings dating from 17th century and includes paths to walk along. Izmailovsky Park is one of the biggest parks in Moscow and is divided into Izmailovsky Park and Izmailovsky Forest. The park includes two Ferris wheels, an amusement park, curling, shuffleboard, a dolphinarium, a swimming pool, a 5D theater, and much more. Izmailovsky Forest is home to over 500 different species of plants, lichens, and moss, and includes many endangered species of flora and fauna, and a bog.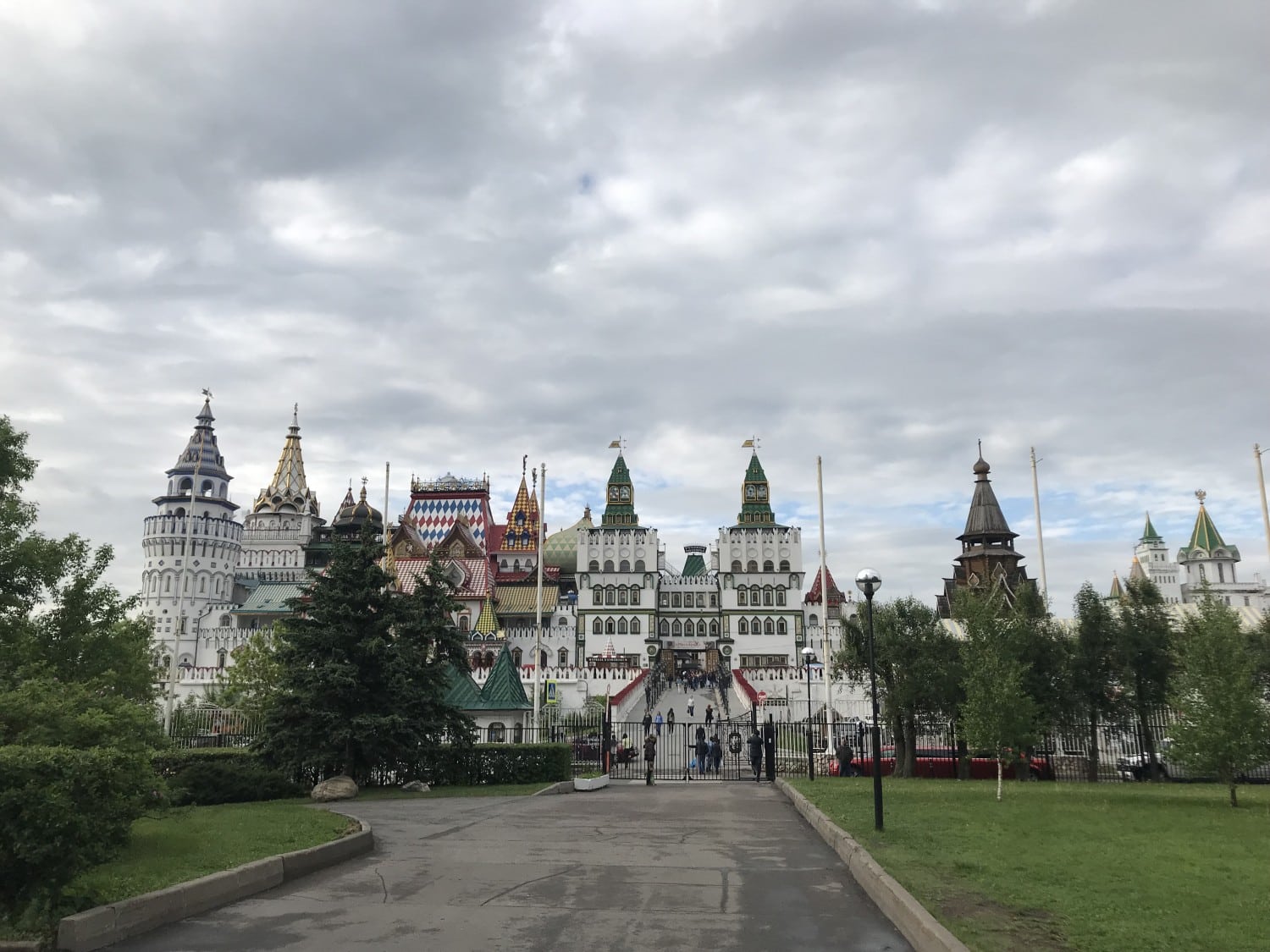 1. Park Zaryadye
Park Zaryadye is the first new park built in Moscow in fifty years, and was inaugurated with much fan fare in September 2017. The park lies adjacent to Red Square and across from the Kremlin, which makes it a perfect stop when seeing the top sights of Moscow. Park Zaryadye is described as an "urban landscape park" and divided into four climatic zones meant to represent Russia: forest, steppe, tundra, and flood plains. These climatic zones are represented through various flora and fauna that are planted throughout the park. The rolling hills of wildflowers gives, at-times, absolutly surreal views of the Kremlin beyond superimposed on wild, natural beauty. The park also features a floating bridge that extends over the Moskva River and gives still more breathtaking and unique views of central Moscow and the Kremlin. There is also a media center that features information on Russia's landscapes and on historical sites all over the country, as well as an ice cave to represent the Far North of Russia. The park also features an amphitheater and newly constructed concert hall. Park Zaryadye was built to impress, it's not just a park to take a leisurely stroll, but to showcase the best of Russia and what Moscow can accomplish these days. It is a modern park for a modernizing country.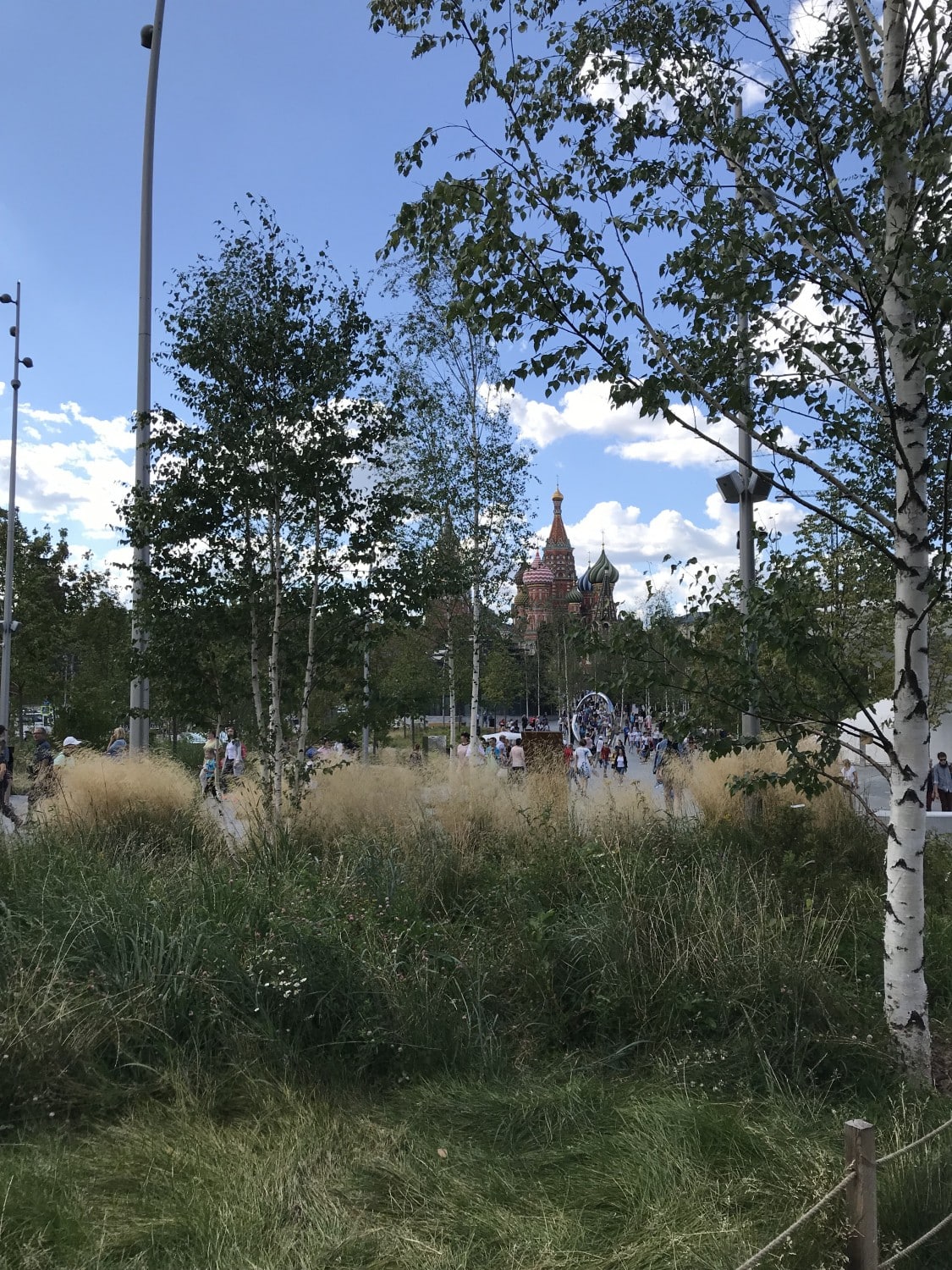 Of course there are a many more parks and gardens to explore and visit while in Moscow, and encourage you to find your own favorite sanctuaries within Moscow's vast city limits. After all, exploring a new city is part of the fun.