The Museum of Russian Impressionism curators have a mission – in addition to presenting visitors with beautiful and awe-inspiring works, the owners and staff conduct research, education, and events to bring awareness to Russian impressionism as a distinct phenomenon. Their goal is to someday achieve global recognition for the Russian impressionist period and celebrate its art in exhibitions across the world. For now, you are invited to come explore with them – and even try your hand at helping them in their work.
Background on the Museum of Russian Impressionism
Opened in 2016 by extensively retrofitting an old cylindrical warehouse on the grounds of the former Bolshevik confectionary factory, the museum is the culmination of two decades of careful art collection by investor, philanthropist, and award-certified Patron of the Arts Boris Mints. His personal passion for art collection, occasionally spending close to a million dollars on single paintings, led to a desire to share them with the world. His first in exhibitions started in 2014 and later moved to a permanent space.
Entrance to the Museum of Russian Impressionism is cheap compared to the money spent on construction and curating; for Mints, showcasing art is more important than making a profit. The museum interior itself was specially designed for his permanent collection and the curators' rotating exhibitions. Housing multiple floors of paintings, sculptures, and graphics, the modern building style emphasizes attention on the art and encourages exploration; with all the walls kept a simple white or grayscale and plenty of labyrinthine corridors, your body moves through as if traversing a maze, your eyes kept focused on the bright, vibrant colors characteristic of impressionist work.
The very idea of Russian impressionist art is still a controversial concept. We often associate impressionism with the greats of Western Europe and America such as Monet, Manet, and Cezanne. Rarely does Russian and early Soviet art get considered. Wikipedia's own page on impressionism lists exactly two famous Russian artists, Korovin and Serov, both of whom are among the many represented in the museum's collection.
Like elsewhere, the style of Russian impressionism is meant to capture fleeting moments in reality, with vibrant colors and thick layers of rapid, thin strokes to show movement, unlike the still dimness of paintings prior. Russian impressionist paintings, however, showcased moments of life in a country itself in a state of rapid change. The works evoke emotions that are perhaps reminiscent of their lives and times, inviting the viewer intentionally or unintentionally into a world that unfolded more than 100 years ago.
Many backgrounds of paintings incorporate a sun resting on the horizon; unclear is if those suns are meant to show the end of an old day, or the beginning of a new one.
Other Shores Exhibition at the Museum of Russian Impressionism
The Museum of Russian Impressionism's current temporary exhibition, aptly titled Other Shores, shows off many works from the Russian impressionist movement, dated to the early 1900s.
It forms the beginnings of a new collection effort by the museum's curators, to seek out and reunite paintings from the 1924 Exhibition of Russian Art, beginning in New York City and touring more than 20 cities across North America. More than 1,000 of the best paintings from the movement were showcased at this exhibition, but the overwhelming majority of these were then sold off or lost to time, scattered about the world. Since 2019, it has been the ambitious goal of the Museum of Russian Impressionism to carefully examine, collect, and present these paintings in their homeland, a painstaking effort involving a whole crew of art detectives. From this project, 70 pieces constitute the Other Shores exhibition and can be viewed from now until 16 January 2022.
Other Shores perfectly encapsulates the dual work of this incredible museum. It pairs the joy of observing beautiful art with the nearly scientific pursuit of achieving recognition of Russian impressionism through careful study and curation of artwork around the world, before bringing it back to its homeland.
Spectators are invited to participate as well. Spread over two floors, one shows those which are already confirmed to have been from the exhibition. The other is an interactive experience, as the curators ask you to explore paintings they still aren't certain of, and deliberate and decide amongst yourselves whether these works could be part of that lost collection. Doing so makes for an entertaining and educational activity and leaves you with a new perspective in how to enjoy art (and a chance to brag to your friends about becoming an amateur art detective).
Notes for Visiting as a Foreigner
At present, knowing some basic Russian or visiting with a Russian-speaking friend might be helpful. Prior to the pandemic, the Museum of Russian Impressionism offered extensive English-language support but paused this due to the significant decline in foreign visitors. However, catalogues of the museum's permanent art collection are still available in English in the museum store for around $33, and you can email them at tour@rusimp.org to ask for an English-language excursion, priced at around $70 for groups with fewer than 15 people, not including tickets. Museum staff hope to bring back more English print and audio guide options once the pandemic ends, and normal travel resumes.
The museum also offers a variety of alternative options for visitation. For those wanting more than solo exploration, there are tickets for guided Russian tours, tours for visually impaired guests, sketch tours for teenagers, and more. Throughout the museum, you can even find unique sensory experiences taking you beyond visual appreciation for the art, such as moldings of paintings to touch and feel the curves and depths of each stroke and pattern, and glass jars containing scents meant to match what is depicted in the picture. For any additional questions on their many ways of visiting, or on the museum in general, the very friendly staff will be happy to write with you via email in English or Russian!
You Might Also Like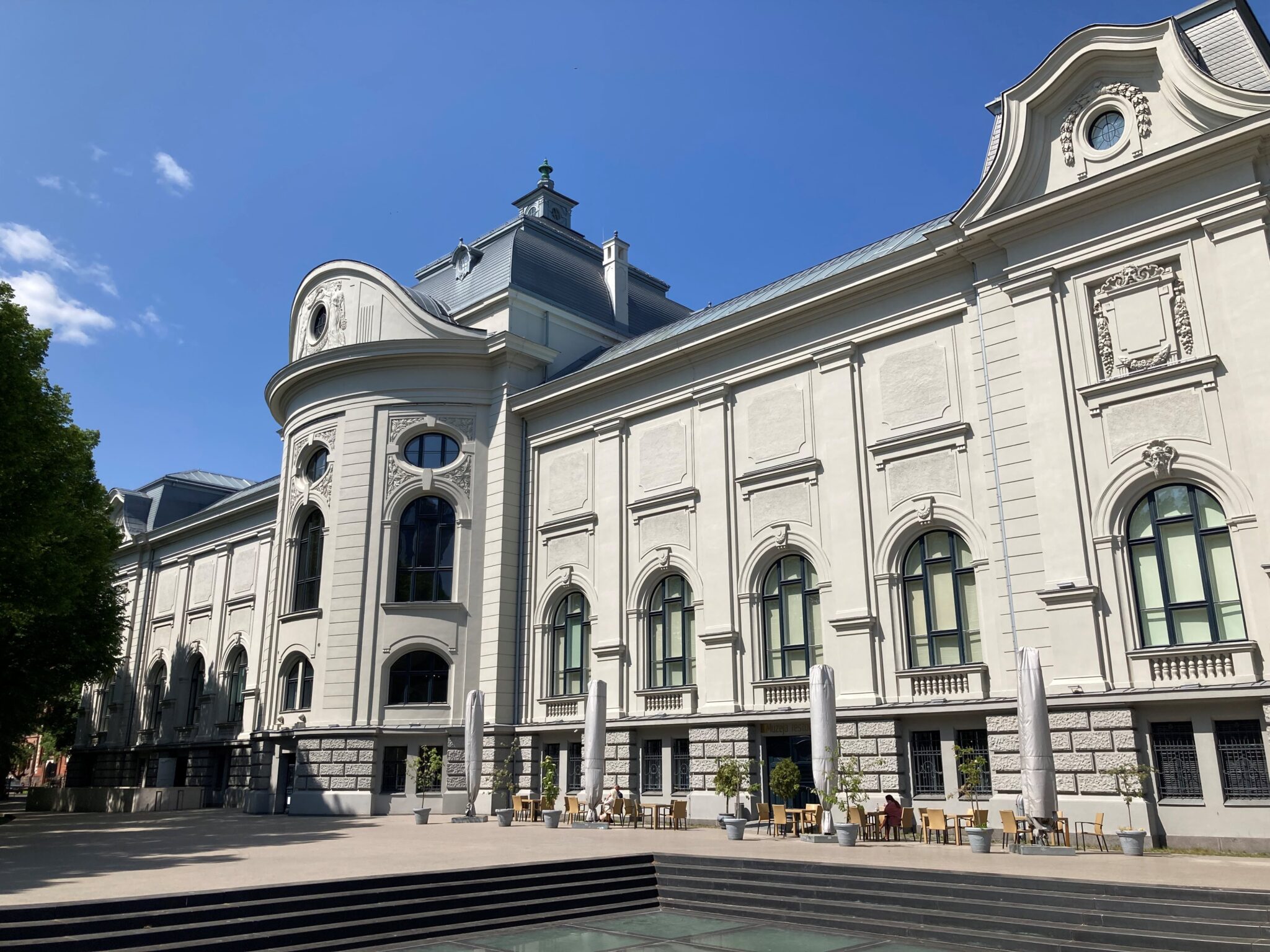 The Latvian National Museum of Art is one of Riga's oldest and best known art museums. Its permanent collections focus specifically on Latvia's own national artists and on telling the story of the development of art in Latvia. It also rotates temporary exhibitions that can introduce you to even more striking and more recent Latvian […]
0 comments