Kyiv offers a plethora of parks, museums, and cafes to provide a bit of relief from the hustle and bustle of its modern, big city life. However, just a short trip away is the National Museum of Folk Architecture and Life of Ukraine. Located on the former Pirohiv settlement, which dates back to the days of Kievan Rus, this open air museum features folk architecture from across Ukraine and a window into the quieter, more traditional life of long ago.
Spread over 370 acres of beautiful countryside, the museum is filled with mock villages, fresh air, refreshments, and even performers and employees in traditional costumes. On the outskirts of Kyiv, reaching the museum via public transportation from the city center can be difficult, involving multiple transfers. Ubers can be had, however, for around $6 each way.
Nearing the grounds, you are greeted by the sight of rolling hills and windmills. Entrance to the park is only $2 (50 hryvnia) and, walking through the green fields, you'll soon come upon one of the "villages." Each one is unique, and represents a different region of Ukraine – from the Carpathians to the Dnieper valley to Odessa in southern Ukraine and much more. The houses are open, allowing you to enter and see how the people of Ukraine lived in years past.
Though there aren't explanations written with the artifacts, the displays are largely self-explanatory. In fact, the lack of writing can make the museum experience feel more like an adventure than visiting a museum. The visitor simply wanders, like an archeologist, and imagines how life must have been here by viewing the primary documents of the artifacts and architecture. If you are conversational in Russian or Ukrainian, there is often an employee (in traditional costume) who can explain what various things are. For those who don't speak Russian or Ukrainian, and who might want a more information-heavy and academic experience, guided tours are offered in a multitude of languages for a reasonable price (about $15).
The main point of the establishment, however, seems to be to simply deliver a fun, immersive, and authentic-feeling experience that celebrates Ukrainian culture. This museum wasn't necessarily created to tell you exactly when each and every house was built, how it was built, and by whom. It instead focuses on showcasing the history of the country, the historic lifestyles of the people, and letting visitors imagine themselves as being a part of both. There is a strong sense of pride and patriotism here and, as you walk through old cottages and down well-trodden roads, it's easy to picture yourself in the ornate dresses or shirts going about your business in traditional village life.
The museum covers many aspects of that traditional life: folk clothing, cloth, furniture, tools, pottery, carpenters, agricultural tools, blacksmithing, folk painting and painting, musical instruments, governance, and children's toys are all represented. Further drawing the visitor in are occasional master classes, held in the village council (which was once a seat of local governance), to learn how to make folk crafts for oneself. Holiday events centered around Christmas and St. Andrew's Day – both important holidays in Kyiv – also encourage the surrounding population to make the park's expressions of traditional life part of their own, modern family traditions. Many wedding parties often make a stop here to take pictures against the idyllic and patriotic backdrop.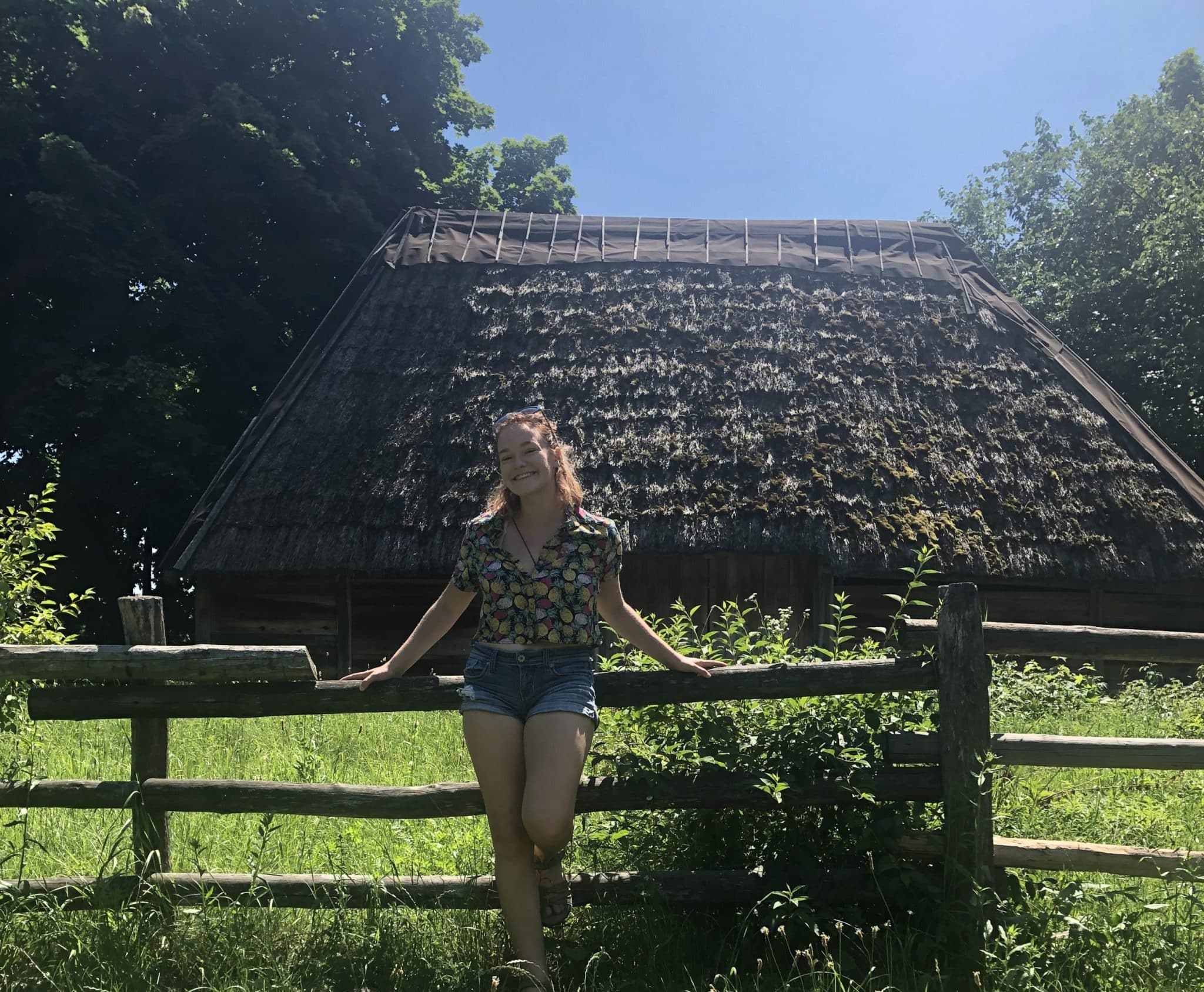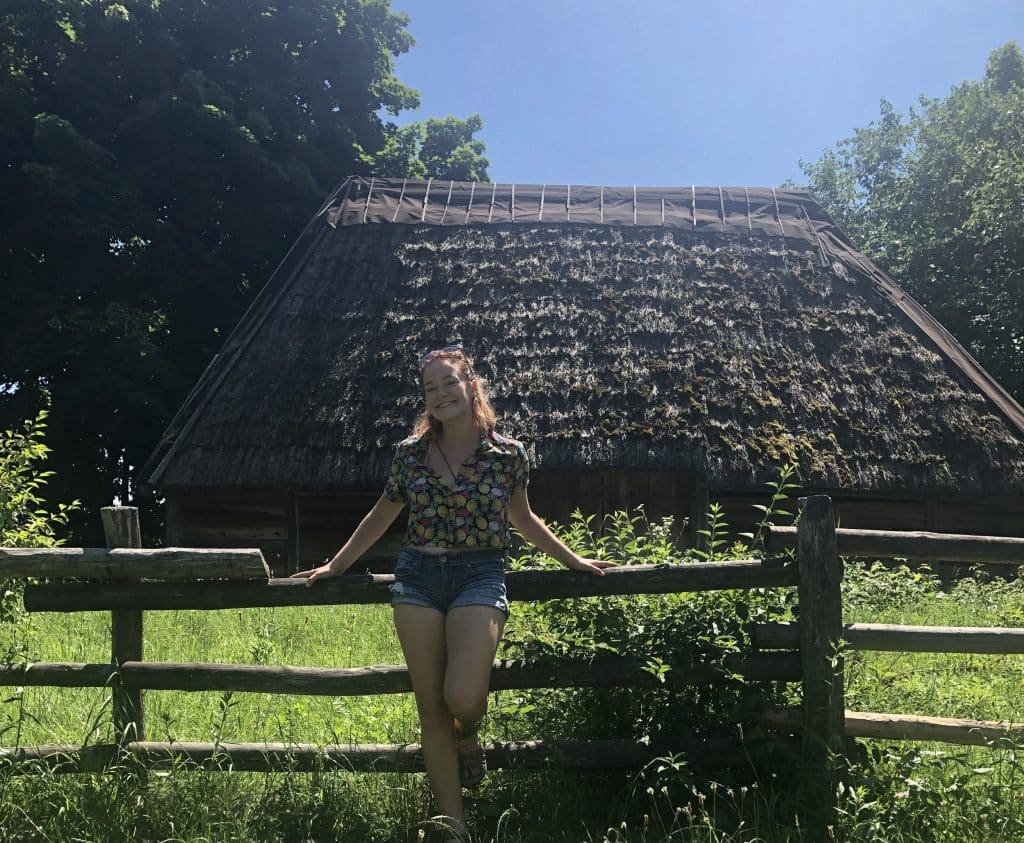 This museum is also unique in its focus on social history. The "traditional" museum is often thought of as focusing on high culture or history as driven by the wealthy and powerful. Here, the lives of the peasantry are on display and, while it is shown to be more idyllic than it probably was, it gives the visitor a glimpse into Ukrainian history as experienced by the average Ukrainian, instead of just those rich enough to commission art, lead armies, or build palaces to name after themselves.
Adding to the authentic feel, everyone who works at the museum is in traditional dress. This clothing is referred to collectively as "vyshyvanka," a Ukrainian word that refers to the embroidered cloth that often forms a part of not only Ukrainian national identity, but also the identities of various ethnic groups within Ukraine. Thus, the handmade shirts, dresses, and skirts bear different designs that represent the different regions of the country. Throughout all of Kyiv, you'll see people wearing different items with bits of this embroidery on it, be it shirts, backpacks, or scrunchies, but here it is all worn in it's full glory. White dresses with red, yellow, blue, or pink embroidery, flower crowns and headbands, and intricate belts are beautiful enough to rival the sprawling green hills and forests.
The museum is enormous, but is also set up to accommodate this. There is a special rate for those who would like to arrive with their bicycles in order to more quickly cover the park's enormous area. There are also many food stands for visitors to refuel. These also contribute to the atmosphere, with most of the food being simple, traditional, and fresh. You can watch people grill and prepare it. Many stands have more modern offerings as well.
Creating an atmosphere that celebrates history and culture has been the goal of the museum since its opening in 1976, and since pieces began being collected in 1969 by Ukrainian historian Peter Tronko. It is today funded partly by the state and is affiliated with the Institute of Arts, Folklore and Ethnology of the National Academy of Science of Ukraine.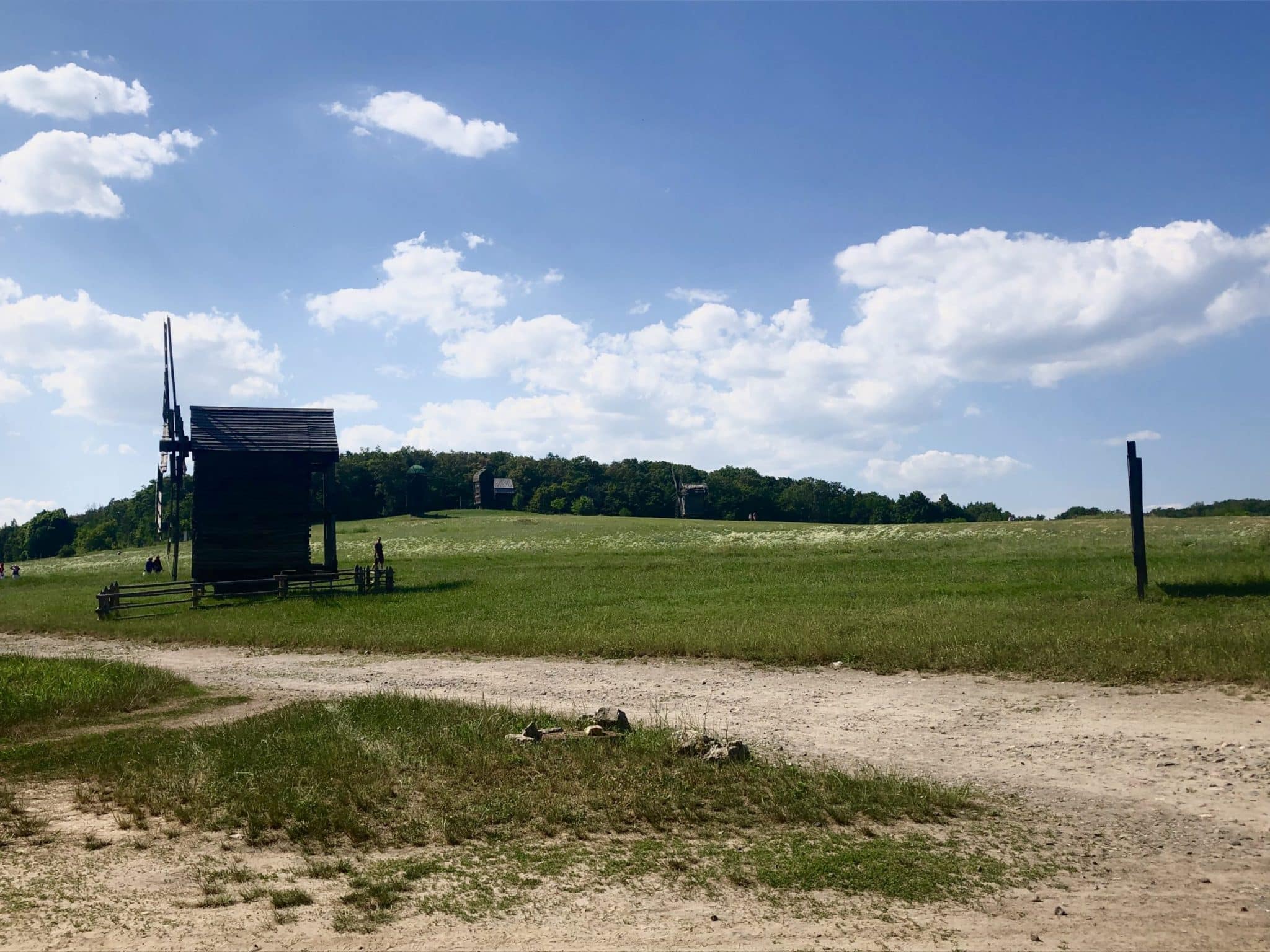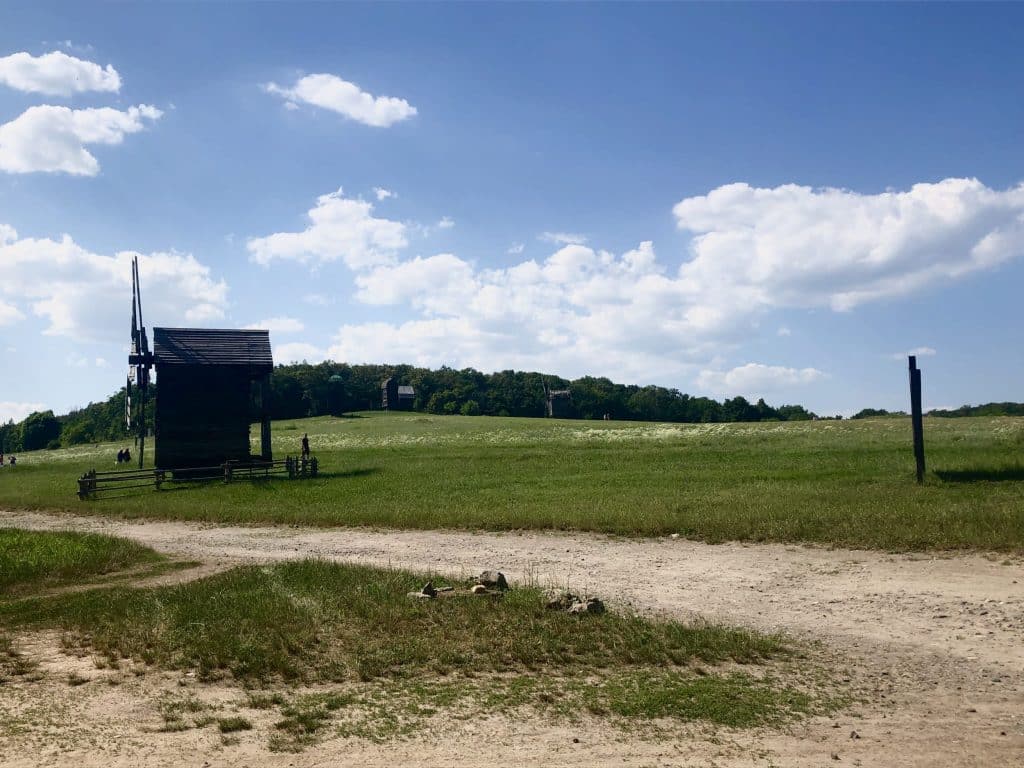 For foreigners, the museum can be eye-opening. It many people's minds, Ukraine is part of some larger mass such as "East Europe" and often lumped together with the USSR or even Russia in terms of how people understand its history and culture. Yet, there are many things that are unique about Ukraine from the clothes, to the embroidery, to the food. That can all be seen here. There is nothing here that discusses the time spent as part of the Soviet Union, because it isn't the point. Rather, the museum seeks to show how Ukraine is, and always has been separate, beautiful, and interesting in its own right.
Thus, the museum is arguably more of a "gallery" or a "demonstration" than a museum. The artifacts and displays all lack description, outside of a general labeling of what region that the building came from – and with no further discussion even of the region itself. As most visitors are not likely to hire a guide, the experience either becomes one of interaction with the employees to find out more or one of simply enjoying the particular aesthetic and the emotions that that aesthetic arouses. In this way, it can be said to be more about the art of the experience than anything else. It is also a great show of the individuality of Ukraine – and the obvious pride everyone the museum employees and local guests have in their history and culture. The fact that the estate is so beautifully kept also contributes to this feeling of pride.
The National Museum of Folk Architecture and Life of Ukraine has a very long name, but it serves mainly to deliver an image of simple and beautiful pastoral life, kept traditions, and national pride. This is likely one reason why the facility is often still called simply "Pirohiv" by locals – after the original settlement that once occupied the land.