Ilya Yefimovich Repin is "widely, and rightly, acknowledged as the preeminent exponent of critical realism in nineteenth-century Russian art" and was often styled under the Soviet regime as an "ethical painter." Others have called him a "pivotal figure in…Russian realism," and during his lifetime, Repin was witness to key moments in the history of Russian art. Upon his death in 1930 at his estate in what is now known as Repino, the New York Times lauded him as "the greatest genre and portrait painter that Russia ever produced," and went on to state that his art was "the soul of Russia." He flirted with several different art movements during his career, and was generally receptive to both foreign and domestic artistic trends. During his career, Repin sketched such cultural luminaries as composers Rimsky-Korsakov, Mussorgsky, Borodin and Glinka, and was friends with artists Valentin Serov, Mikhail Vrubel, Vasily Surikov and Ivan Kramskoy.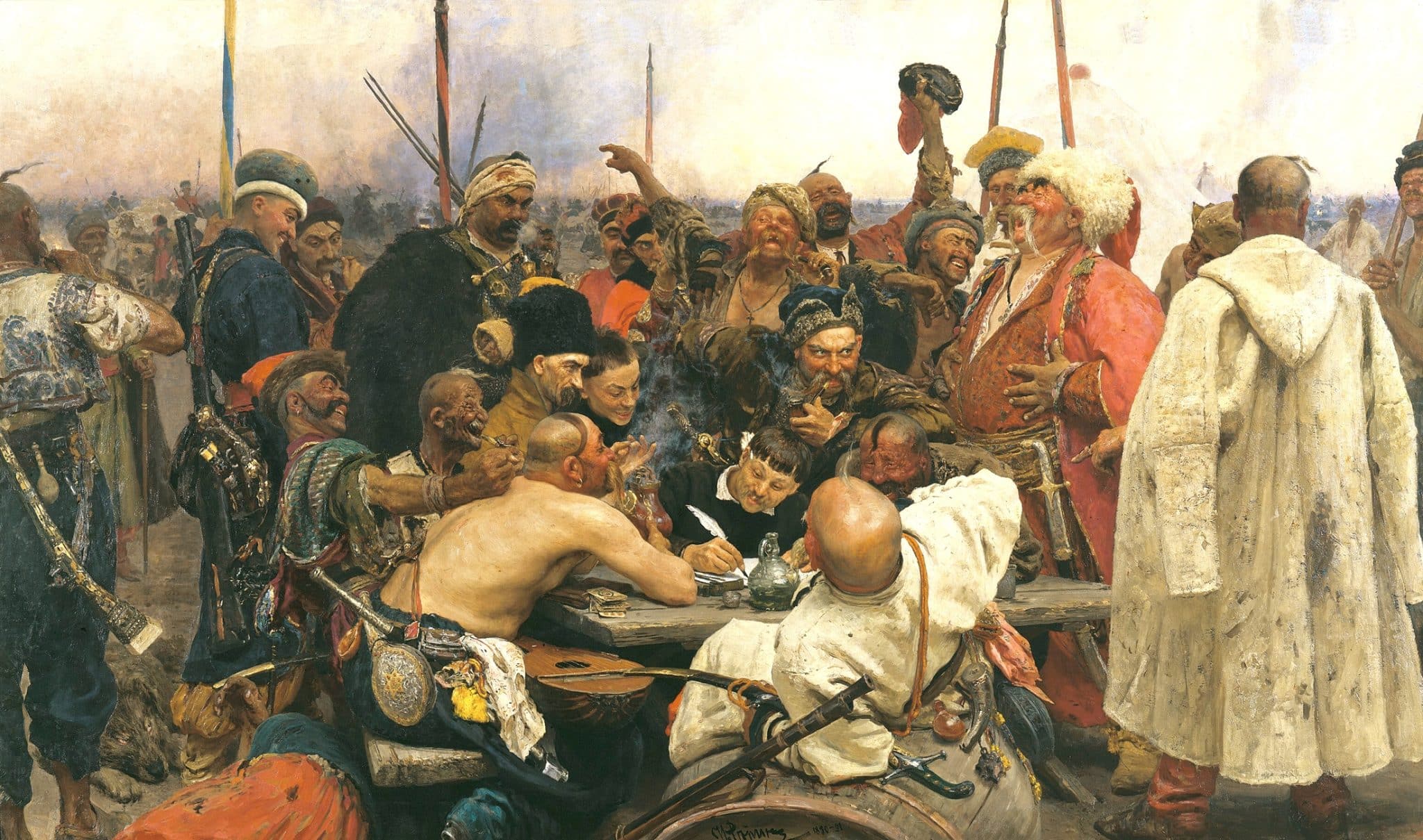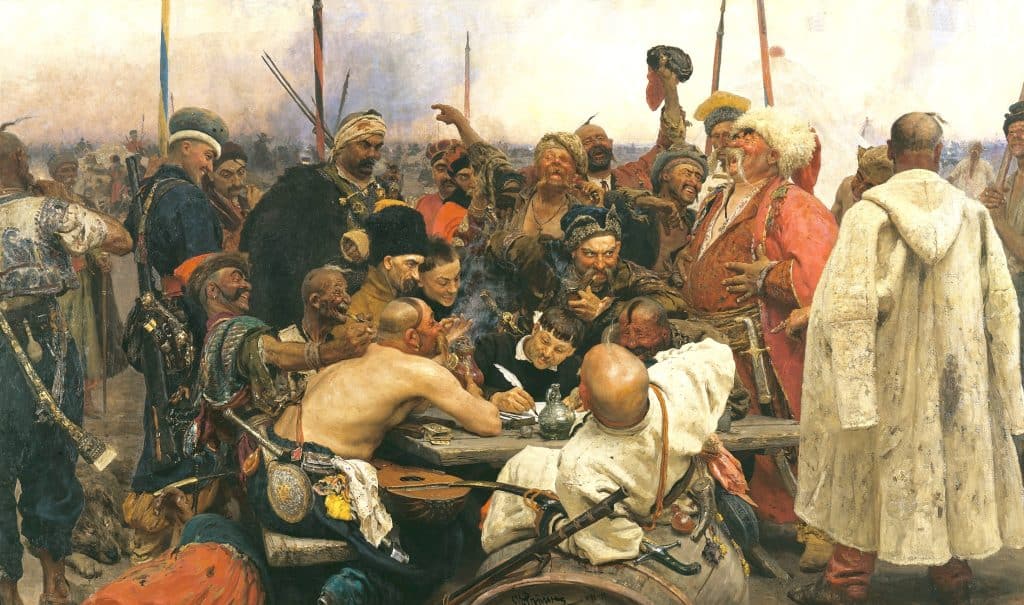 Repin was born in the Ukrainian town of Chuguev, near Kharkov, on August 5 (July 24, o.s.), 1844.  He was born into a poor family, as both of his parents came from Russian military settlers in the area. This awareness of coming from a lower class was to influence his later works. It also likely contributed to his posthumous popularity with the Soviet regime. Born into an ethnically Russian family in what was then known as "Little Russia," his first experiences were those of being "the other," which influenced his later works.  Repin began painting as early as 1858, learning the trade of icon painting from the talented master I.M. Bunakov after having studied as a child at the School for Military Topography.  At the young age of 15, Repin's talent had burgeoned, and he began working as his own master selling his own religious pieces.  At 17, he joined a traveling artel that redesigned iconostases. In 1864 at the age of 19, Repin succeeded in being accepted to the prestigious Academy of Art in the Imperial capital of Saint Petersburg after having developed his skills working with Ivan Kramskoy, a rebellious young artist who was to be key in forming the Peredvizhniki, or Wanderers, movement.
Repin's arrival in the Imperial capital in 1864 coincided with the so-called "Riot of the Fourteen," during which fourteen students of the Imperial Academy of Arts broke with tradition by refusing to follow and respect convention by painting mythological and neo-classical works. They argued that art should better represent real life and be more accessible to the general populous. Bearing striking similarities to the motivating principles behind the birth of the almost simultaneous movement of Impressionism in France, the 'rioters' went on to found the Wanderers art movement.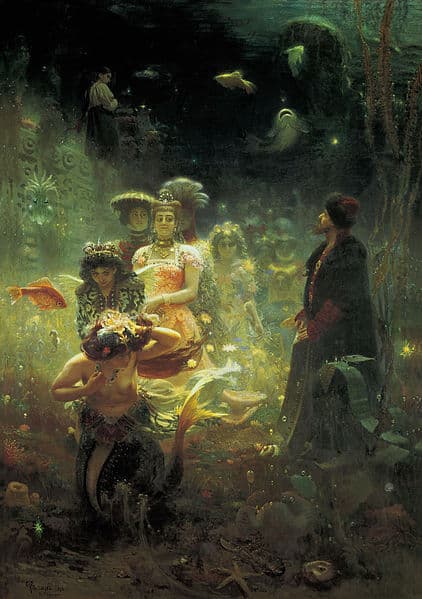 Repin worked closely with several of the Wanderers throughout his artistic career and in 1870 he joined their "Association of Traveling Art Exhibits."  It was Repin's monumental eleven-year work "Reply of the Zaporozhian Cossacks" that vaulted the Wanderers from rebellious art students on the outskirts of artistic society to a legitimate art movement, as Tsar Alexander III purchased the painting upon its completion in 1891 for thirty five thousand rubles. The painting precisely adhered to the principles of the Wanderers movement, representing scenes from history rather than simple neo-classical themes. It has been said to be a study in laughter. Following the sale, the Wanderers were invited into official circles. This painting also marked Repin's entry into the Academy of Arts as a teacher, as Tsar Alexander III invited him to reform the Academy.  During his time as a teacher, he reformed the teaching methods from schematic training to something more radical.
In 1871, the Academy awarded Repin a scholarship to fund his travels abroad. In 1873 he journeyed to both Italy and France, settling in Paris to work until 1876. During this time, he attended early Impressionist exhibits and completed several paintings, including "Sadko in an Underwater Kingdom."  Based on a traditional Russian fairy tale, Repin actually considered the painting to be a failure. However, his time in France was to heavily influence his subsequent work.  Kramskoy had initially advised Repin to "concern himself with France's 'great past,'" but Repin found himself more drawn to France's contemporary works, writing to Kramskoy that he "admire[d] all the expressionists, who [were] gaining increased recognition [in France]." Repin's seems to have been transfixed more by the struggles of the French Impressionists, which mirrored those of the Wanderers back in Russia, than by any of their actual works. This instrumental time in France led to increased tensions between Repin and Kramskoy, and Repin ultimately broke with his friend and mentor and, in the 1890s, gravitated towards the World of Art movement.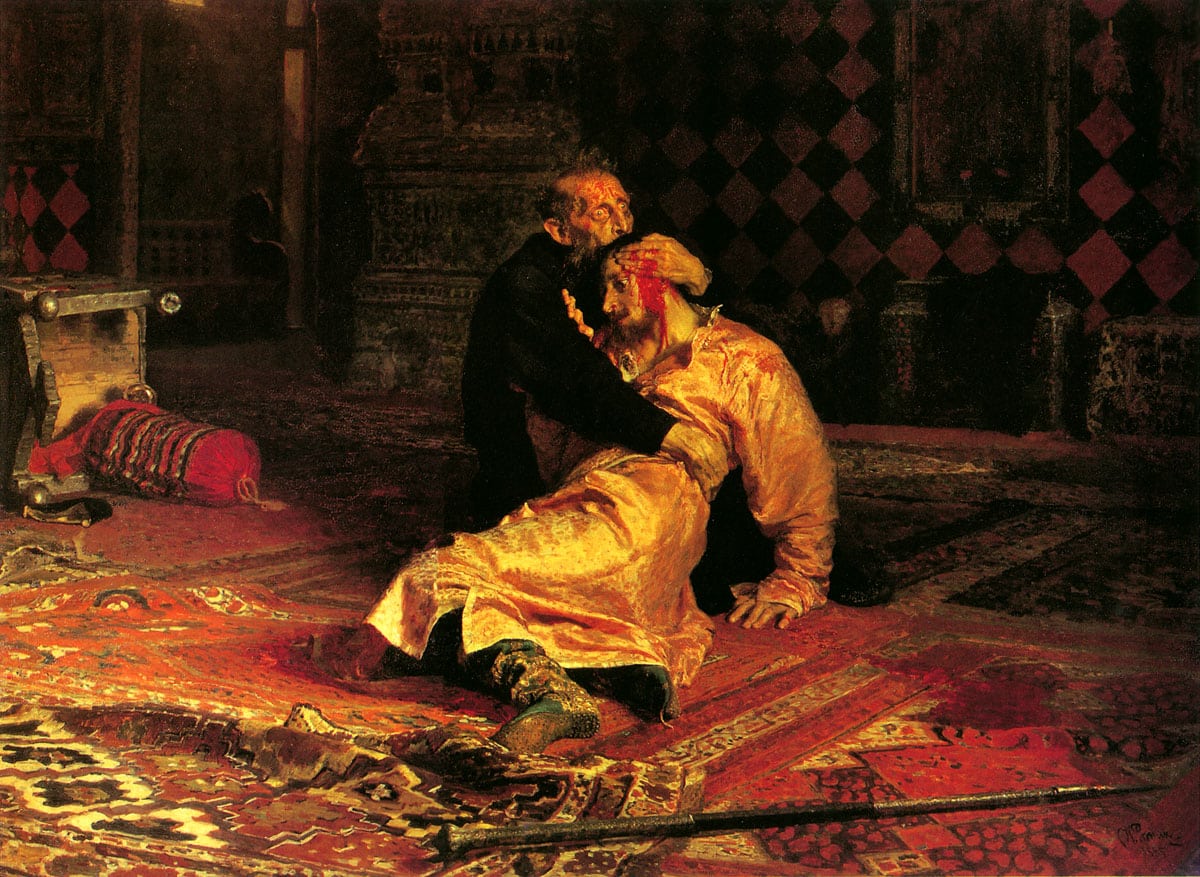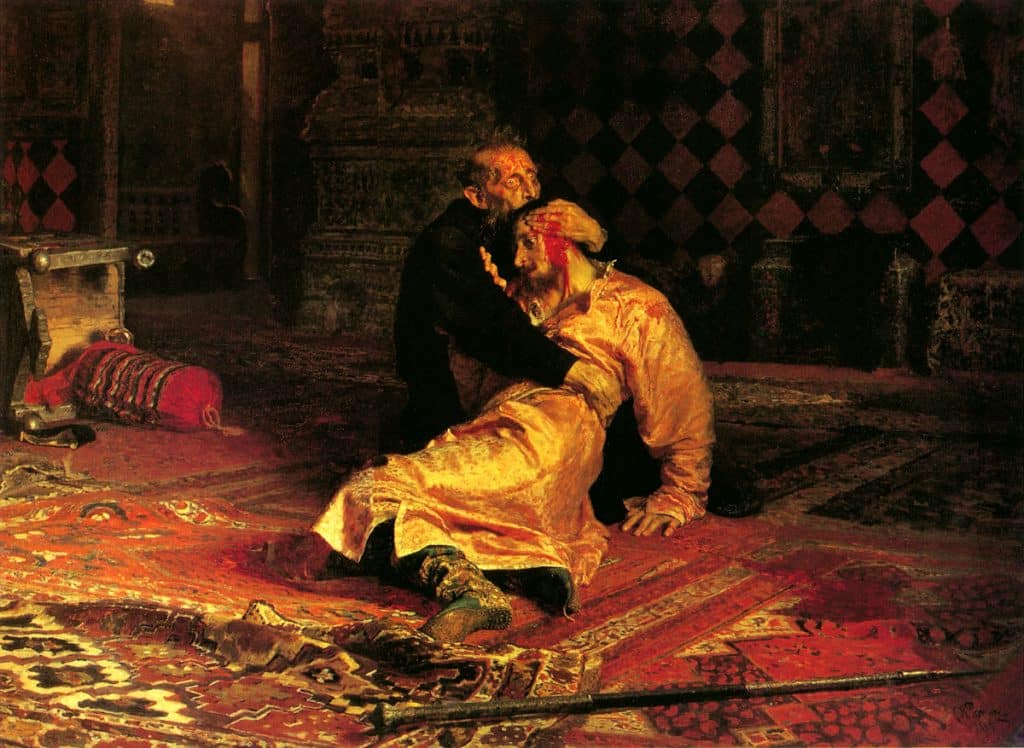 Founded by Sergei Diaghilev, who is perhaps better known outside of Russia as the founder of the Ballets Russes company, the World of Art believed in 'art for art's sake,' and attracted such artists as Mikhail Vrubel, Mikhail Nesterov and Isaac Levitan. Repin began a collaboration with the nascent movement, believing that Russia's artistic future lay "in opening doors to Western trends." He advocated for cooperation between Russian and Western art, and perhaps hoped to end Russia's artistic isolation. Kramskoy grew increasingly annoyed with what he saw to be Repin's tendency towards working in an international style, yet author Ivan Turgenev felt Repin had not embraced the European style enough. However, by 1900, Repin had broken ties with Diaghilev and the World of Art, criticizing its perceived decadence and what he saw as Diaghilev's intolerance for the Wanderers.  In retort, Diaghilev and World of Art's supporters derided Repin for opposing the creed of art for art's sake.
In the early years of the twentieth century, Repin moved north of Saint Petersburg to Penaty, his home in what was then the settlement of Kuokkala in the Grand Duchy of Finland.  Following Bloody Sunday in 1905, Repin refused to resign from the Academy of Art, and continued teaching there until 1907. In 1911, he delivered the principle address at the All-Russian Congress of Artists, speaking on the subject of artistic freedoms.  Sadly, Repin's work began to deteriorate after 1905, perhaps due to his shriveling right hand. After the Bolshevik Revolution in 1917, Repin found that his land at Penaty now formed part of the independent state of Finland, and despite invitations from the Soviet government to return to Russia, Repin never did so. He died at Penaty in modern-day Repino on September 29, 1930. During his last decade, Repin's daughter Vera helped him to organize shows in the West, and his last great piece, Golgotha, was painted 9 years previously in 1921.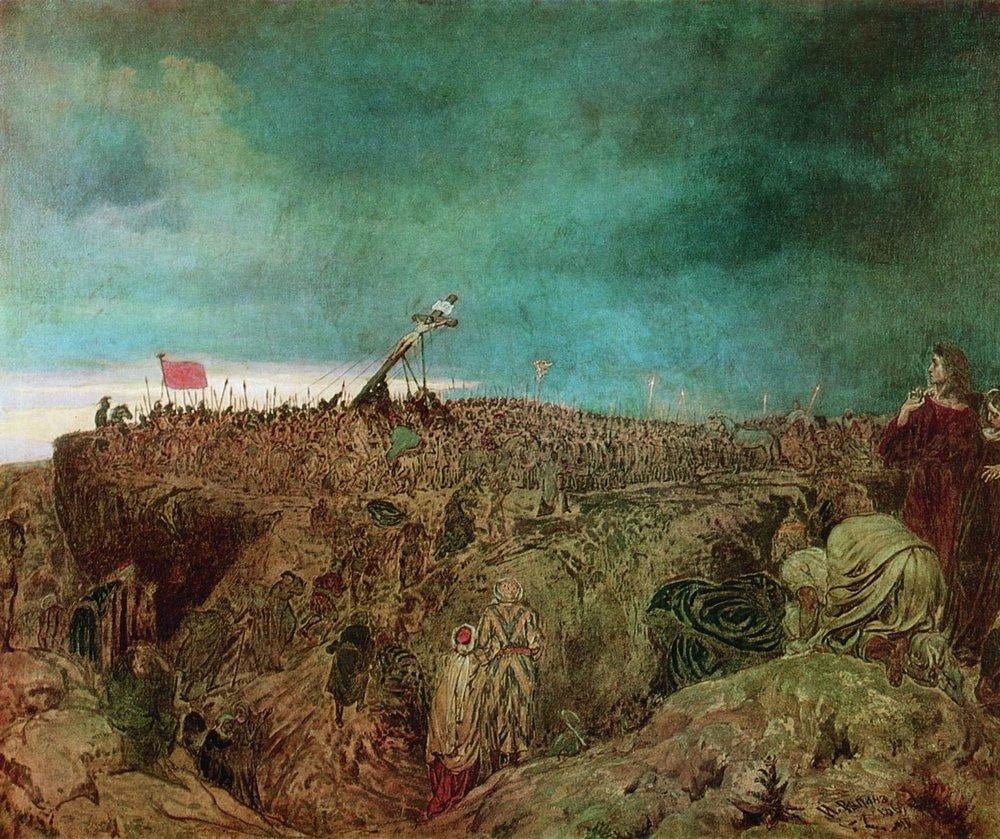 Despite having died in relative obscurity, by 1934, a mere four years after his death, the Soviet regime had coopted his work and lauded him as a model artist for Socialist Realism, citing his 1873 work "Volga Bargemen" as both starkly realistic and socially critical. He was seen both as a hero of Realism and an "ethical painter."
During his lifetime, Repin was involved with several key art movements that were to shape Russian art history. Many have inferred a predisposition in his personality towards radical causes. His involvement in exhibitions included participation in the first Exhibition of Sketches and Artistic Experiments, a then-radical artistic exhibition. In 1913, he worked to establish the Free Art Studios, the first of its kind in Saint Petersburg.  His works dating from the 1880s, shortly after the assassination of Tsar Alexander II, express themes of revolution and repentance, both of which can be seen in Ivan the Terrible and His Son Ivan (1885) and They Did Not Expect Him (1884-1888).