Many describe Saira Keltaeva as one of the most unique phenomena emerging from the modern Uzbek art scene in recent decades. Born on May 16th, 1961,  in the village of Kumyshkan, located in the Tashkent region of modern day Uzbekistan, her oil paintings master the use of vibrant color and ethnographic decoration to create portraits of heroines from her ancestral past – primarily women from Central Asia and "the East."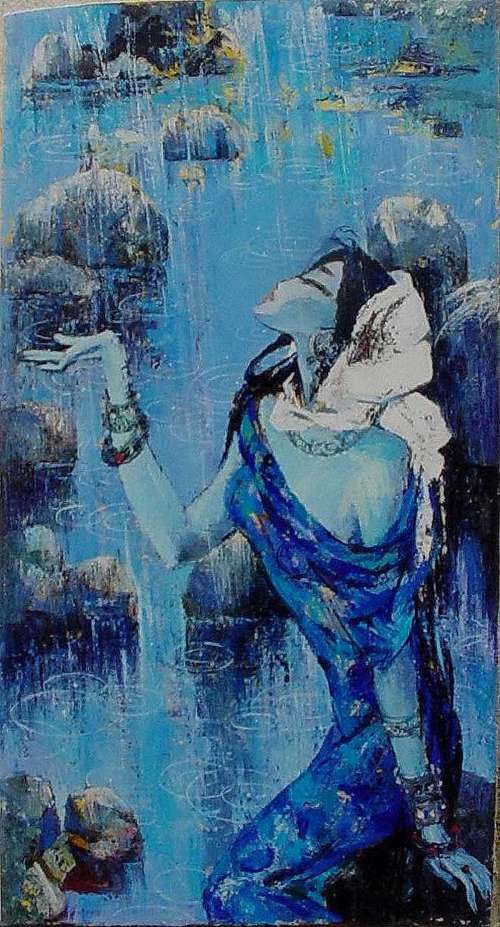 From an early age Saira immersed herself in the world of art; growing up, she attended the National Music Art School, where she took boarding classes in easel painting, taught by the national artist of Uzbekistan, A.P. Perova. Upon graduation, Saira then continued her professional education from 1970 to 1985 by attending the Tashkent Theater and Art institute. Here, Saira studied in workshops led by Uzbek's great national artists, Y. Zorkin and Rahim Akhmedov. As one of Keltaeva's primary mentors, Akhmedov encouraged budding artists to  "look for yourself, find your 'voice' without repeating others." His mantra produced a lasting influence on Saira's personal and artistic development; as a professional artist, Saira is frequently described as being strong and individual, "like a cat that walks by itself," and whose works renounce learned norms and slip away from judgements surrounding current trends.
While combining Uzbek art traditions and customs learned from her mentors in Tashkent with the qualities of European paintings, Saira is known for bringing her own personality and curiosities into her compositions. Exuding qualities of spirituality, mystery, heroism, and sensuality, Saira's works reveal her career-long exploration of feminine identity. Drawing from her own ancestral roots to depict Eastern heroines as the primary subjects of her portraits, Saira successfully incorporates historical and ethnic characteristics into her modern day representations of feminine beauty ideals.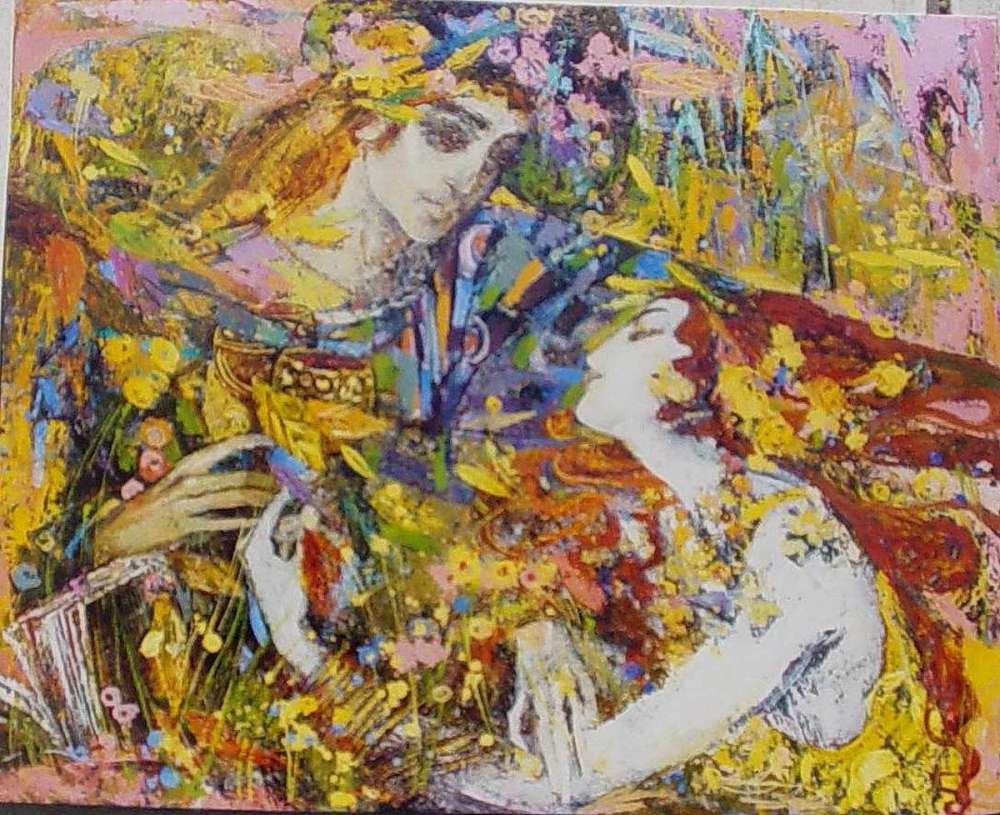 In terms of Saira's professional style, many compare her works to those emerging from the Vienna Secession art movement which began in 1897. Encouraging a stylistic freedom which aligns with Saira's independent artistic character, the Austrian art movement sought to explore the possibilities of art beyond the confines of academic custom. Denouncing conservative traditions, the movement promoted the artistic integration of different genres and fields and marked the formal beginning of modern art in Austria, as well as many areas internationally. The work of Gustav Klimt, one of the movement's primary founders, holds particular resemblance to many of Saira's compositions. Known for his emphasis on the female body, Klimt's paintings recreated and refined the ideals surrounding feminine beauty during the late nineteenth century. Akin to Klimt's practice, a majority of Saira's works provoked a similar effect. Keltaeva's artistic representations of women from "the East" continuously challenge modern and Soviet feminine standards, which tend towards artificially "made" beauty, perfection, exaggerated glamor and catwalk fashion.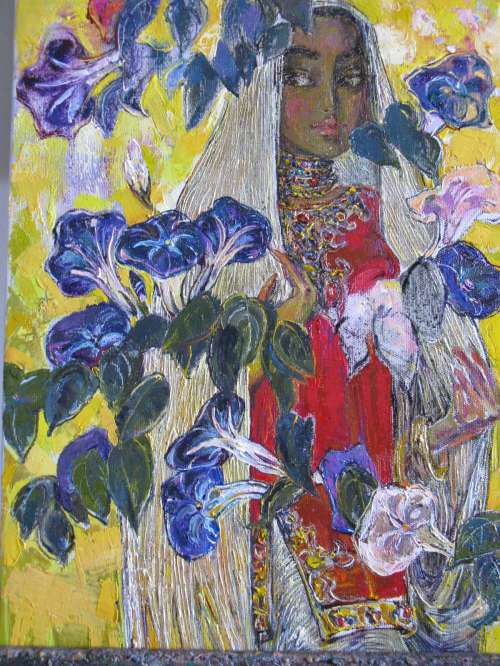 In addition to her study of the arts in Tashkent, a significant influence on Saira's development as an artist includes her childhood time spent visiting her grandmother in a mountain village. Here she cultivated an appreciation for her ethnic history, remembering the traditional embroideries, felts, and jewelry collected by her grandmother. Like many artists of her generation, Saira desired to connect back to her ancestry and roots. The subjects of Keltaeva's works – Kazakh, Uzbek, and Tajik beauties – expose Saira's appreciation for her own cultural memories. However, while many prominent Uzbek artists in search of ethno-cultural identity produce authentic recreations of historical narratives, Saira's portraits, in contrast, do not emphasize ethnographic truth or historical accuracy. Rather, reconnecting to her personal heritage drove Saira to an intense exploration and redefinition of the ideals and representations normally attributed to her Eastern ancestors.
Saira's earliest respected works include, The Swallow (1996) and Samarkand Noon (1996), both expressing a priority with using resonant, decorative and vibrant colors to depict the alternative, feminine, cultural, and exotic. Focusing on "the Sublime" as opposed to "the typical," her early works draw from Akhmedov and Klimt's artistic philosophies, and are marked by their spirituality, mystery, and sensuality. Thus, Saira's works serve as a symbolic means to escaping the modern day narrative and exploring unknown identities, both personal and universal in nature.
In part, her early compositions can be described as a reaction to the Soviet cultural ideology surrounding femininity, which espoused the ideal of a "purely Soviet woman," expected to embody hard work and success. The mythological nature of Saira's paintings surpass Soviet cultural limitations, returning the female imagery to mystery, eroticism, and greatness. Her representation of beauty in a new, sensual ideal countered previous ideals while creating a dramatized flashback to the past.
Saira also began exploring female heroism and independence in her paintings around the turn of the century. The provocative looks held by the heroines featured in Tumaris (2000), Bayan Sulu (2000), Zhibek, Blue Trout Beldersay (2005) and Steppe (2008) claim the right to the attention of the viewer, highlighting the power of the female. Such works also reveal Saira's fascination with the aesthetics of decadence; many of these paintings juxtapose the image and style of the modern era with heroines of the distant past, creating a venue to compare historic representations with modern, sensual beauty.
As time progressed, Saira moved deeper into an artistic phase which sought to re-examine the sweet, majestic portrayals into which Asian women are typically cast. In contrast to earlier paintings which featured vibrant, lively colors, Saira's new representations of Eastern women showed restrained use of color, limited specifically to ocher and ashy tones. Additionally, Saira placed special emphasis on the image of the Eastern woman's almond-shaped eye, as well as old fabrics, softly shining jewels, and processed stones and silvers.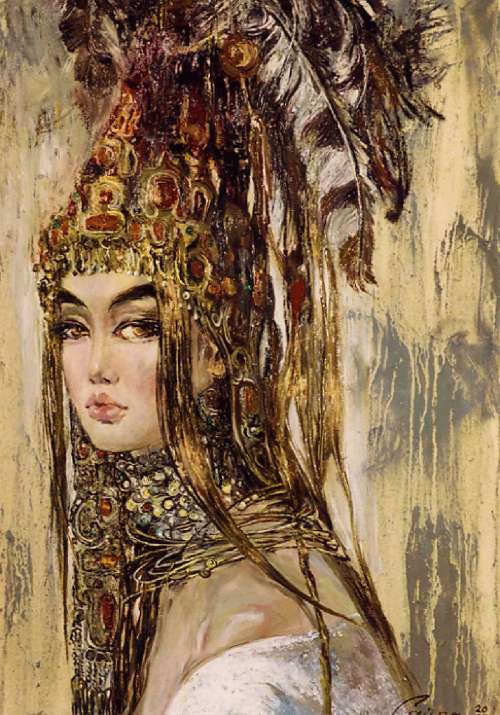 Saira's work Altyn Shash (2003) captures her newly subdued portrayal of Eastern beauty. They reveal emotions such as pride and sadness within her subjects and re-instill an emphasis on strength and human qualities. By focusing on a deeply-concealed passion and pride of spirit, Keltaeva denies the female association with modern aesthetics and beauty, challenging previous understandings of oriental women.
In recent years, Saira returned to her vibrant, colorful style, while also exploring asymmetric, graphically ornamental styles and square formats, both of which complement the gallant portrayal of Keltaeva's female heroines. Her work, Akmaral (2008), captures Saira's focus on female strength, yet, the ideals of "modern" beauty continue to shine through. Like her previous works, Saira's recent compositions do not fit within the frameworks of a still life. Rather, Saira's indulgence in aesthetic exaggeration and invented beauty empower her portraits' heroines, highlighting their strength and independence. In an interesting intersection, Saira embodies the mythological characters of her own ancestral past with the myths of modern feminine standards present in today's age; thus, her artistic compositions still serve modernity, while opening opportunities for Saira to explore personal and feminine identities.
The lasting impact of Saira's work is her participation in the modern feminist discourse through art. Locally, Saira holds an influential role sharing her artistic philosophies in Tashkent. Immediately following her studies at the Tashkent Theater and Art institute, Saira began working as a teacher at the Republic Lyceum of Fine and Applied Arts from 1985 to 2001. As a mentor, Saira shared her strong, individual, and feminist artistic orientation with young Uzbek students.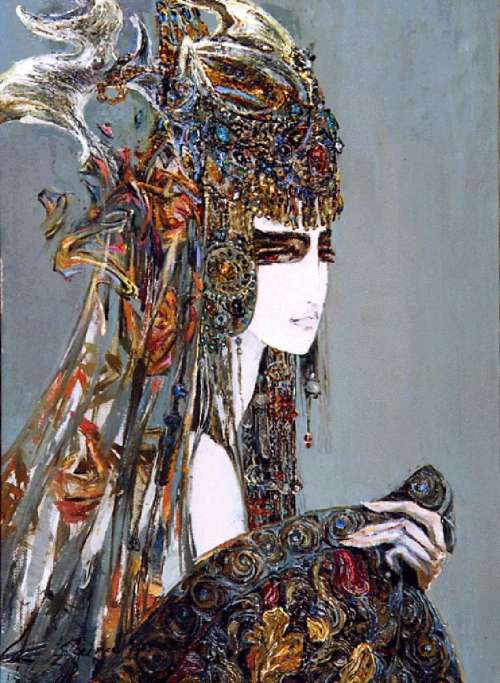 In addition to her work as a teacher, Saira is active in a variety of national exhibitions, and has been a member of the Creative Association of Artists at the Academy of Fine Arts of Uzbekistan since 1989. Notably, Saira participated at the Exhibition of Culture and Art in Uzbekistan, in an event titled, How beautiful this world is …, which brought leading feminist artists such as Galina Li, Shakhnoz Abdullaeva, Oksana Zalevkaya, Nodira Oripova, and Tatyana Lee together to celebrate their artwork and the modern feminist art movement occurring within Uzbekistan today. Additionally, in March 2013, Saira was among several female artists to be featured in the United Nations Development Programme's Women in Art exhibition, held on International Women's Day to inspire and promote the continued success of female artists in the area.
As a result of her lasting influence, in 2011 the state recognized Saira's contribution to the development of fine arts in Uzbekistan by awarding her the silver medal of the Academy of Arts of Uzbekistan. As a further reflection of Saira's significance within the country, a majority of her works are showcased in national museums throughout Uzbekistan, as well as prized in private collections around the world. While, like many artists, Saira's work faces some criticism, she continues to actively challenge conventions. Through her portrayals of strength, independence, and sensuality, Saira challenges widely held understandings of beauty, grandeur, and the power of women and succeeds in redefining the images of femininity, both from the distant past and in the present.