Pyotr Ilyich Tchaikovsky is one of the most popular composers of all time and produced numerous symphonies, operas, piano concertos, and ballets.
The Russian composer's works can be found today not only in concert halls across the world, but also used in popular culture as recognizable and emotionally affecting pieces. He also remains a constant presence in modern Russia, where museums, concert halls, competitions, and monuments bear his name.
The Life of Pyotr Tchaikovsky
By Chris Wehberg
Although Tchaikovsky originally trained as a civil servant, his talent was eventually recognized and cultivated by his family and by international teachers. He often found inspiration for his pieces from classic literary works. He would go on to produce his great works while dealing with mental health issues and a failed marriage.
Early Life and Education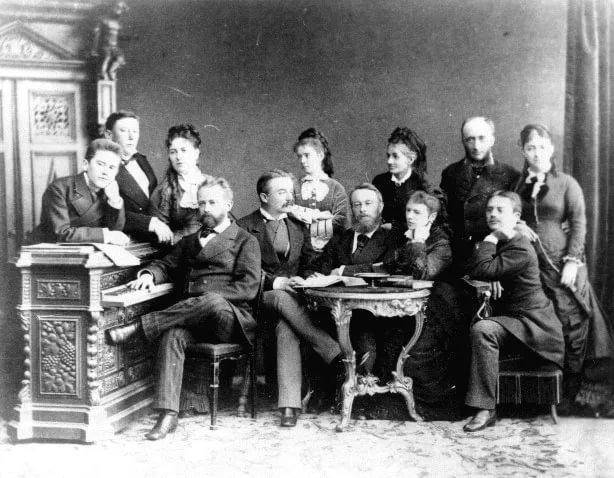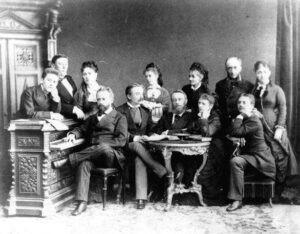 Pyotr Ilyich Tchaikovsky (Пётр Ильич Чайковский) was born May 7, 1840, in Votkinsk, Russia, into a well-educated military family.  From a young age, Tchaikovsky was interested in music, and particularly in the piano and orchestrina, a musical instrument that imitates the sound of an orchestra, kept in his childhood home. Both his parents, Ilya and Alexandra, were trained in music, which helped further Tchaikovsky's interest in the subject. At the age of four, Tchaikovsky composed his first composition with his sister Alexandra. At five years old, he started taking piano lessons and learned to read advanced sheet music while still a child.
Despite Tchaikovsky's virtuosity at such a young age, his parents sent him, in 1850, to the Imperial School of Jurisprudence in Saint Petersburg for civil service, given that musical careers at the time were considered lower class positions. It is also important to note that music studies in higher education was not widespread at the time.
Tchaikovsky entered the school two years earlier than allowed. This was done to ensure the young boy would become as financially independent as possible. He studied at the boarding school for nine years and formed a close life-long friendship with poet and writer, Aleksey Apukhtin.
In 1854, Tchaikovsky's mother passed away from cholera. He was just fourteen at the time. Already suffering from the emotional trauma of separating with his mother at a young age, her death deepened this pain and lasted for most of his life. It was his mother's death that inspired him to write his first full composition, a waltz titled My Dear Little Mother. Tchaikovsky renamed this waltz to Mama and incorporated it into Op. 39 Album pour enfants (1878). His father also contracted cholera, but fully recovered and sent Tchaikovsky back to school after his mother's funeral.
Above: "Mama," which Tchaikovsky first wrote at the age of 14.
At school, Tchaikovsky involved himself in music as much as he could, despite not formally studying it there. He and his friends occasionally attended the opera, and he attempted to continue learning piano with Franz Becker, an instrument manufacturer who frequented the academy. In 1855, Tchaikovsky's father finally recognized the professional potential of his son's talent and decided to recontinue his son's piano studies and funded private lessons with the teacher Rudolph Kündinger. Kündinger did not believe in Tchaikovsky's talent, so the young musician soon after sought mentorship from Italian singing teacher Luigi Piccioli. Piccioli was the first individual to truly recognize Tchaikovsky's musical abilities and is the reason for his lifelong interest in Italian music.
From Civil Servant to Music Professional
In 1859, Tchaikovsky finished his studies and began working for the Ministry of Justice, where he became a senior assistant after just eight months. However, Tchaikovsky remained a senior assistant for the next three years of his brief career in civil service. Uninspired by his civil work, Tchaikovsky began to take classes at the newly founded Russian Musical Society (RMS) in 1861. At RMS, the first public school of music in Russia, Tchaikovsky eventually joined the St. Petersburg Conservatory, where he composed alongside the renowned music theorist Nikolai Zaremba and pianist Nikolai Rubinstein. There, Tchaikovsky developed his understanding of European principles of composition, which allowed him to later blend both European and Russian styles into something unique. Tchaikovsky composed and premiered his first symphony, Winter Daydreams (1866), while at the Saint Petersburg Conservatory which received heavy criticism from Zaremba and Rubinstein. The symphony is described as 'fully Russian', with an unpredictable tonality and uncertain key.
After graduating from the Saint Petersburg Conservatory in 1865, Tchaikovsky accepted a position as a professor of music and harmony at the Moscow Conservatory. During this time, he had his first public performance with a piece titled Characteristic Dances. This piece was later reworked into his opera The Voyevoda. Herman Laroche, critic, friend, and teacher to Tchaikovsky, attended the premier of Characteristic Dances and wrote that he was pleased by the performance.
In the late 1860s, Tchaikovsky was starting to be recognized for his work. His pieces were being performed in public more frequently, including the premier of his first operas with mixed reviews: The Voyevoda (1869) and Undina (1870). Tchaikovsky himself was not satisfied with these first attempts and destroyed all the copies. In 1874, he premiered his first surviving opera, The Oprichnik and followed that with Vakula the Smith, which he wrote in 1874 and later won an RMS competition with in 1876. The premier of his First Piano Concerto was conducted by Hans von Bülow in 1875. Tchaikovsky originally asked pianist Nikolai Rubinstein to premier his concerto, but his excessive criticism led Tchaikovsky to seek out Bülow. Bülow was already scheduled to tour the United States, so he debuted the piece in Boston where it received some acclaim.
Above: The Operichnik, the earliest surviving opera written by Tchaikovsky.
Tchaikovsky's Rise to Fame and Internal Struggles
Much of the academic discussion surrounding Tchaikovsky's personal life centers on his sexual orientation. Biographers believe that Tchaikovsky was homosexual and had many romantic interests, including fellow classmate Sergey Kireyev during his time at the Imperial School of Jurisprudence. Despite this, he married music student Antonina Milyukova in 1877, while composing the opera Eugene Onegin, which would prepare in 1879. However, Tchaikovsky left Milyukova less than three months after their wedding. He attempted suicide later that year.
After this traumatic year, he travelled and lived abroad throughout Europe and Central Asia for several years. Tchaikovsky lived largely in isolation and estrangement until his return to Russia in 1884. However, he continued to write.
Tchaikovsky received his first widespread critical acclaim for his Third (1875) and Fourth Symphonies (1877-8). Symphony No. 3 is the only symphony composed by Tchaikovsky to have five movements and be set in a major key. It was premiered in Moscow in 1875 by Rubinstein at the first symphony concert of the Russian Musical Society. Perhaps most importantly, Tchaikovsky was satisfied by the performance. Symphony No. 4 was similarly premiered in 1878 by Rubinstein and received even more acclaim. It was also cherished by Tchaikovsky for being one of his few works to not disappoint him.
Tchaikovsky's most notable instance of universal acclaim came with Swan Lake (1876). The composer based the ballet on the German Folk Tale the White Duck by Johann Karl August Musäus. The 1877 premier of the ballet in Moscow was initially a disaster as audience members, critics, and even Tchaikovsky were all unhappy with the performance. At the center of the disaster was the choreographer, Julius Reisinger, who had modified large parts of the orchestration because he found the original too complex and symphonic to fit the ballet genre.
Only in 1895, two years after Tchaikovsky's death, would Swan Lake be staged as intended and became the iconic ballet it is today thanks to alterations made by the ballet master Marius Petipa, who stayed faithful to Tchaikovsky's original score.
Tchaikovsky's Later Work and Death
1877 did bring Tchaikovsky some happy news, however. Allowing him to focus exclusively on his music, Tchaikovsky began receiving a financial allowance from the widowed Nadezhda von Meck. She served as his patroness for thirteen years, between 1877 and 1890. Tchaikovsky dedicated Symphony No. 4 to von Meck, and the two maintained frequent communication throughout the composition process.
Tchaikovsky international fame rose in the early 1880s, spurred by a movement of unity between Russia and the rest of Europe, and led by novelist Fyodor Dostoyevsky. The rest of the world was now more than ever willing to embrace Russian art and music.
In this period, Tchaikovsky composed two significant compositions, the 1812 Overture (1880) and Piano Trio in A minor (1882). The 1812 Overture served as a commemorative piece for the 25th anniversary of Alexander II's coronation. It also honored the christening of the Cathedral of Christ the Savior and was featured at the Moscow Arts and Industry Exhibition. The other piece, Piano Trio in A minor, Tchaikovsky wrote for Nikolai Rubinstein, after his peer and mentor died in 1881. After Tchaikovsky's death in 1893, it was frequently used in memorial concerts for the composer himself.
Tchaikovsky died November 6, 1893, just days after the premiere of his sixth symphony, The Pathétique.
He is largely thought to have died from cholera, but in recent years scholars have considered the possibility that his death was suicide by poison. There is also a theory that Tchaikovsky's suicide was forced by his former classmates, who did not want his homosexuality, if expressed, to tarnish the reputation of their academy. The Pathétique is sometimes argued to be Tchaikovsky's suicide letter. The fourth movement greatly contrasts the first three, with a melancholic tone and "crying" violins. Most of his works contain a concrete, satisfying ending, but his sixth symphony fades into nothingness, leaving the audience feeling unsettled.
Remembering Tchaikovsky in St. Petersburg
By Jessica Berry (2015)
The music of Petr Tchaikovsky (1840-1893) has been very impactful on me since I saw his ballet The Nutcracker when I was a little girl. His music is one of the reasons why I decided to become a Russian musicologist. This year (2015) is the 175th anniversary of his birth and throughout this year, Russia's musical organizations held concerts celebrating his musical works on what was called the "Day of Russian Music." I never thought that after only being in St. Petersburg for two days that I would be attending a concert featuring many of the Tchaikovsky's pieces that I have come to love so dearly.
The concert took place at the Площадь Искусств (Art Square), which also houses the Russian Art Museum. The square also contains a beautiful park where one can go and enjoy the weather of the city. The concert was outdoors and the day was cloudy with light rain, but I was impressed by how many people were in the audience and the majority stayed until the conclusion of the concert. Being a concert that was free and outdoors, the audience was more casual and did not have to adhere to the strict rules of a concert hall. However, this did not take away from the musical experience of seeing an orchestral concert.
The city of St. Petersburg is very important to the music of Tchaikovsky. He began his education here at the Imperial School of Jurisprudence in 1850 and when he moved away from a career in law to music, he would be apart of the first graduating class of The St. Petersburg Conservatory in 1865. Many of his most popular works, including the ballets The Sleeping Beauty (1889) and The Nutcracker (1892), the operas The Queen of Spades (1890) and Iolanta (1892), and his Symphony No. 5 (1888) and Symphony No. 6 (1893), had their world premiere in St. Petersburg. This city is also the place where Tchaikovsky died in 1893; his grave is located here in the Alexander Nevsky Cemetery alongside his other musical contemporaries, such as Mily Balakirev, Anton Rubinstein, Alexander Borodin, Nikolai Rimsky-Korsakov, and Modest Mussorgsky. For me, there was something very special hearing his music ring throughout the night air of St. Petersburg.
What I really enjoyed about the concert was the variety of music that was performed. Not only were his symphonies and ballet music featured, but also the St. Petersburg State Symphony Orchestra under the direction of S. Kochanovsky performed his violin and piano concertos and arias from his operas with soloist from the opera company at the Mariinsky Theater. I love that the orchestra presented a well-rounded program of his works to show the audience the diversity of his musical style. It was also great to hear such popular works as his Romeo and Juliet, Swan Lake, and Piano Concerto No. 1 in B flat minor. I was super excited when they performed a scene from my favorite Tchaikovsky opera, The Queen of Spades. Even in the cold, rainy night, the audience gave an enthusiastic response after each piece.
I have always been impressed with how the Russians paid tribute to those who created their artistic and literature culture. It was almost a surreal experience being in the audience and I spent a lot of time watching the audience's reaction to his music. I received warm smiles from older patrons who seemed to be glad that I was enjoying this concert in their city. I also appreciated that some of the friends I made recently through SRAS came along and sat through the concert with me in the cold. They cannot wait to see another concert and I am so excited to introduce to them the beauty of Russian Classical music during my time in St. Petersburg.
Tchaikovsky Museum in Moscow
By Alyssa Yorgan (2014)
The Tchaikovsky Museum, located at 46/54 Kudrinskaya pl. in central Moscow, is part of a complex of museums in Moscow dedicated to Russian musical greats. This network consists of several small "house-museums" (дом-музей) situated in the former residences of luminaries like Sergei Prokofiev, Fydor Shalyapin, and Aleksandr Goldenweiser, with the Glinka Museum of Musical Culture serving as the main point on the tour. While interesting as museums in their own right, many of these locations regularly host concerts that range from intimate chamber-music evenings for an audience of 50 or less, to entire opera presentations (albeit without full staging.) It's worth checking the main website before making your trip, as prices for concerts vary from free to somewhat pricey (1500 rubles plus). That said, entrance to the museums themselves is always affordable (less than 200 rubles), and there are student discounts.
House-museums tend to be small, as one might guess, and one can usually complete a tour in about an hour. The Tchaikovsky museum staff is really dedicated to helping you make the most of that hour though! In comparison to many other Moscow museums, I find that the staff at the musical culture museums tends to be unusually friendly and informative. It's clear that they are fans of their respective composers/ performers and this helps to make the experience all that much more enjoyable. It's likely that you will get a personal tour even without asking for it.
While the flagship Glinka Museum houses most materials of importance to researchers (original musical scores, letters, etc.), the house museums are primarily full of the composers' personal effects. Wandering from room to room, one gets a sense of what activities and people featured most prominently in the life of that musical figure. In the Tchaikovsky museum, for example, there is a room devoted to one of the composer's most famous patrons, Nadezhda von Meck. One can get up close to one of Chaikovsky's pianos, as well as photographs and correspondence from colleagues, friends, and relatives. Many of the descriptive placards are translated into English, making it a good choice for those with no or limited-knowledge of Russian.
In my opinion, the curators have done a good job in making the museum accessible for the novice who has only a passing knowledge of classical music, yet still interesting for those who studied music and want to see artifacts of Chaikovsky's life up-close. The museum is also located within close proximity to a few other house-museums within the Glinka-complex, making it convenient to do a tour if one so desires.
Tchaikovsky Concert Hall in Moscow: Master Class Performance
By Sarah Parker (2014)
If you're new to the culture, you'll soon see that Russians take performance very seriously. Whether it's orchestra, opera, ballet, or theater, you owe it to yourself to see as many performances as possible, and at least one!
The first stop is the Tchaikovsky Concert Hall (Концертный Зал имени П. И. Чайковского, located at 31/4 Tverskaya St. in central Moscow). It's easy to find for newcomers to Moscow because it is literally in the same building as the Mayakovskaya Metro Station. Tickets start at 200 rubles, but unlike some venues, even the cheap seats here are great, with an unobstructed view.
I saw the "Master Class" performance. These are students who come to Moscow to study at the prestigious Moscow Philharmonic, under the famous conductor Yuri Simenov. As part of their graduation, they give a concert in this hall. Students are already semi-professional when they enroll as master class students.
This summer's graduating group came from all over the world: Asia, Scandinavia, South America, Eastern Europe and of course Russia. They all had received multiple awards for their previous work conducting, and had travelled the world with their various projects.
Besides the beautiful music, the theater itself and the philharmonic orchestra are a feast for the eyes. Behind the stage is a modern set of organ pipes, and the room is open and acoustically impressive. We were treated to selections of classical orchestral works by Rachmaninoff, Tchaikovsky, Dvorjak, Stravinsky, Mozart, and Shubert. There were also some newer arrangements of works by Rimsky Korsakov.
In typical dramatic fashion, the most experienced performers and edgy pieces were last, and the build-up was really exciting. The crowd was wild over certain conductors, showing their familiarity with the world of conducting and orchestra. The ability of very young conductors was truly amazing. They led the orchestra through crashing pinnacles followed by pin-drop silence.
While it common for performances in Russia to come with one intermission, this performance had two. During intermissions, guests wander out for coffee and refreshments from little cafes on each floor. The various levels of the theater had different architectural designs, and the third floor resting area is a beautiful place. Afternoon light illuminates stained glass, two stories of classical columns, and a beautiful centerpiece sculpture. A series of bells indicate how much time has passed in the intermission, and you must return to your seat at the third bell! Purchase a program for 100p, it's always worth it, but not all are available in English. When a crowd really applauds, they begin to applaud in unison, and the performers will continue to bow and receive flower bouquets until the applause stops, but stay to the end to see how each performer, and even the management, receives recognition for their part in the performance.
You Might Also Like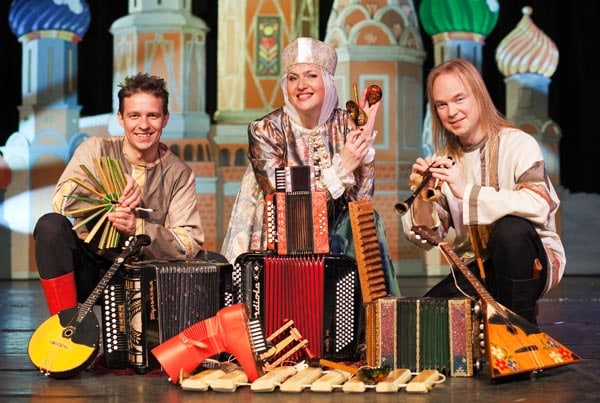 Throughout the Cold War to the present day, there has been tension between the United States and Russia in the political arena. However, Americans have used Russian music in creating elements of American popular culture. Appropriated Russian songs include classical pieces like "The Flight of the Bumblebee," which is often used to represent speed and […]