Guide to VDNKh
Prospect Mira, 119 – Metro VDNKh
Free to enter
Bring cash for food, additional activities (500-2000 rubles)
VDNKH, whose Russian name translates to Exhibition of Achivements of National Economy, is one of Moscow's grandest parks, a massive space in the northeast portion of the city that is almost a living monument to Soviet ingenuity and achievements as well as a modern recreational space that has an almost endless amount of activities to offer for crowds of all ages in Moscow. With more than twenty so-called "pavilions," that have both permanent fixtures as well as temporary exhibitions and shows, anyone who visits the part can engage and be immersed in the arts, physical exercise, history, science, or just enjoy a sunny Moscow afternoon with friends by relaxing and eating at any one of the park's several restaurants and bars. Take the metro to the stop named after the park, and follow the signs or the typically massive crowds of people towards a giant archway that marks the main entrance to the park. You should pass a monument of equally impressive size on your left as you make your way towards the entrance, seeing a rocket and the trail it leaves behind shooting up towards the sky on top of a large stone plateau. This is a monument to Soviet cosmonauts, and contains within it the Moscow Space Museum, another great attraction written about in a separate article that can be visited either on its own or as part of your trip to VDNKH.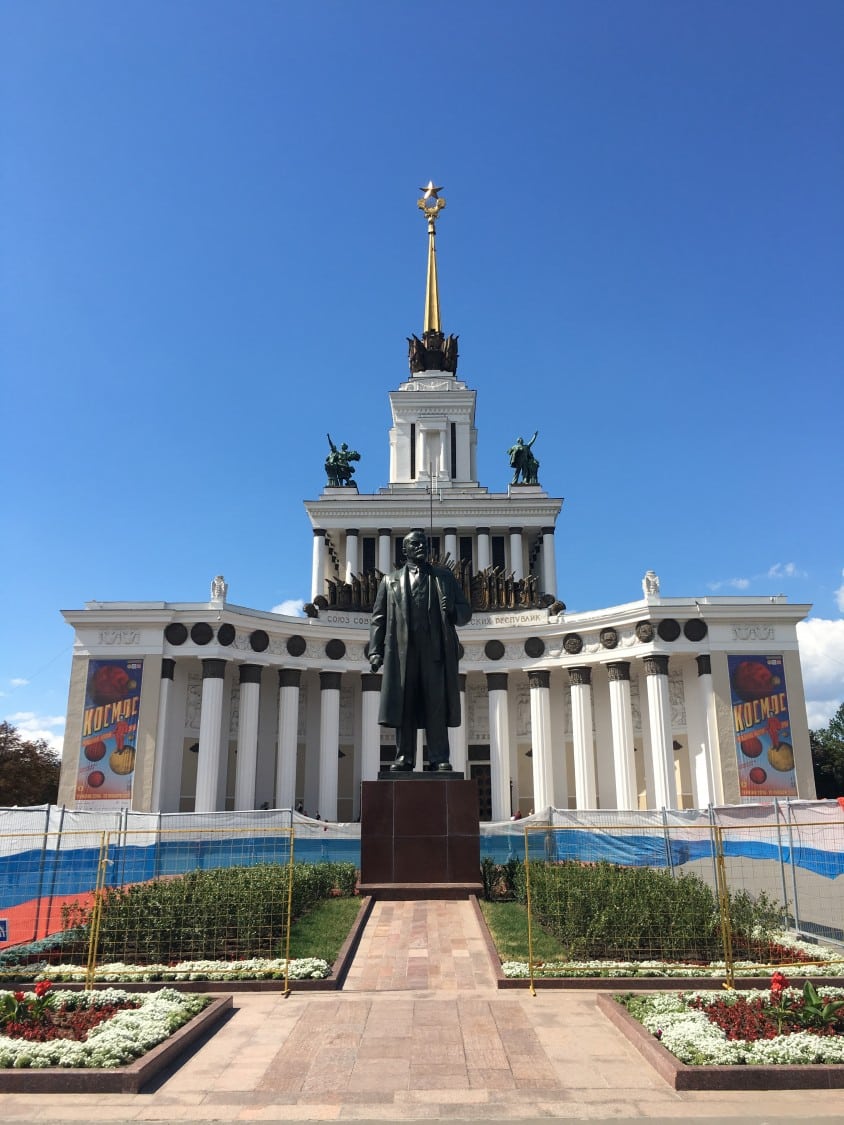 Before beginning your trip to VDNKH, I recommend wearing comfortable walking shoes and to check out their website (VDNH.ru/en), which has a map and also a schedule of upcoming events that may be of interest to you. It's good to look at the map and familiarize yourself a bit with the layout of the place, especially because once you arrive you will notice the sheer enormity of it. Walking up to the entrance, you will notice basketball courts with hoops that are open to anyone, so long as you have a ball and they aren't packed. You will also see stages, which, if your visit is sometime during the summer, will likely have performances going on when you walk up. After walking through the main entrance, you will be greeted by the first "food street", featuring casual food-to-go places that appear all over Moscow and also some that can only be found in this location. One stop of the latter type, Edim Stoya or "We Eat Standing," claims to have the best falafel in Moscow, which you can snag in a pita sandwich, marinated with other vegetables and spices for just 350 rubles. They offer a few other Israeli dishes that can be eaten both standing and sitting down at the tables on their small deck, but are all served in containers that are easy to take with you as you continue your walk down the first street of the park.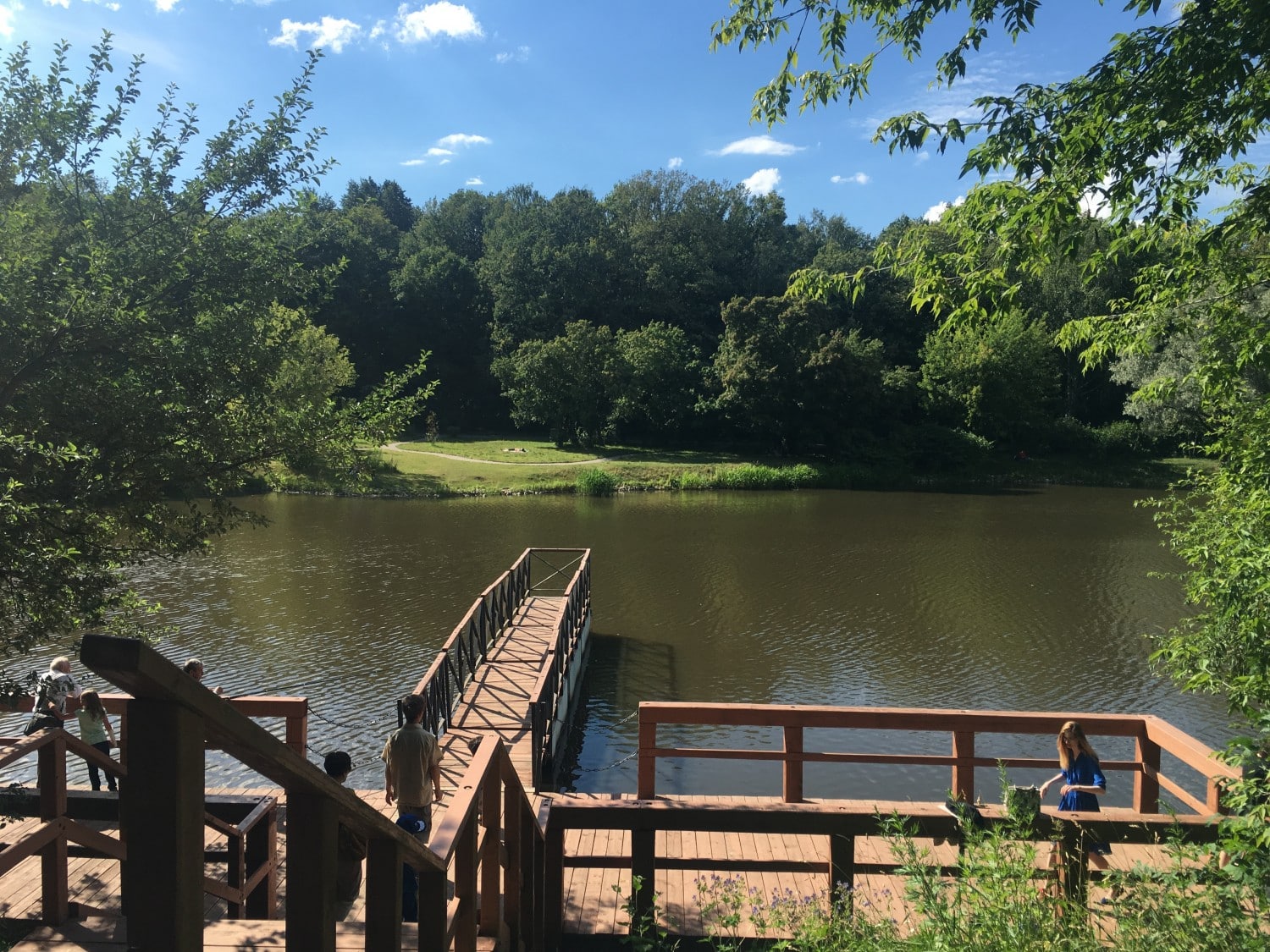 While food is in abundance all over VDNKH, there are several restaurants that require specific attention and recommendation. The variety of cuisine on offer throughout the park is extensive, and is fairly typical for what you would expect in Moscow: Soviet-era cuisine, Georgian food, food from all over Asia, and an overall hodgepodge of Russian, Middle Eastern, and Caucasian styles and food traditions. One restaurant that epitomizes what I mean is Vereshchagin, a casual yet stylish café that offers up Georgian and Arabic classics. Located at building 131, it's the perfect spot for a quick yet satisfying lunch of kebabs and khachapuri, and if the day is nice then sit with your friends on the outdoor veranda. A personal favorite is "Life is Wonderful," an upbeat and energetic spot with some traditional American street fair like hot dogs, but also sweeter treats like cookies and ice cream. During your meal, snack, or pit-stop, one can enjoy playing air hockey, foosball, or ping pong free of charge. Life is Wonderful is located right next to the cinema at VDNKH, at pavilion no. 62. Located a short jaunt from Life is Wonderful and the cinema is VDNKH's dedicated food court, which has Russian fast-food favorite Teremok, a restaurant called Pho that serves its namesake Vietnamese noodles in different styles, and a Greek grill Gyros for Heroes, which has some affordable yet sizeable gyros for 250 rubles that one can follow up with ice creamed that comes in the shape of famous movie villains.
Whether you have food in hand or not, continue down the main alley (on the left), central alley (with a direct view of the monument to Lenin and pavilion 1, the main exhibition building), or alley of the cosmonauts (on the right). Behind the main alley is the ring road of the park, the beginning of which features the first of many spots at which you can rent bikes or similar modes of transportation for use throughout your visit. If you have a velobike subscription, also discussed in a separate article, that program has several stations throughout the park. If you are looking to see the park and all it has to offer via bicycle, which I have done and thoroughly recommend, the cheapest option you have is to rent with velobike. Even though renting for one day can be fairly costly (depending on how much you ride), I heard from several other park attendees that the companies who also rent bicycles and other vehicles at the park charge exorbitant prices (one place as high as 3000 rubles or 45 dollars), and riding a velobike for a charge of anywhere over 10 dollars would require more than five or six hours of riding.
VDNKH also has several facilities dedicated to sports and athletic recreation. The first and closest to the entrance of these opened just last year is pretty much unlike anything else of its kind in Moscow. Called "Port at VDNKH," this entertainment and athletic complex covers almost four acres of space in the southeast corner of the park and has an artificial beach, four swimming pools, four volleyball courts, a Jacuzzi, a gym that has weight and resistance training rooms, an area for table tennis and foosball, as well as three bars, a restaurant, and a stage and dancing area for fun on the weekends. Ticket prices vary depending on what features of the complex you want access to, but generally range from 800 rubles (above 11 dollars) per 3 hours and upwards. Not particularly pricey, but between paying more for access to certain features and paying extra for food and drinks if you so choose, it could potentially add up. Still, this is a great and unique spot for a good time with friends on a particularly sunny weekend afternoon.
If you're looking for an experience that borders a little bit more on the extreme, then go to pavilion 27 (physical culture and sport) and visit SkyTown, located next to the soccer fields and basketball courts. SkyTown is a three-story outdoor rope course that makes you feel like Spider Man for a few hours. When you sign up, instructors will get you strapped in to equipment featuring a safety harness and a set of two ropes with hooks, which keep you attached to some part of the structure at all times. They will take time to methodically demonstrate to you exactly how to use the equipment you've been given, and make sure to show you on the first level, which is easiest according to the theme of the difficulty increasing as you ascend the vertical levels, that you are perfectly safe and cannot fall, even if you misstep from one of the obstacles. Basically, each obstacle is an elaborate game of canyon crossing, presenting you with different ways to get to a platform that is separated from the one on which you're standing by a gap of about twenty meters. On the first level, you'll simply have to walk across swinging platforms, or shimmy across a rope net suspended between the platforms. As you go higher, though, traversing the gap requires feats such as jumping one suspended barrel to the next, or swinging from one rope to the next, Tarzan-style. SkyZone is open to kids and adults, and you can go alone or with a group of friends. The attraction is fairly pricey, with a student ticket running you 1100 rubles (16 dollars), but is a must-do for any adrenaline junkie or aspiring superhero. If you're not the daredevil of your friend group, sit downstairs at the café and relax while watching.
If you're looking for a little bit of learning to add to your day at VDNKH, there are more than a handful of attractions that fit the bill. Perfect for families and anyone interested in a unique piece of the history of space travel, an interactive museum was recently opened at VDNKH that tells the story of the only space shuttle ever constructed by the Soviet Union to rival the United States' Space Shuttle Program: the Buran. A full-scale model of the Buran sits almost exactly in the middle of VDNKH, just below a large square with other models of Soviet engineering such as helicopters and airplanes. The museum is housed inside, and a 45-minute tour tells the story of the Buran and the people who worked on it while also fitting it inside of the larger narrative of the rivalry between the United States and Soviet Union in space travel during the Cold War, known as the Space Race. Just like the Moscow Space Museum, a student ID gets you a discount on tickets for the tour, though it isn't entirely free – you have to settle for half off full-price, which brings the ticket cost to 250 rubles (around 4 dollars). Tours go about every 15 minutes in a constant cycle, meaning that this is a very easy activity to fit in at any time of the day.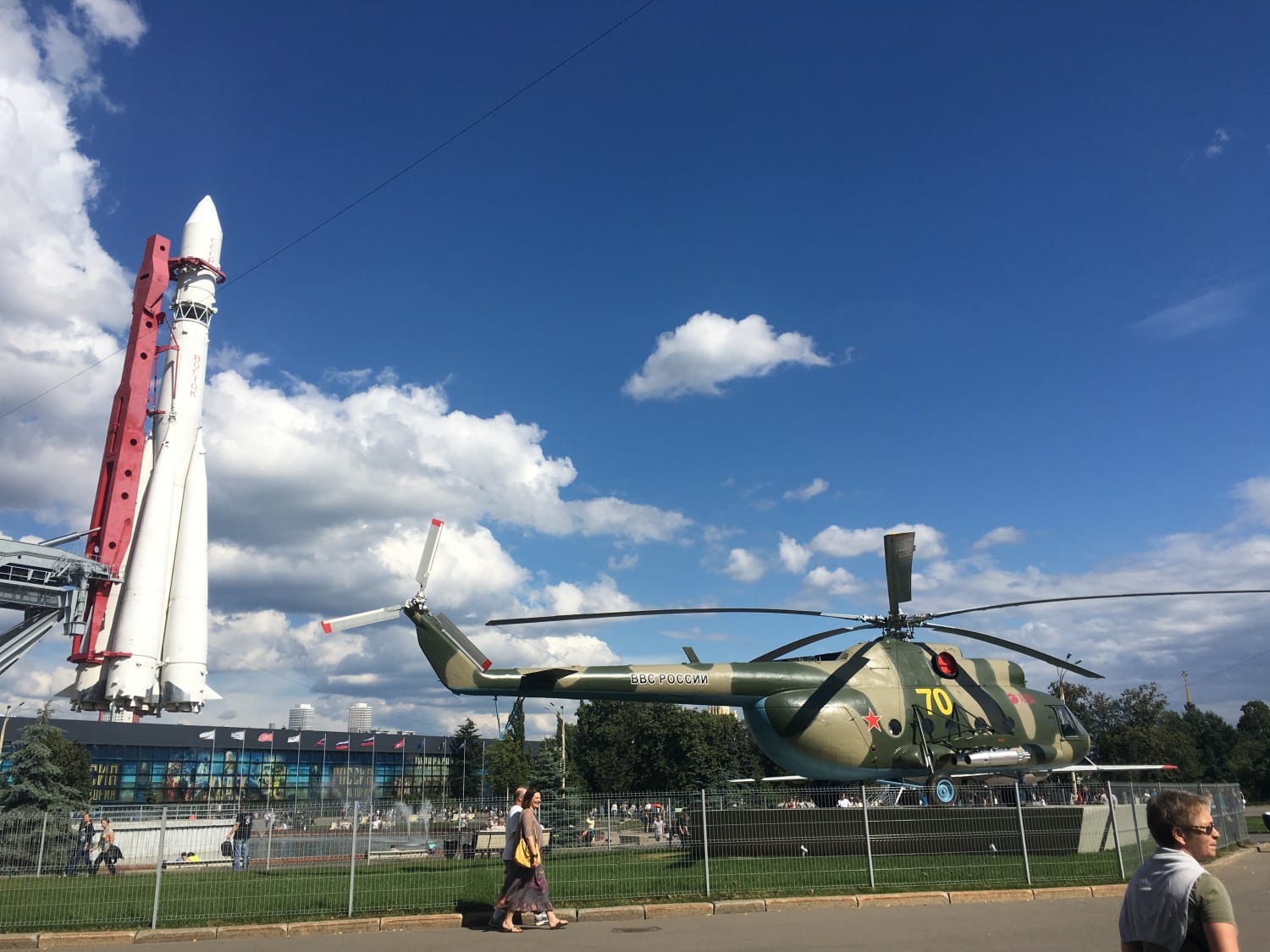 The tour starts off with about a 10-minute video that gives a brief overview of the Buran's story. It tells of the Buran's construction within the context of the Space Race, its first and final unmanned flight, and its eventual destruction as a result of a hangar collapse at the cosmodrome where it was kept in Kazakhstan. After the video, your guide will begin to take you up the stairs to where you read some preliminary and more scientific information about the craft, and he or she will narrate and add a little bit of extra information as well. Unfortunately, the tour has very limited English accessibility, and the tour guides only lead Russian speaking groups. However, the video shown at the beginning has English subtitles, and some of the display cases have plaques with English underneath the Russian. Interactive areas within the shuttle itself also give the option to read about specific pieces of the spacecraft in English. Once inside the body of the model spacecraft, you and your group sit inside a room where a projection onto the ceiling makes it seem as if you are flying through space and the roof of the space shuttle has opened; American, Soviet, and Russian spacecraft then slowly fly across the ceiling, and the guide describes the plans that each country had for each craft, whether they were ever built and used or just planned. The American space shuttles Challenger and Endeavor are featured here.
Last but certainly not least is by far the coolest part of the tour, an actual simulation of the space shuttle's first and only flight, which two lucky volunteers in any given tour group get to control themselves. Although I was not chosen, I did watch on as two little Russian boys sat in an exact replication of the shuttle's cockpit and guided it back to a safe landing on Earth from its mission in space. This is the cherry on top of the whole tour, and makes for a very immersive experience. Whether you get to fly the simulation or not, simply standing within the impressive replica of the shuttle and its cockpit makes you feel like you're seeing a great and not-often-told piece of Soviet history firsthand. Overall, between its short length, great cost, and the accessibility it provides to a very unique time in the shared history of the United States and Soviet Union, doing the tour of the Buran is something I highly recommend.
There are still even more things to see at VDNKH. If aquariums interest you, look no further than Moscow's own, called Moskvarium, housed within VDNKH and just a short walk away from the Buran. Tickets are 800 rubles for adults of all ages, unfortunately with no discount for students, but it claims to be the largest aquarium in Europe and does boast an impressively extensive collection of animals, including orcas and dolphins. For anyone really looking for an experience of a lifetime, the aquarium offers the opportunity to swim with dolphins, though it comes at a cost of 10000 rubles for one person (about 150 dollars). Whether or not you choose to splurge and swim with our aquatic mammalian friends, the aquarium is definitely something to devote its own day to with how expansive it is, especially if you are passionate about marine life. If you're more interested in terrestrial animals, City Farm at VDNKH is a petting zoo that kicks it up a notch. With cows, sheep, rabbits, and chickens are just a start, with more than 57 different species of animals at the farm, including some exotic and rare breeds such as the Zebu, a cow species from Madagascar. Tickets are cheap, too, running 200 rubles during the week and only 300 on weekends.
On top of all that is listed in this guide, there are arts to be seen at VDNKH's Green Theater, an outdoor music and entertainment venue that hosts some of Moscow's most extraordinary local musicians from time to time, including Jazz on summer nights and even classical ensembles. Overall, VDNKH truly has something for everyone, and if you find yourself looking to eat, play, learn, relax, exercise, whatever – it's the place to be.