The editors of Limon.KG, a popular Kyrgyz news and culture site, visited the cozy studio of Eva Dagaz, an artisan in Kyrgyzstan who works with leather and creates original works. The following article and pictures were originally published in Russian at Limon.KG. Translation was performed by Sophia Rehm, a SRAS Home and Abroad Scholar studying in Bishkek.
Eva can really be considered a master of many trades – she also paints and teaches drawing.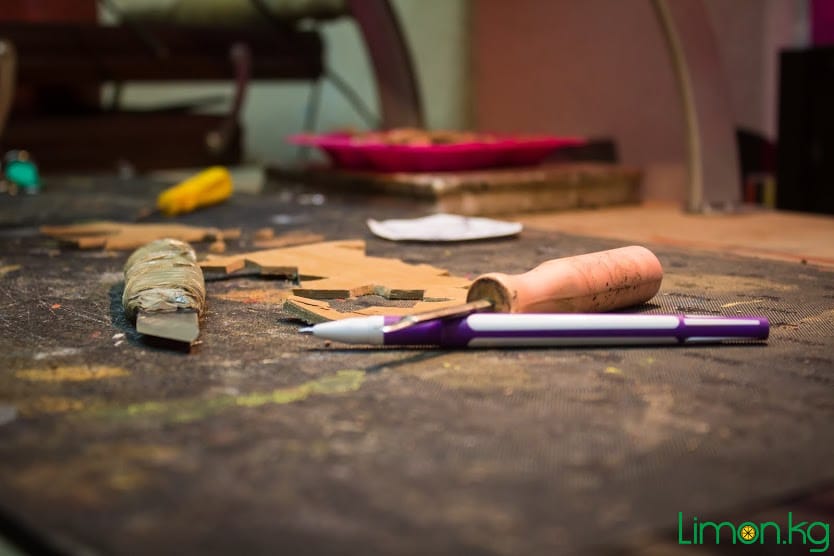 Eva calls her creations simple, little things. But she is just being modest; in fact, she imagines and realizes original ideas – her leather goods are unique and unlike any others. Eva doesn't use ideas from the Internet, and her work is the product of her imagination.
"This piece is being sent to the States," Eva says. "It was specially ordered, as a gift." In fact, it was thanks to this particular piece that Limon.KG met Eva. The intriguing, handmade souvenir caught the editors' attention. It turned out that in addition to talismans, this young woman creates a variety of belts, watch straps, and guitar straps – each piece with an individual character.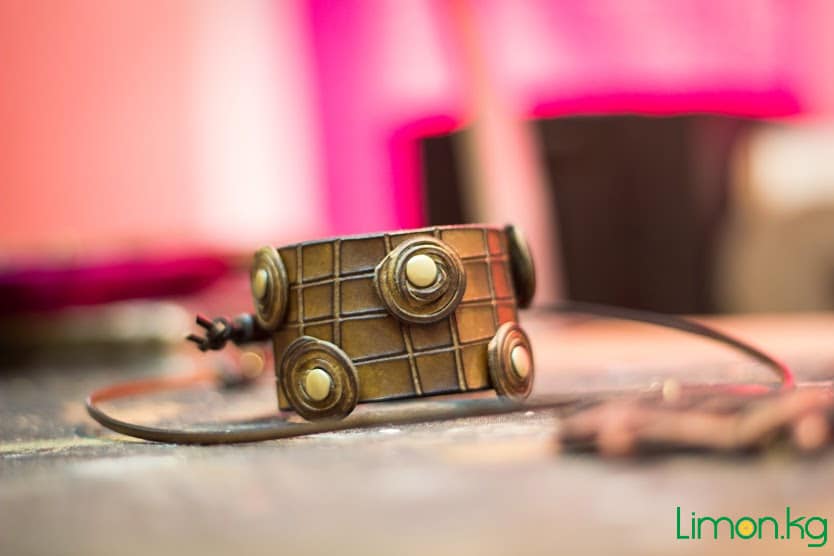 Eva Dagaz was born and raised in the village of Bosteri on Kyrgyzstan's famous Lake Issyk-Kul. After finishing high school, she entered university to study architecture. Her creative interests date back to her childhood. "People who grow up in the village have golden hands. You do everything there with your hands, after all – it's elemental to household work. And when you have a free minute, you can't sit still – you start thinking up something to do," she says. "People who can do things with their hands deserve great respect. And that isn't even to mention skilled handicrafts."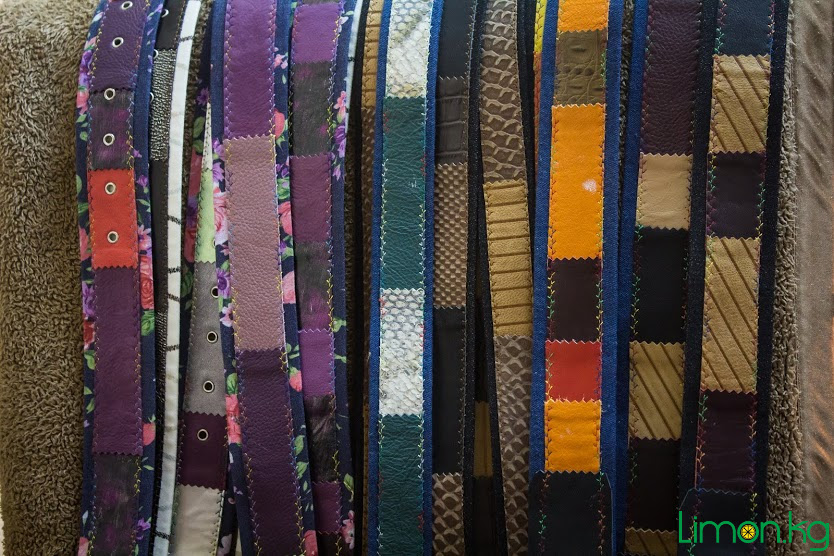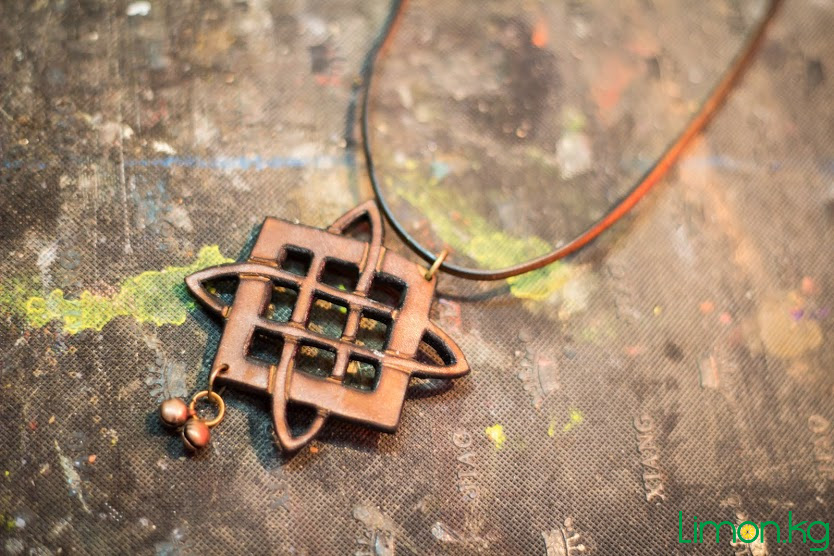 Of all her pieces, the only thing Eva wears is a string of small bone beads. "I chose to work with leather because I like it. I wanted to work with a material that can be manipulated with minimal physical effort and equipment, compared with jewelry making, for example. All I need is a knife, scissors, glue, and some accessories."
Eva Dagaz has been working with leather since 2007: "Actually, as with any occupation, leatherwork has its peculiarities that you discover once you begin to work with it. Any line of work is difficult at first. With more practice comes more skill.
"I started my leatherwork with traditional, triangular tumar amulets. Admittedly, though, I have trouble with Kyrgyz national patters – the motifs quickly become Indian or Native American," she laughs. "You could say that I am self-taught. I had a little room on Issyk-Kul, as I do here – my studio. In general, I'm not used to big spaces. All my studios have generally more resembled half-studios. I spend almost 24 hours a day, on days when I'm not teaching, at my craft," says the artisan.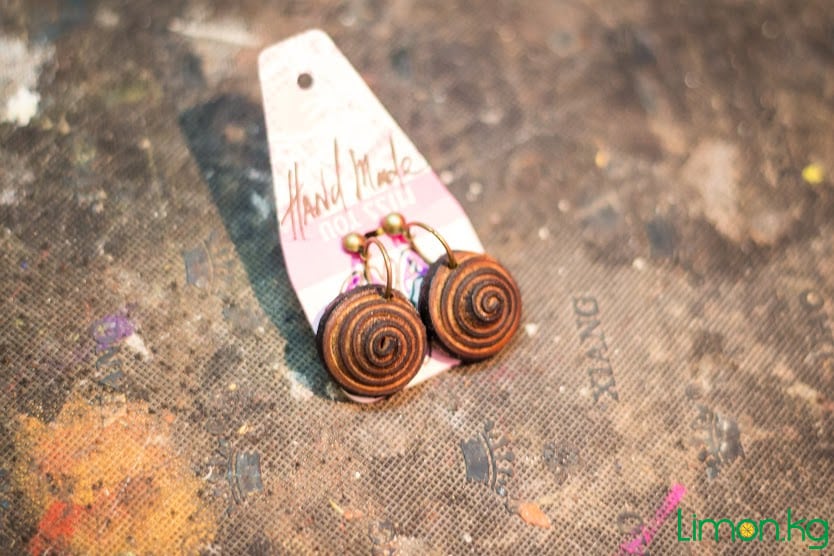 "It all started very modestly," remembers Eva. "Like all students, I wanted to earn some extra money. I remember my first order well. My dad has a large guest house on Lake Issyk Kul. It was summer. I was sitting at the table doing something. A girl came up to me and asked me to make her a piece of jewelry. I had never made anything before besides little tumars and bracelets. And I certainly had never made anything to order. I only made souvenirs. I was faced with the question of how to make something on request. But one quality that I admire in myself is that, even if I'm not sure how to go about something new, I always try. Of course, I can't vouch for the results, but I'm interested in making an attempt. I worked all night, and by the morning the piece was finished. I liked the finished product a lot. It was a discovery for me – it turned out that I could be useful to other people, that my skills could be helpful in concrete ways! The girl was all dressed up, I remember, she was from Almaty, Kazakhstan. She was over the moon. Then she asked me to make leather jewelry for her friend and her mom. Something original. I didn't want to do repetitive work, anyway. And my imagination came through" smiles Eva.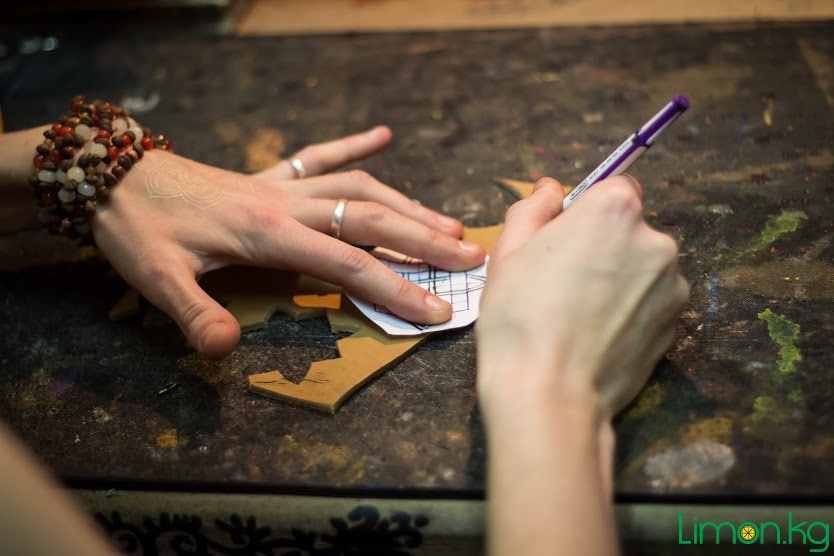 Eva was given a new start in life, and about a year later she participated in a fair for the first time, presenting her work. She primarily values creativity and does not consider herself ambitious: "What's important to me is that I am able to create, without anyone's interference. The primary thing for me is self-expression."
The young woman says that she looks upon an artist almost as God. She remembers that she entered college with specific ideas about the life and work of an artist. The reality turned out to be utterly different, but Eva managed to achieve what she aspired to do.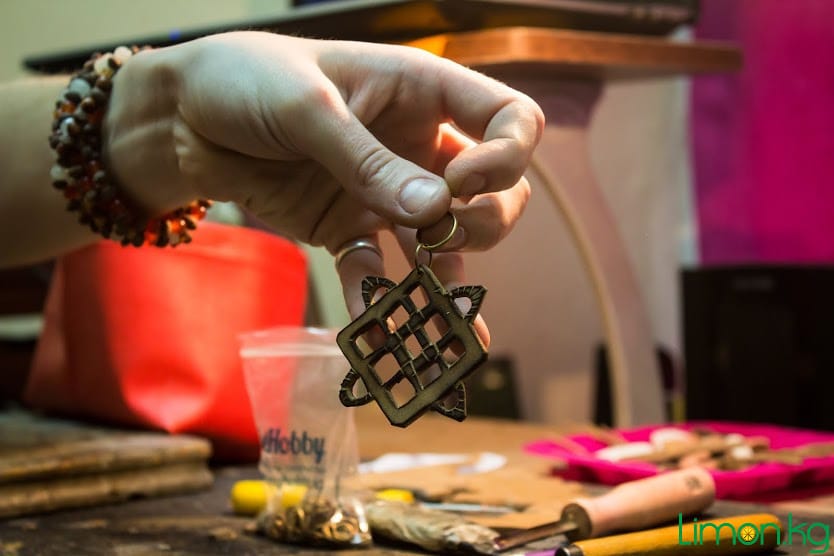 "I teach art in children's centers. I always praise the students, and tell them that their paintings are beautiful. I remember how we were judged in college, how, quite frankly, I didn't want to continue to study. I think people should inspire others, and spark new ideas. You should love whatever it is you choose to do. An artist brings joy and inspires children; that's how an artist should teach. When you love your craft with all your heart, the occupation begins to love you back, and be gratifying. So whatever kind of painting a child does, tell the child it's beautiful, and the child will believe it. The children I work with open up and begin to paint. Which is why I feel certain that I'm successful as a teacher," says Eva.
The artisan works in three centers as a painting teacher, and considers her fourth place of work her studio, where her unique leather pieces come into being.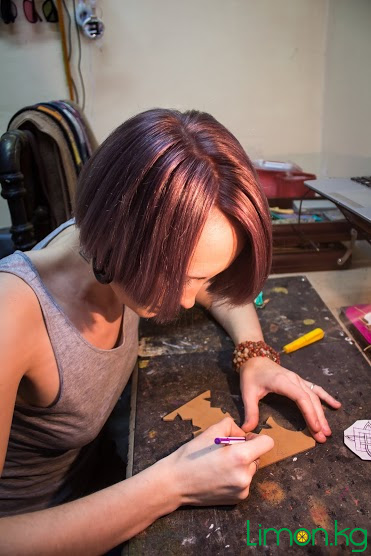 For now, Eva teaches children fine arts; before working with leather, a person first has to learn technique, understand the material, and be able to sew. Only then can you begin to talk about the art of leatherwork. "What's the point of teaching a child to draw a picture if he can't hold a pencil? You are just wasting time and money, and torturing the child," Еva says.
Eva Dagaz does not presume to judge whether she is a good or bad artist. "There are better artists," she promises. "But as long as I'm in demand and people are interested in my work, then I'm doing it right. That's it," she concludes.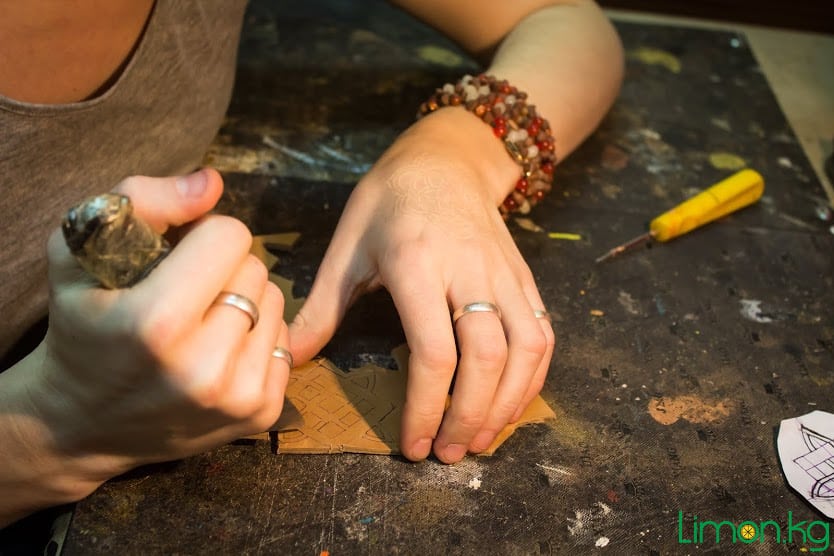 People who have known Eva for many years place orders confidently – they know that they'll soon be rewarded with an original gift to give. "And here I am suffering," laughs the young woman.
Eva Dagaz also works in colorful graphics. She creates accessories and ornaments: bracelets, handbags, purses, backpacks, and biker vests. Once, someone ordered a saddle. "I can do any of these things, because they involve the same skills. It doesn't matter what object you apply the skills to," says Eva.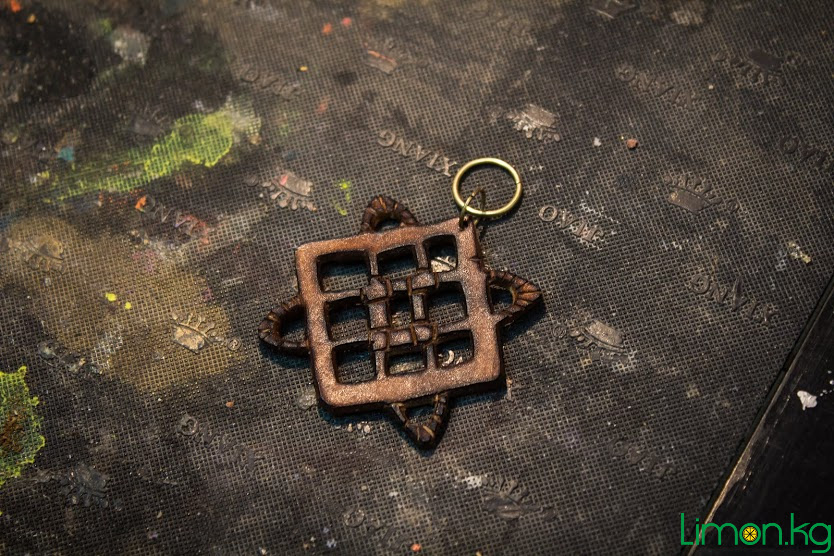 "It's a little crooked because it was fast," she laughs. She is referring to the "Russia's Star" charm she has made especially for Limon.KG's "Artisan" column, with Slavic symbols: "Actually the symbols look more like Celtic motifs, with lines that have no beginning and no end – with the symbol of infinity at the center."