New Holland Island dates to the 18th century, but today is a compact and beautiful center of modern culture and international food in St. Petersburg. It's a great place to grab some food and relax. It's very similar to any brewery district in a hipster city – and was right up my alley.
I visited the Island as part of an SRAS-led excursion that was meant to introduce students to the city and to each other. I arrived in Saint Petersburg half a week after most of the folk I have met so far. I have not felt, nor do I now feel that this has put me at a disadvantage academically, but surely it has socially. Other students had the chance to collectively get past the first socially awkward moments where no one really has a feel for each other yet. So, after arriving, I was looking for a good opportunity to put my face out there, get the phone numbers of other students, and maybe make a few friends.
The excursion really had two valuable parts – both the walk to the island and the visit to the island itself contributed to achieving the evening's goals.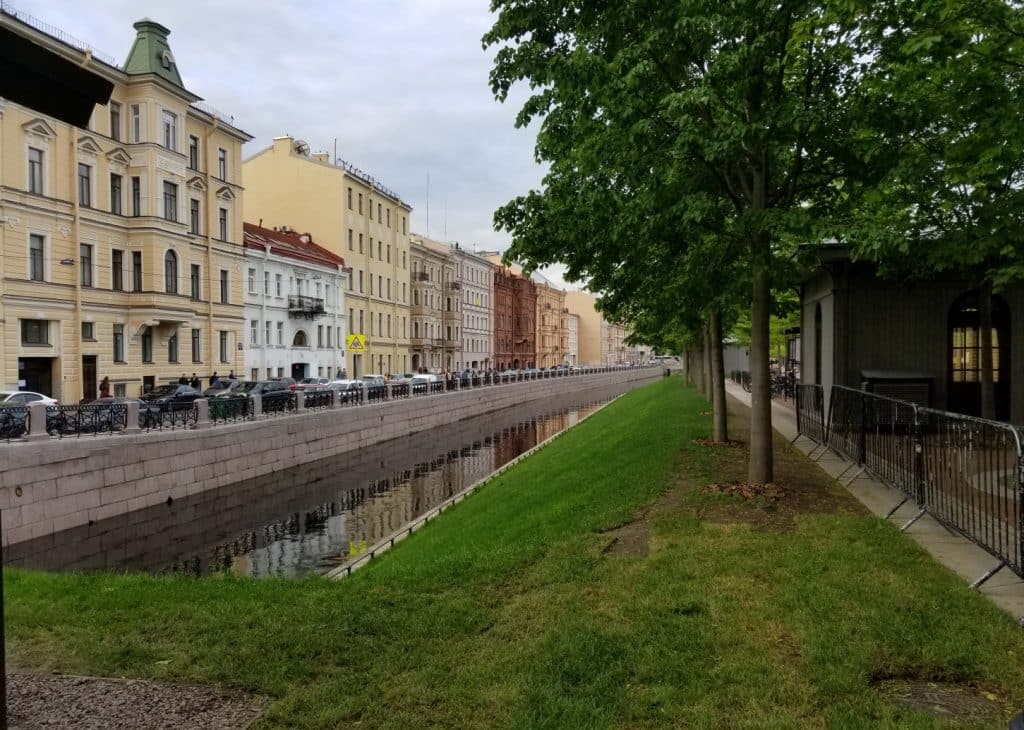 The Walk
We met up at the gate to the university grounds around 18:30, and we divided into groups of maybe 10-15 people that were then matched with a couple of locals each. Our groups set off by foot, on a journey that would take around 20 minutes.
For me, 20-30 minutes by foot is an easy journey (as I do not have a car and everything at OSU is rather spread out). Such a walk, even if you are not going anywhere in particular is a really good way to familiarize yourself with the sights, sounds, and smells of the city and especially how to orient yourself and navigate the city!
The walk was also a good time to get to know my fellow students also. For some people, it is easier to jump into conversations. If, for you, this does not come naturally – don't fret! Most everyone is in the same boat and are probably looking to for a chance to talk also. I also had the chance to talk at length with one of the locals that was in my group to find out local perspectives on the city and life in general. Don't be put off if a Russian is not as visibly positive as your average American student, I have found that Russians are very curious about American life and culture, and appreciate you taking interest in theirs. A lot of Russians will want to practice their English with you, but you shouldn't hesitate to practice your Russian! Speaking with natives is the best way to learn, especially when they correct you. You might feel like you aren't being understood or that you can't express your thoughts, but it is generally appreciated and understood that you are giving your best effort and are trying to learn.
The Island
The Island offers much, considering it is not especially large. Lush lawns provide a space to lounge next to the canals and the main circular building holds quite a few food stalls.
The group was able to split up and head to whatever of the main food options appealed to them most. My choice was "Pho and Roll", because I generally can't get enough Asian food. If you like to eat sushi, this place gives you a really good roll for a great price – my bill was about $7 US for a roll and a beer. According to the other students I was with, the Mexican restaurant there was also delicious. I was not able to give this a try, but I am already planning my return! Though I am not much of a shopper, there are several floors of stores in the central building at which some in my group spent a while drifting in and out of.
Beyond the great food, my favorite part of my time at New Holland Island was just walking around canal embankment. At dusk, the black waters of the canals, the brightly colored buildings, and the well-dressed Russian public put me in a peaceful place. Peace and relaxation both are crucial to your success as a student, and your physical and mental wellbeing.
Definitely consider going to New Holland Island early on during your time in Saint Petersburg. The journey there can offer you a sense of the city – the sights, the sounds, the smells, and a chance to just get a feel for what it is like moving around in the city. Going with fellow students makes the event even better.
It can be difficult to push yourself out of your comfort zone, but when you do, you usually find a whole world of new experiences. For me, New Holland Island was a perfect experience early on in my stay in Saint Petersburg.