In Anna Melikian's 2015 film Pro Lyubov (About Love), a film divided into vignettes focusing on modern love ala Love Actually, one of the vignettes focuses on a young woman from Japan who comes to Russia due to her love of Russian literature. While in Russia she hopes to find a Russian boyfriend. She goes on a string of dates with men she met online, and while on the dates, this young woman tries to talk to the men about Russian literature and lists off literary figures such as Dostoyevsky, Turgenev, and Gogol. The men stare with blank faces, not recognizing these great authors until finally she says "Pushkin." All the young men's faces light up "Pushkin! Of course I know Pushkin".
Alexander Sergeevich Pushkin is considered the father of Russian literature and the greatest Russian poet. Today, over 180 years after the poet's death, it would be difficult to find someone in Russia who has not heard of Pushkin. Also difficult is summing up Pushkin's significance to Russian culture in one blog post, but I will try my best.
In short, Pushkin was the first notable author to focus on the true nature of Russia. He wrote in Russian, at a time when most notable Russian writers were writing predominantly in French, and he focused many of his works on real Russian people, not just the aristocracy. Pushkin wrote as he lived, with passion, and this passion is directly reflected in the Russian soul.
In order to learn more about the author's lasting legacy I visited the Pushkin apartment museums in both Moscow and St. Petersburg. Both museums are located in apartments once occupied by Pushkin, and each represent a different era in his life.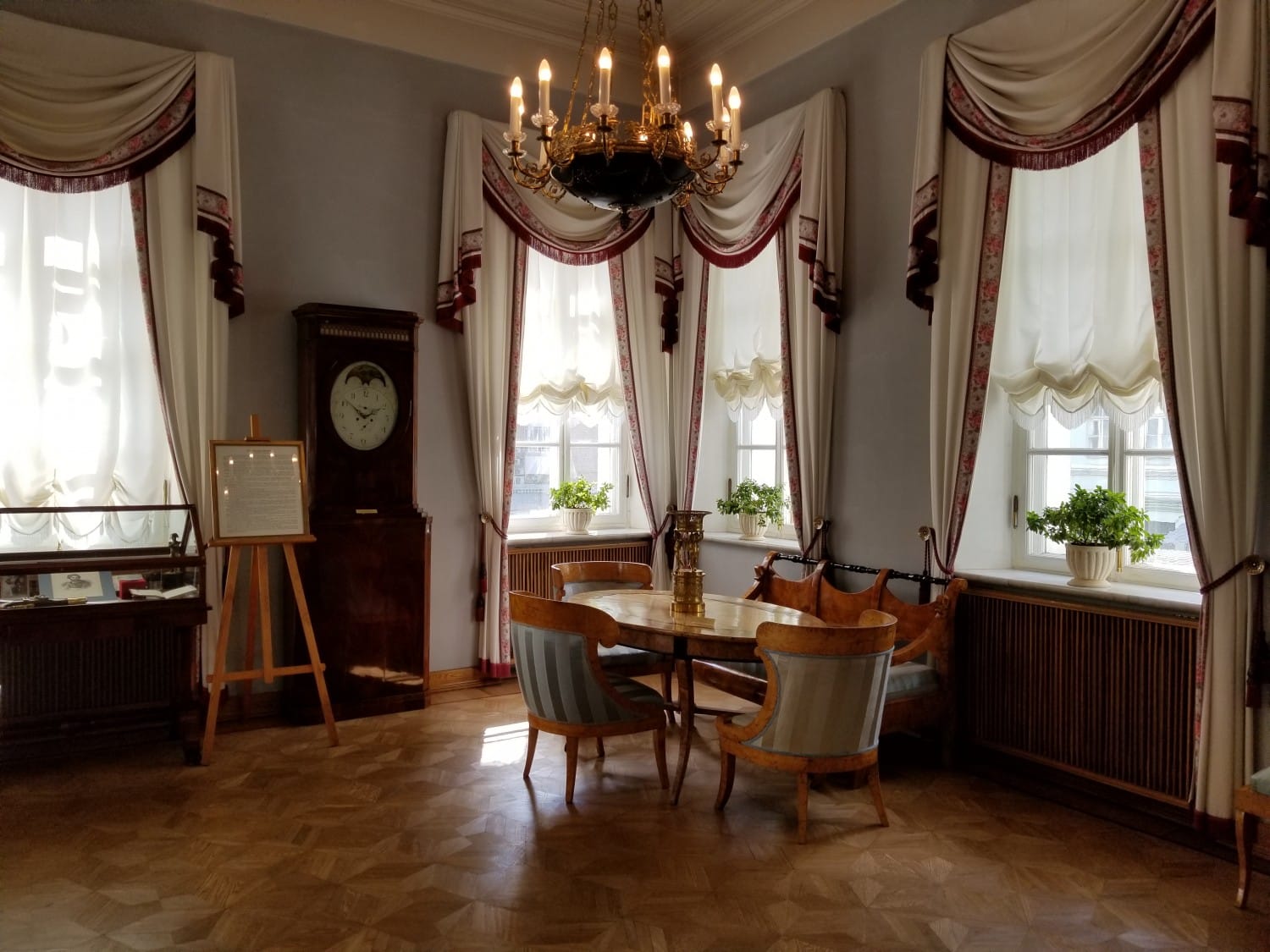 The Moscow apartment focuses primarily on Pushkin's personal life during the time that he lived there. In fact, much of the information centers on the poet's marriage to his wife Natalia and his relationships with some of his closest friends who influenced him during the years in which he lived in the Moscow apartment. Each room is meant to reflect a specific aspect of Pushkin's life—one room describes his early life, another how he came to rent this specific apartment, and one dedicated entirely to his marriage. Sadly, none of the furniture is original; however, the designers of the museum apartment did a fabulous job of making sure it all fit Pushkin's time period.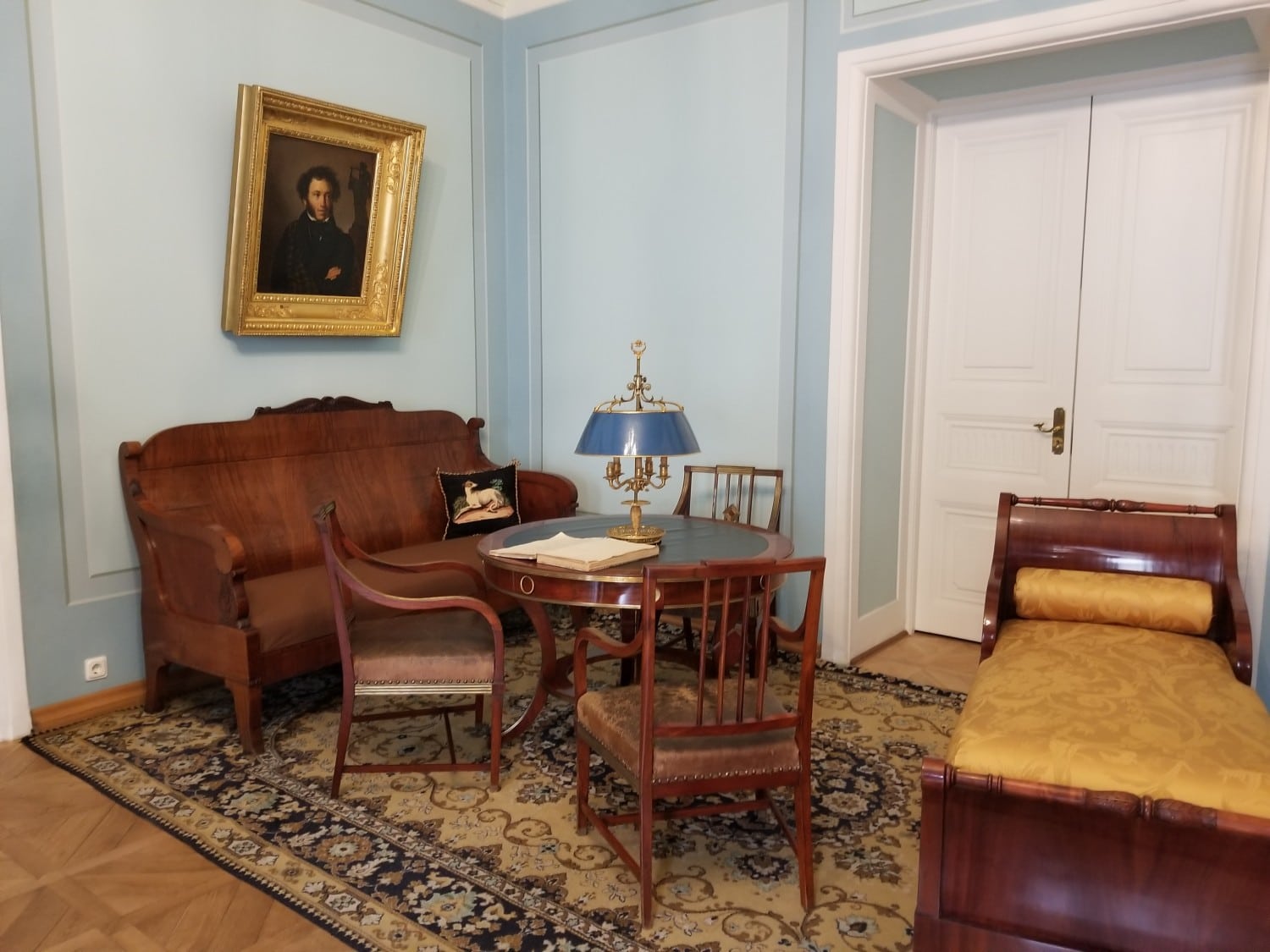 If the Moscow apartment focuses on Pushkin's life, the St. Petersburg apartment focuses on the author's death. For this museum I purchased an audio guide, which lead me from room to room, detailing the events of the night that Pushkin was fatally wounded in a duel. The dining room is where Natalia Pushkina first received the news that her husband had been shot, in her room, the bed was placed close to the study door so that she could hear her dying husband in the next room, and in the study, on the very couch that visitors can see today, the poet passes away three days after the duel.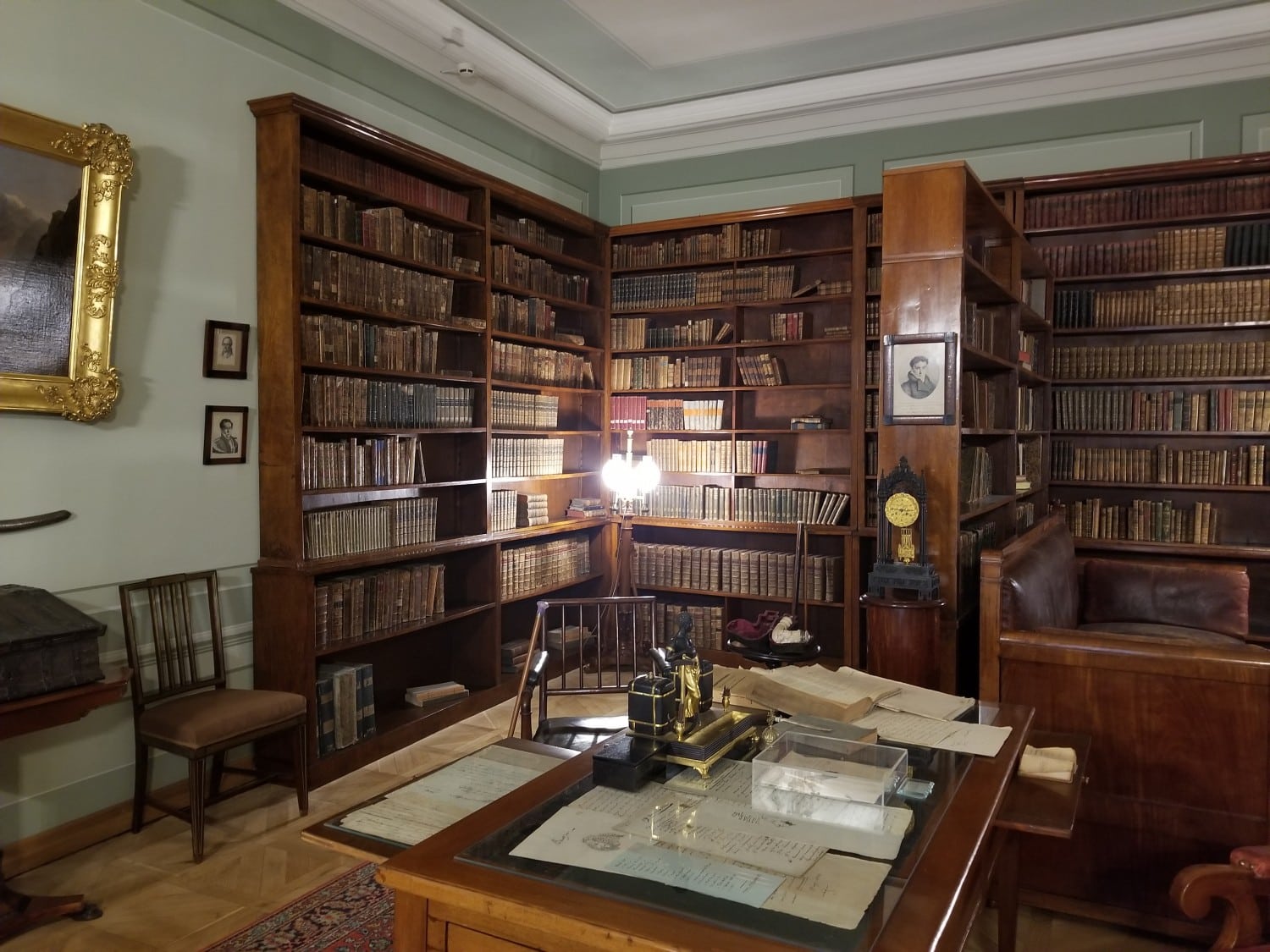 Today Pushkin's legacy lives on in Russia. Especially in the capital cities in which one can find not only monuments and museums dedicated to the author, but also parks, squares, metro stations, and even towns named in his honor. In June 2019 Moscow's Sheremetyevo airport was renamed in honor of Pushkin. Alexander Pushkin remains a prominent figure in Russian culture, and while in Russia I would highly recommend visiting one of the many museums dedicated to him.
As an addition to this post, I thought it would be interresting to include some of the many representations of Alexander Pushkin that can be found in both St. Petersburg and Moscow.