The paradox of studying abroad is that so much is at your fingertips, yet there's never enough time to see it all. But what if you could see all of Russia in one day? Now you can with a visit to The Grand Maket Rossiya (The Grand Layout of Russia), a museum based around a model of the entire country. Think of a toy train set, where the railroad takes you all over Russia, from the far west to the far east, giving you a glimpse of life across the largest country in the world, compete with accurate daylight according to time zone and changes in season.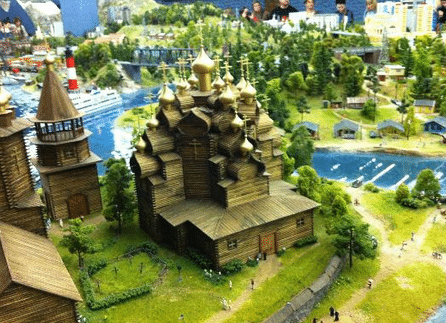 Though the museum especially draws children and their families, anyone can easily lose a couple of hours here, as the attention to detail in the components of this model are captivating. Days pass in this model every 15 minutes. As night falls on one side of the country, lights turn on in miniature houses in a darkening Vladivostok as cars and people zoom around Kaliningrad. Watch as cows escape from farms, fires break out in oil refineries, and rallies take on Moscow. And perhaps being housed in St. Petersburg led to a bit of a bias in representation, as its model of St. Petersburg is more detailed and extensive than Moscow, Russia's actual capital. To catch all the details, from moving traffic and working stop lights to farmers working in fields and miniature dachas and cathedrals, the museum offers binoculars and audio guides – the latter coming in three different languages (Russian, English, or German) and having three different topics (information about the making of the model, historical facts about Russia, or interesting and lesser-known facts about each region). Be warned, however, that while the audio guide and a pair of binoculars both costs only 150 rubles, they both require a 500 ruble safety deposit that will be returned to you at the end of your visit.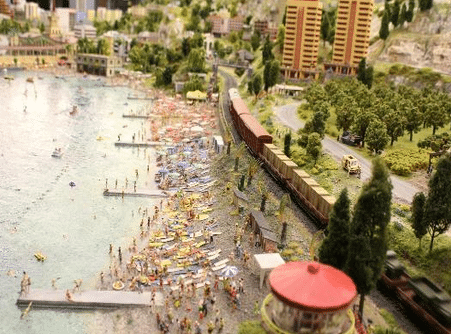 Even without the extra accessories, you can still catch some of the cooler points of the model. If you're studying in Russia only in the summer, this is your chance to see what Petersburg looks like blanketed in snow or in the midst of a thunderstorm.
Visitors can also watch a 30-minute film about the creation of the museum, including interviews with the creators and architects of The Grand Maket Rossiya. The Russian version of the film starts every hour on the hour from the museum's opening until 7 p.m., and the English version starts at half past every hour, with the last showing at 7:30 p.m.
If seeing a whole country in a day makes you hungry, you'll find a café on the ground level serving Russian cuisine, including pelmeni, bliny, and a variety of soups and salads. Prices range from 90 – 330 rubles for a meal.
The Grand Maket Rossiya
16 Tsvetochnaya Ulitsa (Metro Moskovskiy Vorota)
Open daily 10 a.m. until 8 p.m.
Tickets: 400 rubles on weekdays, 450 on weekends
www.grandmaket.ru/en