The Village presents drone photographs of the tops of Soviet skyscrapers. Every Russian knows the seven Stalinist high-rises (or, as foreigners call them, the "Seven Sisters"), which were the first Soviet skyscrapers and remained the tallest buildings in Europe for many years. The following article appears on The Village in Russian. It has been translated by SRAS Translate Abroad Scholar Sophia Rehm. 
Construction on the buildings began in 1947, in celebration of Moscow's 800th anniversary. There were initially going to be eight high-rises, and the foundation was even laid in the Zaryadye district of Moscow for the last building, but the Rossiya Hotel was subsequently built on it instead. Today, there are seven high-rises: Moscow State University (MSU) in Sparrow Hills, the Ministry of Foreign Affairs, the Red Gates Administrative Building, two apartment buildings (on the Kotelnicheskaya Embankment and on Kudrinskaya Square), and two hotels – Ukraine (which now houses the Radisson Royal) and Leningrad (now known as the Hilton Leningradskaya). For more on the Seven Sisters, see this article from SRAS.
There are stars on only six of the seven Stalinist high-rises, since the spire of the Ministry of Foreign Affairs building was not strong enough to support a star. The stars are all different sizes and shapes, and are made of different materials.
There are perhaps only a few people (a couple technicians, FSB signalmen, and the welder Yevgeny Martynov) who have had the chance to see the spires and five-meter stars of the Stalinist skyscrapers up close. The guys behind Birdseyeview.ru – Sergey Shumilov and Daniil Ananyev – decided this wasn't fair, and photographed the stars using a professional octocopter (a type of drone), the DJI Spreading Wings S1000, with an attached Sony Nex-5R camera.
Kudrinskaya Square Apartment Building
Height – 512 feet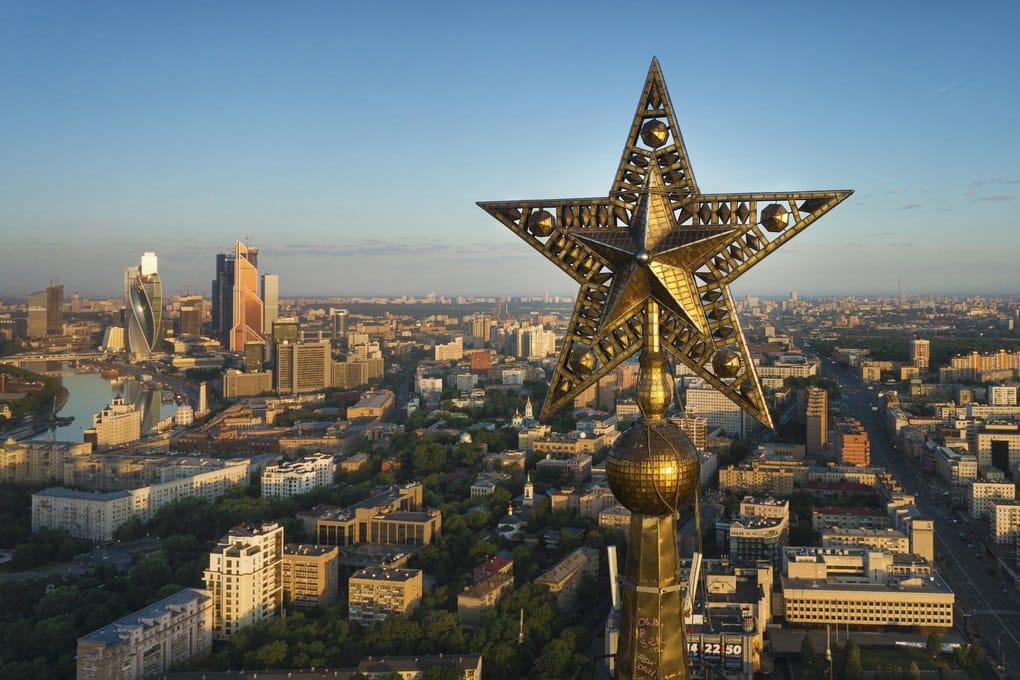 Moscow State University – Main Building
Height – 787 feet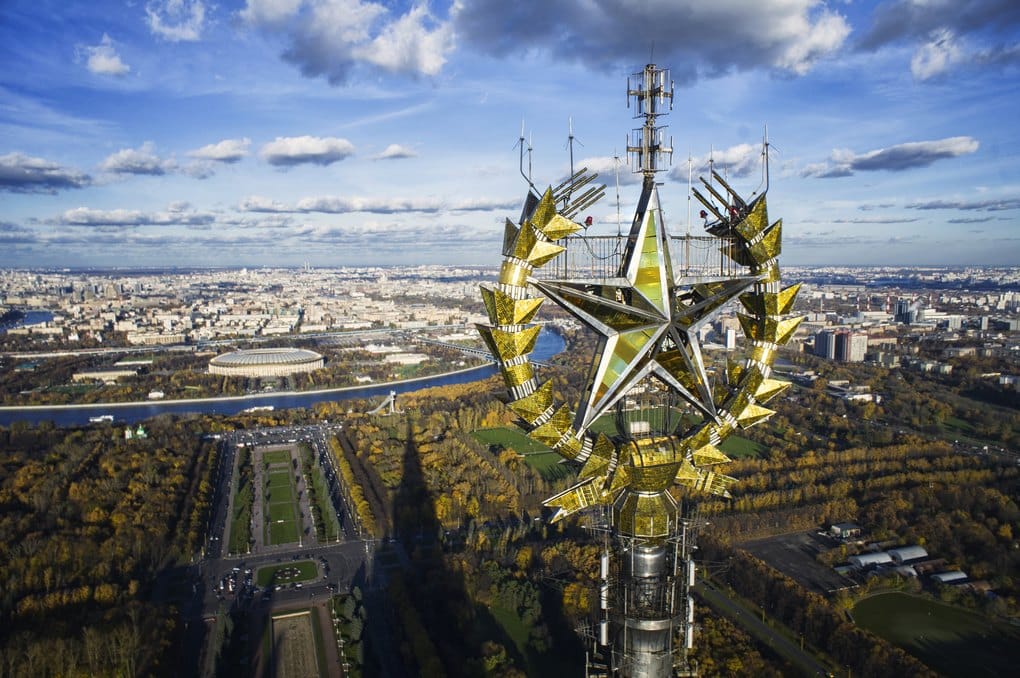 Radisson Royal Hotel (the former Hotel Ukraine)
Height – 676 feet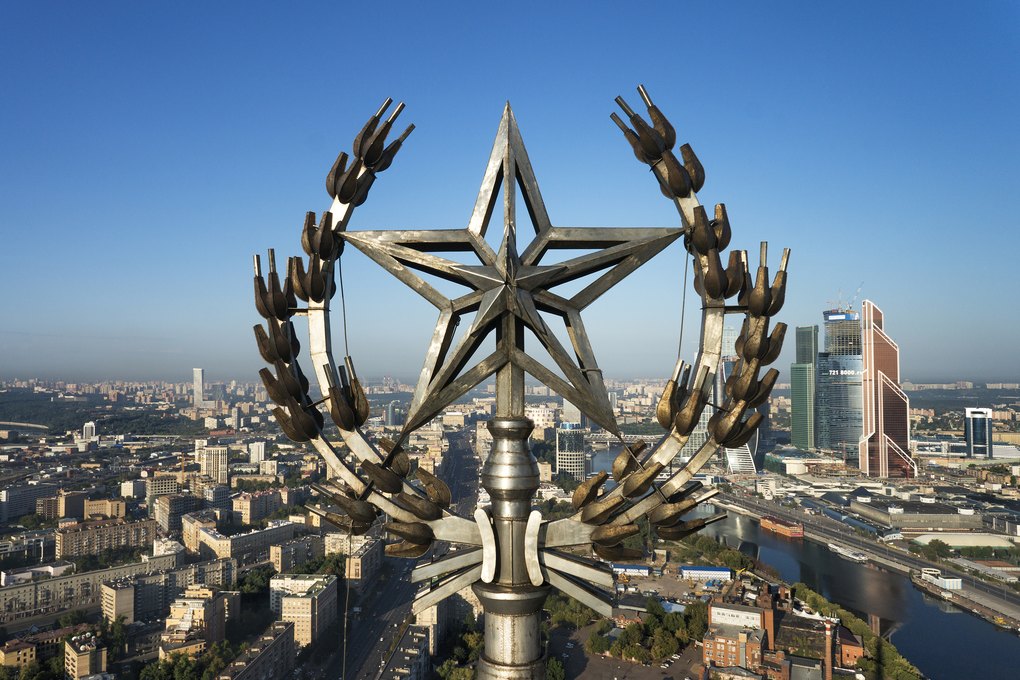 Kotelnicheskaya Embankment Apartment Building
Height – 577 feet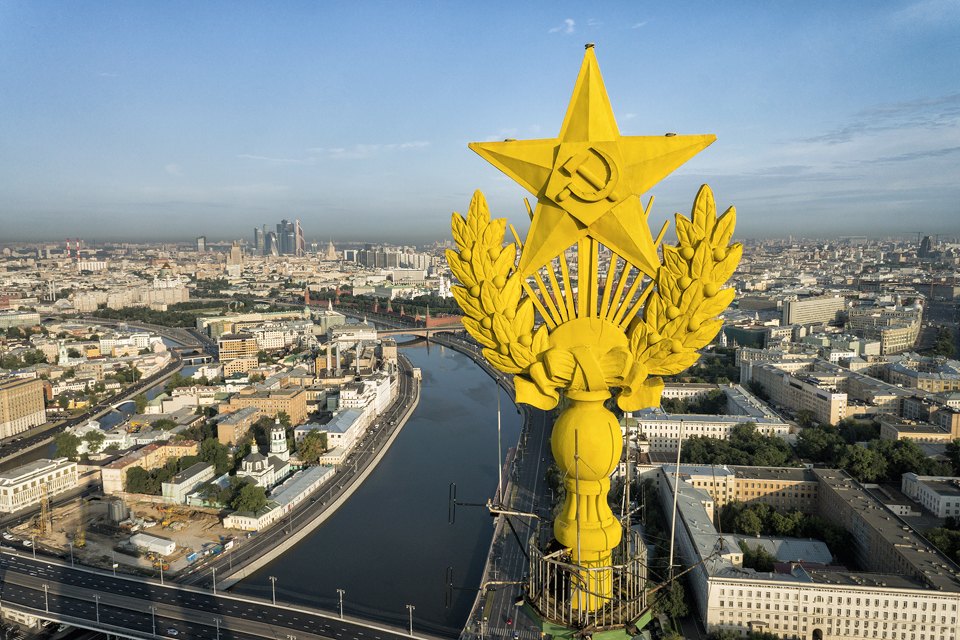 Ministry of Foreign Affairs
Height – 564 feet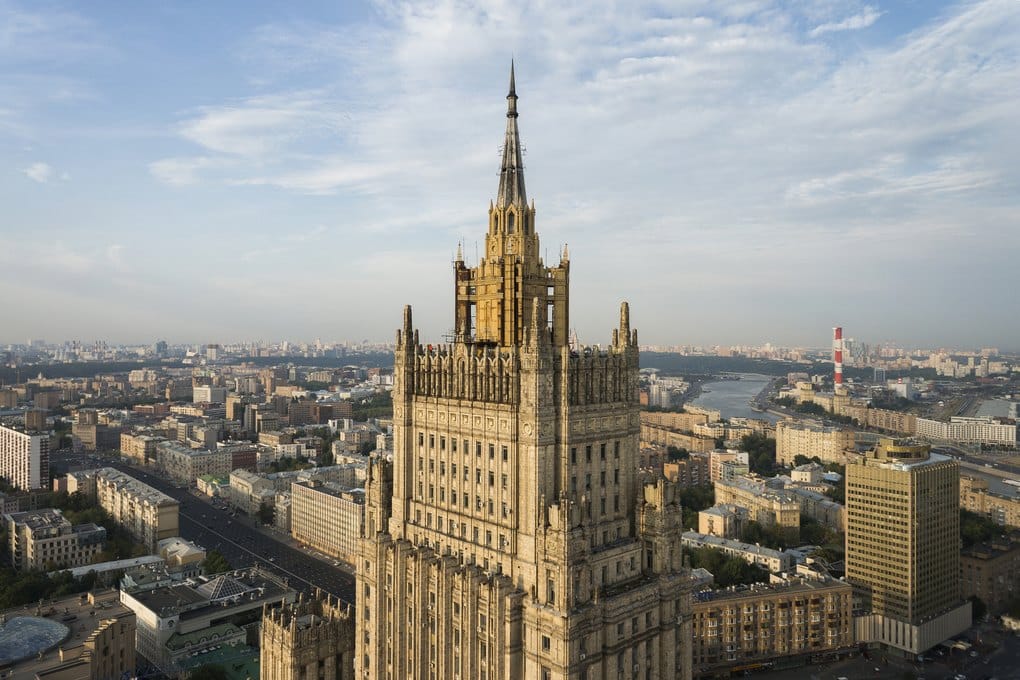 Hilton Moscow Leningradskaya Hotel
Height – 446 feet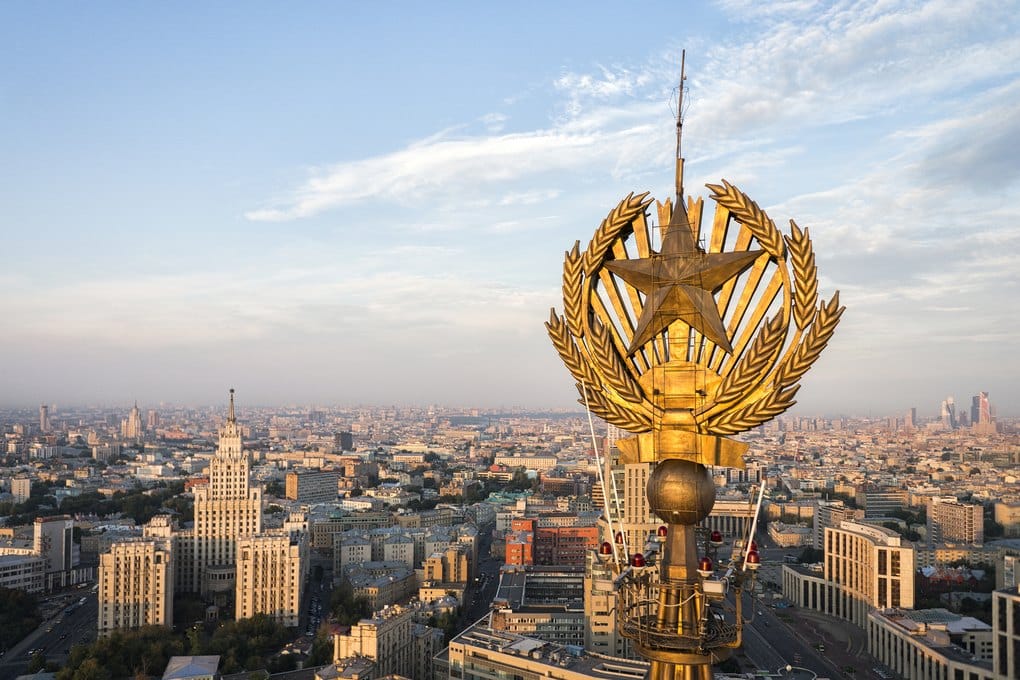 Red Gates Square Administrative-Residential Building
Height – 452 feet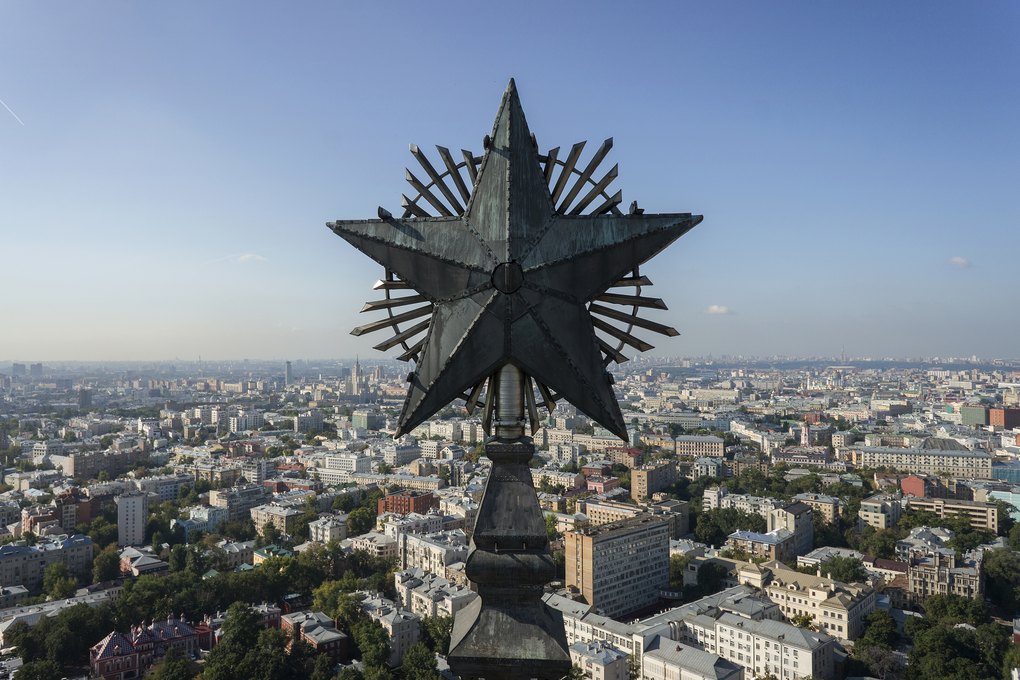 A drone is a radio-controlled device that runs on batteries and is guided by GPS. It can fly for 20-30 minutes, reach a height of 1640 feet (the height depends on the place and weather), and carry up to 11 pounds. The drone's flight is controlled from the ground by two people: the pilot, who controls the drone itself, and the cameraman, who monitors the image and takes photographs. These devices make it possible to photograph practically anything – from country townships to auto races to crowds of people at festivals. In some countries, people missing in the woods have been found using drones and infra-red imaging. There is even a special genre designating "selfies" taken with a drone: "dronies."
Daniil Ananyev, Pilot:
My passion for aerial photography started with a toy helicopter that I crashed on my first day. But I really wanted to look down on the city from above. I found a forum for radio-amateurs, where I discovered drones, spent a long time studying them, and finally bought a small hexacopter with a GoPro camera. I immediately realized that this was my calling. Soon the GoPro's capabilities weren't enough for me, and I ordered a copter with a Sony Nex-5 camera. This ended up being a fairly big copter, and it required a second person to control the camera. My photographer-friend, Sergey, liked the idea, and we have devoted ourselves to shooting various subjects from a bird's-eye view ever since. We created the site Birdseyeview.ru, but we can't call it a business yet – it's more like a hobby. Once, shooting the MSU building from the sky, we flew up close to its star, and it was such an interesting structure (huge, hollow inside, slightly broken-down). And that's how our project was born.