Across the world and throughout history, the opera has played host to the highest classes of society. When I arrived in Kyiv, I was determined to see the extravagance of the Ukrainian National Opera House and witness a performance. I researched the prices online and discovered that an opera ticket costs 400 hryvnia or about 16 dollars. I convinced the other members of my group to accompany me and soon after, we bought our tickets online. We decided to see a performance of Aleko (Алеко). This opera was written by the great Russian composer Sergei Rachmaninoff and based on "The Gypsies," a poem by Alexander Pushkin.
This was an extremely dramatic opera consisting of heroism, romance, and betrayal. The opera opens with a soldier saving a gypsy woman from another soldier. The gypsy woman is so grateful that she falls in love with her savior and brings him into her community. All is well until a young man captures the heart of the gypsy woman and they begin a passionate affair. The soldier eventually discovers them and unleashes his rage. The soldier unsheathes his knife and kills the young man. Filled with despair, the gypsy woman grabs the knife and tries to kill the soldier. The fight over the knife ends with the soldier plunging it into his lover's heart. The gypsy community discovers the gruesome scene and the soldier is banished forever.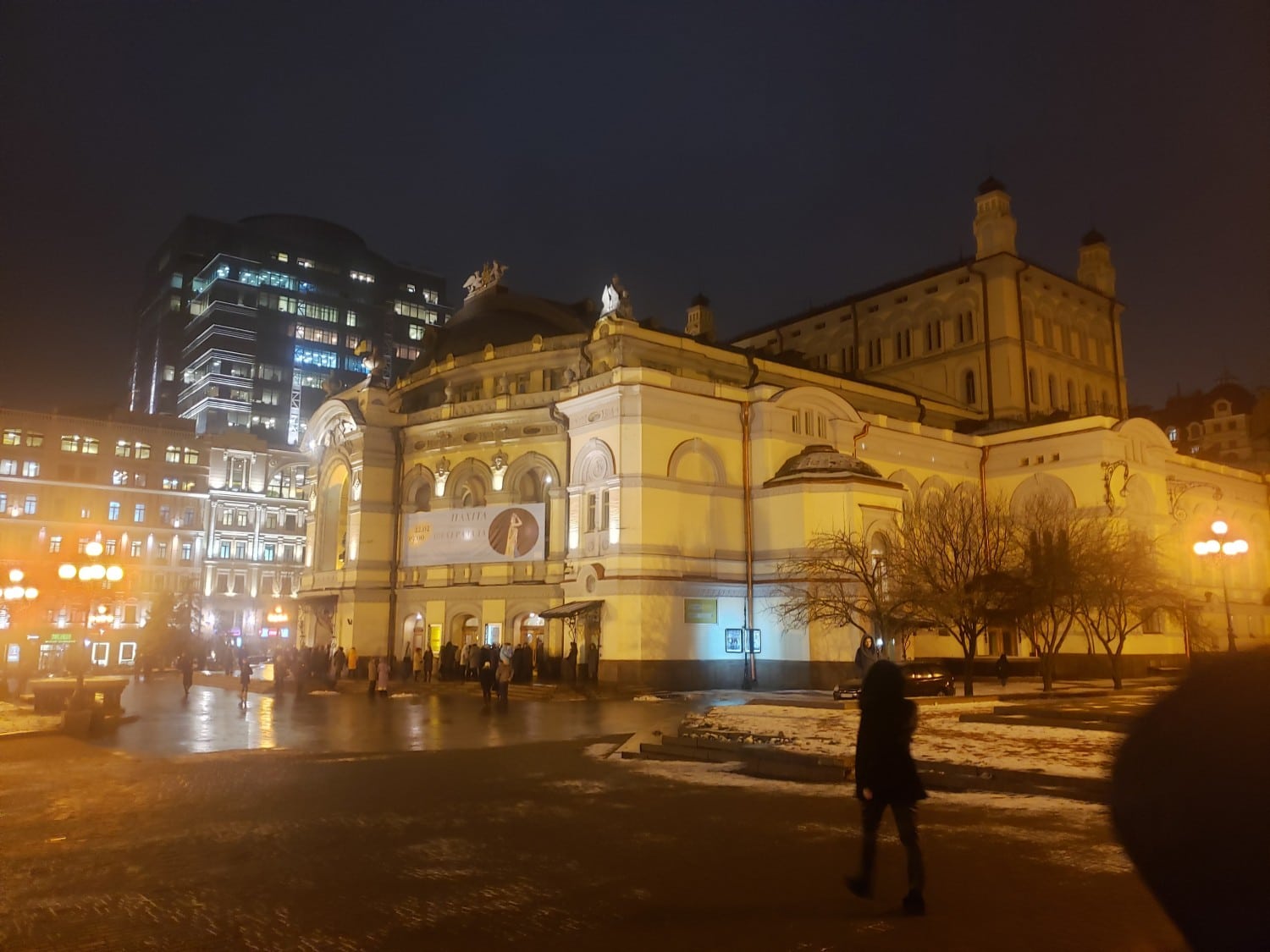 The entire performance was expertly done. The set consisted of a giant sheet that was moved up and down throughout the performance to give the impression of a changing village. The costumes were colorful and vibrant. The singers were brilliant, and the ensemble made the singing and the entire spectacle more powerful. Overall, it was a beautiful and truly an unforgettable experience; however, to my surprise, the show was not over.
The opera ended and following intermission there was performance of a ballet that was absolutely breath taking. When I had purchased my ticket, it was in Ukrainian and I had not understood that following the opera there would be a ballet called: Bolero (Болеро). In this performance, there were three principle dancers supported by a massive ensemble. The ballet told a story of an unfaithful prince who leaves his princess for another woman. This ballet was characterized by the elaborate costumes and magnificent dancing. As the ballet progressed more and more members of the ensemble entered the stage. At the height of the performance 50-60 dancers engulfed the stage. I initially thought that this many dancers would overwhelm the performance. But to my surprise all the dancers were perfectly organized. I was amazed by the beauty of the dancing and the organization of the chaos in front of me. This truly was a most pleasant surprise and an amazing performance that I will not soon forget.