Russia is known for its theater and ballet. Take advantage and see all that you can while here.
You can buy tickets at the theater or concert hall itself or from a reseller such as Kontramarka, Parter, or Ponominalu, which allow you to reserve tickets pick them up at location near you or even have them delivered. There are also various kiosks around central Moscow that sell theater tickets for multiple theaters.
Listed below are a few of our top recommendations for theater outings in Moscow. For information about buying tickets, see your SRAS City Guide to Moscow.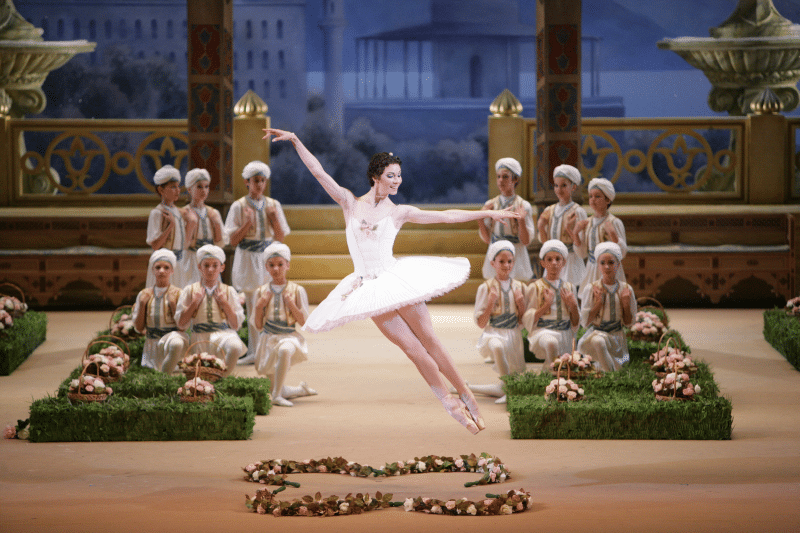 The Bolshoi Theater
Teatralnaya pl., 1 (Metro Teatralnaya)
Phone: 7 (495) 455-5555
www.bolshoi.ru
The Bolshoi has a long tradition (since 1776) of excellence and is one of the world's most famous theaters. Unfortunately, as the number of tourists to Moscow has grown, so have ticket prices to the Bolshoi. It's on everyone's must-see list. Thus, while productions there are still exquisite (as is the building itself), you'll often find that tickets are sold out almost as soon as they go on sale and when they are available, are prohibitively expensive (9000-12000 rubles), especially for the popular shows you are most interested in. If you are determined to get in, we recommend that you plan well in advance, be online as soon as tickets go on sale (two months before performance), and plan to pay heavily.
For cheaper seats, you might look at going to the "new stage" of the Bolshoi – this is a separate building, built next door to the Bolshoi, that looks just like a slightly smaller Bolshoi inside and out and still features Bolshoi dancers, musicians, and singers. It was built in 2002 to house the company's productions while the Bolshoi was undergoing major renovations. Tickets there tend to run about 1500-1800 rubles for the nosebleed sections. You might also look for smaller shows, concerts, or traveling shows that occur on the Bolshoi main stage which also tend to be cheaper than headliner productions.
Recommended Productions:
Swan Lake ("Лебединое озеро")
The Bright Stream ("Светлый ручей") – on the new stage – a hilarious soviet-era piece
Spartacus ("Спартак") – One of the most popular ballets with Muscovites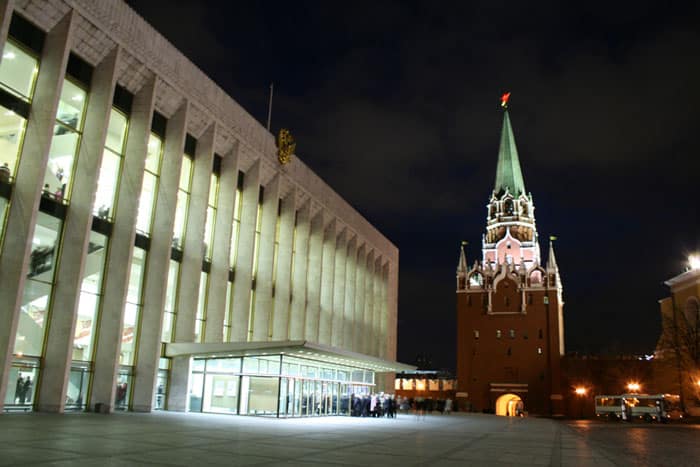 The Kremlin Palace Theater
Vozdvizhenka str., 1 (Metro Biblioteka imeni Lenina, Borovitskaya)
Phone: +7 (495 ) 620-78-46
Kremlinpalace.org
If you'd like a great ballet experience without the headache and expenses of the Bolshoi, we highly recommend the Kremlin Palace. The Kremlin Palace sits behind the Kremlin Walls. Its enormous building was originally built to house the Soviet Congress of People's Deputies and is still used for important government meetings occasionally. Thus, this location still offers a unique and historically important location to attend a performance. The performances themselves are also competitive with the Bolshoi in terms of quality and production values. The main difference is that, given the size of the facility, it's almost never sold out and can afford maintain relatively low prices for individual tickets. Very good seats in the balconies can be had for 800-1500 rubles, even for headliner shows.
Recommended Productions:
Swan Lake ("Лебединое озеро")
The Snow Maiden ("Снегурочка") An excellent and fascinating work by Tchaikovsky based on Russian folklore.
The Moscow Art Theater (MXAT) named for Anton Chekhov
Kamergersky per., 3 (Metro Teatralnaya)
Phone: 7 (495) 646-3646
MXAT.ru

Most American universities, Hollywood directors and acting coaches teach acting according to the "Method" developed by Konstantine Stanislavski. Method Acting was first developed and tested in the Moscow Art Theater, where Stanislavski worked. For this reason, the theater itself is something of a mecca for theater practitioners. The theater continues to use Stanislavski's methods today, to great success. If you can't get into the main stage, the theater also runs a school with a smaller studio in the same complex. Productions here are quite good as well. There is even a regular program for English-speaking students that come to study here. They also have English-language productions, overseen by theater staff, in which they employ what they've learned. These are also excellent shows and obviously more accessible for audiences that don't understand Russian well enough to enjoy, for example, Chekhov in the original. Incidentally, the theater is named for Chekhov because this is where he got his start as a successful playwright (with The Seagull). Incidentally, there is another Moscow Art Theater (named for M. Gorky) that is not recommended so don't confuse them.
Recommended productions:
The White Guard ("Белая гвардия") by M. Bulgakov
The Cherry Orchard ("Вишневый сад") or The Seagull ("Чайка") by A. Chekhov

Puppet Theater named after S.V.Obraztsov
Sadovaya-Samotechnaya ul., 3 (Metro Tsvetnoi Bulvar)
7 (495) 699-53-73
Puppet.ru
Picture: The Youth of King Ludvig XIV at the Obraztsov Puppet Theater
I know what you're thinking, but this is puppet theater like you've never imagined it, with incredible sets and acting that will knock your socks off. In some shows, you might watch one man perform perhaps 12 roles, some himself, some with puppets he controls. In others, you'll watch puppets act out harrowing scenes from Russian history, accompanied by strains from major Russian rock groups. You'll be surprised how quickly you forget that it's "just a puppet" and start becoming involved in the action. Note that the daytime matinees are fluffy children's pieces (and not so highly recommended). The evening productions can be very serious and even racy and are generally incredible.
Recommended productions:
Nobody Nose ("Некто Нос") by N. Gogol
Leningrader ("Ленинградка") – An original show about the siege of Leningrad

The National Russian Show
Prospect Mira, 150 (Metro VDNKh; the theater is inside the Hotel Cosmos)
Phone: 7 (495) 769-3235
NationalRussianShow.ru
This creative, well-funded dance company puts on one of the best shows in Moscow. It's sort of like traditional, high-energy Russian folk dance meets Las-Vegas-style flash. Complete with laser shows, image projections, and some of the most strikingly beautiful sets and costumes we have ever seen in Russia, this show comes highly recommended. Tickets run around 800-2500 rubles.
Mossoviet Theater
Bol. Sadovaya ul., 16, (Metro Mayakovskaya, inside the Aquarium Garden)
Phone: 7 (495) 150-0120
Mossoveta.ru
Founded in 1929 as the Theater of the Moscow Trade Unions, the original mission of this theater was to provide "inexpensive performances for simple audiences," reflecting, most likely, Lenin's declaration that art should resemble "the simple black bread of the peasantry." Renamed in 1938 as Mossoviet (short for Moscow Soviet), this theater has kept its Soviet era name, which has always been associated with productions of high artistic standards.
Recommended productions:
Jesus Christ, Superstar ("Иисус Христос – суперзвезда") American rock opera!
King Lear ("Король Лир") – an updated, translated version of Shakespeare's classic.
The White Guard ("Бeлая гвардия") by M. Bulgakov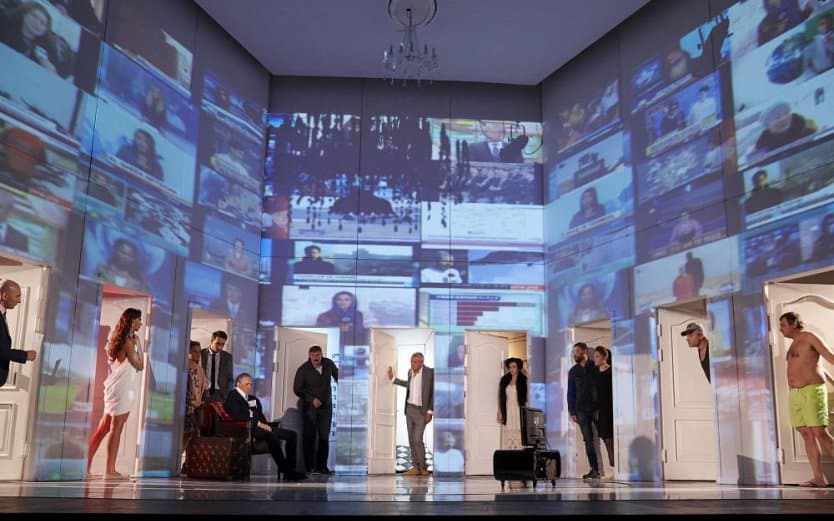 The School of Modern Drama
Neglinaya Ul. 29/14 (Metro Trubnaya)
Phone: 7 (499) 253-1394
Neglinka29.ru
The School of Modern Drama is a professional theater focusing on modern productions. One of its main authors, Evgenii Greshkovits, is a modern author of plays and novels who strives to write in clear, modern Russian; he writes Russian characters in the way modern Russians actually speak. His writing is also relatively simple – we've found that intermediate students of Russian can generally follow him relatively well in both reading and listening. One criticism offered by our students is that his writing also tends to be about life – that is, there is very often very little action on stage as the characters talk. However, for students serious about seeing some modern culture and willing to listen carefully to improve their Russian, this theater is highly recommended.
Recommended productions:
The City ("Город") or The House ("Дом") by A. Greshkovits
Russian Jam ("Русское варенье") by L. Ulitskaya
The Maly Theater
Teatralnaya pl., 1/6. (Metro Teatralnaya)
Phone: 7 (495) 624-40-46
Maly.ru
The appropriately named little sister of the Bolshoi, this theater lies just next door on Theater Square. Most Russians consider it one of Moscow's most boring, since it clings to "classical" or "academic" productions. However, if you are interested in classic Russian plays, this is definitely the place to come see them. American students of Russian may find the performances interesting, if not for the novelty (classical acting in America is quite rare), but also for the fact that classical actors speak very clearly and loudly (it's easy to understand them).
Recommended productions: Anything by Ostrovsky, Chekhov, or Shakespeare.
This article was contributed by Josh Wilson, MA in Theater. He is Assistant Director for The School of Russian and Asian Studies. SRAS.org