Moscow is a globally recognized center for the performing arts. The city hosts multiple venues for opera, ballet, music, and drama—so many, in fact, that choosing from them can be difficult. Also, many students from small towns may not have been to these types of cultural institutions before – many tend to exist primarily in big cities. Those students may see them as expensive or made otherwise inaccessible by price, dress codes, or other social, cultural, or economic restrictions. This can be intimidating, especially if your experience speaking Russian and/or navigating Moscow is limited. Never fear! I will be describing four recommended performance experiences in this blog, and my hope is that I will help you to experience all the grand art performances that Moscow has to offer!
The Bolshoi: Raymonda
First, I will start with the best-known venue—the Bolshoi Theater. This theater has several different stages and performance spaces, including the historical and new stages and a new chamber theater space. They typically show ballets and operas. The historical stage is the oldest, largest, and most prestigious – and the one that most people want to attend. Not surprisingly, it's also the most expensive. The new stage is built in a seperate building facing the historical stage – it's a replica of the historical stage built to about 2/3rds scale and featuring the same great dancers, musicians, and choreographers. It still gives you a "Bolshoi" experience and is a more affordable option and doesn't sell out as quickly. The chamber theatre is a separate building located on the other side of Revolution Square. It also features the Bolshoi's artists, but in a decidedly modern theatre.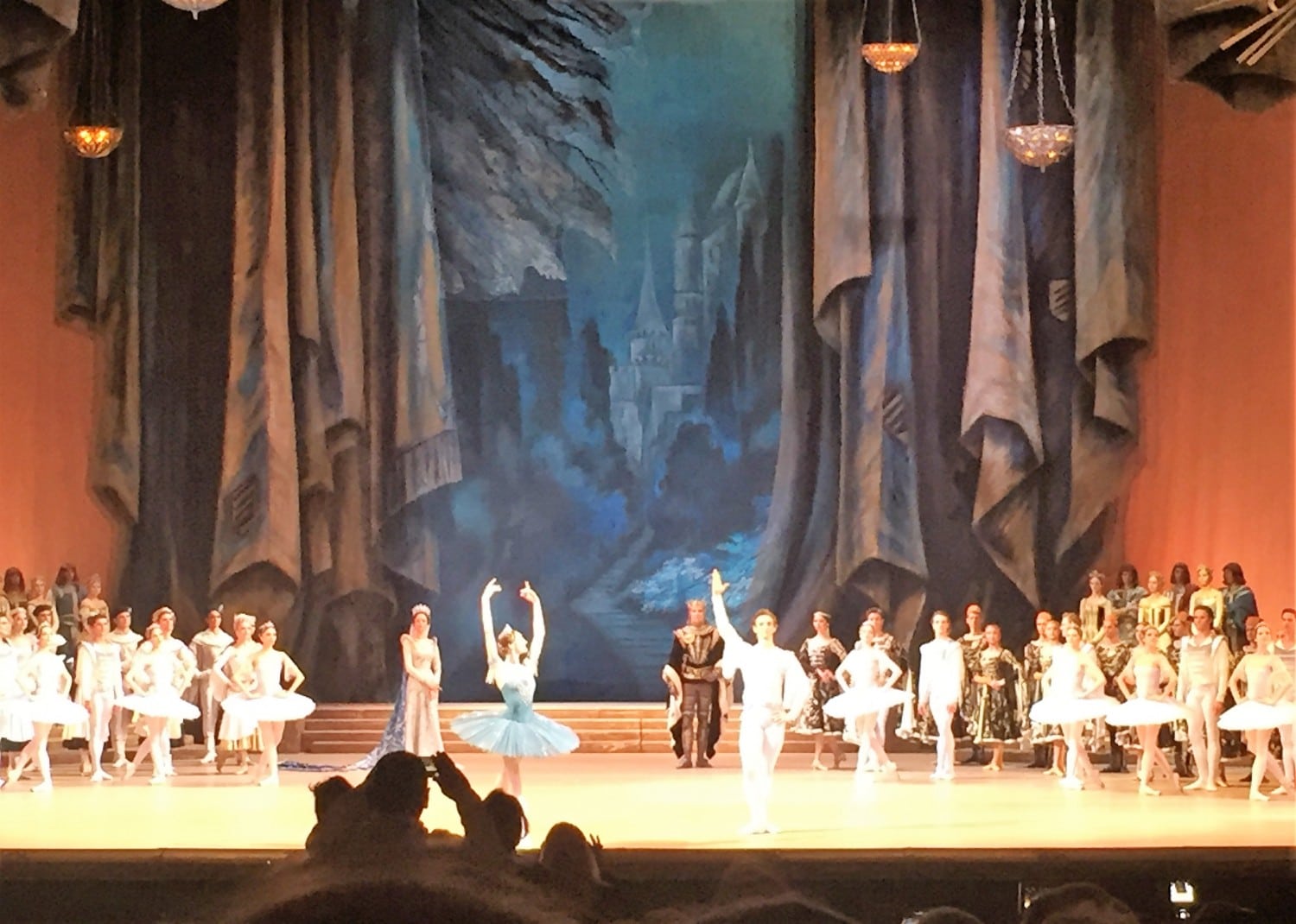 While in Moscow, I was fortunate enough to attend a ballet, Raymonda, on the historical stage! This is an imperial ballet shown in three parts. I went to the matinee instead of the evening production to save some money and saved about 5,000 rubles (about $80) by attending the earlier performance. It's also possible, if you have a regular student ID from a Russian university (HSE does not issue these to short-term students, but MGIMO does), you can also get in line just before the performance and see if you get one of the 100 ruble tickets that the Bolshoi offers in limited numbers. It doesn't always work, but may be worth a shot if you are interested in attending the Bolshoi on a budget.
To get my matinee ticket, I first had to go to the theater's website, and make a profile. Then the website emailed me my username and password. Next, I could select a show and seat and pay with my Visa card. The website then sent me confirmation emails as well as a link to where I could print my ticket. I advise that you save the ticket as soon as you have access just in case the link for some reason does not work later (this happened to me). The tickets must be printed! Do not just save them to your phone. Printing can be done at HSE, at any of the several places around metros or in shopping centers that advertise "фото на документы" or at any business service stores in the city like Mail Boxes ETC.
Bolshoi performances do not require formal dress. At the performance I attended, I wore a cocktail dress and heels as can be seen in the main picture in this article, but most of the people around me were wearing t-shirts, jeans, and tennis shoes. About the only thing not allowed are shorts. However, be prepared to possibly sit by someone who is dressed in an elegant gown or suit and tie.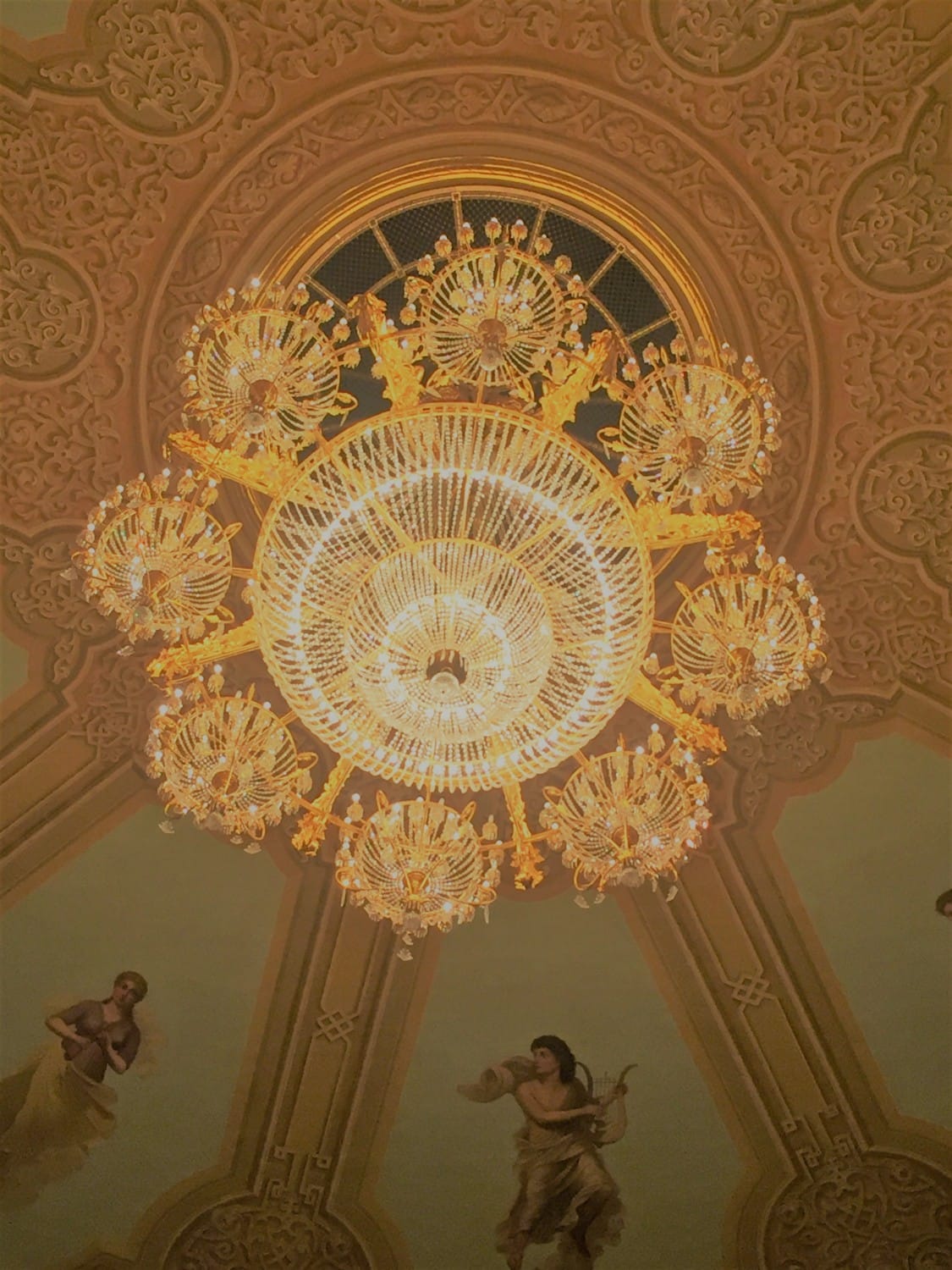 Prior to the performance or during intermissions, there are tables where you can get drinks or snacks. They only accept cash, and a glass of champagne started at 300 rubles (about $5) and went up from there. They had food, such as eclairs, macarons, open-faced sandwiches, and a varied selection of fruit for similarly high prices. Be prepared to pay for souvenirs if you wish to get one of the official t-shirts, plates, dvds, little figurines, etc. Full playbills also must be paid for.
As you wander at intermission to explore the beautiful building a bit more, just make sure that you are not late for the performance because there is a strict final call and closing of the doors.
I recommend that you budget money to attend the Bolshoi, especially the historical stage. I paid about 10,000 rubles or around $160 for a seat in the fourteenth row. Being able to see the intricate architecture, colossal stage sets, amazing live orchestra and the incredible dancing was an amazing experience. I had to remind myself to blink many times because I was so entranced!
Moscow Operetta Theater: Anna Karenina
I also attended the Anna Karenina musical at the Moscow Operetta Theater. The theater was built in the twenties. The stage was smaller than other musical stages I had seen; however, the rest of the theater's architecture was magnificent. It was not as luxurious as the Bolshoi, but still very impressive. The dress for this performance was also very relaxed. Tickets were much cheaper—around $40! They can be purchased online. They must be printed to be valid – don't just save them to your phone!
The seating for this theater is a little tricky. My seat was at the back of the amphitheater in the center, which I thought would be a perfect location. Unfortunately, the slope of the floor was not very steep. The person's head in front of me covered nearly the entire stage, so I spent most of my time moving my head from side to side to follow the main characters. I recommend that you purchase seats either on the first balcony or on the floor and to the side, so you are viewing the stage from an angle.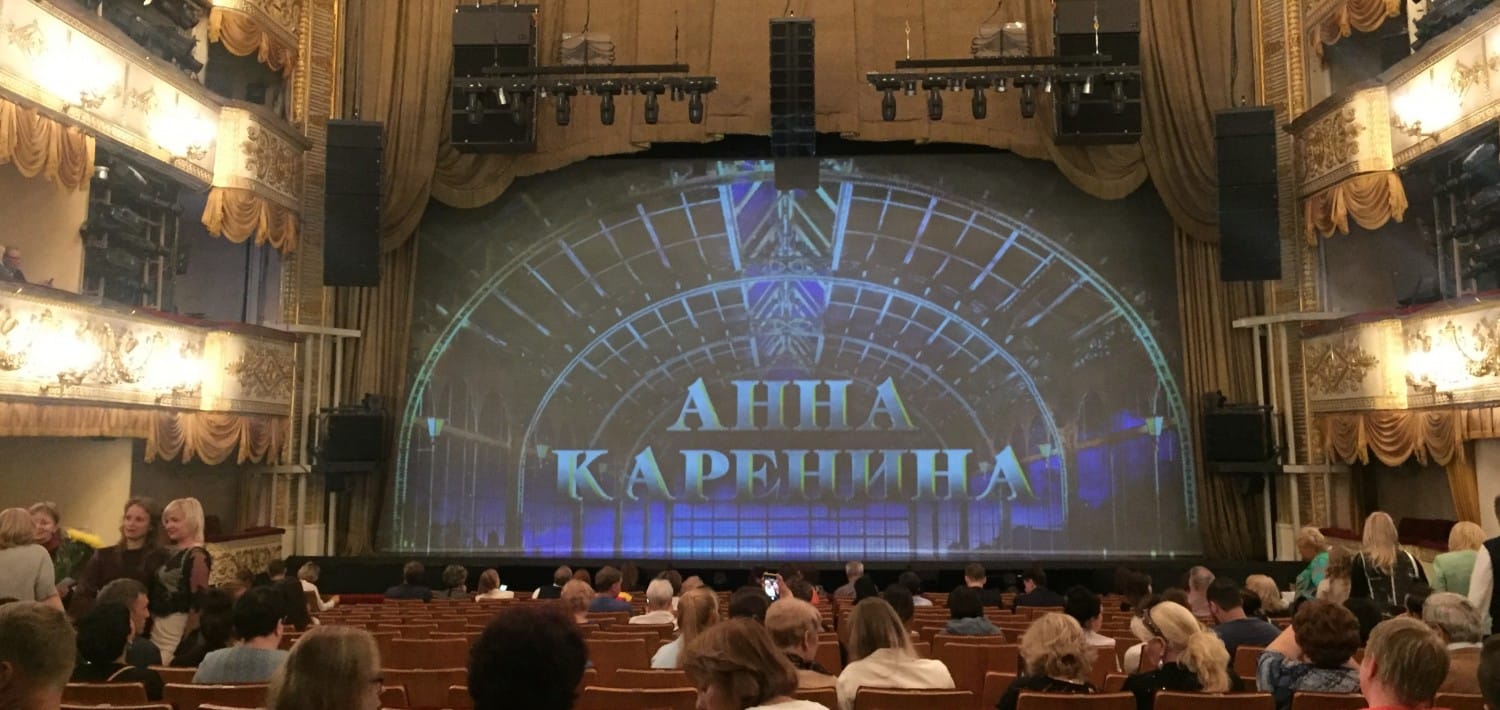 The music and the set were jaw-dropping! The reviews online were nearly all positive and the show did not disappoint. The performers had incredible range and emotion. Even when I could not understand all the Russian, I was able to understand simply from their facial expressions and body language. There were also huge pieces, such as wooden wheels or chandeliers that would come down from the ceiling and a large screen in the back of the stage that would project certain lights or scenes. The eventual train scene took my breath away. The songs were later stuck in my head as well, and this helped me learn several new words!
The American Center: Jazz Performance
Apart from theater, I attended a free jazz night at the American Center in Moscow. This is located near the Smolenskaya metro stop, and is on the grounds of the American Embassy. The performance was free, as are all events at the American Center. Space is limited (and you must register online to attend events). Luckily, I was invited by a friend who was performing, and she put me on the list!
The American Embassy is hard to miss. There is a large American flag hanging from the building. I have to say that I became a little emotional seeing my nation's flag after going without for two months! Then, to get into the venue, I just showed my passport and went through security. I was happy, however, to see that the room was packed with Russians! I had a chance to practice speaking for a bit, and then the musicians were announced.
My American friend was on piano and vocals, and then there were Russian men on the saxophone/clarinet, upright bass, drums, and trumpet. They started the show by explaining that they were going to play certain pieces from each era of jazz. The performance was amazing, and I recommend that if the center puts on something similar again that you should attend! The musicians were VERY talented, and I was blown away by how well they played together despite never having practiced with one another. It was definite proof of how music is just another language!
The Golden Ring Folklore Show – National Theater of Folk Music and Song
This performance was organized by SRAS as part of our cultural program. However, if it's not included on the program for your session, you can always get tickets online. The venue is a bit out-of-the-way, in a residential portion in the north end of Moscow. We were encouraged to dress comfortably although we could look nicer if we wanted. I wore a nicer blouse with a skirt. The venue is smaller and more intimate, and the parlor area has a few places to purchase drinks, snacks, and souvenirs.
The performance includes music and dancing styles from all over Russia's many regions. There were dances and melodies from the Cossacks and many ethnicities that have historically populated the Volga and Siberian territories. A few songs were played on live instruments, like the balalaika. I was never bored at this performance. There were points where the performers even invited members of the audience to dance on stage, but no one was pressured to participate. My favorite part of the experience was one of the final pieces where dancers jumped and flipped on a huge trampoline!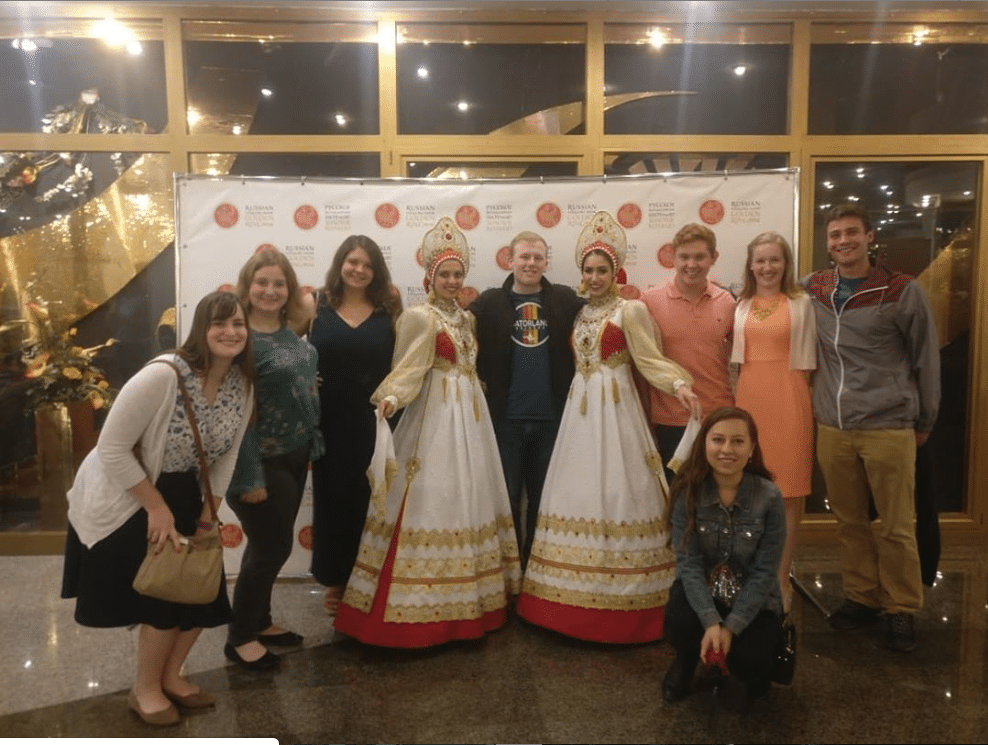 Many parts of the show were more historical while some had a more modern twist added to it. Some of the songs had synthesized rhythms or a pumping bass in the background, like pop music; however, I think there was a comfortable mix of all styles! This is a great experience for those who want a little taste of Russia's many local cultures.
Conclusion
In conclusion, you will enhance your time in Russia if you attend performances. Russia is very proud of their art, and I believe that to fully understand a culture, one must also learn about its literature, music, and story-telling styles. Make the most of your time in this amazing city. In Moscow, the metro is easy to navigate and taxis are cheap, and there is basically no dress code for most performances. If you plan ahead, budget and/or do your research to find cheaper tickets, there is nothing holding you back!