Stirka
26 Kazanskaya Ulitsa / Sennaya Ploshad metro
Coffee stop. Art space. Performance venue. Hipster haunt. Laundromat to the stars (and commoners alike). Stirka somehow manages to be all these things.
Stirka, full name "Café-Laundromat 'Stirka' 40 Degrees," began as a project by Anke Nowottne, who created the spot as her graduation project from the Zurich School of Art and Design in 2004. According to an interview with the St. Petersburg Times, the idea for Stirka, she says, was inspired by German "Waschsalons," which the now Berlin-based artist says are popular in Germany. Self-service laundromats have not spread to Russia, even the larger, more populated cities (many Russians consider the idea of a public washing machine strange and possibly unsanitary). Nowottne, however, noticed the lack of laundromats when visiting her boyfriend in St. Petersburg. Russian dry cleaning service, she thought, wasn't convenient enough, and washing by hand was tedious. What may have been an inconvenience to some became an invitation for the artist to start something new. Eight years later, Stirka, whose name in Russian translates to "The Wash" is still running and is a favorite with young local artists, musicians, and creatives as a place to meet up, see a show, and do laundry while sipping beer.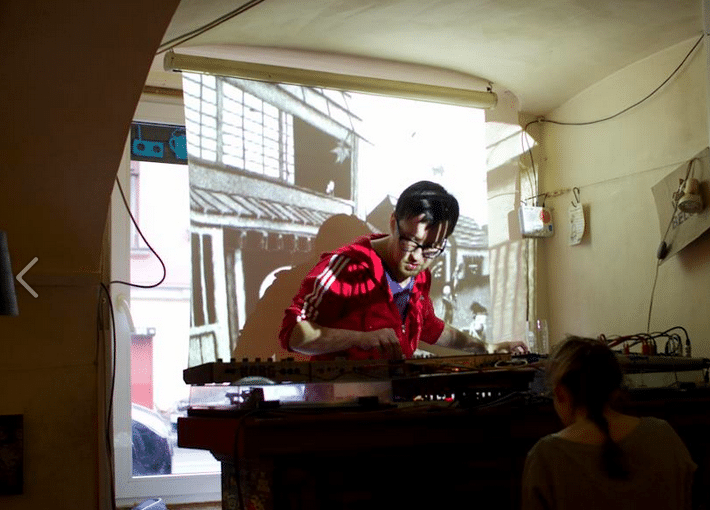 The story of how Stirka came to be is a fable in itself. According to an interview with the St. Petersburg Times, Nowottne was strapped for cash and had to get creative when assembling Stirka piece by piece. Creative was nothing new for the photographer-designer, and she ended up having Stirka's three washers and three dryers delivered to St. Petersburg from Switzerland by boat. "I persuaded one company and they brought it here by boat for free," she told the Times. Nowottne even made her own furniture with help from neighbors, then drove it from Zurich to Petersburg herself. Nowottne says getting the place established with local authorities was a headache, as she had to get clearance from city government as laundromats, bars, and cafés all have separate licensing to take care of.
Stirka's clientele is a mix of Petersburg locals and foreign students, the latter usually drawn by the laundry resources. A wash and a dry will run about 240 rubles, which isn't as inexpensive as most people experienced with coin-op laundry might have come to expect, but that price includes WiFi and a cup of coffee or pot of tea thrown in.  While waiting for your laundry, you can grab a beer, play a board game with locals, meet fellow international students, or maybe even meet someone famous. One of Stirka's claims to fame is that it's the preferred laundry destination for some famous musicians when they roll through town, including Franz Ferdinand, the Rolling Stones, and Led Zeppelin's Robert Plant.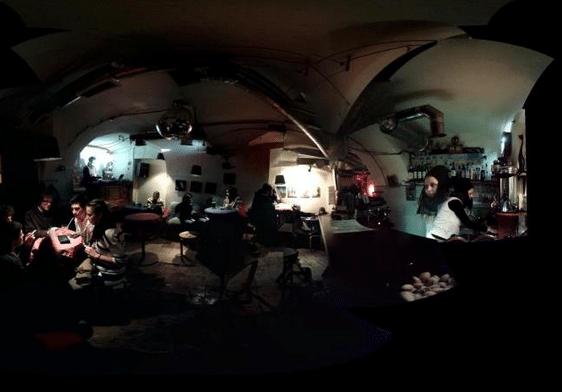 But that's Stirka by day. By night, the laundromat-café is all but unrecognizable. Strobe lights, DJs, dancing, whacky avant garde performances – after the sun goes down, Stirka makes more sense as a project completed for art school. Stirka is one of the most accessible windows into the vibrant, young artistic community in Petersburg, and is an escape from some of the more polished, pricey nightclub spots in town. The night scene at Stirka is like stumbling into a small house party in a college town, where some band you've never heard of is playing in the corner and the Christmas decorations from last year are still up. As the atmosphere is communal and very open, it's a great destination for finding folks interested in music and art, and a great way to get introduced to locals who can help you delve deeper into the 'underground' art and music scene in the city.
Open from 9 a.m. to 11 p.m. every weekday, Stirka offers free WiFi from 10 a.m. to 4 p.m., no purchase at the café necessary. On weekends, the spot opens at 10 a.m. and closes at 1 a.m.
For groups and faculty-led travel, Stirka is probably not the best destination, unless you are down to stumble onto an avant garde violin performance with the hum of a washers and dryers running in the background.