Przhevalskii Museum
Hours: 9:00am-5:00pm
Price: Students – 40 som; Foreigners – 70 som
Address: On the road to Pristan Przhevalsk and Mikhailovka
Ever since I arrived in Kyrgyzstan, I have been told to go to Issyk-Kul, an oblast located about five hours east of Bishkek, and location of the famed "hot lake" that never freezes. I finally made it out there. And it was wonderful. Granted, it is still early spring, and the weather is a bit chilly, and the lake is not yet hoppin' with summer tourists ready to get their tan on. But you know what, I am glad I came during a more chilly season, because it gave me the opportunity to explore parts of the city I probably would not have explored otherwise, such as the Przhevalskii Museum. This museum, located about 12 kilometers north of Karakol on the Mikahilovka inlet, is to date my favorite museum in Kyrgyzstan.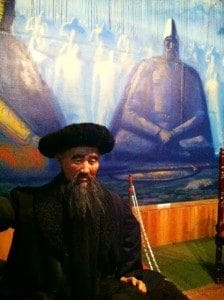 The Przhevalskii Museum is named for the 19th-century Russian scientist-geographer, Nikolai Mikhailovich Przhevalskii, who was the first European to study the geography, flora, and fauna of Central Asia. His is a fascinating story about a self-made man who wanted nothing more than to leave his hometown, travel the world, and write about his discoveries. Stop by for a classic tale of adventure, passion for knowledge, and travel.
Located in a beautiful park lined with trees atop a mountain that overlooks an old Soviet testing ground for torpedoes, the museum premises, which also include a monument and gravesite, were built in 1957. It was last renovated in 1989. It is still in great condition. Fortunately, my colleagues and I lucked out on the sunny Saturday afternoon when we visited, for there were few visitors and we got the entire space to ourselves as we soaked up the anecdotes from our very knowledgeable and engaging Russian-speaking guide, Sayeed.
When you first enter the museum, you are hit with the two most important actors in this museum: Przhevalskii, the Russian soldier and explorer; and his Kyrgyz guide, a symbol of the region with which Przhevalskii fell in love. Their bright and bold portraits line the main entrance doorways, against scenes of their homelands, St. Petersburg and the mountains of Kyrgyzstan. When you walk in, you immediately sense the local significance of Przhevalskii, and in turn why Przhevalskii, a native of St. Petersburg, would ask to be buried on the shores of Lake Issyk-Kul when he caught typhoid in 1888. The beautiful Kyrgyz mountains and flowers behind the Kyrgyz guide are at the core of what Przhevalskii was passionate about.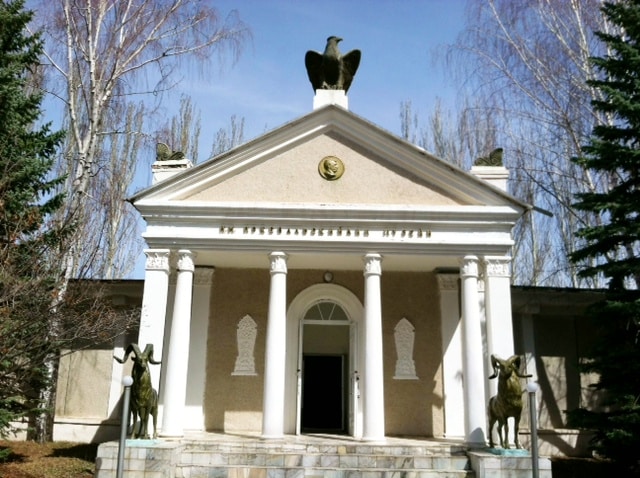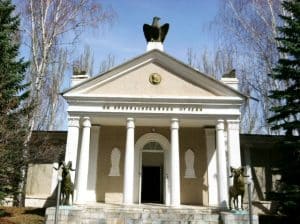 After you walk through the main doors, you enter the main entrance hall, which is dedicated to the Russian exploratory "greats" of the 19th century, most of them members of the Russian Geographical Society. Look closely at the portraits of Semyenov, Muraviev, and Litke, and you too will understand why Przhevalskii greatly admired and desired to be just like them. These wise souls stare back at you with eyes that have many, many stories to tell. In this main hall, you will also see a wall-to-wall three-dimensional map of Przhevalskii's four main explorations in Asia. In the middle of the room is a large globe. Overall, the space is bright, colorful, and welcoming, and it commands respect for the contributions Russian explorers made to Western knowledge of Central Asia.
Przhevalskii was born to a Polish family in Smolensk in 1839. He was passionate about travel from an early age, but joined the army, out of respect for (and pressure from) his military dad. During this time, he became interested in nature and desired to join the prestigious Russian Geographical Society. The Society required him to complete a practicum in the Ussuri River region of the Russian Far East from 1867 to 1869 before joining. He performed well and wrote a book about his experiences and was soon inducted. While serving in the Army, he embarked on expeditions to Mongolia, China, and Tibet, all of which enabled him to discover for Europe at least 300 plants and 11 animals. A cartographer, nature enthusiast, and passionate writer, his observations and discoveries of nature in Asia were a huge contribution to European knowledge of what was, at the time, a very little-known region in the world.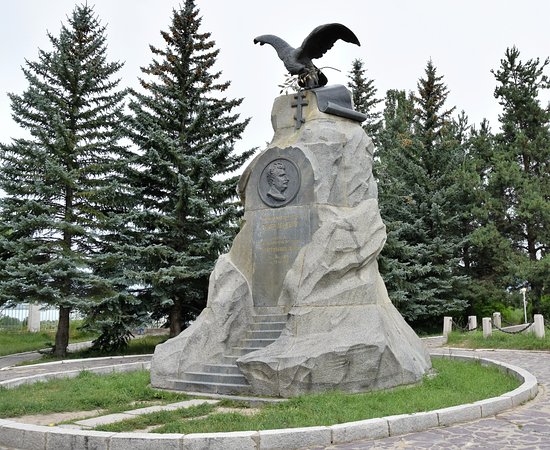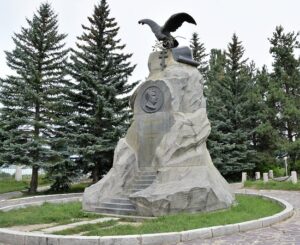 Give yourself time to linger at the museum. There are English translations of most of the exhibits, and the references to his time at Karakol definitely bring historical perspective to this town, which is far too often viewed as a sleepy town en route the beach. Also do not forget to check out the monument dedicated to Przhevalskii right outside the main exhibit building. This monument, a few steps away, down the tree-lined path, is rich with symbolism and numbers. There are 15 steps for every year he traveled, 21 stones for every year he spent in the army, an eagle symbolizing personal freedom; an olive branch symbolizing peace; a cross symbolizing the Russian Orthodox Church that he belonged to; and a map of Central Asia symbolizing his four expeditions in the region. Not your typical Soviet monument, I say.
So, come ye, come all to Issyk-Kul. And stop by this lovely museum dedicated to a local hero — and my kindred spirit — Przhevalskii, a man who loved more than anything his independence, nature, writing, and traveling in Central Asia.