Summer Chopin Concerts
Łazienki Park
Free
Lazienki-krolewskie.pl
Want to soak in some classical music with that summer sun?
You're in luck!
From mid-May to September, you can catch Chopin concerts every Sunday in the Royal Łazienki Park next to the Chopin Monument. And the best part?  It's FREE.  The first showing is at noon, the second begins at 4 p.m.; both last around an hour.  The pianists come from around the world, booked more than a year (sometimes two) in advance – no joke.
Łazienki Park
The center point of the park is the Palace on the Islet, housing the old royal baths (Łazienki = "baths").  There are old court theaters, Grecian-inspired amphitheaters, more palaces, and gallery pavilions galore open to your exploration in Łazienki.  Besides Chopin's monument to the western edge of the park, there are numerous statues throughout the rest of the 187 acres.  For more info on attractions in Łazienki, please click here.
The Musician
Fryderyk Franciszek Chopin was born in Warsaw, Poland on February 22 or March 1, 1810 (historical discrepancies, it happens). He was half French, half Polish, and lived in the Warsaw Lyceum when his father taught French there. He produced his first composition at age 7, was established as a child prodigy and attended the Lyceum and the Warsaw Conservatory of Music under Joseph Elsner. He traveled a bit to experience other pianists, and wrote a good number of works before leaving Poland at age 20.  He had just left his homeland when the Warsaw Uprising of November 1830 launched the Polish-Russian War, and prompted him to find a new home in Paris.
He was engaged once to Maria Wodzinska, but spent the majority of his love life with Aurore Dudevant (aka George Sand). They had a falling out, and his health deteriorated steadily after.  He traveled around the British Isles, and his last performance was a benefit for Polish refugees in London on November 16, 1848. Still in ill health, and rumored to have epilepsy, he ultimately died of tuberculosis in Paris on October 17, 1849.  His body is buried in Paris at the cemetery of Pere Lachaise, but his heart is held in the Church of the Holy Cross in Warsaw.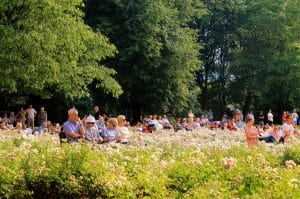 Legacy
Chopin had a well-known reputation despite playing relatively few public appearances (around 30 in his entire life).  He preferred salons and smaller venues to large concert halls.  He had an original approach to the piano that had been cultivated apart from traditional parameters, in part thanks to his previous teachers. He drew influence from Polish folk melodies and Polish historical tragedies which he expressed through music.  He was a prominent figure of the Romantic era, sentiment echoing through his compositions.  Famous Chopin works include mazurkas, polonaises, waltzes, ballads, and scherzi. There is the world's oldest monographic music competition held since 1927, the International Chopin Piano Competition.  Held every five years in Warsaw, 2015 marks the 17th year for the competition, and recitals are to begin in October.
Chopin Monument
The Chopin Statue was designed in 1907 by Wacław Szymanowski, intended to be erected for the centenary of Chopin's birth.  Because of World War I, the statue was finally revealed in 1926.  It was toppled May 31, 1940 when the Germans occupied Warsaw, the first monument to be destroyed. Fortunately, the original mold was preserved, and a replica monument was cast and erected on the same site in 1958.  A year later in summer 1959, the tradition of free Chopin concerts in the park began.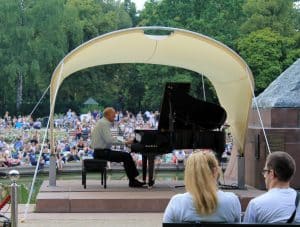 Concerts
The Fryderyk Chopin Institute of Poland is dedicated to the life and works of Chopin, and has been a sponsor of the Chopin Concerts since their inception in 1959.  2015 marks the 56th year anniversary of the concerts, and shows no sign of declining. It is impossible to count the thousands who listen to Chopin's music every week – hundreds sit around the monument, countless visitors wander through during the performance, and more still sit further in the park, hearing strains of the pianist playing homage to Fryderyk Chopin.
About the Contributor:
Allie Sasek graduated from the University of Oregon with a degree in Russian, East European, and Eurasian Studies, and a double minor in Women and Gender Studies and Planning, Public Policy, and Management. She previously studied abroad in St. Petersburg during summer 2014, studied and interned in Warsaw in summer 2015, and will return for SRAS's Russian Studies Abroad in St. Petersburg for the 2015 fall semester. Allie intends to attend a masters program in Europe, and work as a sustainability consultant for international NGOs, businesses, and governments.