In Warsaw, large, elegant, and beautiful willow trees grace many of the parks within the city. These are the same willow trees that inspired many of the outstanding musical pieces of prodigy composer and native Pole, Frédéric Chopin.
Signs of Chopin's legacy, like the willows that inspired him, can also be seen across the city. These include his glorious statue in Łazienki Park, live Chopin concerts can be found nearly any night in Old Town, and in the summer months there are also live, free concerts at the Chopin statue in Łazienki Park.
The Frédéric Chopin Museum is a centerpiece of this celebration of the composer's legacy. In this article I will talk about my visit to the museum, its history, rhetoric, and my recommendation to visit!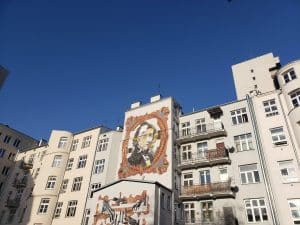 The Frédéric Chopin Museum, part of the National Frédéric Chopin Institute in Warsaw, was founded in 1954. Funded in large part by the Polish state, the institute's mission is to cultivate the memory of the great composer and to provide knowledge about his life and work available to the public at large. This is done at the museum by providing an educational yet interactive experience that delves into the life, mind, and legacy of Frédéric Chopin. The Museum's activities comprise collecting, describing, safeguarding and conserving museum objects belonging to the immediate Chopin heritage. It makes these resources available to the public, as well as obtains and disseminates the fruits of contemporary creative work linked to Chopin, his music, and his times.
I visited the museum with friends on a Sunday, thinking that this was the day in which admission to the museum was free (we read some misinformation on Trip Advisor). As it turns out, free admission is on Wednesdays (at the time of writing this article) so we ended up paying the entrance fee.
Regular entrance is 22 PLN ($5.50), but as students studying abroad in Warsaw, we got a student discounted rate of 13 PLN ($3.25); a very good price for what the museum offers. If you are more ambitious, you can also order a guided tour in English for just 120 PLN ($25). You'll probably want to call ahead and make a reservation if you are interested.
The museum is housed in the beautiful Ostrogski Palace, which was originally built in the 17th century, destroyed in the Warsaw Uprising, and reconstructed in 1954 to house the Frédéric Chopin Institute and Frédéric Chopin Museum. The Institute has since moved to a larger building built next to the museum, making the palace a much more fully public place. The palace design is beautiful and it stands out amongst the modern and communist bloc style buildings surrounding it in the city center. Upon entering the Ostrogski Palace you are met with a grand foyer welcoming you to the Chopin Museum.
The layout of the museum follows the timeline of Chopin's life. It starts with him as a child prodigy, then moves to his blooming adolescence, followed by his tours around Europe intermingled with the development of his greatest compositions. The museum provides in-depth information to aspects of Chopin's life and in my opinion, tries to truly educate the museum goer on what external factors shaped Chopin. Some of the major external factors were, first, his upbringing in Poland and specifically the inspiration from the Polish countryside near Warsaw. Next, was his time spent embracing the Parisian lifestyle in Paris, including his many loves (Chopin greatly enjoyed female companionship). Then the final aspect was his retreat into the French countryside towards the end of his life, in which he produced some of his most prominent works.
While Frédéric Chopin is a figure of pride for Polish heritage, the museum does an excellent job of not making this the overarching message being delivered. Instead, by presenting personal stories of Chopin, his relationships, and personal artifacts, an intimate and personal connection, rather than a national connection, is made with Chopin. You can see what shaped him and are able to feel a bond to this legendary composer and his music – this is the overall feeling that is gained when visiting the museum in my opinion.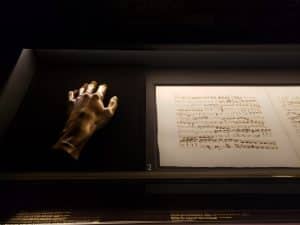 The museum is obviously well-funded and cared for. It offers many modern, interactive learning displays that make it an enjoyable and educational museum visit. Many of the rooms within the museum are quite unique in their designs – such as one in the style of a Parisian salon such as those that Chopin would have played in during his time in Paris. I found the stories of these salons fascinating. They were very elegant homes in Paris that would host a small gathering of close friends that Chopin would play to. Seeing the room in this style within the museum, with an original piano that Chopin played on transports you back to the time period and you can easily image listening to a live, intimate Chopin concerto played by the composer himself.
The museum also presents, through the Frédéric Chopin Institute, live concerts in a small concert hall in the basement of the museum, which also further brings Chopin's music to life as it would have been enjoyed in his day: as a live performance. Some of these regular concerts are given by young pianists training in Warsaw. This also encourages the museum attendee to see Chopin as not only an important historical figure, but as an artist whose relevance lives on today.
More ambitious music lovers might take a trip to the village of Żelazowa Wola, about an hour's drive west of Warsaw, to see the Birth House of Frédéric Chopin. This house museum preserves Chopin's birthplace and presents largely as it would have looked when he lived in it. The house and surrounding park have been named by the Polish state as part of Poland's national heritage, giving the whole area special status and protection under Polish law. The house museum is a branch of the Frédéric Chopin Museum.
I personally greatly enjoy classical music; it's wonderful to play as background music while studying or writing. So, visiting the Chopin Museum in Warsaw was something I was excited to do; that being said, even if you're not a classical music nerd like myself, the museum is still worth a visit. Chopin is a prominent piece of Polish heritage and the museum does an excellent job showcasing his life and legacy.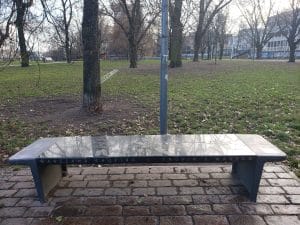 About the Author
Eric Nesbitt is a senior at Michigan State University majoring in Criminal Justice with a minor in Security Management. He is spending his final semester abroad in Warsaw, Poland participating in Security and Society in the Information Age at Collegium Civitas. Eric hopes to gain a global perspective on security issues while in Poland and bring that knowledge back to the United States to aid in a career in federal law enforcement or corporate security management. In addition to his studies, Eric loves backpacking and running.