The Russian Museum of Ethnography/ Росси́йский этнографи́ческий музе́й
Улица Инженерная 4/1
Open everyday from 10.00-18.00,
except Mondays and the last Friday of the month
Prices: 350 rubles for adults, 150 rubles for students ;
free with SPBGU student ID;
150 rubles for picture-taking passes
eng.ethnomuseum.ru
If someone asks you to describe "Russian," the first images that probably come to mind include burly Cossacks, round babushkas with head coverings, matryoshkas, etc. While these depictions partially represent Russia, the country includes a variety of ethnic groups (and one included many, many, more before the fall of the USSR). The interaction of these various cultural traditions have shaped, and continue to influence, the essence of Russia. The Museum of Russian Ethnography, then, serves as the perfect stop for those interested in learning more about Russia's anthropological and ethnological history.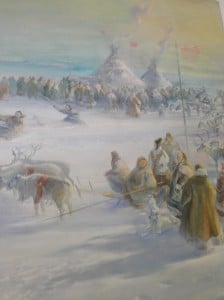 The Museum of Russian Ethnography is a stunning palace situated next to the Russian Museum of Art. It features wings dedicated to broad categorizations of ethnic groups based on their major geography: European Russia (i.e. Russians, Ukrainians, Belarusians, Moldavians, Baltic peoples, Scandinavians, Jews, Bashkirs, Tatars, etc.), the Caucasus and Crimea (Georgians, Azerbaijanis, Armenians, etc.), Central Asia (Kazakhs, Kirghizs, Uzbeks, Turkmen, Tajikistanis, etc.) and Siberia/ the Far East (i.e. Buryats, Yakuts, etc.). While many of the eponymous countries that these ethnicities come from are no longer a part of Russia, the ethnicities are still widely represented within Russia and many Russians still continue these peoples part of the wider Eurasian community that also includes Russia.
One could easily spend hours marveling at thousands of artifacts on display in the museum. The items range from buckskin teepees, small Buddhist shrines, meticulously woven carpets, Jewish dreidels, Russian pechi (stoves), straw ornaments- the list goes on and on, and covers an enormous spectrum of material culture. In addition, the museum offers an extensive collection of traditional costumes, wax figures, and large-scale dioramas, which breathe life into the traditions and cultures of the people (though, admittedly, I also found them a tad creepy). Seeing all of these exhibits, I realized how terrifically complicated it is to define "Russia," as all of these influences have contributed towards creating the nation.
While Russia's geographic vastness and multiculturalism has always interested me, I did not realize the sheer impact of that diversity until coming to the Russian Museum of Ethnography. The displays prove being "Russian" encompasses a wide range of ethnic, cultural, and religious identities. Nonetheless, I think this fluid, dynamic heritage makes Russia all the more fascinating, and I hope that it embraces its multiculturalism.