Chingiz Aitmatov is best known as Kyrgyzstan's most beloved author, but he represents much more than that to the Kyrgyz people today. His more than thirty novels represent honestly the Soviet experience and the social and moral dilemmas that Central Asian people endured. He wrote about love, heroism, friendship, nature, inequality between men and women, oppression, cultural traditions, and the importance of education.
Aitmatov was also a diplomat and political figure who worked to advance education, promote Kyrgyz culture, preserve the environment, and even brought international thinkers together to abate the risk of nuclear war.
The recipient of numerous literary medals, awards, and honors, in 2008, right before his passing, he was nominated for the 2008 Nobel Prize for literature. Chingiz Aitmatov's legacy can be seen through his novels, and the many screenplays, films, television series based on them as well as the museums dedicated to him. In Kyrgyzstan, there are many hearts who consider him a hero of Central Asia.
The Early Life of Chingiz Aitmatov
Chingiz Aitmatov was born on December 12, 1928, in the village of Sheker, in the Talas region of Kyrgyzstan. Aitmatov was born to a Kyrgyz father and a Tatar mother. His father, Torekul Aitmatov was one of the first Kyrgyz communists and was the second secretary of the Kyrgyz Regional Committee; his mother, Nagima Khamzievna Aitmatova was an actor and also an ardent communist. She fought for many social issues such as women's rights, literacy, and land reforms. She also wished to abolish Islam from Kyrgyz society.
In 1937, Aitmatov's father attended the Institute for Red Professorship, a graduate-level institute dedicated to Marxist social sciences, in Moscow. There, he was arrested and charged with anti-Soviet bourgeois nationalism; he fell victim of Joseph Stalin's purge and was executed in 1938. After, Aitmatov was raised by his mother and grandmother. His grandmother, a Kyrgyz national, wanted to ensure Kyrgyz culture and traditions played a role in his life; she took him to traditional Kyrgyz weddings, festivals, funerals, local musical and dance performances and to meetings with Kyrgyz storytellers. His mother still wanted him to be successful within the Soviet state and taught him to speak Russian and sparked his love of Russian literature.
The Education of Chingiz Aitmatov
Aitmatov studied at a Soviet school in the village of Sheker until the age of fourteen. Then, during the Second World War, and the economic upheaval it brought the Soviet Union, Aitmatov was forced to drop out of school and find work. However, he was the most literate person in his village even at age fourteen, and was soon offered a position as Secretary of the Village Council, where his tasks involved taking inventories of agricultural equipment and ensuring tax collection.
When WWII ended, Aitmatov went back to school. In 1946, he enrolled at the Dzhambul Zootechnical College, which specialized in sciences related to animal husbandry. He graduated at the top of his class. In 1948, he studied at the Animal Husbandry Division of the Kyrgyz Agricultural Institute in Frunze (Frunze is now called Bishkek). During this time, Aitmatov began writing short stories; his first story,
In 1953, Aitmatov graduated with honors and took a job as a Senior Livestock Specialist at the Kyrgyz Research Institute of Livestock. However, he continued to be pulled toward literature. In 1956, Aitmatov moved to Moscow to enroll at the Maxim Gorky Literature Institute to advance his writing skills; he graduated in 1958. Aitmatov then spent the next eight years working for Pravda, the official newspaper of the Communist Party in the Soviet Union.
Major Works of Chingiz Aitmatov
By the time Aitmatov graduated from university, he had written and published many stories and had written his first two novels, Face to Face and Jamila. Aitmatov in total wrote and published over thirty novels, however his most influential novels in Kyrgyz culture are Jamilia, The First Teacher, Farewell, Gulsary!, and The Day Lasts More Than a Hundred Years.
In 1958, Aitmatov wrote his second novel, Jamila, which has now been translated to over 160 languages worldwide. A was also made based on it which, although originally scripted in Russian, you can now find dubbed in Kyrgyz, English, French, and Uzbek. Jamila is included in Kyrgyzstan's educational curricula. The novel is set during the Second World War, where most of the men in the village have gone off to fight, and the women and children have been left to care for the village and survive on their own. The novel is told by Seit, who tells his story by looking back on his childhood memories of the village. His story includes a love affair between his sister-in-law, Jamila and a local man named Daniyar, who, due to a leg injury, could not fight in the war. Jamila was forced into marriage with her husband Sadyk, who had gone off to fight in the war; Jamila is then left with the responsibility of working the land herself. She meets Daniyar, who at first, she wants nothing to do with, but then falls in love after hearing him sing beautifully and their affair begins.
After Jamila learns that Sadyk has been injured and will return home, she decides to leave her husband and run away with Daniyar. Seit watched Jamila's and Daniyar's love grow from the beginning and found it inspiring. When he leaves the village to pursue his dream of being an artist, he paints Jamila and Daniyar on that autumn day that they left the village for his final project at art school.
Aitmatov published another classic, The First Teacher, in 1962. This novel takes place after the Russian revolution and is based on a teenage orphan, Altynai and a young communist teacher, Duishen. Duishen has been offered a teaching position at a poor local village school. Altynai, a Muslim girl from this village is desperate to go to school so she can learn to read and write. Many in the village, and especially Altynai's aunt, looked down on this, believing that Muslim tradition meant only boys should receive a formal education.
Altynai's aunt decides to marry her off to a high-powered and controlling chieftain, who abuses her terribly. Duishen finds out Altynai is being abused and goes to the police to help rescue her. Duishen is successful and sends Altynai off to boarding school where she can receive a proper education. Years later, Altynai is a successful Doctor of Sciences and is invited back to her village where they are opening a new school. Local villagers are now proud of Altynai's accomplishments, and they want to honor her by naming the school after her. Altynai tells them about Duishen and how influential and important he was in her life. She explains that Duishen is the real "First Teacher," as it was he who came to the village to educate the children, in a time when he was receiving nothing but pushback from the village elders. Altynai tells the villagers the school should be named after Duishen, the unassuming man who changed her life.
Aitmatovs next classic, Farewell, Gulsary! was published in 1966. This novel features the characters of Tanabai Bakasov and his horse, Gulsary, who live in the mountains of Kyrgyzstan. The story is told through Bakasov's flashbacks of the collectivization period during the Second World War. The Soviets tried to break any independence that Bakasov had, in doing so, they castrated Gulsary and then took him away from Bakasov. The Soviets then forced Bakasov to become a shepherd, which he had no prior experience doing. Bakasov eventually becomes a Communist party member, but then gets expelled from the party because he stood his ground and stood up for himself to local .
This book was able to bypass censorship due to Aitmatov becoming a member of the Supreme Soviet of the USSR in 1966, followed by becoming a member of the Executive Board of the Writers Union of the USSR. Aitmatov was also good friends with Mikhail Gorbachev, which helped him later in his career.
Aitmatovs last major work, The Day Lasts More Than a Hundred Years, appeared in 1980. Inspired by events in his own life, the novel tells of Burannyi Yedigei, a railroad worker from Kazakhstan who meets Kazangap, a widower who had been weighed down his entire life by his father's unfair arrest by the Soviets. Yedigei and Kazangap quickly become best friends and when Kazangap dies, the story recounts the life and moments they shared together. Yedigei wants nothing more than to give his best friend a proper Muslim burial. However, during this time in Soviet Kazakhstan, anything religious was considered anti-. He decided to bury Kazangap in a cemetery called , which means "The Grave of Our Mothers" in Kazakh and give him a traditional burial anyway.
In total, Aitmatov wrote and published over thirty novels, his literary works have been translated into more than 160 languages around the world, he has been published in 128 countries and has sold more than 100 million copies of his books worldwide. Aitmatov wrote twenty-four pieces that went on to be made into screenplays, films, and television series. He is most loved for writing stories that fully portrayed Kyrgyz life, its struggles, and values.
The Political Life of Chingiz Aitmatov
Aitmatov had a lucrative and successful literary career, but was also well known in politics, professional organizations, and diplomacy. In 1959, Aitmatov joined the Communist Party and later became a member of the jury for the Moscow International Film Festival. In 1963, Aitmatov was awarded the prestigious Lenin Prize for Tales of the Mountains and Steppes, a compilation of three of his novels, Jamila, Farewell, Gulsary!, and The First Teacher.
From 1964 to 1985, Aitmatov was Chairman of the Cinema Union of Kyrgyzstan SSR; in 1985, he was named Chairman of the Kyrgyz Writers Union. In 1967, he became a member of the Executive Board of the Writers Union of the USSR. In 1978, he was named a "Hero of Socialist Labor," a title that celebrated his professional achievements. In 1986, Aitmatov founded the Issyk-Kul Forum, which gathered intellectuals from the Soviet bloc and the West together in his native Kyrgyzstan to discuss major global challenges. In 1994, he became a member of the jury at the 44th Berlin International Film Festival. In 2002, he became the President of the Jury at the 24th Moscow International Film Festival.
From 1990 to 1991, Aitmatov served as advisor to Mikhail Gorbachev and in 1990, Aitmatov was appointed the Soviet Ambassador to Luxembourg. From 1990 to 1993, he served as the Soviet and then Russian ambassador to Belgium and in 1995, he became the Kyrgyz ambassador to Belgium, Luxembourg, and the Netherlands. During the 1990's, Aitmatov was a member of Kyrgyzstan's parliament as well as the representative for Kyrgyzstan to the European Union, NATO, and UNESCO.
During Aitmatov's political career, his accomplishments centered around preventing conflict and supporting peace. He was particularly interested in ways to prevent nuclear war, protect the environment, and discussing how culture affects conflicts.
The Death and Legacy of Chingiz Aitmatov
On May 16, 2008, Aitmatov was admitted to a hospital in Nuremberg, Germany, where he later died of pneumonia on June 10, 2008. He was 79 years old. Aitmatov was buried in the Ata-Beyit Memorial Complex (Ata-Beyit is translated from Kyrgyz as, "The Grave of Our Fathers") a short distance outside of Bishkek and Kyrgyzstan's most revered burial place.
The Ata-Beyit Memorial Complex consists of three levels, the top level memorializes those who died in the 1916 Urkun (which means "The Great Exodus" in Kyrgyz and refers to a Central Asian revolt against Tsarist conscription and corruption), the middle level memorializes the 138 Kyrgyz people who were murdered during the Stalin purge of 1938. This level houses Aitmatov's father, Torekul Aitmatov, along with Chingiz Aitmatov himself, so that he could be buried with his father. The lower level memorializes sixteen of the eighty-nine protestors that were killed during Kyrgyzstan's 2010 uprising.
In 2014, Aitmatov's home in Bishkek was turned into a museum called the Chingiz Aitmatov House Museum. There are six rooms in the museum that house Aitmatov's furniture, clothing, books, medals, awards, personal photographs, and handwritten letters. There is also an art gallery with paintings based on his works.
There is also an art gallery with paintings based on his works in Bishkek and, in Cholpon Ata, about a 3.5 hour drive from Bishkek on the shores of Issyk Kul, is a cultural center with many artifacts dedicated to him.
During my visit to the Chingiz Aitmatov House Museum in Bishkek, I was guided by a local Kyrgyz woman who explained to me the relevance and importance of Aitmatov's personal home and the items within it. She told me Aitmatov was beloved not only by Kyrgyz people, but by all Central Asian countries, Russia, Germany, France, the Netherlands, and the United States. She was very keen on pointing out a photo of Aitmatov with the famous American actor/director/narrator, Morgan Freeman. My guide showed me Aitmatov's medals from the Soviet Union, stating how proud Kyrgyz people are of the medals he received and how these medals not only represented his hard work and dedication to his career, but also to the people of Kyrgyzstan. At the end of my guided tour, I asked my guide if she had a favorite novel of Aitmatov's, she told me her favorite novel was The First Teacher. When I asked her why The First Teacher was her favorite, she replied, "it allowed me to dream."
You Might Also Like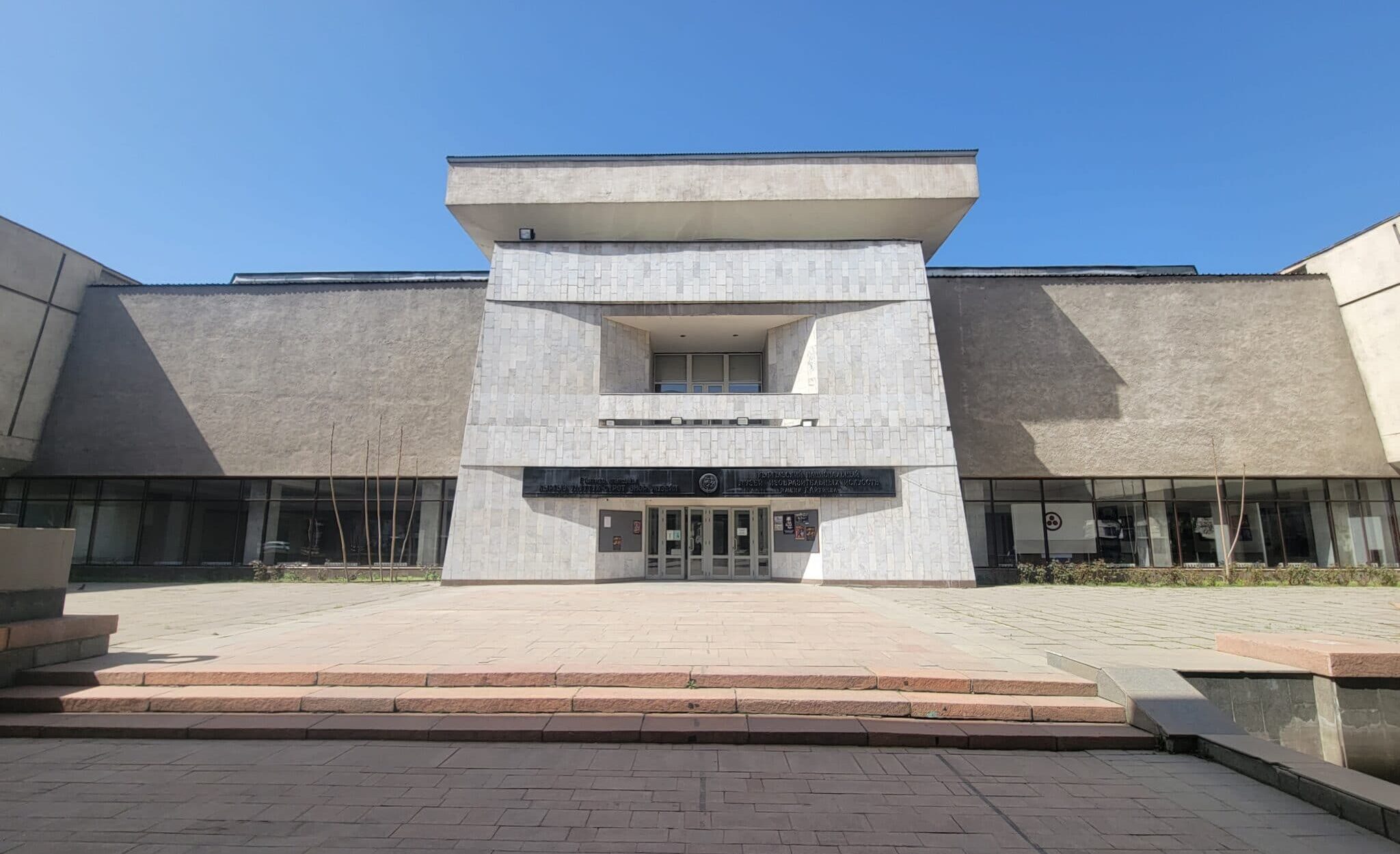 The Kyrgyz National Museum of Fine Arts in Bishkek showcases native art forms as well as painting, sculpture, and other works, highlighting those created by Kyrgyz artists. The museum is centrally located and is perfect for a day trip with an abundance of restaurants and cafes nearby. The article below will tell the history of […]
0 comments