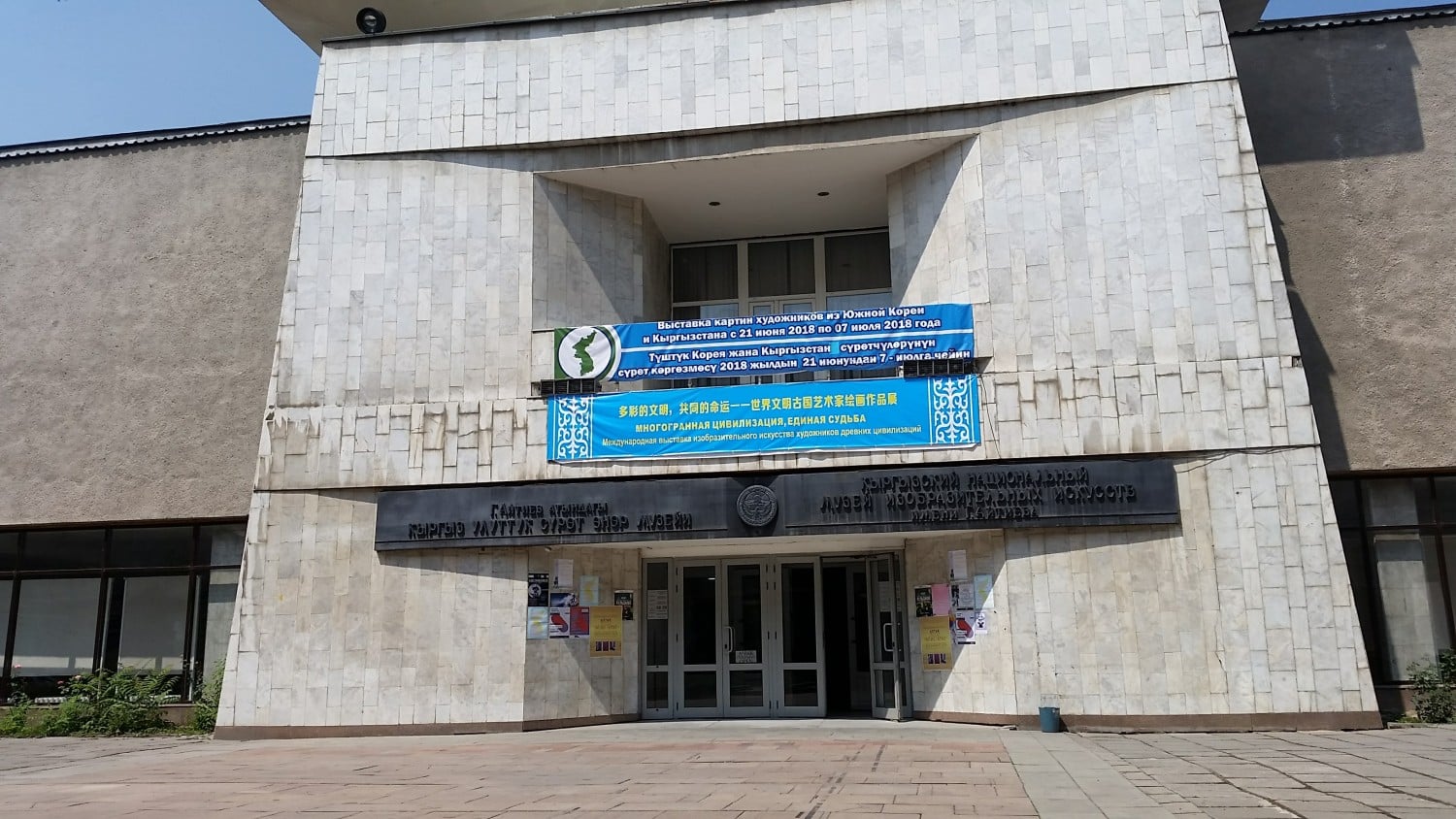 There are three major museums in Bishkek: The State History Museum, Frunze Museum, and the National Museum of Fine Arts. Chances are you will be taken to the National Museum of Fine Arts on an as part of your SRAS Cultural Program in Bishkek, so you will enter for free. If you want to go independently, however, the entrance fee for students is low (20 som, or about $0.28). The museum isn't far from Ala-Too Square and can be reached easily by bus or marshrutka. It was established in 1935, and the architecture clearly reflects Soviet influences. The museum has two floors, with the second housing the artwork and artifacts. The first floor houses temporary modern art exhibits (though I'm not sure how often they change). If you go on the excursion with the school, you will have a tour guide who speaks English. They will guide you through the rooms, providing interesting explanations about the art, such as when and how and by whom the pieces were made. It is the largest collection of art in Kyrgyzstan, but you don't need an entire day to visit the museum. You won't need more than a couple of hours even if you take your time looking at everything.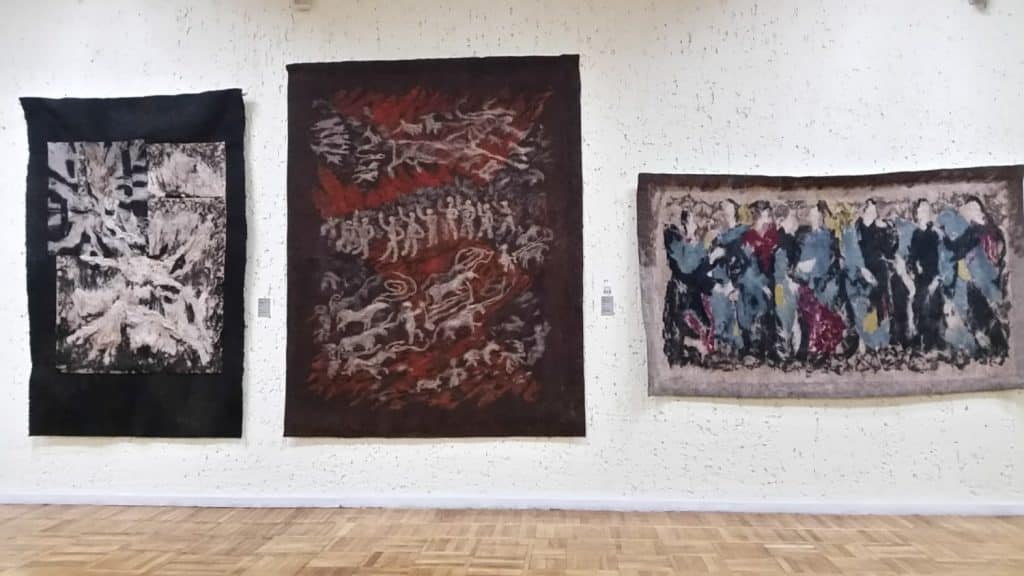 When you first arrive at the top of the stairs, there will be artifacts, including felt rugs and clothing. There is jewelry and horse-riding gear as well, giving you a taste of traditional Kyrgyz culture. Rugs hang from the walls, showcasing different kinds of designs and allowing you to see a piece of home from a traditional yurt. As you continue, there are paintings and sculptures. There are textiles, including non-traditional felt wall hangings as well as pictures made entirely of felt, which is itself a staple of traditional Kyrgyz life and handicrafts. There is a section dedicated to an artist who depicted Kyrgyz life through traditional portraits. This was one of my favorite sections because the subjects of the paintings were so realistic, I almost felt like I was there in a field watching the subjects ride horses, or across the table listening to major Kyrgyz figures talk. Past this section you will find portraits of soldiers and Soviet officers, as well as a few solemn war scenes. The final display showcases contemporary art, some of it political, some of it abstract.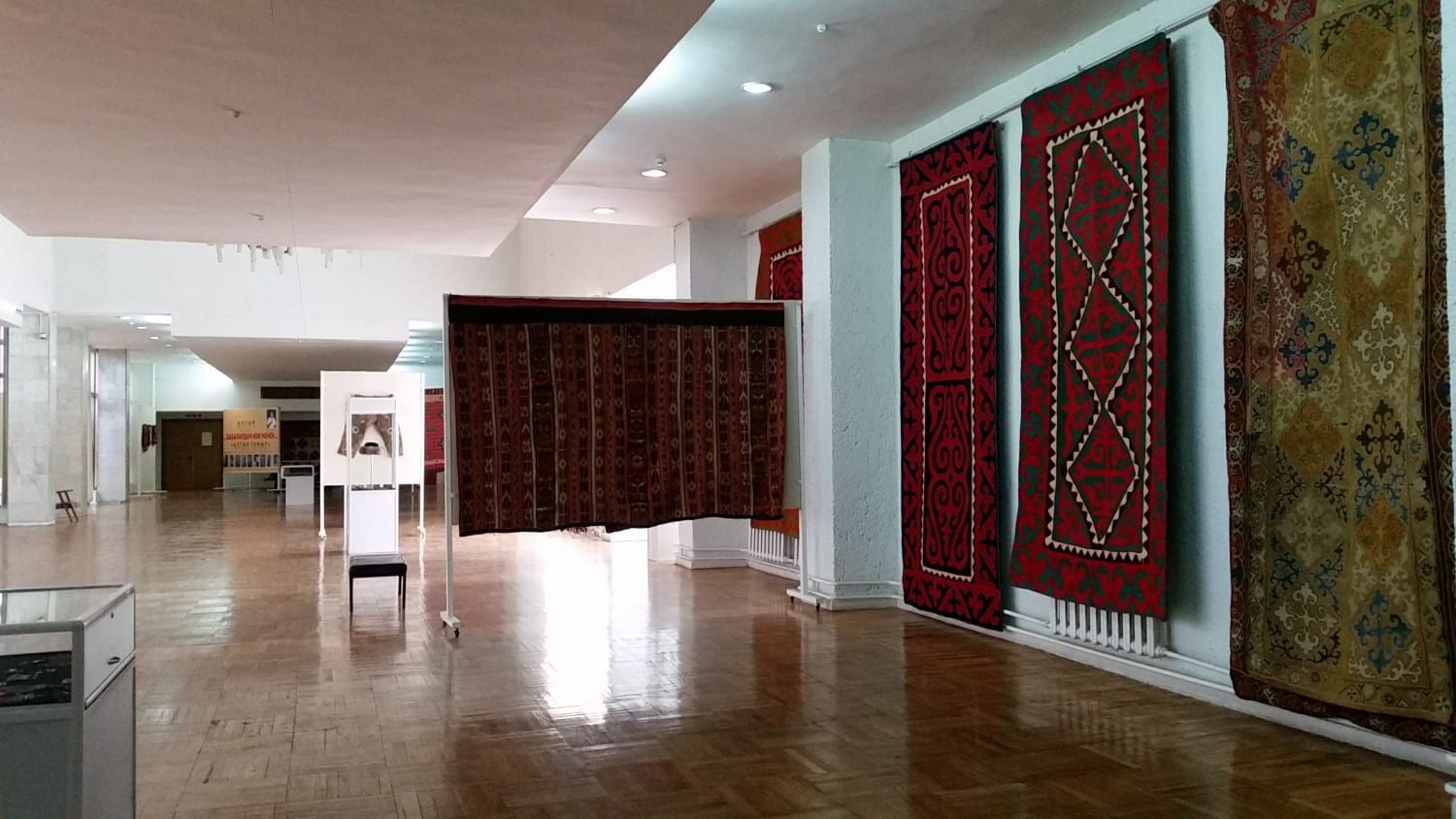 When I visited, a young woman was our guide, and it was her first day on the job. She was very nervous to speak in English about the artwork, but she did an excellent job. She occasionally spoke in Russian when she didn't know how to discuss the topic at hand. One of the school administrators, Asel, went with us, and she translated what we didn't understand . Asel also couldn't stop herself from touching the rugs and felt artwork, despite uncomfortable warnings from our tour guide. Overall, I enjoyed my visit to the art museum. I'm glad I had the chance to see Kyrgyz art, traditional and contemporary. Kyrgyz culture goes beyond yurts and horses, and the Fine Arts Museum is a great way to experience what else art in Kyrgyzstan has to offer.
National Museum of Fine Arts
Address: 196 Yusup Abdrahmanov St, Bishkek 720040, Kyrgyzstan
Hours: Closed Monday; Tuesday-Sunday: 10am-6pm
Admission: Adults 40 som ($0.57), Students 20 som ($0.28)
Website
Phone: +996 312 621 641