The Kyrgyz were largely a nomadic civilization up until the 20th century. It should be no surprise, then, that many of Kyrgyzstan's greatest museums are outside and/or in rural areas. The city of Bishkek also has a number of more traditional museums, mostly established during (and today often unchanged from) Soviet times, including a number of house museums celebrating the lives and works of a number of local writers, composers, and artists.
Kyrgyzstan's museums are also cheap; entrance fees generally average about a dollar. Although some rural facilities will require additional planning and transport, they are still very affordable experiences. In addition, Kyrgyzstan offers a yearly "Night at the Museum," an event when museums stay open late and offer masterclasses, lectures, and special exhibitions. Bishkek's "Night at the Museum" is usually in mid-May. Below are some of our top museum suggestions to see in and around Bishkek.
1. History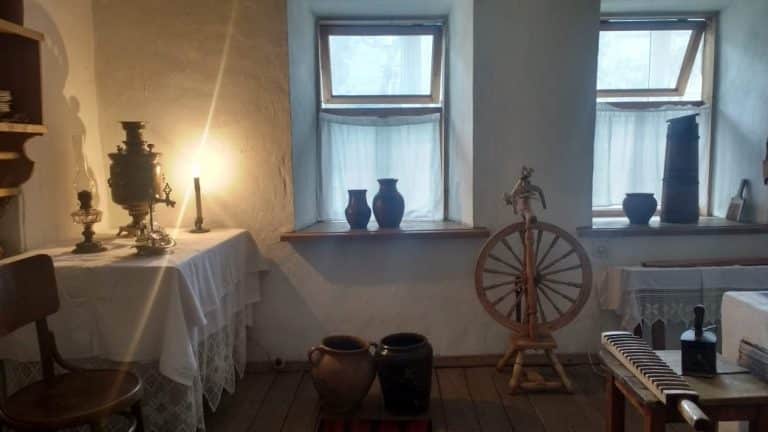 The Frunze House-Museum 
Frunze Street, 364
Frunze's former home, a modest thatched cottage, is engulfed by a two-storey museum, propaganda, and military weaponry. Mikhail Frunze was a native of Bishkek and Soviet general, and is credited with whipping the town into submission during the Russian Civil War. He's understandably not Kyrgyzstan's favorite son and the fact that this well-kept museum and the large statue of him gallantly on horseback near the railway station still stand is interesting in and of itself.
Open Tuesday-Friday 9am-5pm, Saturday & Sunday 9am-4pm.
Archaeological Museum
Chuy Prospect, 265a
This museum is located in and run by the Academy of Science, housing archeological artifacts and discoveries up to 100,000 years old. All exhibits and historical artifacts are collections of scientific researchers of the Academy found throughout the country.
Hours of operation unlisted.
Ishak Razzakov Memorial Museum
Chuikov, 90
The house-museum of the former First Secretary General of the Central committee during Soviet rule exhibits his book, Soviet memorabilia, Soviet awards, clothing, and his personal living quarters.
Hours of operation unlisted.
The State Historical Museum
Ala-Too Square, Chuy Prospect
See the archaeological and ethnic history of Kyrgyzstan. There are no English signs, but for buffs of Communist history the Revolution exhibit is a must-see as it exists largely unchanged from Communist times. The three-story museum displays the natural and political heritage of the country, ethnographic displays of the 19th and 20th century, and various forms of national artisanry.
Currently closed for renovations.
2. Art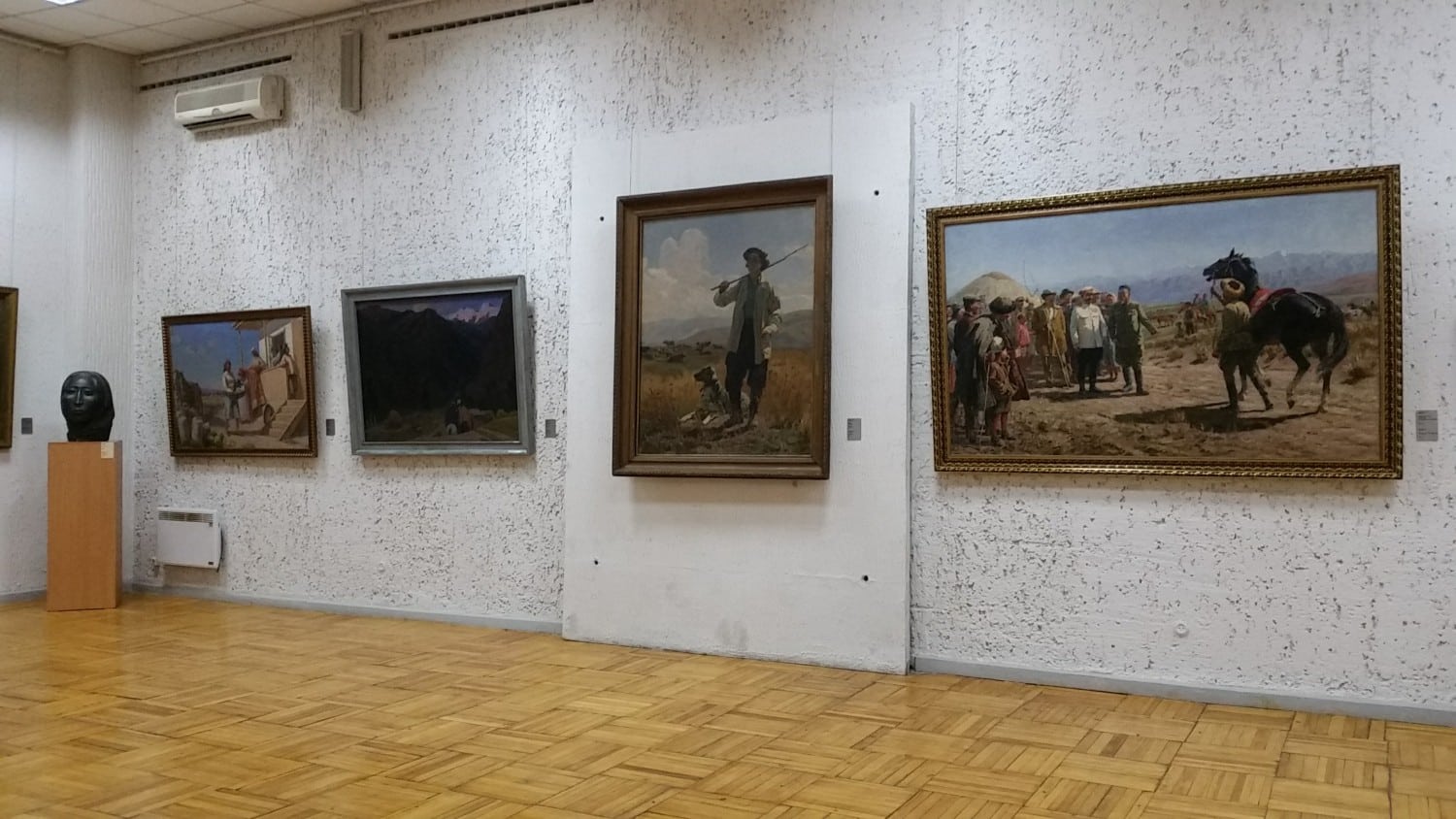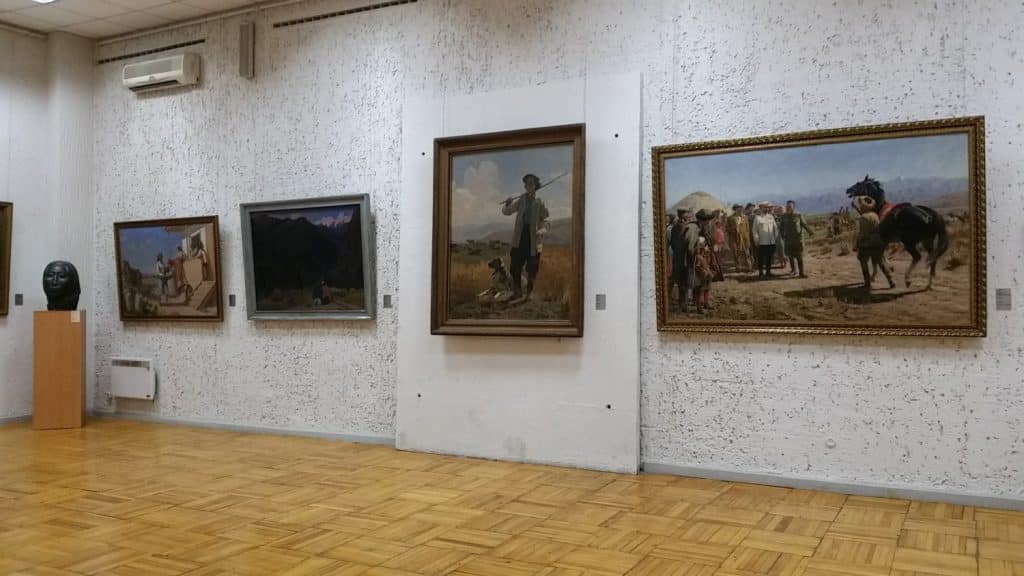 The State Museum of the Fine Arts
Sovetskaya, 196
This is the main art museum of the city, housing a remarkable collection of national art work, ranging from Soviet era collections of socialist realism to displays of national Kyrgyz design, jewelry, fabrics, and artisanry.
Open Tuesday-Thursday 10am-6pm, Saturday & Sunday 10am-5pm.
Olga Manuilova Memorial Museum 
Tynystanov, 108
This cozy house museum is dedicated to the work of Olga Manuylova, a Soviet sculptor from Russia who moved to Kirghizia in 1920. The museum also has special exhibits, featuring both Soviet artists, and contemporary painters and sculptors.
Open Monday-Friday 9am-12pm [lunch break] 1pm-5pm.
Semen Chuykov Memorial Museum
Chuikova, 87a
See the works of Soviet painter Semen Chuykov and his wife Eugenia Maleina. The museum is not well advertised on the street, but is accessible by foot from Sovetskaya street, walking toward the railway. You need to pass Turkish Air office and a hairdresser, turn right and it will be on your right.
Open Monday-Friday 9am-12pm [lunch break] 1pm-5pm.
Tinibek Sadykov Memorial Museum
Togolok Moldo, 50
This smaller, lesser known museum houses the sculptures of Tinibek Sadykov. You may see Sadykov's larger works on the corner of Chuy and Sovetskaya, Victory Square, and in the Philharmonic.
Open Monday-Friday 9am-12pm [lunch break] 1pm-4pm.
Gaspar Aitiev Studio
Corner of Tynystanova and Chokomorova
Gaspar Aitiev's studio now functions as a museum which permanently displays some of the work of painter and sculptor. The collection consists of landscapes and sketches in a range of different mediums. The museum is said to be run by the son of the artists himself and a wonderful experience for those interested in national Kyrgyz artists. This is no signage, so visitors may have to look around to find the museum itself.
Open Monday-Friday 10am-5pm.
3. Literature and Music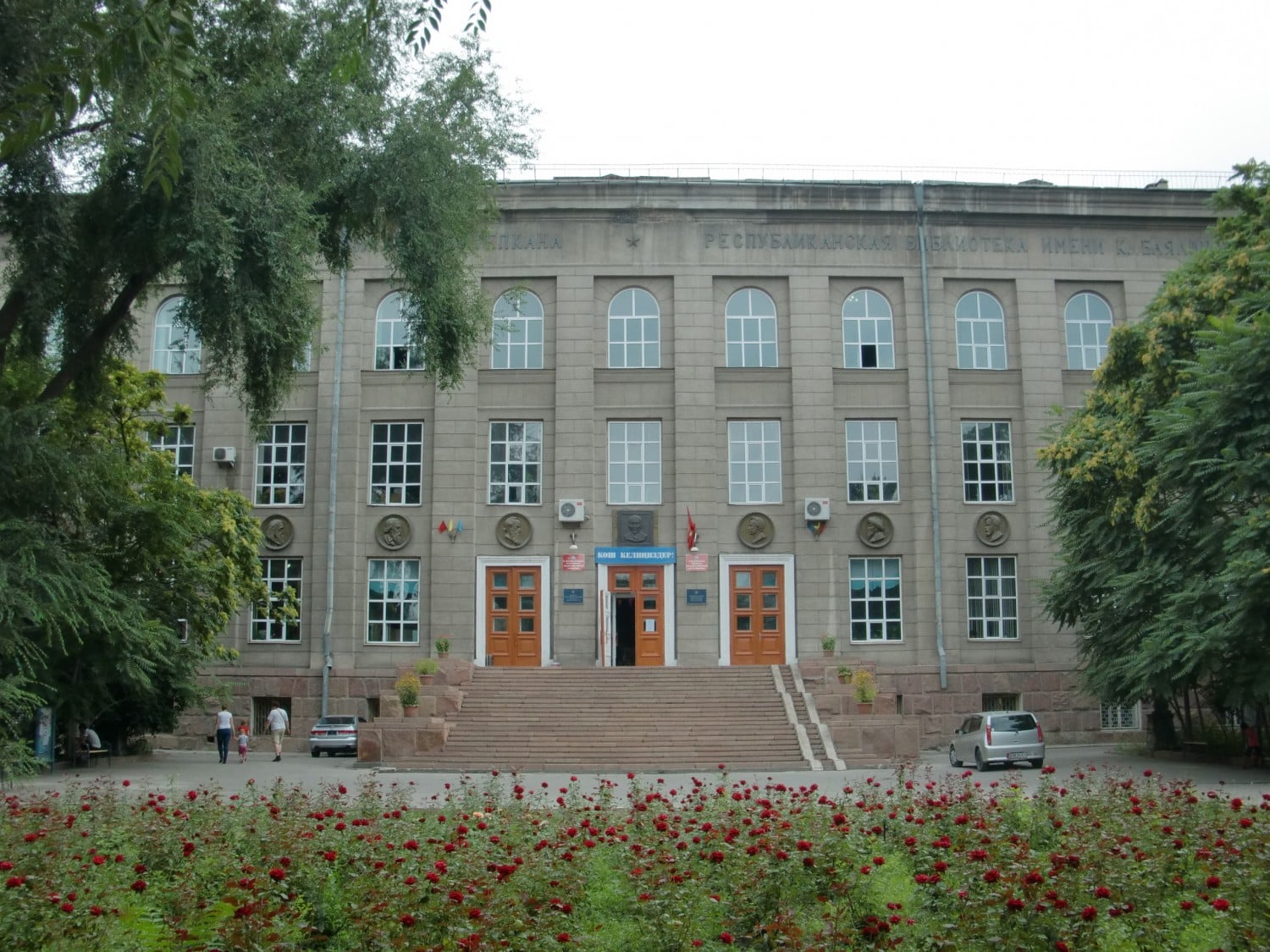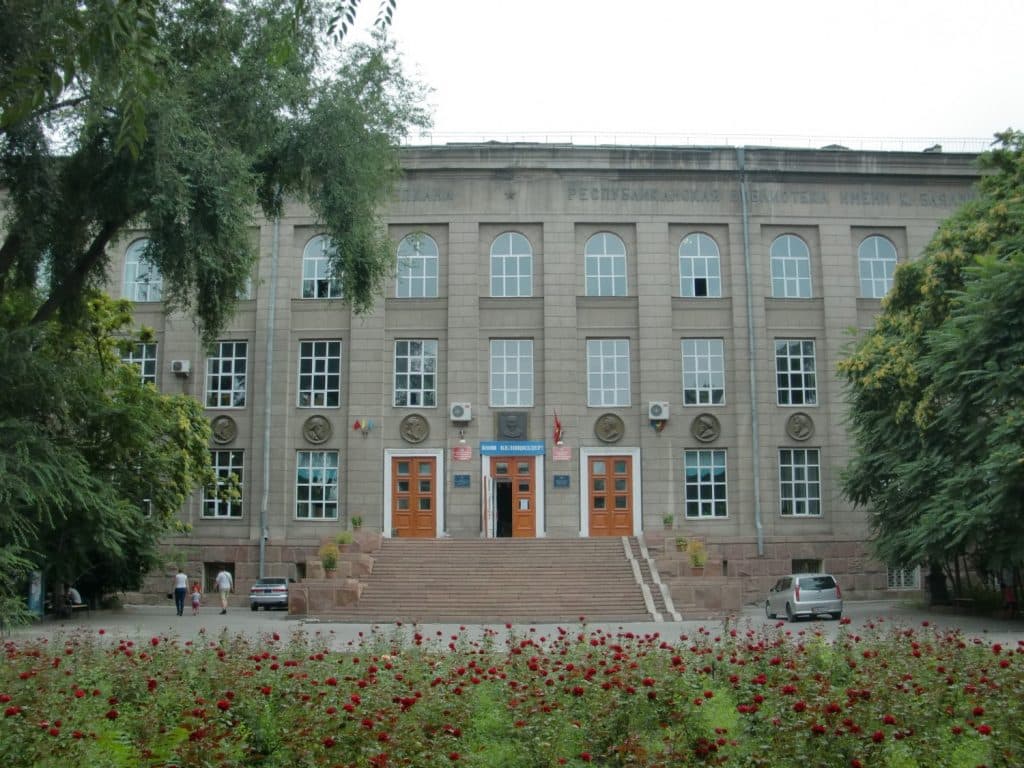 The National Library of Kyrgyzstan
Sovetskaya, 208
The National Library functions partially as a museum, but mainly as a repository for the literature published in country and many other former Soviet republics.
Open daily 9am-5pm.
Murataaky Kurenkeev Museum
Panfilov, 162
Located inside of the Kyrgyz State Music College, this museum is dedicated to the life and work of folk composer, musician, and college namesake, Murataaky Kurenkeev.
Hours of operation unknown.
Aaly Tokombaev Memorial Museum
Chuikova, 109
Tokombaev's former house has been turned into museum to honor the Kyrgyz poet and composer's life and work. One of his main accomplishments is helping standardize the written Kyrgyz language.
Open Monday-Friday 9am-5pm.
Toktugul Satylganov Literary Museum
Toktogul Street, 109
is a museum memorializing the literary history of Kyrgyzstan, Turkic writing, oral story-telling, and the most famous bard of the country, Toktogul Satylganov.
Open Monday-Friday 9am-12pm [lunch break] 1pm-5pm.
4. Science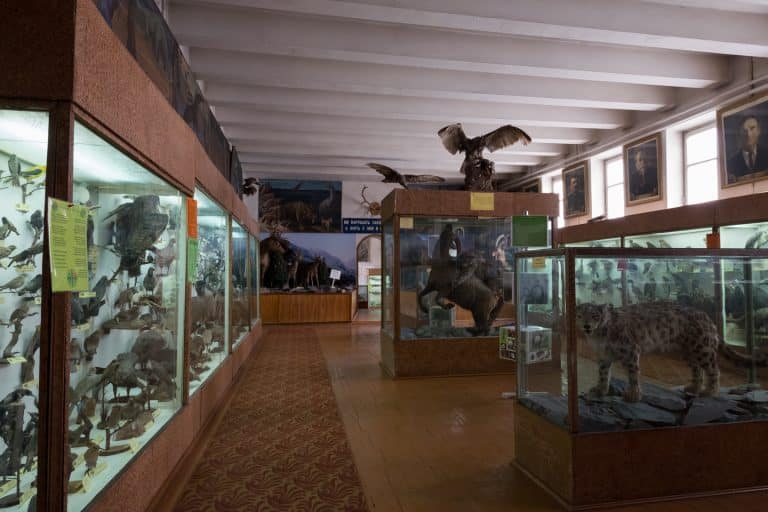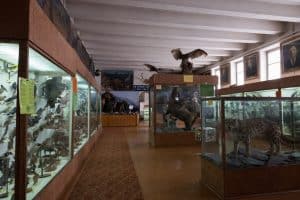 Geological and Mineralogical Museum of Mining
Chuy Prospect, 164
See geological displays of minerals, subsoils, and a collection of gold specimens found in Kyrgyzstan. This museum and geological training ground for academics contains fossilized trees, wood, dinosaur remains, ancient pieces of volcanic rock and other geological deposits and minerals.
Open Monday-Friday 9am-3:30pm. 
Zoological Museum
Chuy Prospect, 265
This small museum is run by the national Academy of Sciences that displays the various flora and fauna of Kyrgyzstan, including a decent collection of birds, eggs, and butterflies.
Open Tuesday-Saturday 9am-12pm [lunch break] 1pm-5pm.
4. Monument Complexes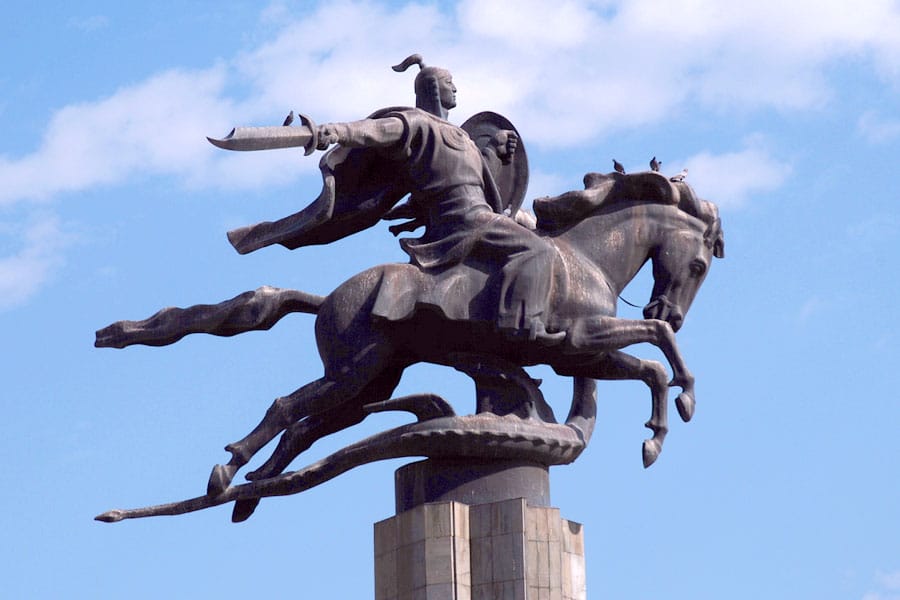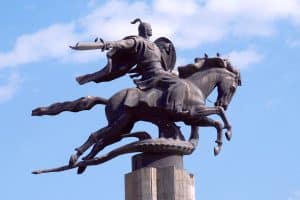 The Avenue of Heroes
Lines the park that divides Molodaya Gvardiya Street
These busts of heroes and statues of soldiers declare on repeated plaques: "We went to war for Communism!" The memorial was built by the Komsomol in the 1960s.
The Manas Statuary Complex
Outside the Philharmonia at Chui, 210
See the Kyrgyz national hero in a pose that strikingly resembles the Moscow logo of St. George, no doubt to show that similarities between between Kyrgyz and Russian cultures existed in the Soviet imagination. Manas is shown slaying a dragon (he is also guarded by one in the legends about him). His wife, Kanykei, is to his right in the traditional Kyrgyz dress of married women that can still occasionally be seen on the streets of Bishkek. Kanykei was his confidant and trusted adviser, part of a small but prominent tradition of strong women in ancient Kyrgyz history. Also featured are several statues of famous manashchi, the traditional bards that handed down the Manas legend from generation to generation. They are positioned as they would have sat in a yurt and recited their poetic tales. Although the tradition is now reviving, the Soviets broke this traditional chain by censoring and officially discouraging traditional forms of the tale as too "nationalist" for the USSR. Of those depicted, Sayakbay is known as the greatest bard.
Dubovy Park
Across from Ala Too Square
Flanked by the Fine Arts Museum, Frunze Museum, and State History Museum, this park is named for the century-old oak trees inside (the adjectival form of "oak" is "дубовый" in Russian). Inside, you'll find a trail with busts former of former Kyrgyz political figures. The Red Guards' Memorial is also here: a giant red obelisk marking the common grave of Bolsheviks who died in the 1918 counter-revolution. Yakov Nikoforovich Logvinenko, credited with defeating that counter-revolution, is also buried here (he died several years later). He still has a street named after him just a couple of blocks from the park, on the other side of Ala Too. Lastly, there is also a very congenial monument of Marx chatting with Engels, probably about the Monument to the Glory of Labor (also featured here).
Victory Square
Corner of Frunze and Ibraimov Streets
The square boasts two major monuments. The first is "Manas 1000," a giant concrete yurt (traditional Kyrgyz housing) which was built to honor the 1000th birthday of the legendary Kyrgyz hero, Manas. The date also handily coincided with the 40th anniversary of the end of WWII. The other monument, an eternal flame with a female statue who eternally mourns her fallen soldier husband and son, solemnly remembers the end of that bloody war.
4. Rural Museum Complexes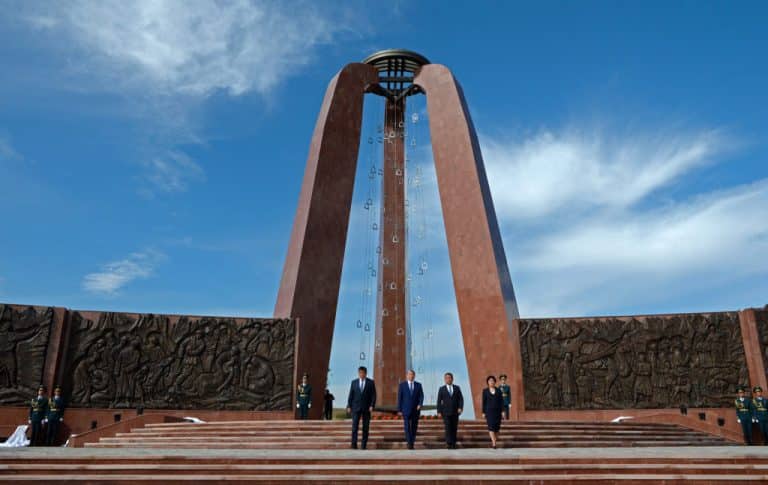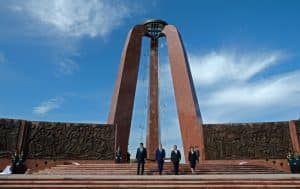 Ata Beiit (The Cemetery of Fathers)
0.5 hours from Bishkek
Just outside Bishkek, about a half hour drive from the city center, is the burial place of 137 people. Some of these were founders of the original Kyrgyz Soviet state who had then fallen from favor and were shot in the purges. Today, a memorial complex built at the gravesite honors all victims of the Stalinist repressions. There, the Museum of Ata Beiit houses personal belongings of those killed, archive documents, and a memorial plaque along the right side of the museum listing the victims of the repressions from 1937-1938. Also buried at Ata Beiit are some of the 86 victims of the April 2010 uprising against former President Bakiev.
Burana Tower
1.5 hours from Bishkek
Visit a ghost town in the Chuy Valley in northern Kyrgyzstan. The Burana Tower, along with grave markers, some earthworks and the remnants of a castle and three mausoleums, is all that remains of the ancient city of Balasagun, which was established by the Karakhanids at the end of the tenth century. The Burana Tower is a large minaret (an architectural feature of Islamic mosques) located 80 km east of Bishkek. An external staircase and steep, winding stairway inside the tower enables visitors to climb to the top. The entire site now functions as a museum and there is a small museum building containing historical information as well as artifacts.
Manas Ordo
5 hours from Bishkek, Talas Region
Manas Ordo park is about five hours from Bishkek through steep mountain passes. It is built around a mausoleum that may have been erected around 1334 and is thought to be the final resting place of the Kyrgyz national hero Manas, the epic hero who united the Kyrgyz people from 12 tribes. The epic poem Manas tells the story of his life in volumes twenty times longer than the Iliad and Odyssey combined. It is considered to be the most treasured expression of the national heritage of the Kyrgyz people. The site includes a horse track, a museum, a rose garden surrounded by 40 statues of Manas' soldiers, an offerings site, and a yurt where fortunes can be told. The complex was built in 1995 for the 1000 Years of Manas celebration, the first – and to date the largest – national celebration that has taken place in Kyrgyzstan since its independence.