Etagi — full name "Loft Project ETAGI" — can be described in one word: ambitious. The definition of a loft, according to the project web site, is "a large spaced previously used for industrial purposes, now with a different function." Etagi took that definition to the furthest extent, establishing itself as everything from an art gallery space, a hostel, a cafe, and much more.
The industrial space the project now occupies was formerly Smolninsky Bakery. Today, it has operated since 2007 as a landing area for a number of different projects all under one roof. Two art galleries, a cafe, a hostel, a bookstore, and several small exhibition rooms fit under the Etagi umbrella, offering much to fans of contemporary art, from fashion photography to video installations. Etagi is also something of an educational center, frequently hosting lectures about design, screening films, and holding creative workshops for adults and children alike.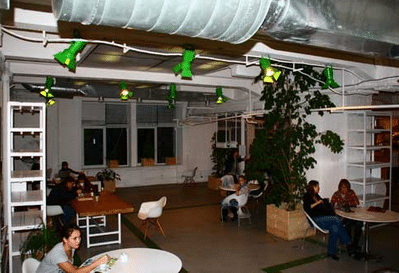 With hands in many baskets, Etagi is part of a growing number of Petersburg art spaces capitalizing on an increasing interest in contemporary art. While Petersburg is without a doubt the artistic and cultural capital of Russia, the majority of art offerings in the city are traditional, and found at formal art spaces such as The State Hermitage Museum and The State Russian Museum. Etagi's focus on contemporary artists, photographers, designers, and art trends helps fill a gap in the city's art scene, drawing a youthful and eclectic crowd of both locals and tourists.
Pioneering a hip atmosphere and interior in a city of classic European architecture and taste, stepping into Etagi – regardless of the room or floor – feels like you could be stepping into an art gallery space in New York or Paris, offering a refreshing glimpse into the contemporary. Making use of the original industrial interior, Etagi's exposed pipes, wooden and metal walls and high ceilings, and intentionally unpolished aesthetic make for a unique and decidedly modern experience.
That style is reflected in the art work exhibited here, including Fotowall Svetosila, an outdoor gallery in the yard outside the main Etagi building featuring large-scale photographs from contemporary Russian and international photographers. Etagi curators hope to expand this particular project to other unusual spaces in the city, thereby taking art from inside museum walls and directly into the city. Showcased photography can include fashion photography, photojournalism, Lomography, and both color and black and white pieces.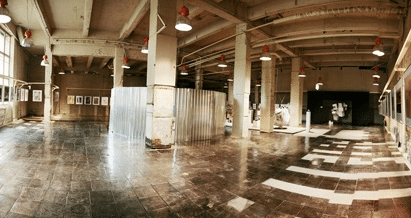 On the ground level of Etagi is the Katushki Space, an all-wooden, barn-like area designed to hold concerts and performances, including theatrical pieces and performance art. On the second floor you'll find Sever Bar, where you can try drinks as modern as the art on the walls. Offering less in the way of food as the third floor café, Sever focuses on drinks like "energy-giving teas" and shots of vitamin-infused juices. It's also a relaxed place to hang out, use the WiFi, or play a game of chess with its weekly Sunday chess club.
On the third floor you'll find the Prostranstvo Beliy Coridor, dedicated solely to "social photography." Photography showcased here is usually documentary style photojournalism about social issues like orphanhood, homelessness, and HIV. This is the floor where the Green Room Café is located, offering meals with organic, often times local produce, as well as a number of vegetarian dishes. Plates here are relatively inexpensive and start at around 100 rubles for salads, paninis, soups and small snacks.
The fourth floor is called the Prostranstvo Seryi Coridor, where video and multimedia projects are showcased. Here, visitors can watch everything from art house films to music videos on any of the 13 plasma flat screen televisions that hang on the walls like framed works of art. Also on the fourth floor is Etagi's bookstore, selling printed material on topics of artistic concern. Here you can find niche texts about graphic design, architecture, typography, advertising, and various threads of contemporary art. The next floor up is the main gallery space of Etagi, where big events like showcase openings and film screenings are held. With wooden floors and white walls and white chandeliers setting the vibe for this floor, the space almost looks like a working studio.
With so much to do, from catching a concert, attending a photo exhibition opening, grabbing a bite to eat, or even playing a board game, you might wish you could spend the whole night at Etagi. Well, you can, as Etagi is also home to a hostel with 2- and 8-bed rooms, starting at 550 rubles a night. The hostel includes a full-service kitchen pre-equipped with cooking utensils and has free high-speed Internet.
Etagi is a complex, multi-layered art space that meets the demand for refreshingly contemporary art and interior design in the heart of the ultra-classical St. Petersburg. For a list of upcoming events and exhibitions, click here.
Etagi / Этажи ("Floors")
74 Ligovsky Prospekt, Metro Ligovsky Prospekt
Open Monday – Friday 12 p.m. to 10 p.m.
Saturday and Sunday 10 a.m. – 10 p.m.
Admission free to 150 rubles, depending on exhibition
www.LoftProjectEtagi.ru/en