Works of Ilya Yefimovich Repin can be found in St. Petersburg at the Russian Museum, including his famous portraits of Lev Tolstoy. Reproductions of his paintings can be found in art stores across the city, and postcards bearing one of his works can be purchased in souvenir shops for only a few rubles. But not too far outside the city, about 40 kilometers north of Petersburg, near the Gulf of Finland, Repin's former estate still stands. This is where the famed artist and sculptor lived for more than 30 years. Today, it is both a museum and a memorial.
Located in a small, aptly named village called Repino, this estate is called "Penaty," or Penates in English (Penates are gods of the household in ancient Roman religion.) Repin, born in August 1844 and who died at the age of 86 in September 1930, requested to be buried here, thus the memorial aspect of this museum.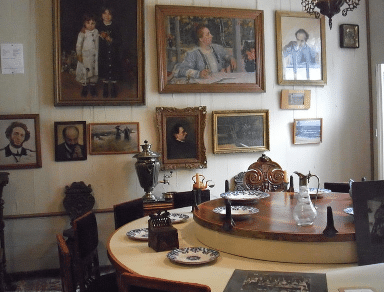 At the time of Repin's initial occupation of the estate, the territory on which it is located was still part of Russia. In 1918, it became part of Finland, making Repin a resident of Finland and restricting him from traveling to his own home country. The territory, known as Kuokkala under Finish rule, in 1939 again became part of the Soviet Union during what was known as "The Continuation War," fought with Finland during World War II. A year later in 1940 (and 10 years after Repin's death), the estate became officially open to the public as a memorial-museum to the artist.
Though not far from the city of St. Petersburg on the map, the estate is located what seems like worlds away from civilization. It is surrounded by a lush green forest with a small river running through it.
Active in Petersburg artistic and social circles, and even holding a post in the city as a professor at the Imperial Academy of Arts, Repin made use of this quieter estate outside the city as a place to reflect and work in a more peaceful location.
Around 100 of Repin's works are on display at Penates, from completed paintings to drawings and sketches. A visit to this site is a uniquely interesting way to become better acquainted with the artist's works, as visitors can see inside Repin's workshop, office, and even dining room – offering a closer look into his life and works outside the context of a traditional art museum.
Now under the governance of the Russian Academy of Arts, the estate is carefully preserved to look as it did in Repin's time. Part of the estate suffered damage after German occupation during World War II, meaning much of it had to be restored and recreated, a process that took some 22 years. It was reopened in 1962. Visitors can still get a good idea of what it looked like in Repin's time, as well as see many salvaged personal belongings and mementos. The museum has carefully preserved these items — from furniture to photographs — giving an eye into his lifestyle and family life. Other items on display are newspaper clippings about Repin or his exhibitions, as well as preserved family recipes and original cookware.
While many of these photos and documents are readily display on walls or in frames, there is also an archive at Penates which includes never-published photos, from a professionally done portraiture of Repin and his wife, Vera Alekseevna Repina, to more candid shots featuring normal life on the estate. Exactly which photos are displayed may be subject to change, as the museum frequently hosts various themed photographic exhibitions culled from the archive.
While the buildings comprising the estate are resemblant of traditional Russian folk architecture, there are a few important modern updates. The roofs of the building are now comprised of metal and glass, allowing natural light into the rooms, a far cry from their original wooden variants. There is also now a lecture hall for academic groups and a souvenir shop.
While it will take perhaps an hour to get here – the opportunity to see the work and living space of this great Russian artist is well worth it to any student interested in art and studying in St. Petersburg – or even just any student wanting to get some fresh air and see the lush green countryside that Russia has to offer!
Ilya Repin Memorial Museum "Penates"
197738, St. Petersburg, Repino, Primorskoe Road, 411
Open Wednesday – Sunday, 10:30 a.m. to 5 p.m.