The Loft Project Etagi (Этажи) is a creative space affectionately known as "the loft" by those who frequent it. A community-driven project to develop modern art in St. Petersburg, it has a nuanced history that reflects Russia's transition from communism to a market economy and represents Russians' desire to contribute to the development of their economy and society. It can be found at 74 Ligovsky Prospekt, in St. Petersburg, near Metro Ligovsky Prospekt.
Post-Soviet Urban Revitalization in St. Petersburg
By Lucy Harnish
The building housing the loft project, a repurposed bread factory, was built in 1936. During this time, the USSR's major cities were rapidly industrializing. The Smolinsky Bakery survived the fall of communism, but moved to a new space in 2005, abandoning the central location for a more cost efficient space further out. This was a rapid and often-seen process that eventually created a "rust belt" of abandoned production space in St. Petersburg and other cities. Following global trends in city development, these centrally located abandoned spaces soon became part of revitalization projects. In Russia, these were led by a newly emerging creative class, which formed creative clusters, hotbeds of art creation and consumption, in the rust belts.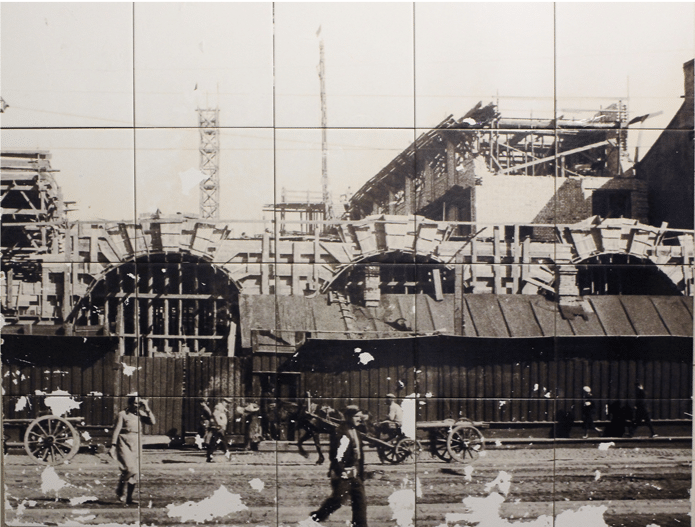 In St. Petersburg, this development was regulated by the Russian Ministry of Culture, which was charged with preserving areas of historical significance, and St Petersburg's Investment Committee, which sought to develop and expand the city's transitioning economy. The Committee offered incentives of discounted leases or even donated property to developers if 70% of development would contribute to social activities.
A 2017 study by A.V. Aleinikov et al., for St Petersburg State University found that creative spaces in the city rarely have any impact outside of their walls. The study found that the loft, which was the first of its kind, is the only exception. The street it is located on, Ligovsky Prospect, has changed drastically. Once an industrial neighborhood, it is now full of art galleries, shops, and restaurants and has become an area that youthful residents flock towards.
Although their individual contributions have been more limited, there are now more than 100 creative spaces in repurposed developments in St. Petersburg. Collectively, these efforts are contributing greatly to positively impacting the city's creative capital and helping St. Petersburg to grow a unique brand for itself on a global scale.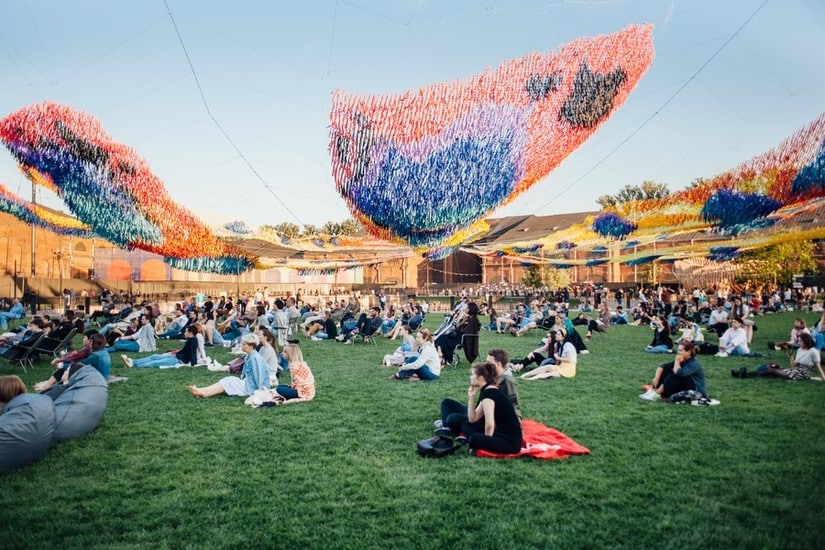 The Loft's Organizational History
By Lucy Harnish
The Loft Project Etagi opened in 2007. The founders of the loft are brothers, Igor and Saveliy Arkhipenko, who turned the industrial area into a creative space with galleries and workshops. Saveliy Arkhipenko, the more public of the two, had already developed connections within St. Petersburg's creative community as an architect and designer. After the pair purchased the building, they worked with photographers, artists, and sculptors from all over the world, but also with local artisans and entrepreneurs to fill the building's five floors with a semi-chaotic ecosystem teaming with galleries, shops, classrooms, and studios each run by individuals each sharing their own creativity, vision, passion, and products.
St Petersburg has long been a global center for European art. When the loft was developed, the city already housed the Hermitage, the second largest museum in the world, and the Russian Museum, the world's largest collection of Russian art, and many other museums of note. The Arkhipenkos thus knew that art is a vital part of the culture in St Petersburg – but also recognized that not enough was being done to sponsor the growing local contemporary art scene. Today, the loft serves as attractive addition to Petersburg's pantheon of artistic spaces, and has shown an ability to adapt with changing times. It brings in an eclectic group of people from artists, tourists, and local Russians of all types.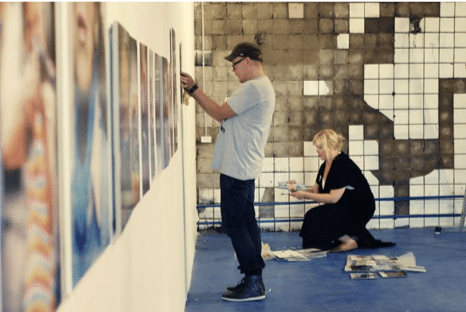 Although originally dependent on donations and grants, this organic structure has now allowed the loft to become a fully self-funded, self-sustaining creative institution. Now that they have filled the full factory – and indeed, beyond, with shops and space spilling out into the courtyard – they have also turned their focus to not just hosting individuals, but incubating their enterprises to the point where they might expand beyond the loft.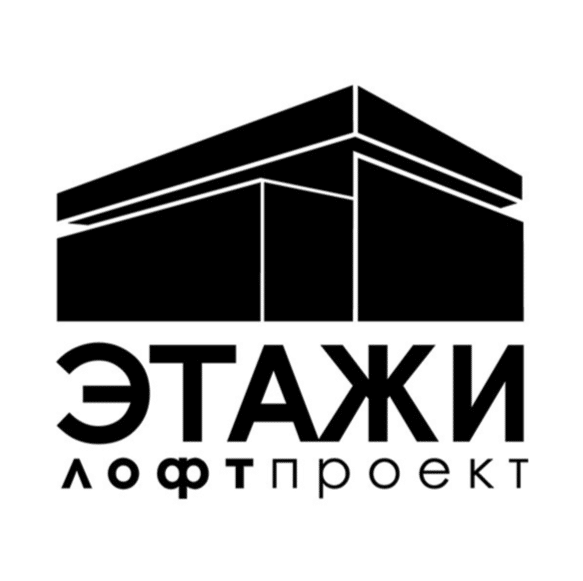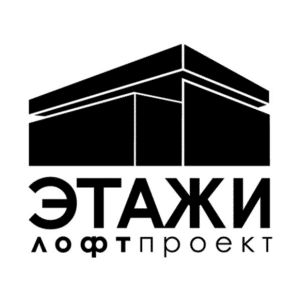 In 2018, the loft underwent a rebranding effort, changing its symmetrically perfect logo into one that is pixelated. The graphic designer of this new logo, Mitya Kharshak, described his latest work as "dissembled into details." Certainly, in a place where there are no directions and one must wonder around a bit to find different shops, it is the small details that matter the most. This redesign coincided with the loft's transitioning mission statement with a new focus on becoming an incubator for start-ups rather than simply acting as an art gallery.

Whilst the loft changed their logo and their mission statement, the interior and exterior of the building remained the same. The building's industrial exterior and interior are met with contemporary art and design throughout the building: there are concrete columns, bread-making equipment broiler tubes, iron floors, all combined with new and antique furniture as well as floor-to-ceiling white walls. Thus, while the project is focused on modern life, cultural production, and contemporary art, the entire project also actively seeks to remember its past. This is similar to the style of many art galleries in reclaimed spaces in New York and London.
The brothers' investment into the art market turned out to be a huge success. In 2008, the space developed had grown to host up to 11,000 to 15,000 people for large exhibitions. To this day, when you enter the loft project the alleyway and building are full of people.
Structure of the Loft
By Lucy Harnish
The building has a unique circular layout, focused on its center. Each floor, including the basement, roof, and surrounding alleyway, have been turned into useable space. Each is unique and generally chaotic and ever-changing in its own way. The whole project, in fact, takes its name from these floors: "etagi" means "floors" in Russian.
The first floor is fairly open and you can see from one side to the other, with a food court with small stands featuring various local food vendors. The set-up is reminiscent of a fair or exhibition where vendors set up small booths and call out to you to purchase vegan food, shawarma, Korean food, desserts, burgers, and more as you walk by. The other floors, however, are structured around the staircase that runs through in the middle of the building.
In the basement of the loft is the Pioneer DJ School. The old-school style of the industrial building is met with a new job opportunity in the ever-changing world. They offer attendees individual lessons as well as online training. They also have a small shop with a range of equipment available to purchase. Although the loft reflects Soviet history with its industrial exterior, it is completely modern in its ability to accept new streams of creativity and make these streams available to the general public.
The second and third floors of the loft feature a variety of places where you can purchase unique items made in Russia. There is also a variety of used clothing stores where you can find inexpensive items from multiple periods in fashion. Woven throughout these floors are also shops selling photography and paintings. For example, on the second floor is a shop where you can have a picture of your retina taken and framed. Venders and artists rent small rooms the line the walls. There is no consistency in the layout of the shops as you can find anything from a hookah shop to a skincare shop on the same floor.
The fourth floor is given over to a traditional art gallery with temporary exhibitions by mostly local artists. For instance, Lada Ulitina held an exhibition there called Dreams of Infinity.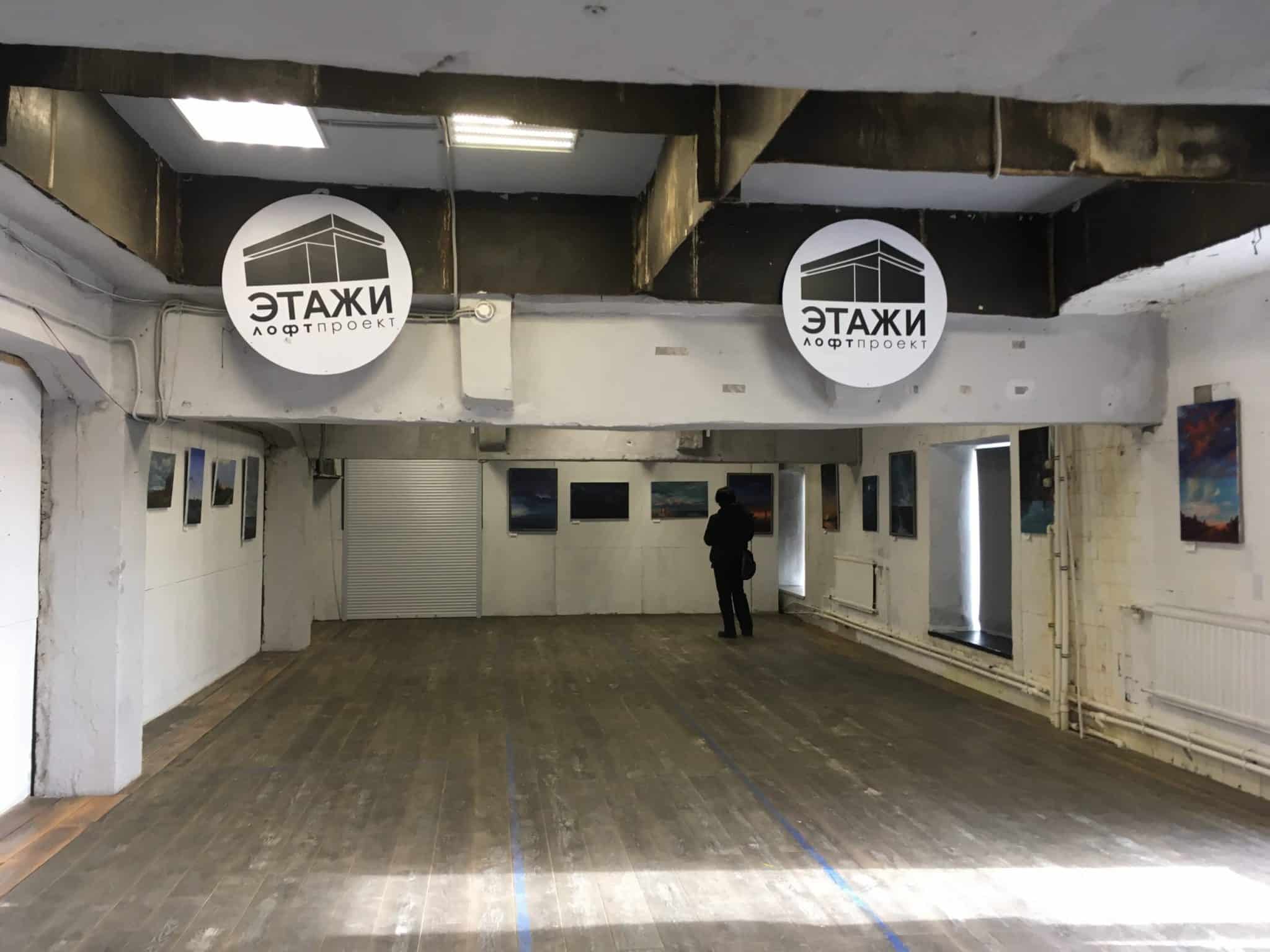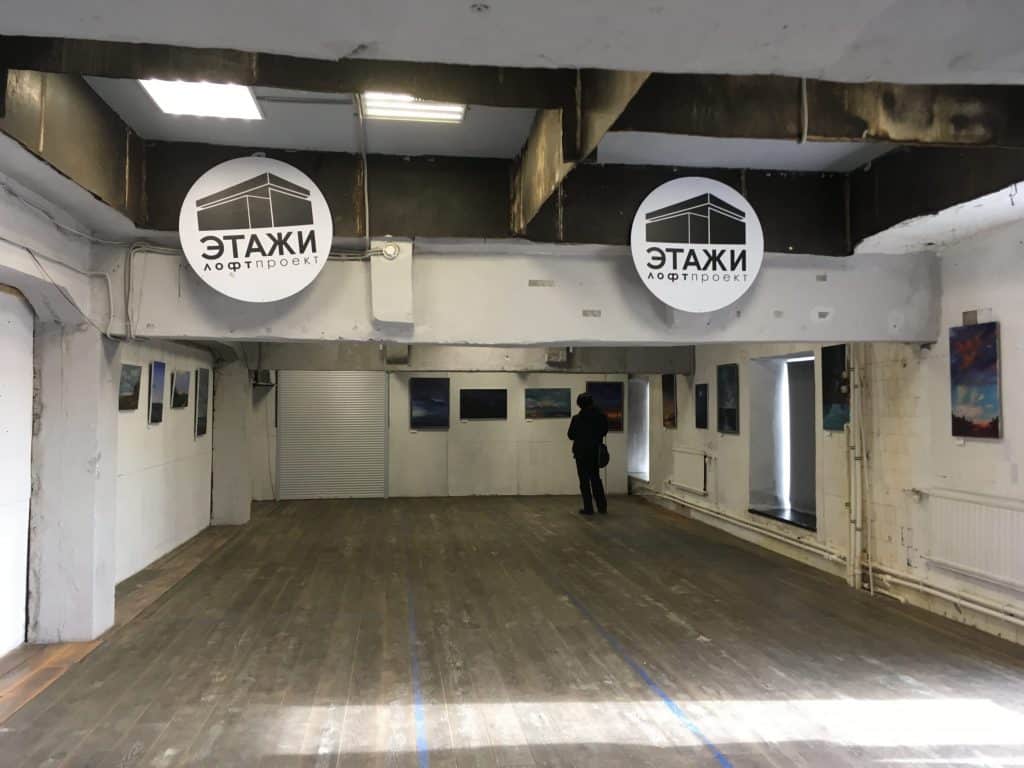 On the fifth floor is an anti-cafe called the Green Room. These sorts of cafes were born in Russia and are now very common in St Petersburg. The premise of an anti-cafe is to pay for your time rather than the food you purchase, so you can get an unlimited quantity of (simple) food and drinks while you are there. The Green Room is also an ideal place to work on your Russian as it is a great place to either meet Russians or bring a language partner. Some people use it as a coffee shop to work on homework alone. The anti-café also sits next to a more traditional food court that has a larger seating area than the court on the first floor.
The loft's roof is also used as a creative space and is one of the highlights of the building. From the roof you can stand 27 meters above the city, on St. Petersburg's second highest open air observation deck and sit or mingle with other visitors. Only visiting St. Isaac's Cathedral will get higher. In the summer months, a variety of events are hosted on the roof including art shows, poetry readings, wine tastings, and musical performances. The fee to enter the observation deck is very low at only 100 rubles per person.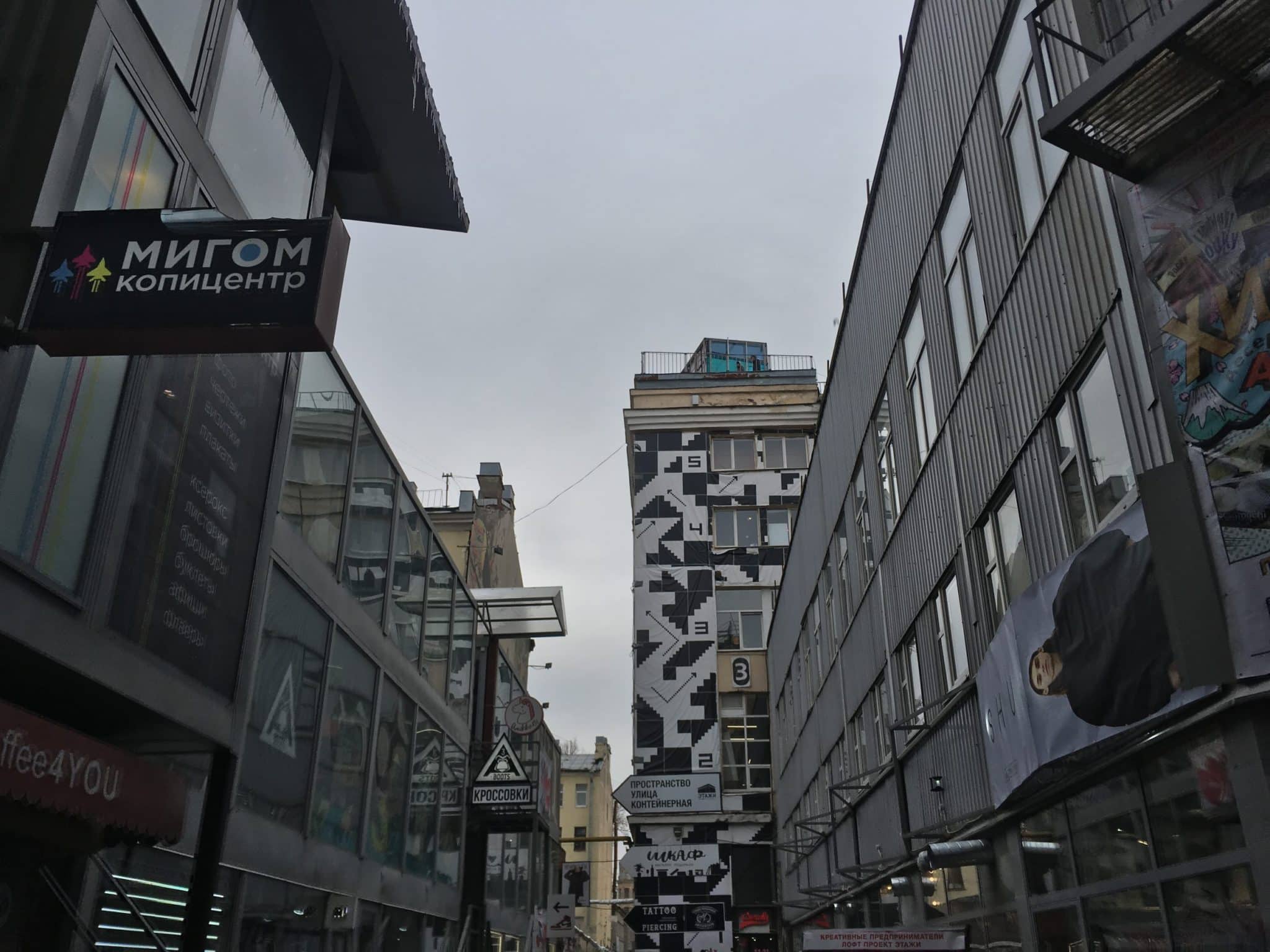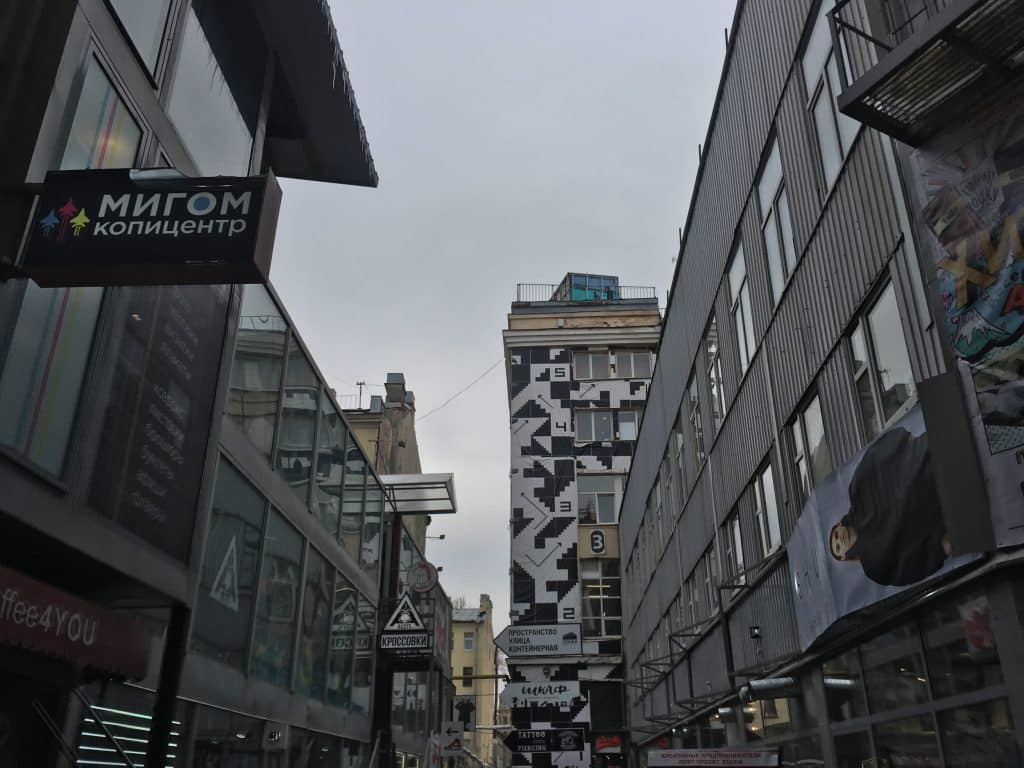 Finally, the large alleyway that leads to the entrance has also now filled with little stands and large clear containers that host shops and small cafes. Upon entering you are greeted by a youthful Russian crowd. This modern look is instantly juxtaposed with the Soviet style industrial building that hosts the rest of the shops. This juxtaposition of old and new is a common thread throughout the project.
One store in the alleyway, named Capsule, stands out among the rest. The store is completely oriented towards youth street clothing and accessories but only sells Russian made products such as the popular St Petersburg brand named MEDOOZA. According to the MEDOOZA's website, the two owners, Ivan and Alexey, created the brand to embrace "Freedom, Creativity, and Individuality." This kind of brand reflects the entire idea of loft: sponsoring the development of art and clothing made in Russia. According to the company's website the clothes are designed and produced in St Petersburg, so if you would like a locally-made sweater or t-shirt, this should be your first stop in the city.
The loft's support of the local community is also seen in the variety of events it holds to bring locals together. For example, in early March it hosts an annual Spring Market where you can purchase unusual locally produced handmade items. Some of these events also more directly reflect the loft's commitment to displaying the written, verbal, and visual arts. Most exhibitions are temporary – which of course helps keep people coming again and again, forming a community and helping the businesses it hosts, but also means that one needs to follow the schedule if you like art and don' t want to miss anything. For instance, in April of 2018 the loft hosted Marina Koldobskaya's Ladybug performance in which she painted a wall to rhythmic music while the audience watched.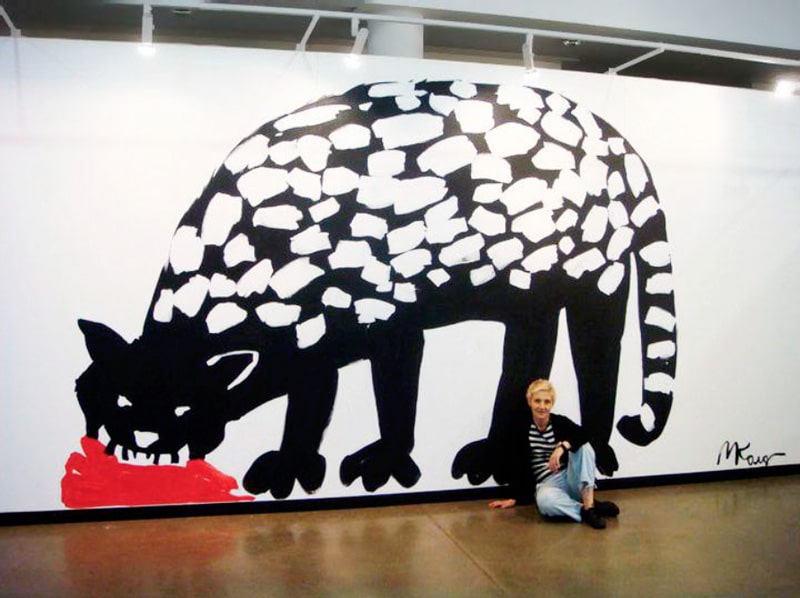 Overall, the loft is the success story of urban revitalization creating a new self-sustaining system for cultural production and consumption in St Petersburg. Today, the building still stands as a reminder of Russia's Soviet past is now most sought after place for modern art to be displayed. The project has spilled beyond its walls to create a new community of youthful Russians that is transforming Ligovsky Prospect, and all of St Petersburg into an economically sustainable community at the forefront of global culture.
Student Review of Etagi
By Kristin Torres, 2013
Etagi — full name "Loft Project ETAGI" — can be described in one word: ambitious. The definition of a loft, according to the project web site, is "a large spaced previously used for industrial purposes, now with a different function." Etagi took that definition to the furthest extent.
It hosts an art gallery space, a hostel, a cafe, a hostel, a bookstore, and several small exhibition rooms fit under the Etagi umbrella, offering much to fans of contemporary art, from fashion photography to video installations. Etagi is also something of an educational center, frequently hosting lectures about design, screening films, and holding creative workshops for adults and children alike.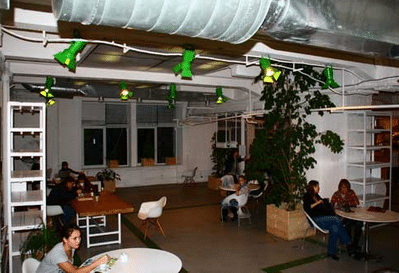 With hands in many baskets, Etagi is part of a growing number of Petersburg art spaces capitalizing on an increasing interest in contemporary art. While Petersburg is without a doubt the artistic and cultural capital of Russia, the majority of art offerings in the city are traditional, and found at formal art spaces such as The State Hermitage Museum and The State Russian Museum. Etagi's focus on contemporary artists, photographers, designers, and art trends helps fill a gap in the city's art scene, drawing a youthful and eclectic crowd of both locals and tourists.
Pioneering a hip atmosphere and interior in a city of classic European architecture and taste, stepping into Etagi – regardless of the room or floor – feels like you could be stepping into an art gallery space in New York or Paris, offering a refreshing glimpse into the contemporary. Making use of the original industrial interior, Etagi's exposed pipes, wooden and metal walls and high ceilings, and intentionally unpolished aesthetic make for a unique and decidedly modern experience.
That style is reflected in the art work exhibited here, including Fotowall Svetosila, an outdoor gallery in the yard outside the main Etagi building featuring large-scale photographs from contemporary Russian and international photographers. Etagi curators hope to expand this particular project to other unusual spaces in the city, thereby taking art from inside museum walls and directly into the city. Showcased photography can include fashion photography, photojournalism, Lomography, and both color and black and white pieces.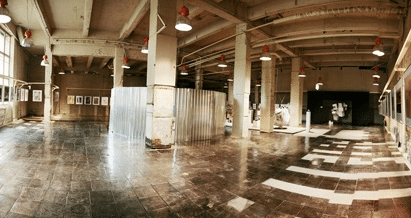 On the ground level of Etagi is the Katushki Space, an all-wooden, barn-like area designed to hold concerts and performances, including theatrical pieces and performance art. On the second floor you'll find Sever Bar, where you can try drinks as modern as the art on the walls. Offering less in the way of food as the third floor café, Sever focuses on drinks like "energy-giving teas" and shots of vitamin-infused juices. It's also a relaxed place to hang out, use the WiFi, or play a game of chess with its weekly Sunday chess club.
On the third floor you'll find the Prostranstvo Beliy Coridor, dedicated solely to "social photography." Photography showcased here is usually documentary style photojournalism about social issues like orphanhood, homelessness, and HIV. This is the floor where the Green Room Café is located, offering meals with organic, often times local produce, as well as a number of vegetarian dishes. Plates here are relatively inexpensive and start at around 100 rubles for salads, paninis, soups and small snacks.
The fourth floor is called the Prostranstvo Seryi Coridor, where video and multimedia projects are showcased. Here, visitors can watch everything from art house films to music videos on any of the 13 plasma flat screen televisions that hang on the walls like framed works of art. Also on the fourth floor is Etagi's bookstore, selling printed material on topics of artistic concern. Here you can find niche texts about graphic design, architecture, typography, advertising, and various threads of contemporary art. The next floor up is the main gallery space of Etagi, where big events like showcase openings and film screenings are held. With wooden floors and white walls and white chandeliers setting the vibe for this floor, the space almost looks like a working studio.
With so much to do, from catching a concert, attending a photo exhibition opening, grabbing a bite to eat, or even playing a board game, you might wish you could spend the whole night at Etagi. Well, you can, as Etagi is also home to a hostel with 2- and 8-bed rooms, starting at 550 rubles a night. The hostel includes a full-service kitchen pre-equipped with cooking utensils and has free high-speed Internet.
Etagi is a complex, multi-layered art space that meets the demand for refreshingly contemporary art and interior design in the heart of the ultra-classical St. Petersburg. For a list of upcoming events and exhibitions, click here.
You Might Also Like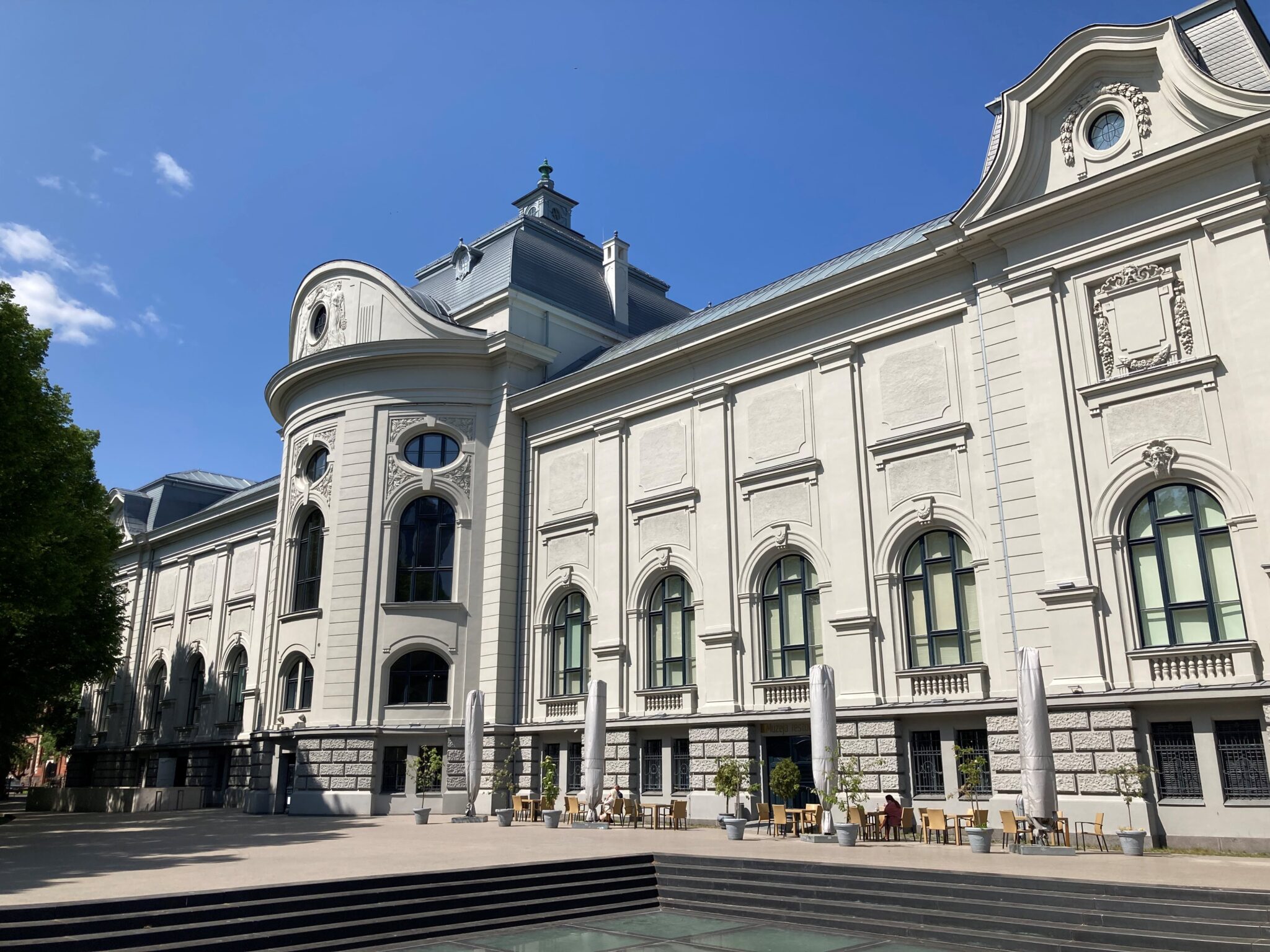 The Latvian National Museum of Art is one of Riga's oldest and best known art museums. Its permanent collections focus specifically on Latvia's own national artists and on telling the story of the development of art in Latvia. It also rotates temporary exhibitions that can introduce you to even more striking and more recent Latvian […]
0 comments