Parks and Recreation, Ukrainian Style:
Fitness and Fun in Kiev
Parks have long held a charming and often central place—literally and figuratively—in American city life. In my own personal experiences growing up in rural Indiana as well as traveling to New York City, parks have played a subtly important role, whether hosting small town baseball games and local festivals, or providing a peaceful place to sit and read in the midst of Midtown Manhattan. I was particularly interested, then, to see what parks are like here in Kyiv, the capital of Ukraine, upon arriving in the city for my SRAS summer program last week.
While I am happy to report that the parks and recreation system seems at least as important to city life in Ukraine as in America, parks also have a very different character in Kyiv. On the one hand, parks here seem to be far more common and democratized, with seemingly every block of apartment high-rises possessing at least one or two small playgrounds, makeshift fitness areas, or semi-landscaped plots. On the other hand, however, many of the parks are far nicer than many American parks tend to be. While the contrast between these two typical types of Ukrainian parks is intriguing, students can and should take advantage of both during their stay.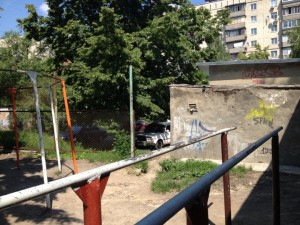 I am currently living with a host family in an apartment complex in the Akademichestkaya neighborhood of Kyiv (last stop on the red line metro). One of the first things I took note of during my tour of the area was the stereotypical local "sports park," which is not much more than an outdoor track, a sandy soccer pit, some gymnastics bars made out of old pipes, and a couple small courts suitable perhaps for badminton. Despite the rusting chain-link fence and the distinctly dated, Soviet atmosphere of the place, its sheer simplicity—in contrast to the typical elaborate and air-conditioned American gym—made a good first impression, and I returned a few days later for my first workout there.
After having been so used to weight lifting and gym machines in America, it was refreshing to simply run on the track and do some exercises using the old bars and jungle gyms. I say "simply," but I was definitely sore the day after, and if you know how to get creative with bodyweight and plyometric exercises it's easy to get in a great workout. These smaller, local parks can provide a more natural and local alternative to actual gyms, and perhaps most importantly, they're free (gym admission and memberships in Kyiv are often rather expensive).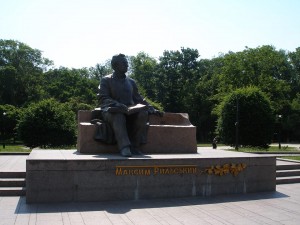 The other typical type of park in Kyiv that I and my fellow SRAS students have experienced so far is much larger, nicer, and decidedly more image-conscious than your friendly neighborhood fitness area. Parks such as "Голосйвський парк имени М.Т. Рильського" (Golosiyivsky National Park, named after the Ukrainian poet Maksim Rilskii) offer a much more aesthetic park-going experience. According to one of my SRAS friends who is living near the park this summer, Golosiyivsky is often filled with people who gather to cycle and run on the trails and paths that lead through the woods there. The park also boasts a small Ferris Wheel and some refreshment stands, perfect for after a workout on a hot Ukrainian summer day. Even more impressively, Golosiyivsky park proudly displays a statue of its namesake—standard practice here in Ukraine and throughout the former Soviet Union. While larger American parks also often have statues of famous national heroes or figures, the monuments and the parks in which they reside seem to have a heightened sense of importance here in Kyiv.
Of course in a city of more than four million people there are likely other types of parks here in Kyiv as well—so my advice to any and all SRAS students who come here is to explore whatever parks might be in your neighborhood or favorite area of the city, and take full advantage of them while you're here!