The Art and Museums Program was a highly fulfilling and engaging experience, combining guided museum tours with independent research. I would recommend this program to any student who is interested in Russian art, culture, and history, and who is not afraid to be a little adventurous. The program will have a lasting effect on my interest in Russia and I am looking forward to returning someday.
Faculty
Dr. Elena Varshavskaya and Katya were phenomenal instructors and coordinators, sharing with us a profound knowledge of Russia. Elena is such a patient and compassionate woman, tailoring each day and excursion to our interests. One of my favorite memories was when Elena took us inside the Hermitage when it was closed to the public. We could sketch the artworks in pure peace and silence, receiving advice from Pavel. I also loved the printmaking class and getting to see the inside of a professional artist's studio. Some suggestions for improvements could be requiring a daily sketchbook or museum journal to document what we learned, less free time in the "research week" in favor of more instruction, and possibly one overnight trip nearby.
In the International Department office, April, Mae, and Katya were also extremely effective in helping students adjust to the dorms, get around, and answer general questions about the city. In Moscow, Josh was very kind, generous with his time, and intelligent on Russian politics and history. I had great trust in him as I arrived a few days early in Moscow, and he showed me around the dorm, helped me get a metro pass, and told me about affordable places to eat. I am glad I got to contribute to the website, too, as it gave me the chance to reflect meaningfully on my experience. My email correspondences with April, Elena, and Renee Stillings were timely, detailed, and helped persuade my parents of the program's high quality.
Excursions
The day trip to Peterhof Palace was definitely my favorite. The fountains, the obvious physical and emotional centerpiece of the palace, were a delight to see during the opening ceremony. Our group had a front-row view of the fountains. Sergei, our guide, was very informative and provided an in-depth look at the gardens, Peter the Great's many "trick fountains," the triangle fountain, and more. On a return visit with Dr. Varshavskaya, we got to go "behind the scenes" and tour the grotto and stand a few feet away from the fountains (a great place for a group picture). Blessed with good weather, both trips were delightful and revealed Peter the Great's dual personality (humble living vs. extreme extravagance).
The trip to Tsarkoe Selo was wonderful as well, but we were caught in a downpour. We saw Catherine's Palace, the Agate Room, some of the gardens and fountains, and Pushkin's Lyceum. The history of the palace during its dramatic expansion, as well as the damage done during World War I, was very interesting. The roof was reconstructed with assistance from a helicopter (though initially they did not have this type of technology) and some rooms (like the amber room) were brilliantly remade from photographs – a type of reconstruction that is really fascinating to me. The grand hall was one of the most impressive rooms, with mirrors opposite each other to create an illusion of endless space. The amber room was overwhelmingly detailed and decorated, but it was special getting to walk through it. Since Pushkin is one of my favorite writers, seeing the classroom where he taught was rather meaningful to me. I am grateful to Elena for taking us here.
As an independent weekend trip, I went to see Kizhi Pogost – it was a breathtaking way to see the green Russian countryside. The restoration work on the domes was very interesting and I loved seeing the local festival, with singing, dancing, poetry, and colorful clothing. The wooden architecture, the silver domes, the home featured in the recent Anna Karenina film, etc., really made the trip come to life. Although it took a bit of preparation and time to get there, I would certainly recommend it to students who have a free weekend.
Saint Petersburg
Initially, I felt very intimidated and overwhelmed to be in a Russian city when I could neither speak nor read Russian. However, as time went on, I found it easier to get around, take the metro, talk to people in cafes and museums, and see the city's great sites. The people were very friendly and willing to help if I got lost. By the end of my program, I felt comfortable reading Russian signs, menus, etc., or at least able to sound out what they meant. In addition, I took advantage of the musical life here, and attended a choir concert in St. Isaac's Cathedral, an orchestra concert in the Philharmonia, and a ballet in the Alexandriinsky Theatre. Hearing Tchaikovsky in person is always spectacular, but hearing his music in Russia is something else. It was definitely one of my favorite memories and I will remember the spirit as I continue my piano studies.
The Hermitage deserves its reputation as one of the finest museums in the world. Each night, I would visit Palace Square or walk along the Neva, feeling completely safe and mesmerized. The sunsets, the fireworks, and the energy were perfect. The Russian Museum was my personal favorite, including works of art by Repin, Vasnetsov, Malevich, and more. I also enjoyed Erarta, the Kunstkamera, and the Museum of Avant-Garde, gaining an understanding for how museum spaces are utilized to reflect the type of work. The house museums and estates I saw, including Dostoyevsky, Akhmatova, Repin, Rimsky-Korsakov, and Pushkin, really made what I had studied at my home university feel vibrant and authentic. Having a little bit of free time each day was very rewarding because I could supplement my experience with Elena with literary and musical history, something I am deeply passionate about. On numerous occasions, I would go to a café to read or write in my journal about each day's impressions.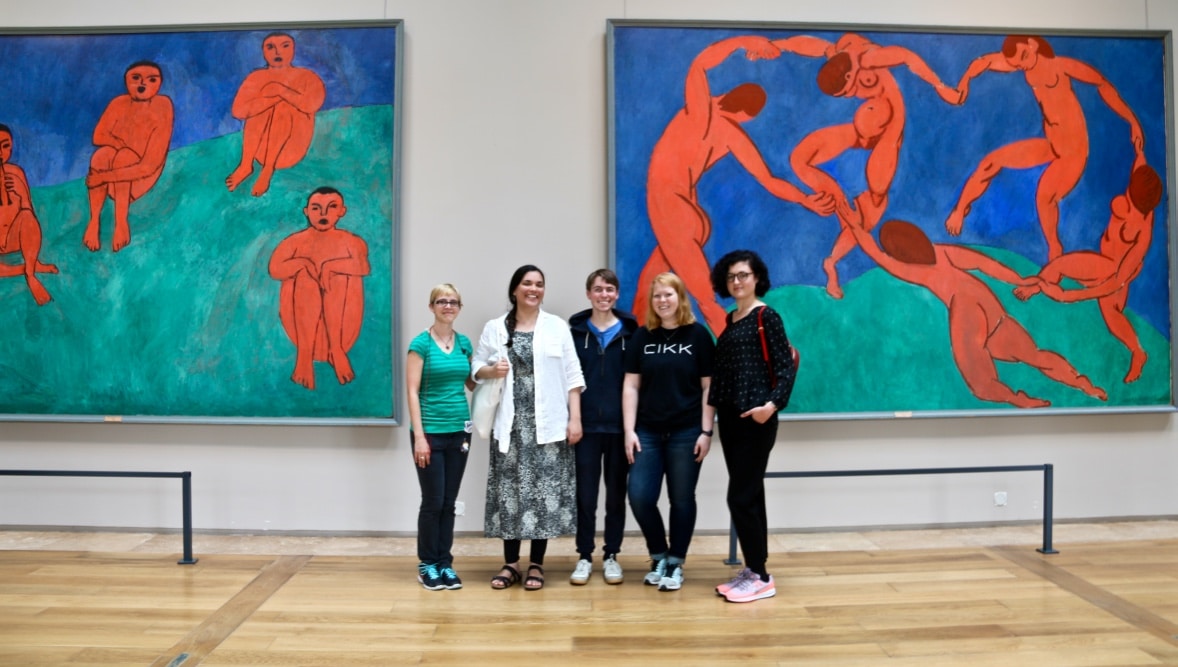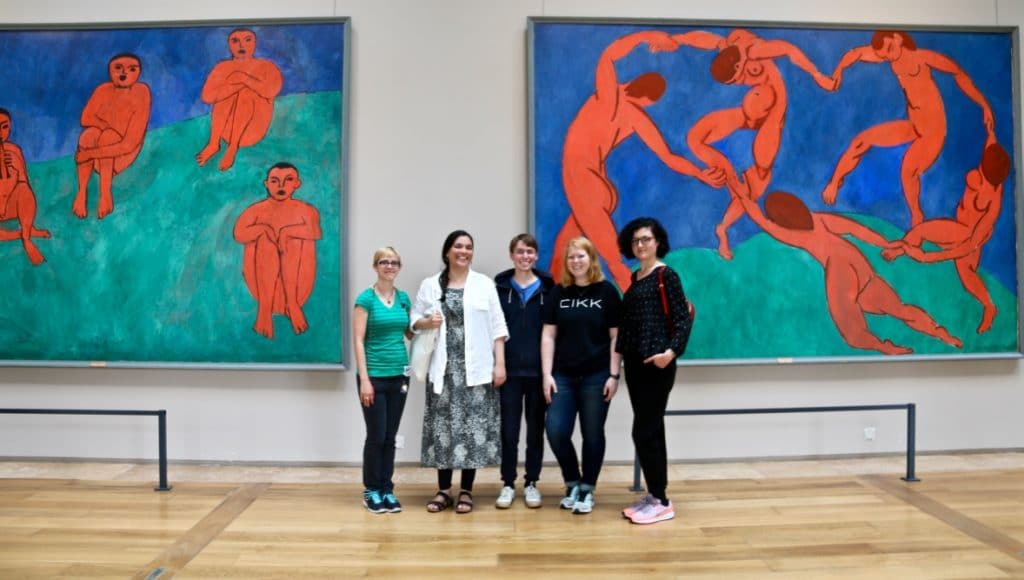 Moscow
The capital city is worth visiting, in part, because it is so different from Saint Petersburg. At first, I was a little overwhelmed and thought it was quite an enormous, fast-paced city, similar to New York. Everything felt older, larger, and more spaced out. Many streets were closed off (completely or partially), which made walking around difficult, and in general I was amazed by how much construction there was. Of course, this is heartening that the government cares about maintaining roads, sidewalks, and so on.
The Kremlin tour, including entrance into the churches, patriarch's palace, and the diamond fund, was spectacular. I was pleasantly surprised and impressed by the architecture and layout. The colorful gardens, the military processions, and the diamond fund were spectacular, and I gained a different appreciation for this space – not only as a political one, but a historical one as well. As a suggestion, it would be nice if SRAS organize a trip to the Golden Ring as part of the group travel, since it shows students a different place near Moscow.
The discussion of Russian political history over breakfast was interesting. I think the location in an American restaurant was clever, but the music was so loud/distracting that I found it difficult to hear or concentrate, and so did some of the other students. Nevertheless, the conversation helped deconstruct some of my previously held stereotypes about Russia and provided some clarity to a complex foreign government system.
Accommodations
I was pleased with the ideal locations of both dorms; safe, convenient, and charming. It helps, as a foreigner, to see something spectacular very close to the dorm, and Kazan Cathedral, Griboyedov Canal, and the Church on Spilled Blood really helped orient me in the city. The dorm bedroom had plenty of space and a reliable bathroom, though the bed was a bit springy, the shower temperature could be freezing when the city-provided hot water was turned off for maintenance, and the ceiling skylight made it tough to sleep sometimes. The front desk staff did not speak any English, which was tough for me, but they became friendlier over time.
The hostel in Moscow was excellent. The women working at the front desk were friendly and helpful. The beds were comfortable, the bathroom and shower were good, and the location near Novokuznetskaya station was perfect. It was very easy to get around by metro travel, although this was intimidating at first, and it let me see a lot of the city. The metro stations are unique, elaborate, and beautiful. The walk to Red Square was not too far and was quite scenic along the way, but, as I mentioned before, closed sidewalks and stairways made for some backtracking here and there. The evening views of the Moskva River are unrivaled… though my opinion always goes back and forth between both cities.
Language
By not speaking the language, I sometimes felt unable to engage with local Russians, but this never led to any dangerous situations, only some slightly awkward encounters. It was less difficult than I imagined, though, and I quickly adapted and even learned how to read some Cyrillic. While I think understanding Russian would be highly beneficial, prospective students should know that it is not impossible to visit and study in Russia otherwise. It just requires some patience and extra preparation.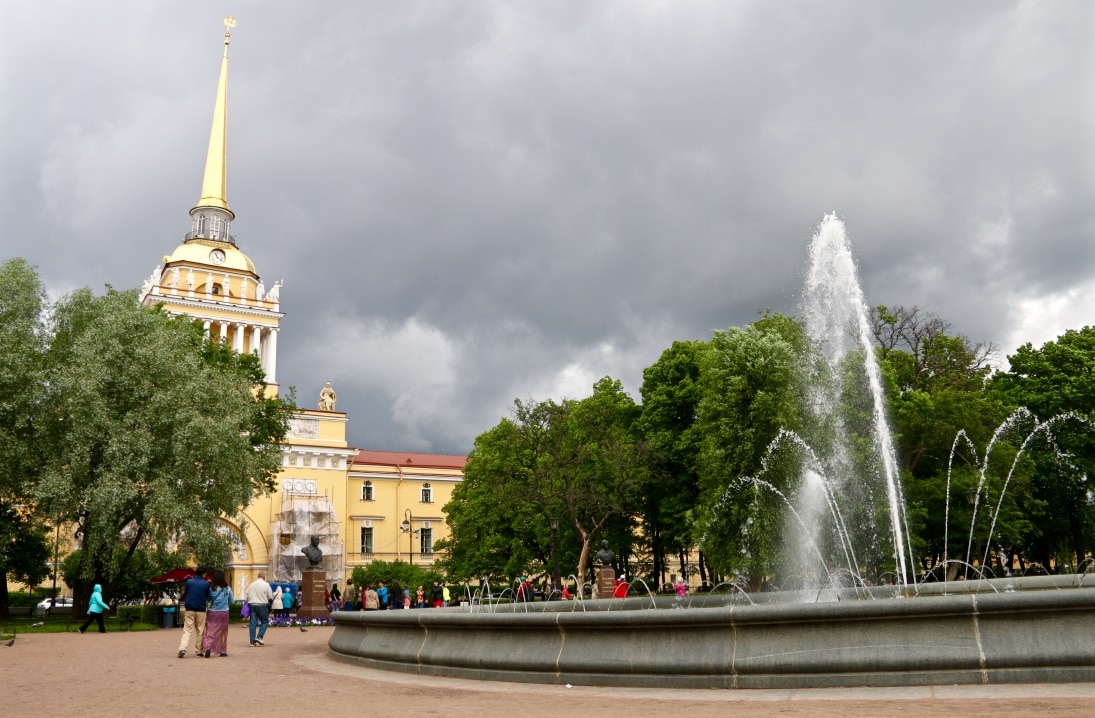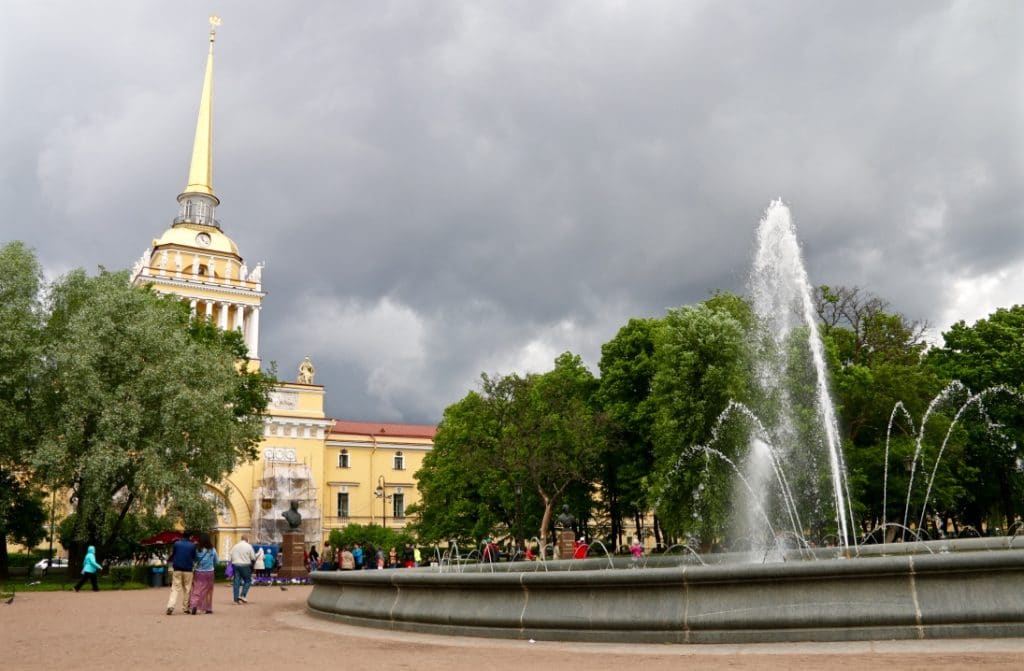 The Future
After my experience with SRAS, I am still interested in Russian culture and history. I have been inspired to take language classes at a local library in the fall and spring, outside of my university (since it doesn't offer Russian language courses). If I develop enough skills, I may even ask my piano teacher to instruct me in Russian, to test my ability. We'll see! Certainly my previous held stereotypes of Russia have shifted; I now have a greater appreciation for ordinary Russians and several beautiful Russian cities. More than anything else, I enjoyed taking photos and documenting each day of my trip so I can relive and share my experiences with family and friends.
Since my university does not offer courses in Russian authors or history, I will continue to read authors I enjoy on my own, which may figure in somewhere at a graduate level, should I choose to pursue a Ph.D. It still feels off in the future, though. I don't doubt that this trip and experience has affected me at a profound level, and it will surface in my creative writing, poetry, piano, and future endeavors. I would love to return to Russia someday, perhaps working in international relations, photojournalism, or teaching English as a second language. I am grateful to SRAS for giving me such an extraordinary experience in Russia. Thank you.