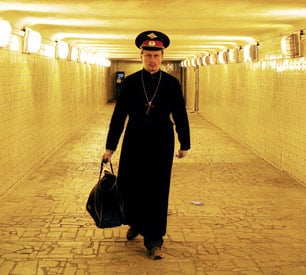 The radical and absurdist art collective Voina (which means "War," in Russian) was founded in 2005 by husband and wife Oleg Vorotnikov (who goes by "Vor" or "thief" in Russian) and Natalia Sokol (who often goes by the nicknames "Kozlenok," or "Koza," both of which refer to goats).
Described by supporters as a "street collective of actionist artists who engage in political protest art" against "philistines, cops, [and] the regime," the collective has also been labeled by detractors such as the Russian Investigations Committee (a law enforcement body in Russia) as a "left-wing radical anarchist collective whose central goal is to carry out PR actions directed against the authorities, and specifically against law enforcement officials with the aim of discrediting them in the eyes of the public."
Vorotnikov is quoted as saying "the most vivid people are with us now – and not just Russians. We now have followers and members in different parts of the world" in a 2011 interview with Radio Liberty. The collective counts 3000 supporters worldwide, with 70 in Saint Petersburg alone but also with affiliations in Italy, France, South Africa, and the United States. Although the group renounces money, they did accept over $100,000 from renowned British street artist Banksy, who posted the money as bail for co-founders Vorotnikov and Leonid Nikolayev after one of the many times they have been arrested.
Nadezhda Tolokonnikova, Maria Alekhina and Yekaterina Samutsevich, the Pussy Riot members currently serving jail time for their role in the 2012 Punk Rock Prayer in Moscow's Cathedral of Christ the Saviour, are also affiliated with Voina and have participated in several of the group's actions. Due to their explicit and unapologetically confrontational pieces, some art circles and journalists have debated whether Voina can even be considered an artistic group, and note that it is difficult to tell when the group is acting seriously.  However, co-founder Vorotnikov disregards this, noting that it is his social duty as an artist "to express openly what other people fear to express, to offend the police and thus protect the people 'like Robin Hood.'"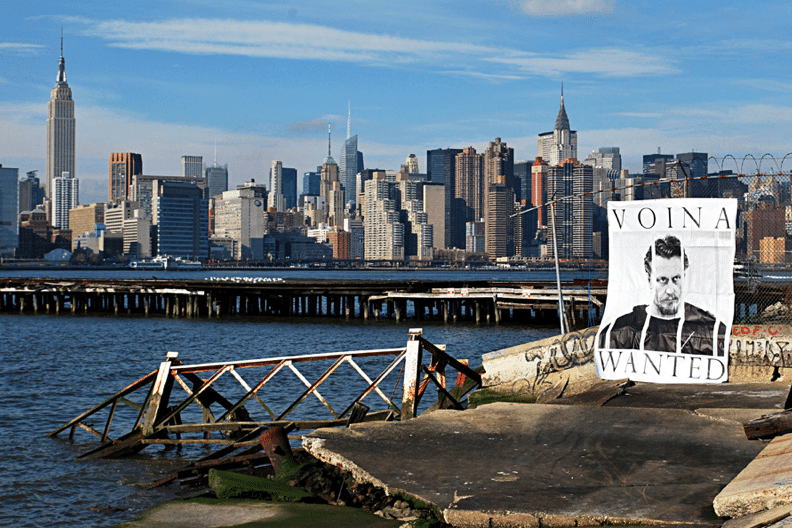 Co-founder Oleg Vorotnikov was born in 1978 in Perm Krai, and graduated with a degree in philosophy from Moscow State University in 2003.  As a result of his work with Voina, a warrant has been issued for his arrest, and his name is currently featured on an Interpol list. However, Vorotnikov appears to consider the warrant a compliment, calling it "one of the highest forms of recognition." He has been charged with hooliganism, incitement of hatred against a social group (namely, the Russian police), using violence against a government representative, and insulting a government representative.
His wife, Natalia Sokol, earned a Ph.D in physics from Moscow State University in 2006, and has also been living on the fringes of society since 2010, when police seized her documents, including both her Russian internal and international passports. She is currently homeless, unable to receive health care and has been a nation-wide fugitive since 2011, when she was charged under the criminal code after police officers were sprayed with urine during an opposition rally in Saint Petersburg.
Other prominent Voina members include Lev Nikolayev ('Crazy Lenya'), a college dropout who has been arrested more than 30 times in connection with his opposition action, and who is currently facing criminal charges in connection with a Voina action. Voina's de facto spokesman, Alexei Plutser-Sarno was born in Moscow in 1962 and served with the Red Banner Northern Fleet. A graduate of Estonia's Tartu University, he has authored several books and maintains Voina's blog, entitled "Ironic Notes from Russia About Protest Street Art and Radical Political Artists."
Although at times Voina's actions can appear absurd, the group maintains a list of clearly-stated goals and objectives, and believe themselves to be following in the footsteps of the radical artists from the last century.  They have even gone so far as to draw comparisons with Leo Tolstoy, who, over the course of his life became increasingly ascetic, and Voina's supporters have stated that "Tolstoy and Voina's rabid views regarding sex, money and truth set them apart from the mainstream. "  They seek to encourage the rebirth of protest art around the world, following in the footsteps of the artists of the 1920s, as well as to contribute to the rebirth of "heroical behavioral ideals of an artist-intellectual."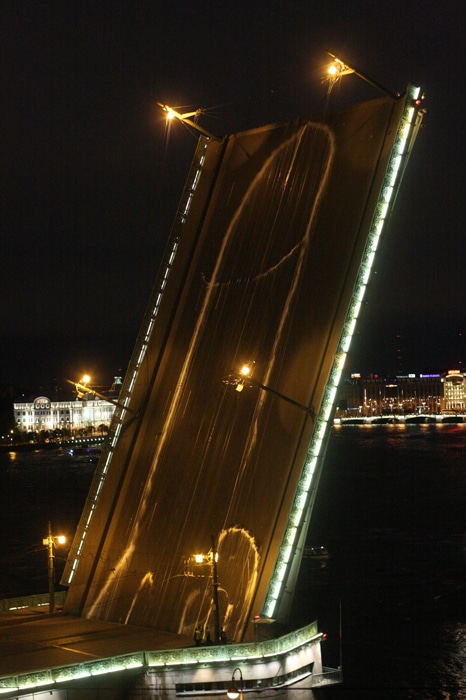 Voina's actions are often characterized by their combative and sometimes  shockingly sexual nature, "designed to challenge the viewer and mock the Russian authorities."  In 2010, five members of the group painted a 60-meter tall phallus on Saint Petersburg's Liteinyi Bridge as it was set to be raised for the night.  The bridge and accompanying street painting rose to stand tall above the city, and pointed towards a branch of the offices of the Federal Security Bureau. The piece was subsequently entitled "Cock Held Captive by the FSB." The entire process took only 23 seconds, and was carefully planned and rehearsed in a parking lot over the span of two weeks prior to the action.  Other members of the group acted the roles of drunk fans and confused cyclists in an effort to distract the bridge's security guards. Russian artist Vasily Tsereteli has remarked that the group is the international leader in graffiti art, for "no artist in the world has created this kind of work on such a large scale."
The piece was awarded the 2011 State Innovation art award, yet this apparent state sanction of the group's work did not come without issues. Many members of the Russian art world are still wary of the state apparatus, and when asked to comment on the award later in the evening, a gallery owner declined the opportunity, stating "I have a career to think of."
At the time of nomination to the Innovation prize, both Vorotnikov and Nikolaev were held in prison for their roles in a piece of performance art entitled A Palace Coup. The name, a play on the Russian word for "coup" or "overturning" saw members of the group overturn several police cars stationed in the vicinity of Palace Square during the course of one night in Saint Petersburg.
Voina was originally struck from the list of Innovation prize shortlistees, only to be reinstated at a later date, after leading Russian art experts Andrei Erofeev and Ekaterina Degot registered their complaints. However, Voina member Alexei Plutser-Sarno stated that the group would not accept the prize money, although they would accept the honor, as they considered the award to be "a proposal of dirty money from the Mafioso-like authorities."  Despite further protests by members of Russia's Public Chamber, the award was eventually granted.  Degot has been recorded as noting that "everybody is for Voina. It's an unprecedented consensus in the contemporary-art community."
The group has staged several other performance art pieces, including the 2008 "Fu** for the Heir the Little Bear!" This was an orgy staged in Moscow's Timiryazev Museum of Biology on the eve of former President Medvedev's election.
Another performance art example from the group is their 2010 "How to Steal a Chicken," in which a Voina member entered a shop and proceeded to steal a chicken, by carefully concealing it in her vagina.  During "How to Steal a Chicken," other Voina members stood outside holding placards that spelled the word bezblyadno ('without whoring').  The word is a play on the Russian bezplatno ('free'), and was described by the group thusly: "In Ancient Russia the word 'whore' meant 'lie' and 'deception.' Nowadays Russia [has] millions of 'whores' of both sexes, who lost their moral and ethical principles; who deceive and kill each other."
In 2008, the group orchestrated a mock public execution of several Central Asian migrant workers and members of the Russian gay and lesbian community in a major Moscow supermarket, as a way of protesting what they saw as then-mayor Luzhkov's homophobic and xenophobic stance. The action was entitled Decemberists Commemoration, and was intended to remind the Russian public of the ideals of earlier revolutionaries.
The group states that, despite the confrontational nature of their works, in three years, not one member or onlooker has been physically harmed during their escapades. Conversely, as they enjoy pointing out, "within the mentioned period Russian cops have killed thousands of people, using their possibilities for 'legitimate violence.'"  Voina also states that they are frequently in danger due to their nature of their work, yet they remain unafraid. Natalia Sokol defiantly declared "We've had sex in public and are no longer scared of it. We've invaded a police station and are no longer scared of it. What else is there to scare us? Death we will deal with in the future. Soon we will be completely fearless."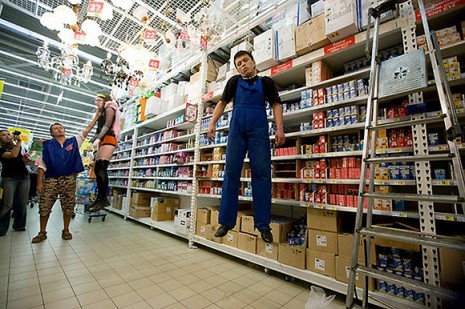 Russian Orthodoxy is another common target for the group. During one piece entitled "A Cop in Priest's Robes," Vorotnikov, dressed in the robes of an Orthodox priest and a policeman's hat sauntered into a supermarket, where he proceeded to fill a shopping cart with food and walk out without paying, seemingly to demonstrate the shocking level of immunity enjoyed by members of both the security and religious sections of Russian society. The group states that their actions are grounded in the theory of Moscow Conceptualism, which started in the 1970s as an attempt to subvert Soviet ideology.
Perhaps part of Voina's success is due to their disassociation from any gallery. Rather, they produce their pieces in public and post them online, free from gallery rules and making full use of the powers of democratization that the Internet presents. This is due in part to the fact that members of the group care very little for the art market, but also because they feel that their actions are international due to their innovativeness.  They have joined forces with other underground art networks worldwide, and the cries of "Free Ai Weiwei!" and "Free Voina!" were recently heard in tandem throughout the International Art Exhibition at the Venice Biennale.
Andrei Monastyrsky, founder of the 1970s Collective Actions group is quoted as saying "if not for the Voina group, contemporary Russian art would be terrible, provincial, a commercial fu**off." Voina has forced blatant political criticism into the arts scene, while simultaneously becoming a figurehead for freedom of expression across Russia. Russian Voina supporter and art expert Ekaterina Degot is quoted as saying "the hatred for United Russia…has reached a level comparable only to the hatred for the communists in 1988. That hatred is at boiling point, eating up people inside and – unlike 1988 – it has no constitutional expression. That hatred is Voina [.]"
For more information on Voina, follow their Twitter account or blog, or check out Free Voina, a multilingual site maintained by their supporters.
References:
Akinsha, Konstantin. (2009). Art in Russia Under Attack. Art News.
ArtInfo. (2011). Out of Captivity: Banksy Wins Freedom of Russia's Jailed Voina Art Anarchists.
Chayka, Kyle. (2011). Anarchist Art Collective Voina Vows to Destroy $100,000 in Russian State Property As Revenge. In ArtInfo.
Free Voina. (n.d.) Free Voina.
Mayr, Walter. (2011). Russia's Art Revolution: Voina Challenges Putin With Imagination. In Spiegel Online.
 Muelrath, Forrest. (2011). Voina: Art Insurrectionists. In Bomblog.
Narins, John William. (2011). Provocations and Punishments. In ArtNews. Retrieved from http://www.artnews.com/2011/06/01/provocations-and-punishment/
Peter, Thomas. (2008). Art Shock Troops Mock Russian Establishment.  In Reuters (US).
Plucer. (n.d.). Blog of The Voina Group Chief.
Sturdee, Nick. (2011). Russia's Robin Hood. Index on Censorship, vol 40 number 3, pages 89-102.