Elena Kovylina was born in Moscow on November 22, 1971 and has quickly become one of the most brilliant Russian artists of the twenty-first century, as well as an aggressive social critic. She currently splits her time between Western Europe and her homeland, and has studied at Zurich's F+F Schule fur Kunst und Mediendesign. It was in Switzerland that she first became interested in performance art, which ultimately became her preferred medium. Although a prominent performance artist today, Kovylina was not even aware of the medium's existence at the outset of her career. While at the F+F Schule, she studied a variety of subjects, from radio to theatre to photography, but performance art became her true passion as it allowed her to be script writer, producer and player. She recalls that "performance as medium struck me with its versatility, its ability to react quickly to social contexts and to different situations. It seemed to bring together all my interests: visual arts, film, theatre, activism."
Kovylina's interest in art began at an early age, and she attended Мoscow's "Memory of 1905" High School for Visual Arts from 1988 to 1991.  Upon graduation, she progressed to the Surikov Art Institute, where she studied until 1995. During this time, she received a classical Soviet art education, involving both art history readings and "boring exercises in drawing nude workers and executing colourful landscapes," in an intellectual and artistic atmosphere that she has described as "oppressive academism" In total, she received thirteen years of such education, and by the time she was accepted to the Zurich institute in 1996, she was establishing herself as a socialist-impressionist painter. She was shocked, however, to discover that her Swiss instructors considered her works to resemble those painted by their grandparents, and in turn they were surprised to hear that she had never encountered artists in the style of Joseph Beuys, a German graphic and performance artist who is now considered to be one of the twentieth century's most influential artists. In 1999, she completed a course on new artistic strategies at the Georges Soros Centre of Contemporary Art in Moscow.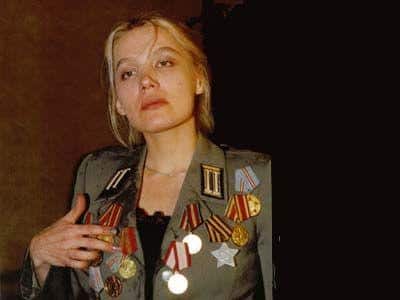 Kovylina is one of the few contemporary Russian artists who dare to boldly and unapologetically take a stand on both social and political issues. Her performances are often characterized by their 'in-your-face' aggressive attitude that forces spectators to confront clichés head-on. There are often overtones of eroticism in her work as she frequently uses her naked body as canvas. Kovylina's performances seek to engage and create a relationship with her audience, while still attempting to portray real-life experiences based on issues facing Russia today. Her physically demanding performances spare neither herself nor her spectators, a fact which is clearly demonstrated in both Boxing and Waltz. In Waltz, created in 2001 and her only piece to be seen thus far in the United States, she invites spectators to dance with her, and she herself dances until she nears the point of collapse. Throughout the piece, she decorates herself with military badges and downs shots of vodka, becoming increasingly intoxicated, eventually stumbling and nearing incapacitation.  Understandably, it is physically demanding, and it usually takes her several days to recover from the performance, which is the primary reason it is rarely seen.  In her 2005 piece Boxing, she interacts with the audience by encouraging them to fight with her, and the fights themselves are refereed by other members of the audience.  She never knows whether she will win or lose, and her aim is to focus attention on the plights of violence and victimization. Her art has not only helped her to define problems facing Russian society today, but also to redefine herself. In order to create her pieces, she has had to locate herself within the broader social context as both a Russian and a post-Soviet.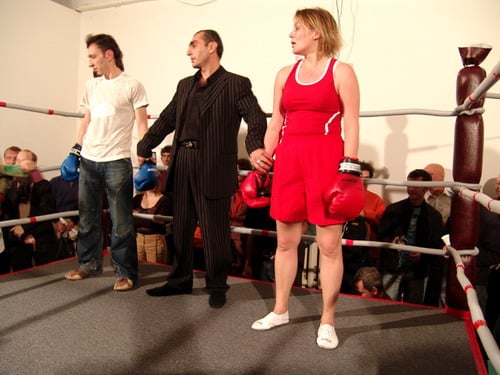 Kovylina's performances are often scathing in their critiques of modern Russian society, and her unique experience of growing up in the Soviet Union, pursuing a western European contemporary art education and living in post-Communist Russia have influenced her work considerably. It is perhaps surprising that there hasn't been more criticism of her work, as she does not shy away from open social and political commentary, but she is more likely to critique than to be critiqued. Despite the Moscow Actionists' introduction of performance art to Russia in the 1990s, it appears that her work is still generally poorly understood in her home country. Although there has been little official criticism of her performances, her work is not without risks.  While performing one of her pieces in Russia, an onlooker attacked her, yelling, "What's going on, this isn't art, this is shit!" It was only thanks to another onlooker who defended her right to perform that she escaped unharmed. Kovylina was later accused of setting up the incident as part of her performance, although she denies these claims.  In 1998, while performing "The Rate of the Ruble" (Курс Рубля), her first piece to be performed in Russia after her return from Western Europe, Kovylina was taken into custody after taking her piece to the Central Bank, and attempting to speak with the director.  After being refused, she exclaimed, "Long live the Russian ruble! Hurrah!" A crowd had followed her but she was immediately arrested. Soon thereafter she was released.
In 2008, Helsinki played host to a video installation of Kovylina's work entitled Dying Swans. The piece is an open criticism of contemporary Russian society of the state's attempts to control mass media in order to regulate what image of Russia is portrayed to its citizens and the world. Dying Swans was created to pay homage to the over 200 reporters who were murdered or who have simply disappeared in the last decade, and the inspiration is drawn from the Soviet tradition of playing Swan Lake after the passing of influential statesmen. With the collapse of the Soviet Union, the carefully-crafted portrayal of Russian high culture took a backseat to the media's attention to more pressing matters, and so the most effective way of controlling what the world saw of the new Russia was by heavy control of journalists. Coming two short years after the high-profile death of Novaya Gazeta journalist Anna Politkovskaya, the installation has, perhaps unsurprisingly, been displayed in Switzerland, France and Finland, yet Moscow galleries have, to date, refused to show it.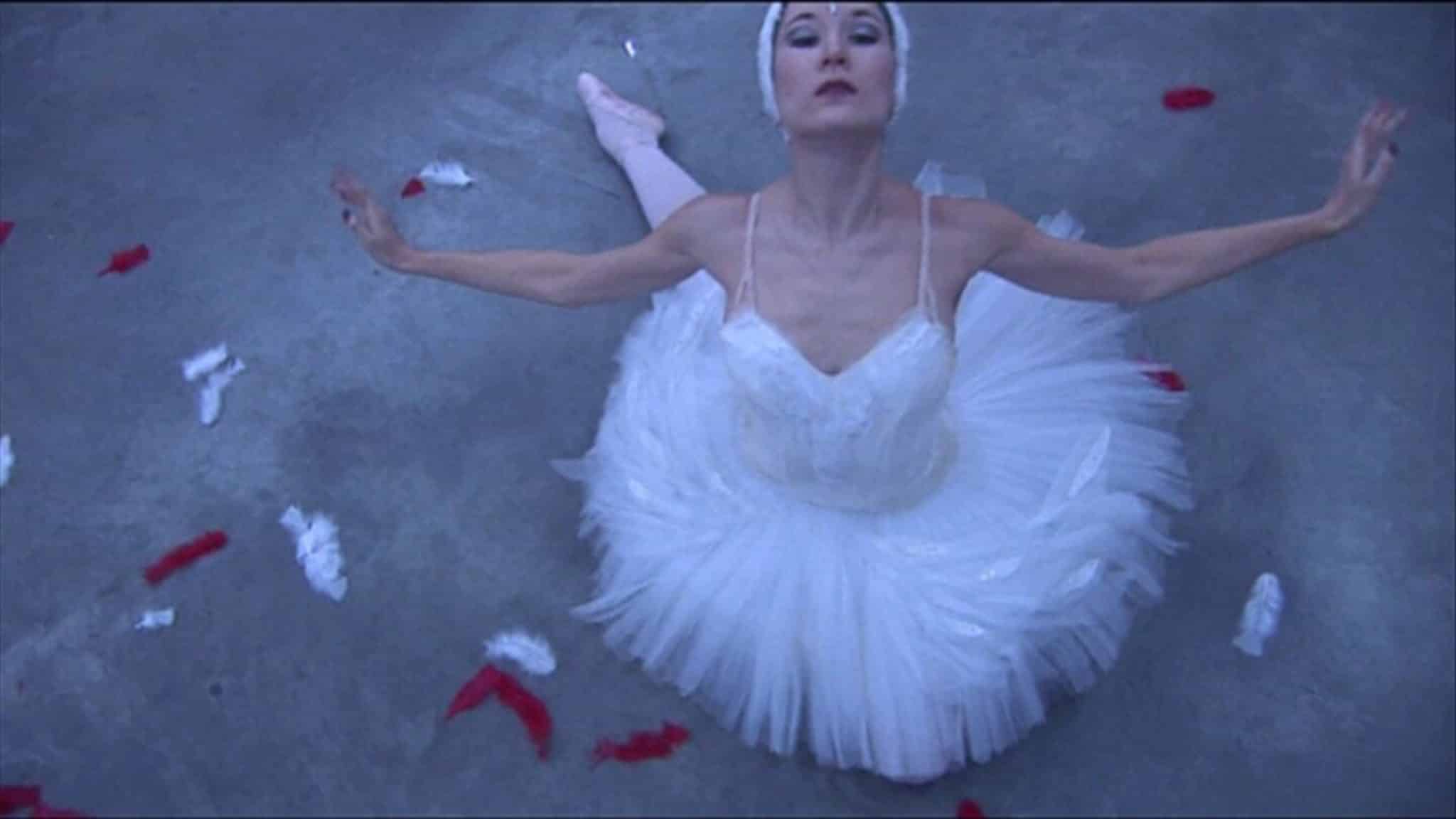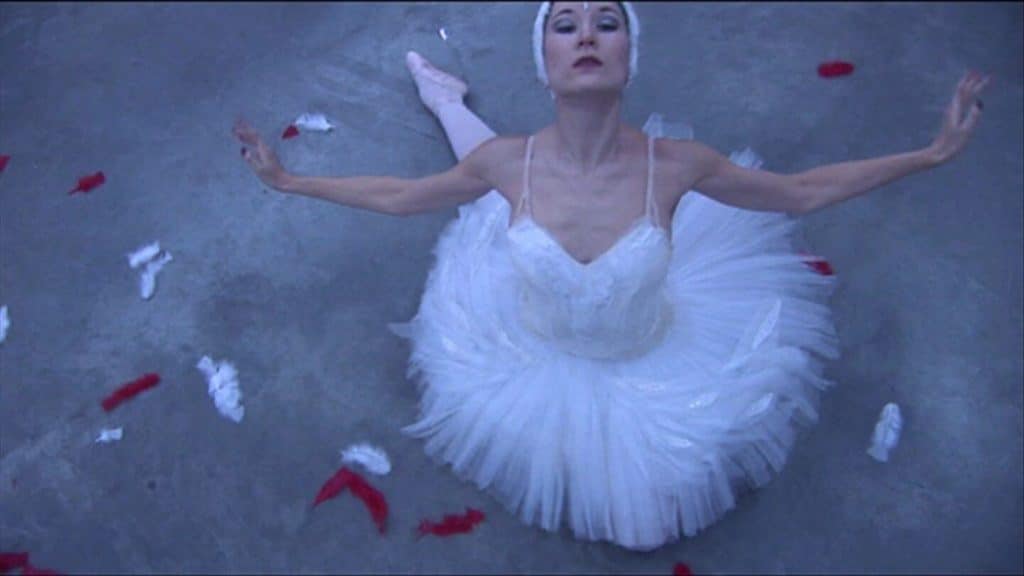 Another of the major themes running through Kovylina's work is the role of women in modern Russian.  In Pick Up a Girl, a reinterpretation of Yoko Ono's Cut Piece, she encourages spectators to choose a magazine cut-out from a selection that she has affixed to her body with surgical needles, and then instructs them to discard it.  Although inspired by Ono's work, she wants her audience to throw away the photo rather than keep it, in order to highlight the situation of women residing in post-Communist Russia.
Yoko Ono is not Kovylina's only source of inspiration.  She is also aware of, and inspired by, the works of Arthur Cavan, Marina Abramovic, Avdey Ter-Oganyan, Anatoly Osmolovsky, Oleg Mavromatti and even Malevich, whose own funeral is considered by some to be a piece of performance art. She has been particularly influenced by Alexander Brener, which is apparent in the aggressive way that she approaches her audience.  Like Brener, she challenges the outside world both mentally and physically. Thankfully, unlike Brener, she has confined her performance activities to challenging spectators, rather than having sex in city streets or defecating in front of priceless artworks. She credits the Moscow Actionist movement of the 1990s for creating an intellectual climate in which performance art can thrive. However, her works have a more planned structure, and she performs within the bounds of the law, often unlike the Moscow Actionists.
Despite the continuing need to introduce performance art to a broader audience in Russia, Kovylina is a shining star on the contemporary Russian arts scene.  Garnering inspiration for her work from other artists as well as her early life in the Soviet Union and experiences in post-Soviet Russia, she has shot to international prominence and renown. Her work has been represented and performed in galleries across Western Europe, Canada and the United States, as well as in her home city of Moscow.  Elena Kovylina's pieces represent a fresh and critical view on issues facing Russia today. She takes a bold stand on topics which often remain sensitive, such as the role of women in Russia and the disappearance and murder of hundreds of journalists.