Muzeon
Where: Krimsky Val, вл. 2, Moscow
Open 8:00-23:00
Free Entrence (~$3 for coffee or a snack)
Muzeon is a park and open air sculpture museum located next to Gorky Park and within the Garden ring of Moscow. Opened in 1992, the park consists of huge green areas, old soviet monuments, sculptures that could not be exhibited under the soviets, and modern artwork. I chose to visit in the morning while the weather was nice, but it was fairly empty because I was so early. I've heard from friends that the park tends to fill up in the evenings when the weather cools off again and people finish work for the day.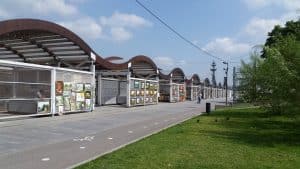 Getting to Muzeon is a journey. The park is about 40-45 minutes from the MSU main building if you use the metro. You'll need 15 minutes to get to the metro, 15 minutes to ride on the metro from station Universitet to station Park Kultury, and then 10-15 more minutes to walk across Krymsky Bridge to the park. I'm a quick walker so it took me just under 40 minutes. Depending on which side you cross the bridge on, you may need to cross underneath it or use one of the underground "perekhods" to get to Muzeon as Gorky Park is on one side of the busy street and Muzeon is on the other.
The first thing I noticed walking into the park was a big row of free toilets, so if you're worried about that, don't be. The park doesn't have an entrance fee, so you really don't need to bring any money at all. The only exception would be money for coffee or a snack, which is what I brought cash for. Since it was early in the morning, some of the small cafes in the park weren't open yet. I found one that was, Caffe Del Parco, and got an Americano for about $2.50. If you visit later in the day, more of them will be open along with some small lunch and dinner places. It'll be a whole lot easier as you won't have to wander the park while checking each café to see if it's open.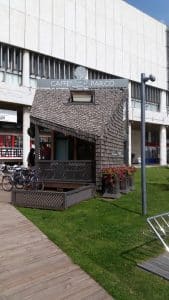 After I got my coffee, I started strolling through the park. Along the riverfront I saw vendors selling paintings and frames in small stalls. Some of them looked like they were hand-painted, but others might have been prints. Further down were some small restaurants that hadn't opened for the day yet. One was a hotdog and burger joint offering American food while the other offered Israeli food. Near the end of the riverfront section of the park was the infamous statue of "Peter the Great". We learned on a previous SRAS tour that this statue was originally supposed to be Christopher Columbus, but nobody wanted it so it was changed to Peter and erected in Moscow.
After finishing the riverfront walk, I headed into the center of the park. Along the way were different modern statues created by students from the nearby art school. Then I started seeing more and more soviet statues of famous writers, generals, and leaders. There were at least six or seven different heads of Lenin laying around, which was kind of funny. There was also a huge metal sculpture that I really enjoyed. It said "СССР Оплот Мира", which roughly translates to "USSR – The Stronghold of the World". Next to it was a graveyard of modern statues that looked like they couldn't find a place for around the park.
Other features of the park include an open air movie theater, a playground and exercise area, and a stage used for performances and music festivals. Neither the movie theater nor the stage were open or had anything going on while I was there, but they have plenty of events announced on the Muzeon website throughout the summer. The playground did have lots of children though, and the whole time I was in the park I saw many parents pushing strollers or walking with their kids.
Overall, Muzeon is definitely a fun and cheap place to relax. You can stroll by yourself or bring some friends and have a picnic. You could even tie a visit to Muzeon in with a visit to Gorky Park. Either way, don't skip it just because you don't like art. Muzeon has a whole lot more to offer.
About the Contributor:
Jack Fischer is majoring in Physics with Russian and Economics minors at Iowa State University of Science and Technology in Ames, Iowa. He is studying Russian as a Second Language with SRAS over the summer of 2016 to improve his command of the Russian language. In the future, he'd like to work for himself and run a business. I haven't decided on a location yet, but I'm certainly open to Russia or the former USSR territories.