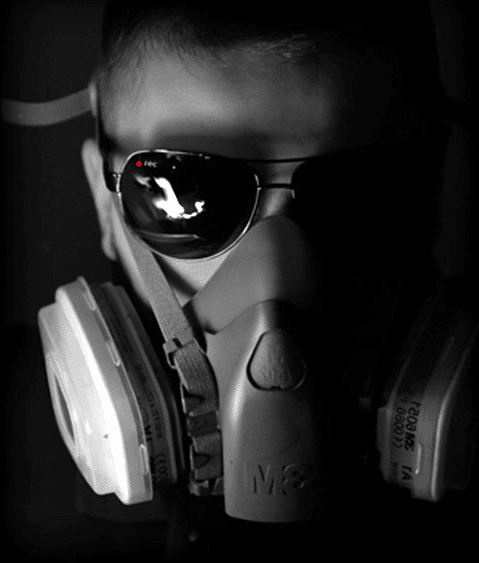 I believe all art should be anonymous, Pasha 183 told Interview magazine in 2012. Thus, little is known about him, since a life of anonymity was necessary for the Moscow-based street artist, who also went by P183. Russian and British press peg his age at death in April, 2013 as 29, and note that for his young age, his street art career spanned 15 years. The only other fact known about the artist is that he studied "communicative design" at university. It is rumored that his real name is Pavel Pukhov.
P183 is often referred to in the press as "the Russian Banksy," and his works are often compared with those of the famous British street artist. Even in Russia, P183 remained relatively unknown outside of Moscow until the press began reporting on his works in 2012. The Guardian in the United Kingdom was one of the first press outlets to cover P183's work and to make parallels between the two secretive street artists. P183, however, refuted in several interviews any notion that he took his inspiration from Banksy, though he conceded shared objectives with his artistic counterpart. "I fully understand that we both have a common cause, but I never sought to emulate him or anyone else," he told The Guardian in 2012. In discussing the similar black-and-white aesthetics of both artists works, P183 told Interview magazine that he lamented the fact that the media treated Banksy as if he had a monopoly over street art. "Any stenciled, black and white picture on the wall today is associated with Banksy," P183 said. "I always drew black and white characters. I had a period when there was simply no money for paint, and the only thing I could afford were the cans of back and white."
P183 says his interest in street art began while he was a pre-teen boy, writing poems and drawing pictures on Moscow's Tsoi Wall, which commemorates the much-beloved front man of Soviet rock group Kino. Growing up in a big city, graffiti was a common sight for P183, as was the rise of post-Soviet consumerism and advertising. Many of P183's works address the omnipresence of commercial advertising, and made clear his views on mass consumerism.
In one piece, September 2012's "About Advertising," the artist set up an installation near a Moscow park where the artist's versions of advertisements and logos were stenciled onto concrete. Nearby, he positioned a life-sized black-and-white cutout of a man vomiting a stream of white, which then becomes the stream of white paint on the concrete 'crossing out' the advertisements and logos. A video of the artist installing the work can be seen here.
Another strong commentary was November 2012's "Zoo." In this installation, the artist took to a pedestrian walkway near a construction zone and turned it into a zoo exhibit. The walkway had been haphazardly fenced in with wire and the artist envisioned it as not unlike a cage. Against the wall, he hung a giant banner depicting monkeys that stretched the length of the walkway, and hung bunches of bananas from the walkway's wire fence. As people walked through the walkway, it became a visual pun, likening the pedestrians as monkeys in the zoo. A video on the installation's construction can be seen here.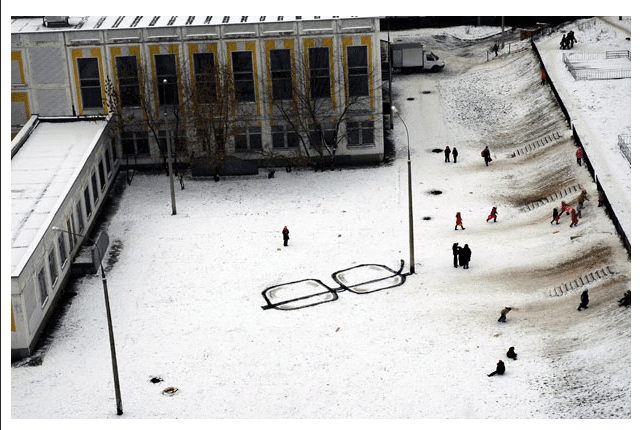 One of the artist's more famous (and lighthearted) works is his installation that used a lightpost in creating a pair of giant, partially folded eyeglasses. The rest of the eyeglass frames were drawn in black paint extending from the post into the white snow.
Much of his work is known for being politically charged. P183 described himself as an anarchist, and was critical of the police. In August 2011, marking the 20th anniversary of the coup of 1991 and the riots that followed, P183 created an installation where people could, in a way, fight back against police brutality. He pasted images of Russian riot police onto the entrance doors of a Moscow metro station, which intimidatingly faced would-be passengers wanting to enter the station. A video on the artist's YouTube account, which can be viewed here, shows policemen being 'shoved back' as metro-goers swing open the glass doors where the images had been pasted. P183 saw street art as a way to communicate new thoughts, political or otherwise, to the sometimes apathetic masses. In in interview with Russia Today, he said that street art is a great tool for communicating messages. "Put simply, I want to teach people in this country to tell lies from the truth," he said. "This is what our people still cannot do."
On April 3, 2013, a Moscow theatrical company that had recently hired P183 to create the sets for its rock opera "Todd," a punk rock reimagining of Sweeney Todd, announced in a press release that P183 had died. The release gave no further details about the circumstances of his death. It did include, however, a note that the artist had recently posted a status to Facebook about his pride in his work for the show, saying, "I should note that if tomorrow I die, I can be calm that after myself I left something real."